GEMS Program Application Information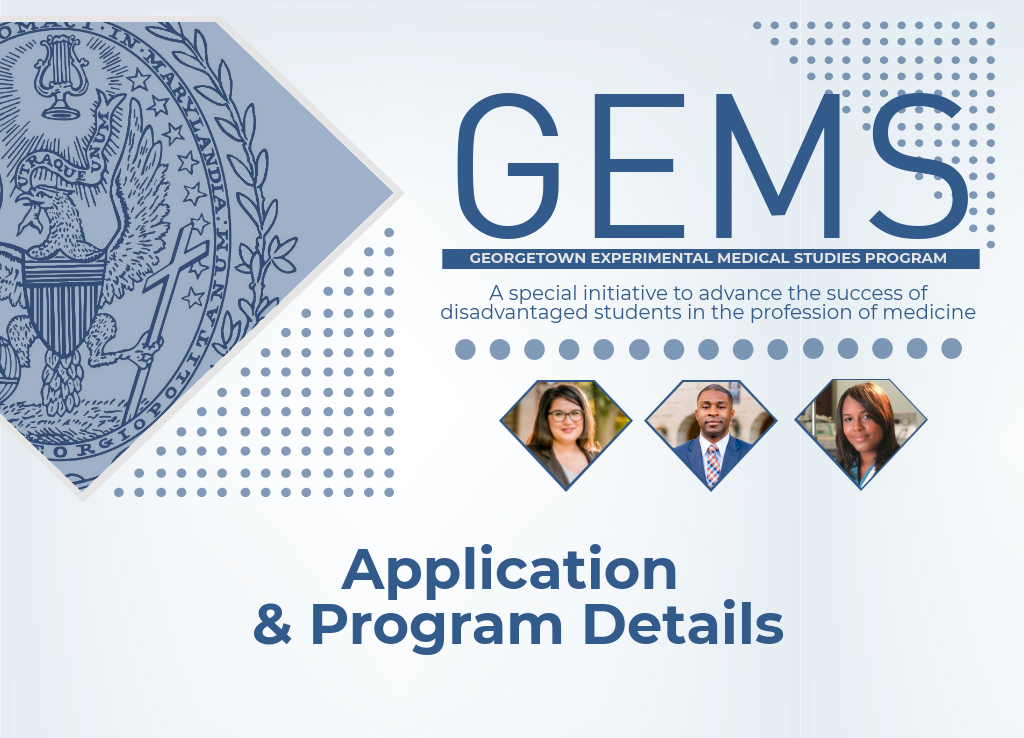 Create Your GEMS Admissions Account
---
---
GEMS Program Disclosure
GEMS is an experimental program and is subject to change at the discretion of the Committee on Medical Education and Dean of School of Medicine. Application and program requirements may change from year to year.
Although the majority of students who have successfully completed the GEMS Program have been offered an acceptance to Georgetown University School of Medicine (GUSOM), GEMS students are not guaranteed an opportunity to interview or an acceptance offer if interviewed.
Students admitted in the GEMS Class of 2019-2020 are not required to apply to or matriculate into Georgetown University School of Medicine.
Georgetown University admits qualified students of any age, sex, sexual orientation, race, color, religion, and national and ethnic origin to all rights and privileges, programs and activities generally accorded or made available to students at the school. It does not discriminate on the basis of age, sex, sexual orientation, race, handicap, color, religion or national or ethnic origin in administration of educational policies, admissions, policies, scholarship and loan programs and athletic and other school administered programs.
Inquiries about Affirmative Action-Equal Opportunity may be addressed to Affirmative Action Programs, 3800 Reservoir Rd., NW, Room M36 Darnall Hall, Georgetown University, Washington, DC 20007. (202-687-4798) Georgetown University is also an Affirmative Action – Equal Opportunity employer.
Note: An application to Georgetown School of Medicine is not required for an application to the GEMS Program. The admissions committees and procedures are completely separate, and admissions records cannot be transferred between programs.
Recommendations
1. Recommendation requests will be generated through your individually created GEMS Admissions Account. You will enter your professor's contact information (including university email address and university telephone number). Once you submit their information, an email with a secure web link will be sent. Please note that only an official university email address with the".edu" extension will be accepted. There are no exceptions. The secure web link appends to your individual admissions account where your professor will be able to access the GEMS Recommendation Form as well as upload a Letter of Recommendation.
2. Recommendations must be written with specific comments relevant to the GEMS program goals, and the applicant's specific need for the experience of GEMS. Letters addressed to other "graduate programs" or "medical school" are not considered customized for the GEMS experience, and will negatively impact applicant consideration for interview. Applicants are strongly encouraged to discuss with recommenders the purpose of GEMS, and why their customized comments supporting the applicant's need for GEMS is essential.
Important Note:
1. Express Delivery, US Mail or Electronic submissions through Interfolio will NOT be accepted.
2. Letters from lab courses, committees, advisors, mentors, clergy, physicians, government officials and employers do NOT meet the recommendation requirement.
---
GEMS Matriculation Note
All accepted applicants must show evidence of having earned a baccalaureate degree from an accredited college or university upon matriculation into the GEMS program.
GEMS Financial Aid
For details on financing your GEMS education, please visit the Financial Aid Page
Contact Us
Please note that requests for telephone consultations or office appointments are not possible due to limited staff. When sending an email communication, please indicate your specific questions as framed by your admissions credentials. Only applicants invited for interview will meet with GEMS staff.