Faculty and Staff
Susan Cheng, Ed.L.D., MPP
Senior Associate Dean for Diversity and Inclusion
Dr. Susan Cheng is the Senior Associate Dean for Diversity and Inclusion at Georgetown University School of Medicine. She was formerly part of the founding team of Beyond Z, an early stage college to career start-up focused on accelerating diverse talent, where she directed college curriculum and program design for low-income, first-generation college students. Before joining this venture, Susan was an Associate Partner at NewSchools Venture Fund where she focused on human capital investment and management assistance for the firm's teacher preparation portfolio ventures in the Learning to Teach Fund. While at NewSchools, Susan co-launched design teams focused on collaborating on solutions to address cross-sector challenges impacting teacher preparation. Prior to NewSchools, she joined Chancellor Michelle Rhee's transition team for the District of Columbia Public Schools (DCPS). While with DCPS, she focused on human capital recruitment and talent development, organizational culture building, and designing and implementing a performance-management system for the central office. Susan also created and ran the Urban Education Leaders Internship Program (UELIP) and launched the Teachers Central to Leadership central office fellowship for DCPS teachers. Prior to DCPS, she volunteered with Partners in Health in Rwanda, worked in the DC Mayor's office, and managed a portfolio of education diversity and environmental justice programs for the Greenlining Institute in California.
Susan graduated summa cum laude from UCLA with a Bachelor of Arts in communications and minor in education. She has a Master's in Public Policy from the Harvard Kennedy School and a Doctor in Education Leadership (Ed.L.D.) from the Harvard Graduate School of Education. While at the Kennedy School, Susan co-designed the Community Building workshop to promote campus diversity and helped to form the ALANA (African, Latino(a), Asian and Native American) Group Chapter on campus. During her doctoral studies, Susan was a Freshman Proctor for Massachusetts Hall at Harvard College, supporting the academic and social development of 28 first year students.
---
David Taylor, M.Ed.
Senior Associate Dean for Student Learning
Director, Georgetown Experimental Medical Studies (GEMS) Program
Since 1990, David Taylor has been an Administrative and Academic Professional in the Office of Special Programs at Georgetown University School of Medicine. In his role as the Senior Associate Dean for Student Learning, Dean Taylor is responsible for initiatives that promote the retention and advancement of medical students through the four year curriculum.
Dean Taylor teaches and mentors students enrolled in the Georgetown Experimental Medical Studies (GEMS) program, which targets underrepresented and disadvantaged students. GEMS serves as a rich, viable pool of future medical students in support of Georgetown's commitment to diversity in the health professions. Essential educational services include supplemental instruction in anatomy, biochemistry and physiology, and other structured activities designed to enhance the knowledge, skills and academic outcomes for these promising students.
Member of the Subcommittee on Evaluation and Assessment; member, Sub-Committee on Students, Liaison Committee on Medical Education Accreditation; member, Medical Student Life Advisory Committee; member, GEMS Academic Advisory Committee; member, Curriculum Innovation Committee; Pre-Clinical Advisor to freshman and sophomore medical students; Careers in Medicine Advisor to junior and senior medical students; and, Facilitator, Study Skills & Strategies Workshop for USMLE, Step 1.
He received a Bachelor of Science in Biology from Howard University in 1986, and completed the pre-clinical curriculum at the Howard University College of Medicine from 1986-1988. He obtained the Master of Education from George Mason University in 2008. Prior to Georgetown University, Dean Taylor served as Manager of Patient Enrollment for National Clinical Research Centers, Inc.
Recipient of:
John C. Rose Award (2009, 2011) for outstanding service to the Georgetown University School of Medicine.
Crystal Award (2004, 2007, 2008, 2010, 2012) for extraordinary support and commitment to the students of Georgetown University School of Medicine.
Diamond Award (2014) for excellence in medical student advising and support.
Arthur Hoyte, MD Award (2001, 2009) for commitment to diversity and minority student development.
NAMME-NE Director's Award (2002)
NAMME-NE Distinguished Service Award (2008).
---
Christopher Kaingo, M.D.
Basic Medical Sciences Learning Facilitator, GEMS Program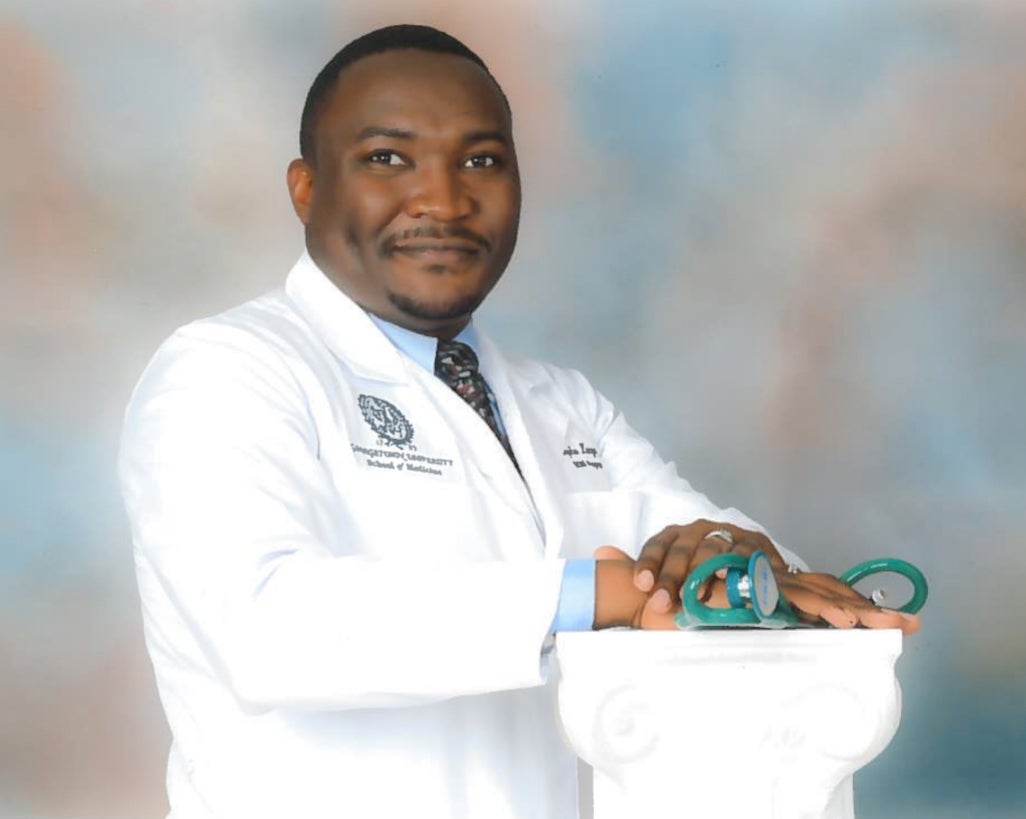 Two years in a row, Dr. Kaingo has been the recipient of the Excellence in Teaching and Mentoring Award, from the GEMS Classes of 2016-2017, and 2017-2018. Dr. Kaingo is the GEMS Program BSLF, a position that he has held since 2016 when he joined Georgetown University School of Medicine. As the BSLF, he oversees and directs the day-to-day GEMS academic learning and enrichment sessions in the basic medical sciences, such as but not limited to; anatomical sciences, physiology, pathology, pharmacology, and microbiology.   With these academic enrichment sessions being held in either large group student sessions, in what is commonly referred to as an FS session in GEMS, or better known to others as a "flipped classroom" session. Dr. Kaingo is also entrusted with nurturing his students' critical thinking abilities and test taking skills.
As part of his other responsibilities as the GEMS program BSLF, Dr. Kaingo is the course director for the Interdisciplinary Medical Sciences (IMS) I-III, and the Fundamentals of Pharmacology and Pathology modules; and he also conducts one-on-one student academic advising for his GEMS students. He is a committee member on the GEMS academic advisory committee (GAAC), a membership position that he has held since 2016.
In his role as an academic medicine professional, he has worked on medical education consultation projects, with different national and international companies such as those in the business of developing USMLE QBanks.
Prior to joining the GEMS program, Dr. Kaingo was involved in clinical practice as an internist. He has also worked on advisory boards of different international healthcare management firms in the Washington, DC area. He continues to also work as a lecturer in several institutions of higher learning within the Washington, DC area.
---