Microaggressions in Medicine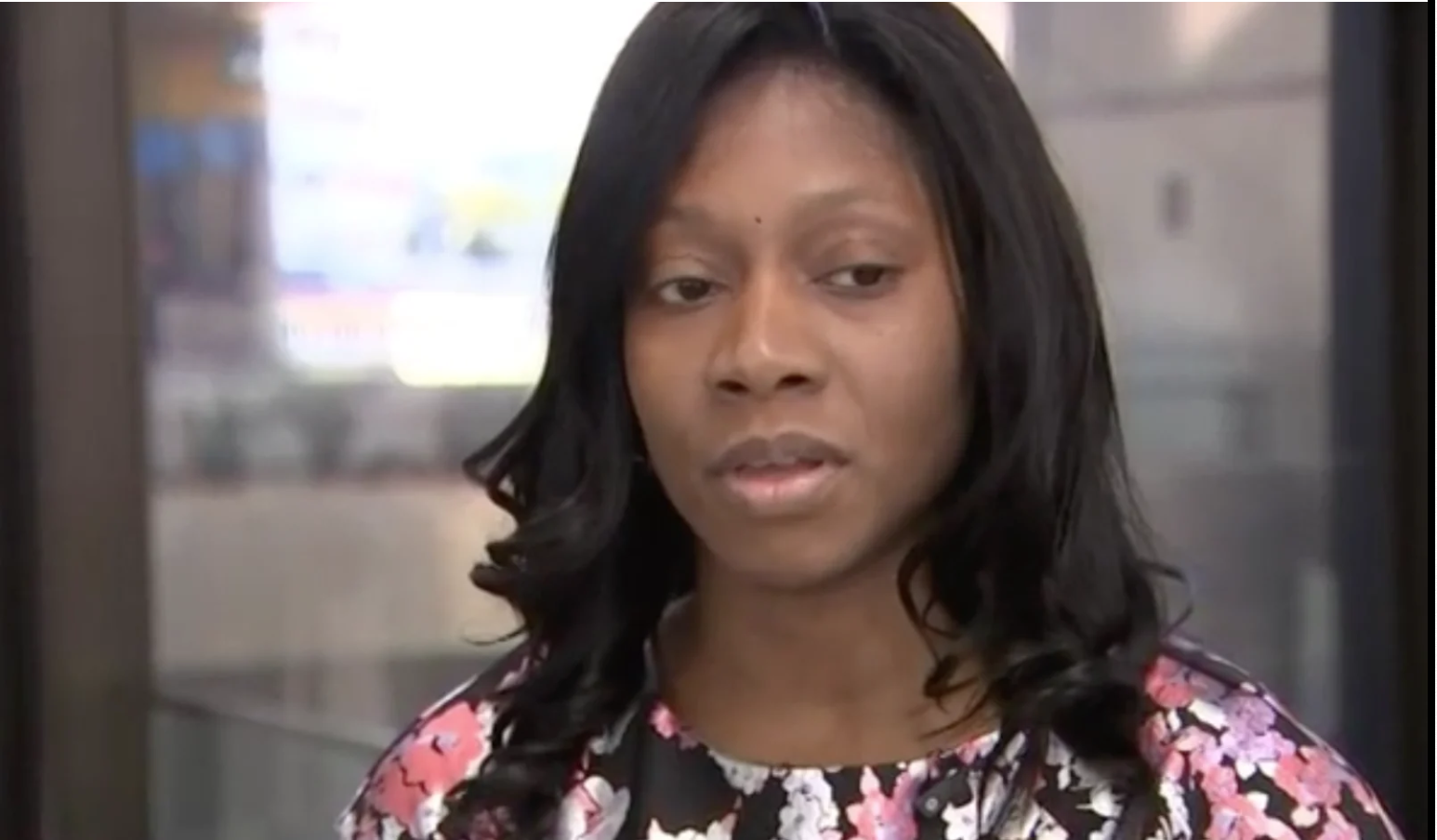 Black Doctor Racially Profiled
Extra Challenges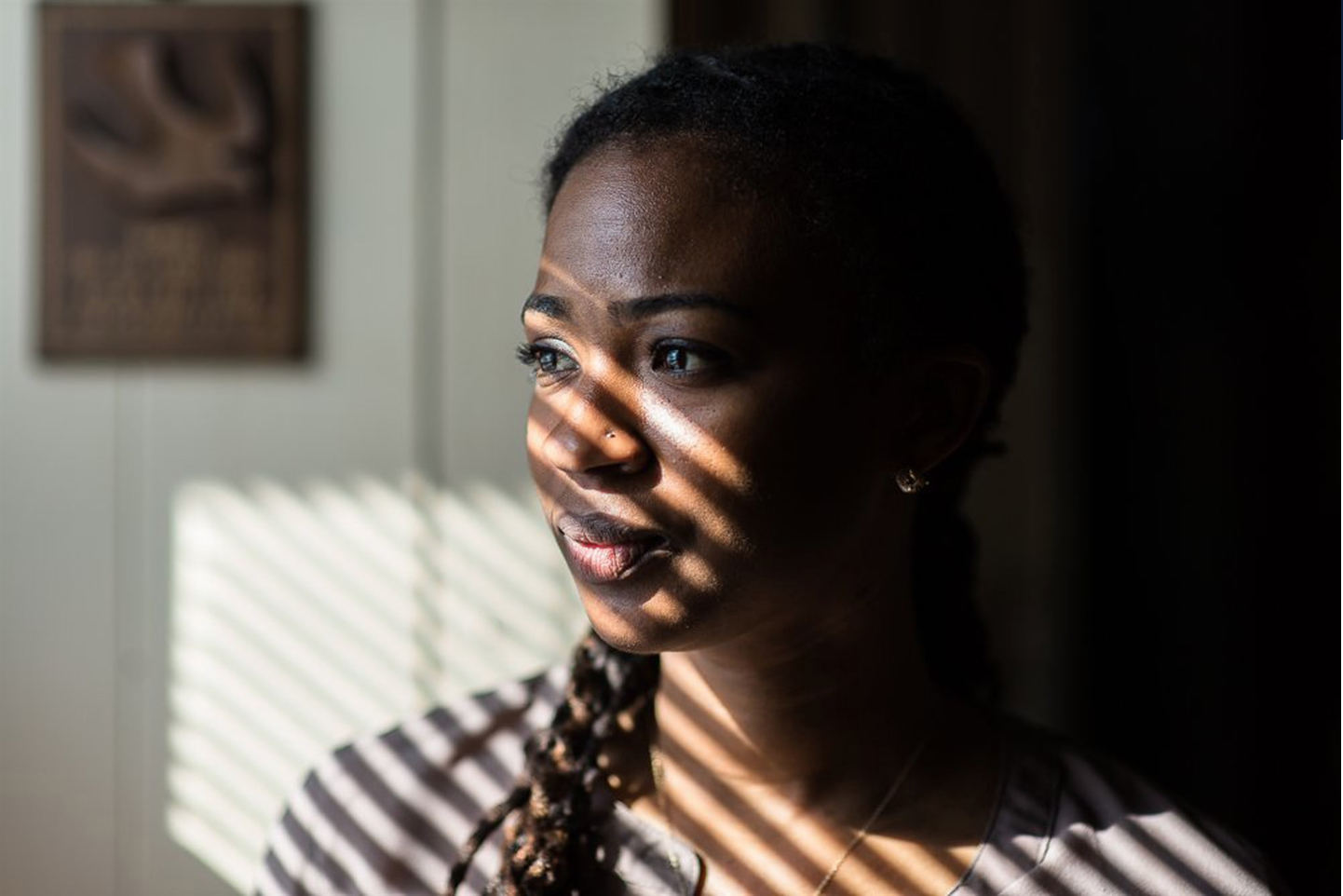 Training Doctors in Implicit Bias
---
Microaggressions in Medicine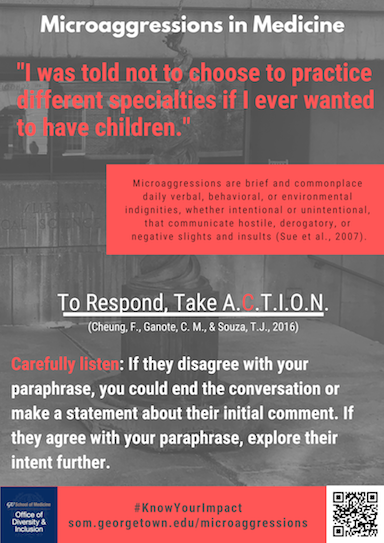 Read the text version of the Microaggressions in Medicine flyer
[Background picture of statue outside of Dahlgren Memorial Library]
"I was told not to choose to practice different specialties if I ever wanted to have children."
[Text enclosed in a red rectangular text box]
Microaggressions are brief and commonplace daily verbal, behavioral, or environmental indignities, whether intentional or unintentional, that communicate hostile, derogatroy, or negative slights and insults (Sue et al., 2007)
[Large white text, underlined]
To Respond, Take A.C.T.I.O.N.
(Cheung, F. Ganote, C.M., & Souza, T.J., 2016)
["Carefully Listen" in red text, the rest in white ]
Carefully listen: If they disagree with your paraphrase, you could end the conversation or make a statement about their initial comment. If they agree with your paraphrase, explore their intent further.
[Red banner at the bottom of the flyer. On the left is the dark blue Office of Diversity and Inclusion Logo. On the right is a QR code that links to this webpage (som.georgetown.edu/microaggressions)]
---
What To Do About Microaggressions
Cheung, F., Ganote, C. M., & Souza, T.J. (2016) use the A.C.T.I.O.N. acronym as a safe way for people to address microaggressions at work or in society.
Take A.C.T.I.O.N.
A
sk: Clarifying questions to assist with understanding the microaggressor's intentions.
Carefully listen: If they disagree with your paraphrase, you could end the conversation or make a statement about their initial comment. If they agree with your paraphrase, explore their intention further.
Tell others: What you observed as problematic in a factual manner.
Impact consideration: Ask for or state the potential impact of such a statement or action on others.
Own your response: Own your own thoughts and feelings around the impact using first-person language.
Next steps: Request appropriate action be taken and check in with the target of the microaggresion.
This strategy is also featured in the Harvard Macy Community Blog: https://www.harvardmacy.org/index.php/hmi/mededpearls-october-2018-microaggressions
Ganote, C., Cheung, F., & Souza, T. (2016). Micro-aggressions, micro-resistance, and ally development in the academy.
Where to Report Instances of Bias
Medical Student Life Advisory Committee: Procedures for Reporting an Incident of Mistreatment, Bias or Harassment
Anonymous Comment Box for Bias Reports
Read More About Microaggressions
Scholarly Article: "I, Too, Am a Physician" by Omonele Nwokolo
Photo Project: 21 Racial Microaggressions You Hear in Everyday Life