Georgetown Summer Medical Institute
Offering outstanding medical course-based experiences for undergraduate and post-bacc students, and remediation courses for medical school students.
June 20 – July 29, 2022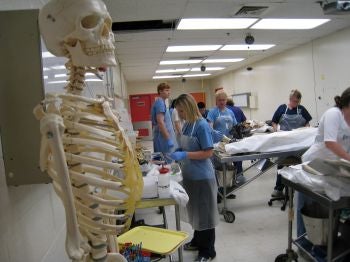 Applications for Summer 2022 are now open!
Deadline for International Students to apply is April 10, 2022
Deadline for US Students to apply is June 1, 2022
Deadline for remediating medical/dental students is June 13, 2022
Our Mission
"Guided by the University's Jesuit tradition of cura personalis, of caring for the whole person, Georgetown University School of Medicine will educate, in an integrated way, knowledgeable, skillful, ethical, and compassionate physicians and biomedical scientists, dedicated to the care of others and the health needs of our society"
---
Georgetown University School of Medicine has been a leader in medical education for over 150 years, and is committed to offering excellent opportunities for academic advancement. We are pleased to offer this program for college undergraduates, post-bacc graduates, and current medical school students through the Georgetown Summer Medical Institute (GSMI). International students are welcome to apply, but please be aware that courses are taught in English.
Please be aware that since this is a summer program, the GSMI is not eligible for scholarships or financial aid.