Campaigns
Throughout the academic year, the Office of Diversity and Inclusions conducts and coordinates a series of forums, dialogues, and events for students, faculty, and staff of the Georgetown Community. Our goal is to bridge the gap between the leaders of health and healthcare and our GUSOM students.
Below are a few of our successful campaigns. If you wish to participate or have an innovative idea, do reach out to somdiversityandinclusion@georgetown.edu. We're listening!
Microaggressions are brief and commonplace daily verbal, behavioral, or environmental indignities, whether intentional or unintentional, that communicate hostile, derogatory, or negative slights and insults (Sue et al., 2007)
Read the text versions of the flyers
Poster 1
[A background of Proctor Harvey]
A quote reading, "You weren't born here? But your English is so good!" (on a black circular background).
The title 'Microaggressions' in white lettering against a grey background.
Poster 2
Microaggressions
[A background of an operating room]
A quote reading, "How can you be a surgeon if you can't even reach over the table?" (in yellow lettering).
Microaggressions occur everywhere and can happen to anyone. They come from systemic and institutionalized biases. They are like cuts, don't cut people with the words you use.
Poster 3
How do Microaggressions make you feel?
A collage of words capturing the feelings associated with microaggressions (the words form an outline of a brain).
Text against a gray background, Let's create change for our community: For more information about microaggressions, visit: som.georgetown/microaggressions; #KnowYourImpact
Stop, Talk, Roll (STR) is a communication guidance tool that has been designed to provide suggested phrases and approaches for medical students and residents to addressing particular scenarios and diffuse tense communication exchanges with a wide range of stakeholders. STR training and guidance will be provided to medical students, residents and medical staff this coming fall.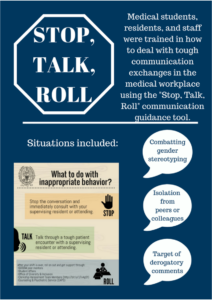 "A Day in the Life at Georgetown University School of Medicine" is a photography campaign – a reoccurring exhibit that features the connections amongst our diverse students, faculty and staff. The goal of this initiative is to highlight community among GUSOM students, staff and faculty in fostering a climate of inclusivity and diversity through sharing of our experiences, culture and identity in medicine.
Text version of the "day in the life" graphics
Graphic 1
Picture of Mr. Antonio Celey
"After reading the book Strength to Love by Dr. Martin Luther King, I no longer define myself by what I wear, where I live or where I work, but by who I am as a person spiritually, mentally, physically and emotionally." – Antonio Celey, Supervisor of The Market.
Graphic 2
Photograph of Dean David Taylor
"At Georgetown School of Medicine, I have the daily privilege of unlocking and nurturing each student's potential for success." – Dean David Taylor, Senior Associate Dean of Student Learning.
Graphic 3
"It is inspiring to work here at Georgetown were we truly strive to make a difference in the world. It may be by touching a patient's life, making meaningful connections between students and teachers or addressing the health needs of our greater community. This passion for changing the world is what creates such a special place at Georgetown." – Dr. Yumi Jarris, Professor of Family Medicine, Director, Population Health Scholar Track.
Graphic 4
Photograph of Dean Nicole M. Houle
"I am inspired by my colleagues at the School of Medicine on a daily basis for the ways they handle challenges, for the ethic and dedication they invest in their work as well as their passions. There are countless resources and people to inspire us if we choose to look. I think that is the key. If we look for inspiration, it's all round us. There are amazing people all around us doing everyday things, but doing so in a way that is inspiring." – Nicole M. Houle, Assistant Dean for Admissions.
Graphic 5
Photographs of Dean Jett McCann and Mr. Brandon Hudson
"Brandon Hudson and Jett McCann lead a team dedicated to providing top level service. The DML staff is small but mighty – well-trained and in touch with students' and researcher needs. All are AAMC Careers-in-Medicine trained; several serve as PreClinical Advisers; all are systemic reviews trained; and many hold credentials from the Academy of Health Information Professionals." – Jett McCann, Senior Associate Dean for Knowledge Management & Director, DML and Brandon Hudson, Executive Assistant/Facilities Coordinator.
Graphic 5
Photograph of Dr. Donna Cameron
"Since 2000, I have also taught a "self-care 101″ class to small groups of medical students each year. There, my role is to create a safe place for students to practice transparency and full disclosure about their wellness behaviors. They seem to learn best from seeing me model those behaviors. They seem to learn best from seeing me model those behaviors. P.S. – In the spirit of full disclosure, sometimes I am not a very good role model, and sometimes I am blessed to do an awesome job." – Dr. Donna Cameron, Associate Professor and Director of Service-Learning, Department of Family Medicine.
The Office of Diversity and Inclusion at the Georgetown School of Medicine seeks readings written by GUSOM students, staff, and faculty. We are interested in receiving personal essays or poems about reflections around identities that you care deeply about and/or navigating challenges related to these identities at school, work, or home. Essays or poems may relate to identities that address: age, race and ethnicity, gender, sexual orientation, religion, ability/disability, etc.
An interactive toolkit for the School of Medicine and MedStar faculty and staff to create a more equitable workplace by understanding unconscious bias.
I, Too, Am Georgetown University Medical Center

I, Too, Am Georgetown Medicine is a reflective, community building event open to all students, faculty and staff at the Georgetown School of Medicine. The theme of the previous event on April 4th, 2018 was: "Finding Meaning in Medicine" with Keynote Address by Dhruv Khullar, M.D., M.P.P of New York-Presbyterian Hospital, followed by small group breakout discussions for medical student participants.
Open Community Space

The Voice: Medical Edition
"The Voice, Medical Edition: Candid Consciousness vs. Silent Protests " is a play off of the popular TV show The Voice, in which we will use an expert panel to help mold budding medical professionals into empowered clinicians. It is an interactive event in which everyone's "voice" will be heard through live polling, and live question submission. We intend to openly discuss the unique position of the socially conscious physician given the current climate of racial/ethnic, socioeconomic, religious, gender and sexual identity bias. Our goal is for this to be a candid discussion where we address real issues with real language and real emotions and opinions. The purpose ofthe event is to generate healthy and honest dialogue around these issues and brainstorm solutions as they play a very significant role in our practice as current and future physicians.