Georgetown Student National Medical Association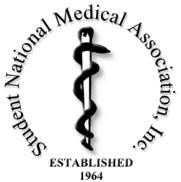 Fellow Hoyas,
It is my pleasure to welcome you to the Georgetown University School of Medicine Chapter of the Student National Medical Association. I am honored to serve as your 2012/2013 President and am excited for what's in store! For years SNMA has taken the lead in Diversifying the Face of Medicine, and this year we will continue to build upon that legacy. We invite you to join us as we work to work to increase the number of clinically excellent, culturally competent, and socially conscious physicians through service, advocacy, commitment, and excellence.
Recently awarded Chapter of the Year for Region VI, the GUSOM Chapter of SNMA has quite an eventful year ahead! From community health fairs, to mentorship opportunities, to social events, there are a myriad of ways our members can get involved. Whether you take part in our numerous community service initiatives, advocate for improvement of healthcare delivery, or assist in increasing the pipeline for students to prepare for medical and scientific careers, I encourage you to take advantage of the unique opportunities that SNMA provides.
Membership in SNMA is open to all who wish to join our efforts in advancing our mission. Our strength comes from individuals like you – members who address the need for more culturally competent and socially conscious medical professionals; members who advocate on behalf of countless underserved populations; members who will build on our organization's legacy by supporting current and future medical students to become the best they can be.
Feel free to browse our website to learn more about our organization, upcoming events, and volunteer opportunities. I hope to see many of you at our events, and look forward to meeting you over the course of this year!
Yours in SNMA,
Joelle Constant
SNMA President, 2012/2013
---