Story of Ana Arriola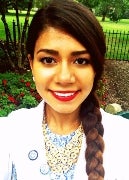 "I have been emboldened to pursue my passions with knowledge of the courage it took on the part of my grandparents to move to the United Stages for greater opportunities for our family, and the unceasing lifelong work and efforts from my father to do the same"

Ana, Medical Class of 2020, GEMS Class of 2015-2016
---
My name is Ana Arriola and I grew up in southern California. My parents emigrated to the United States a year before I was born. I attended University of California, San Diego and during my freshman year, I unexpectedly fell in love with the world of visual arts. I discovered how art can communicate insight into how people live in different contexts, and how through art we are more able to explore and identify with cultures and social dynamics different from our own. Unable to choose one over the other I happily double majored in Neuroscience and Art Theory and Criticism.
My experiences volunteering in the San Diego community were dear to me. As a volunteer for the UCSD Neonatal Intensive Care Unit Cuddler Program, I helped give individualized attention to NICU newborns detained from leaving the hospital. Several newborns are admitted every month due to neonatal opioid addictions acquired before birth; I spent the most time with these newborns and also shared in long-term relationships with their families as these infants typically stayed for longer periods as they were gradually weaned away from opioids. Another meaningful experience was my work with San Diego's Institute for Behavioral and Community Health. During my internship, I supported a four-year public health initiative called Nuestra Opción, which aimed to learn about the eating and physical activity habits of children in Imperial County, a county with the third highest prevalence of childhood obesity and childhood type II diabetes in California. During this time I got to know families in the El Centro community, and gained insight into the restrictive social and economic determinants of health it faces. But despite the challenges faced by the community I found great joy in my interactions with El Centro's children and shared in the community's beauty and hope for the possibilities of what can be accomplished in the future.
Growing up in a single parent household and being the first to attend college, I identify with others facing challenges in entering the field of medicine. Gaining acceptance into Georgetown University School of Medicine was an accomplishment on my part but could not have been realized without the love, inspiration and constant support I receive from my family. I have been emboldened to pursue my passions with knowledge of the courage it took on the part of my grandparents to move to the United States for greater opportunities for our family, and the unceasing lifelong work and efforts from my father to do the same. As a first year medical student I have become involved working with D.C. families as a Child Assessment Team volunteer with HOYA Clinic, and as an M1 representative on the Council on Diversity Affairs I hope to encourage social and cultural inclusion within our school community.
"Walking, I am listening to a deeper way. Suddenly all my ancestors are behind me. Be still, they say. Watch and listen. You are the result of the love of thousands." –Linda Hogan