The Deans
---
---
Lee Jones, MD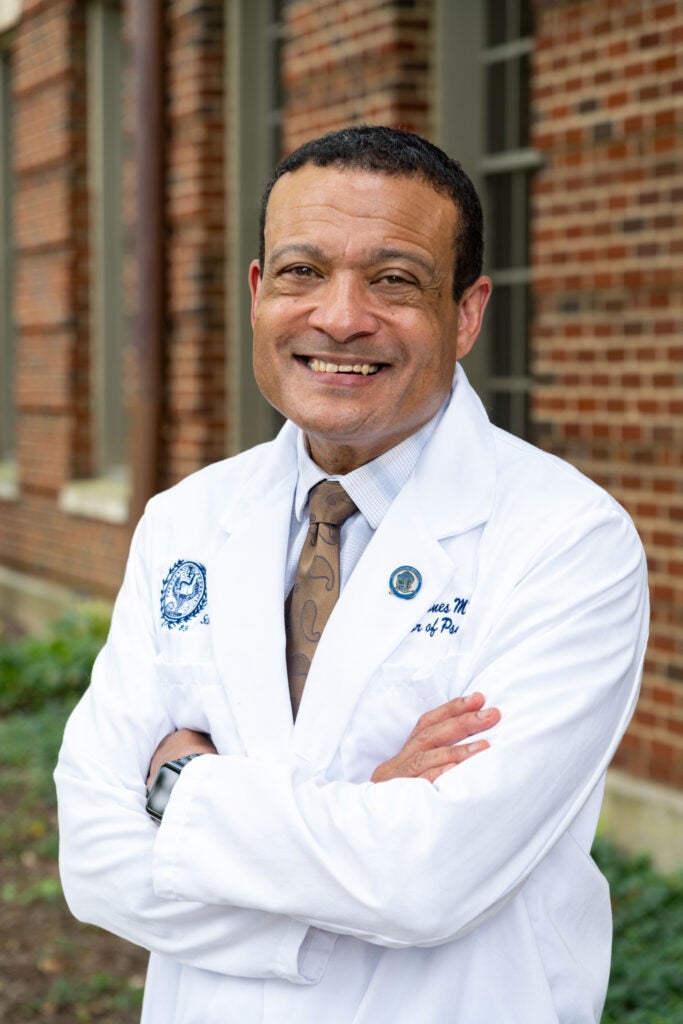 Leon "Lee" Jones, MD, is Dean for Medical Education and Professor of Psychiatry at Georgetown University School of Medicine. Jones joined Georgetown in 2021 after serving as Associate Dean for Students and Health Sciences Clinical Professor of Psychiatry at the University of California San Francisco (UCSF) School of Medicine.
Jones holds a bachelor's degree from Dartmouth College, a medical degree from Columbia University College of Physicians and Surgeons, and is a board-certified psychiatrist. After a psychiatry residency and chief residency at UCLA's Semel Institute for Neuroscience and Human Behavior, he completed a consultation-liaison fellowship at Memorial Sloan-Kettering Cancer Center in Manhattan, and a research fellowship at UC San Diego focusing on the interactions between the central nervous system and peripheral immune system.
Jones has more than 25 years of experience in medical education. In addition to his years at UCSF School of Medicine, he has served as associate dean for students at the medical schools of University of California Davis, University of Arizona and University of Texas School of Medicine at San Antonio. He has been the recipient of numerous awards and honors including induction in the Gold Humanism Honor Society, a Student National Medical Association (SNMA) Achievement and Leadership Award, an AAMC Group on Student Affairs Exemplary Service Award, among others.
Jones is a national leader in efforts to advance equity and inclusion at medical schools in the United States. He has led extensive work in developing evidence-based policy, initiatives, and educational programs with a focus on medical school admissions, diversity, student support and learning environment, and student financial assistance. A member of Association of American Medical Colleges (AAMC) Board of Directors, he currently chairs the AAMC Task Force on Redesign of the Medical Student Performance Evaluation (MSPE) and serves as AAMC's representative to the Coalition for Physician Accountability. He is past chair of the AAMC's Group on Student Affairs National Steering Committee.
Jones has served as a national leader on medical education and Deferred Action for Childhood Arrivals (DACA), as well as for the Building the Next Generation of Academic Physicians diversity initiative. In addition, he has been an active participant in educational initiatives designed to enhance care of LGBTQI+ patients.
---
Edward B. Healton, MD, MPH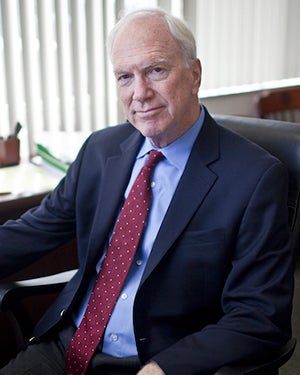 Edward B. Healton, MD, MPH, a professor of neurology, serves as Executive Vice President for Health Sciences at Georgetown University (EVP) and Executive Dean of the School of Medicine.
As EVP, Dr. Healton oversees a $270 million research and educational enterprise, and is responsible for advancing the educational and research missions of Georgetown University Medical Center (GUMC) and working effectively with the leadership of MedStar Health, its clinical partner. GUMC comprises the School of Medicine (founded in 1851), the School of Nursing & Health Studies, Biomedical Graduate Education programs and Georgetown Lombardi Comprehensive Cancer Center, and is home to Georgetown's biomedical research portfolio.
Prior to his role as EVP, Dr. Healton served as Chairman of the Department of Neurology and the Department of Rehabilitation Medicine at MedStar Georgetown University Hospital (MGUH) and Georgetown University Medical Center (GUMC) from 2006 to 2015. From 2001 to 2011, Dr. Healton also served as Senior Vice President for Medical Affairs and Medical Director of the MedStar National Rehabilitation Hospital (MNRH). After joining MedStar and Georgetown University in 2001, Dr. Healton focused on the growth of the clinical and academic programs at MNRH and MGUH, especially in the neurosciences. He is board certified in psychiatry and neurology.
Under his clinical and academic leadership, Dr. Healton leads the development of opportunities for clinical and academic collaborations across Georgetown University and MedStar Health.
After receiving undergraduate training from the University of Oregon and his medical training at Creighton University (also a Jesuit institution), Dr. Healton completed his postgraduate training in neurology in the Columbia University residency program at the Neurological Institute, New York-Presbyterian Hospital. He also completed his Master of Public Health at Columbia University. Following the completion of his training, Dr. Healton's subsequent tenure in New York included more than 30 years of clinical, academic and administrative management experience at Columbia University College of Physicians and Surgeons and Harlem Hospital Center. During that time, he served as Clinical Professor of Neurology, Senior Associate Dean and Assistant Vice President at Columbia and Medical Director at Harlem Hospital Center. He also was appointed Emeritus Professor of Clinical Neurology at Columbia University. Dr. Healton has numerous publications, especially in the areas of cerebrovascular disease and the neurological complications of systemic diseases such as cobalamin deficiency and severe hypertension, as well as community based health services research.
Dr. Healton serves on the Board of Directors of MedStar National Rehabilitation Hospital.
---
H. Carrie Chen, MD, PhD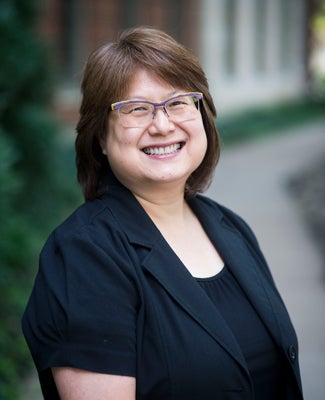 Dr. Carrie Chen is the Associate Dean of Assessment and Educational Scholarship and Professor of Pediatrics at Georgetown University School of Medicine. She joined the faculty in 2016 from the University of California San Francisco (UCSF), where she was a member of the UCSF Academy of Medical Educators and held the Abraham Rudolph Endowed Chair in Pediatric Education. She has built her career caring for pediatric patients and engaging in medical education. She has developed curricula and assessment programs and provided leadership for medical student, resident, and fellow education as well as continuing medical education and faculty development. Her research interests include workplace learning, workplace-based assessments including the use of entrustable professional activities (EPAs), and faculty skill development and support.
Dr. Chen earned her Bachelor of Arts in biochemistry from the University of California Berkeley and completed her Doctor of Medicine and pediatric residency and chief residency at the UCSF School of Medicine. She subsequently obtained a Master of Science in Education from the University of Southern California Rossier School of Education. More recently, she received a Doctorate in Health Professions Education from Utrecht University and completed a visiting professorship at the Center for Research and Development of Education at University Medical Center Utrecht in the Netherlands.
Susan Cheng, EdLD, MPP
Dr. Susan Cheng is the Senior Associate Dean for Diversity and Inclusion at Georgetown University School of Medicine. She was formerly part of the founding team of Beyond Z, an early stage college to career start-up focused on accelerating diverse talent, where she directed college curriculum and program design for low-income, first-generation college students. Before joining this venture, Susan was an Associate Partner at NewSchools Venture Fund where she focused on human capital investment and management assistance for the firm's teacher preparation portfolio ventures in the Learning to Teach Fund. While at NewSchools, Susan co-launched design teams focused on collaborating on solutions to address cross-sector challenges impacting teacher preparation. Prior to NewSchools, she joined Chancellor Michelle Rhee's transition team for the District of Columbia Public Schools (DCPS). While with DCPS, she focused on human capital recruitment and talent development, organizational culture building, and designing and implementing a performance management system for the central office. Susan also created and ran the Urban Education Leaders Internship Program (UELIP) and launched the Teachers Central to Leadership central office fellowship for DCPS teachers. Prior to DCPS, she volunteered with Partners in Health in Rwanda, worked in the DC Mayor's office, and managed a portfolio of educational diversity and environmental justice programs for the Greenlining Institute in California.
Susan graduated summa cum laude from UCLA with a Bachelor of Arts in communications and minor in education. She has a Master's in Public Policy from the Harvard Kennedy School and a Doctor in Education Leadership (Ed.L.D.) from the Harvard Graduate School of Education. While at the Kennedy School, Susan co-designed the Community Building workshop to promote campus diversity and helped to form the ALANA (African, Latino(a), Asian and Native American) Group Chapter on campus. During her doctoral studies, Susan was a Freshman Proctor for Massachusetts Hall at Harvard College, supporting the academic and social development of 28 first-year students.
Ellen M. Dugan, MD
Ellen M. Dugan, MD, serves as the Senior Associate Dean for Admissions at Georgetown University School of Medicine. She served on the Committee on Admissions for 10 years prior to becoming Associate Dean. She is an Associate Professor in the Department of Emergency Medicine. An M'82 graduate of GUSOM, Dr. Dugan completed her Residency in Emergency Medicine at Georgetown University Hospital. Following four years of service in the National Health Service in West Virginia, Dr. Dugan returned to Georgetown and has been on the faculty at Georgetown since 1990.
Irma Frank, DDS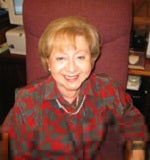 Dr. Irma Frank serves as the Senior Associate Dean for International Programs at Georgetown University Medical School. She chairs the International Programs Committee, which oversees all Medical School International Programs.
Dr. Frank is a graduate of the Javeriana University in Bogota, Colombia, S.A. She received Pediatric Dentistry training at Harvard School of Dental Medicine in Boston, Massachusetts, and training in Cleft Palate at Tufts University. Dr. Frank's career with Georgetown began over twenty-five years ago as a professor of Pediatric Dentistry in the Georgetown University School of Dentistry. With the closing of the Dental School, Dr. Frank assumed her current duties of personally directing the Medical School's international electives through which first and fourth-year medical students are sent to Latin America, Africa, Asia, and Europe for practical experiences with academic supervision.
During her time at Georgetown, Dr. Frank has actively served on many projects and committees. She was one of the initiators of the NASA Telecommunications Project for Distance Education, which linked Georgetown with universities in Latin America. The project carried out many programs in medicine, business, law, and political science. Dr. Frank also serves as Consultant for International Programs in the Office for Federal Relations at Georgetown University, and has been a member of the Medical School Admission Interview Committee, Georgetown's Distance Education Initiative Committee, the Committee for Education Abroad Risk Assessment, the International Initiatives Committee, the Arrupe Scholarship Committee, and the Georgetown Global Initiatives Committee. Dr. Irma Frank has been a member of the American Dental Association, the American Society of Dentistry for Children, Pan American Medical Society, American Association of Dental Schools, Mid- Atlantic Society of Pediatric Dentistry, Metropolitan Society of Pediatric Dentistry, American Academy of Pedodontics, and the International Health Medical Education Consortium. She has served on the Board of Directors of the International Life Sciences Institute, the Xaveriana Professional Association, and the Victoria and Albert Gildred Foundation for Health and Education in Latin America. She is also a board member of the Santa Fe de Bogota Foundation for Health and Education in Latin America. Dr. Frank was elected to the Omicron Kappa Upsilon Honorary Dental Society. She received Georgetown University's Silver Medal for services to the Medical Center. Dr. Frank was also the recipient of the highest honors of " Orden de Comendador" and " Orden de Dama" from Javeriana University. She has received the Founder's Day Award and has also received awards in recognition of excellence for her contribution to international medical cooperation from the Pan American Medical Society, Salvador University, Buenos Aires, Argentina, and the University of Santa Amaro, Sao Paulo, Brazil.
Princy N. Kumar, MD
Dr. Princy Kumar serves as the Senior Associate Dean for Students at the School of Medicine and has held this position since 2000. In this role, she mentors students with a wide variety of academic interests and also meets with students facing challenges or concerns about health, well-being, or personal issues impacting their academic performance. In addition, she is a Professor of Medicine and Microbiology and Chief of the Division of Infectious Diseases and Travel Medicine at MedStar Georgetown University Hospital. Dr. Kumar received her medical degree at Kasturba Medical College in India and completed her residency at Englewood Hospital in New Jersey. Dr. Kumar trained as a Fellow in the Department of Infectious Diseases at Georgetown University Hospital, where she served as the director of that fellowship program from 1996-2012 and currently serves as the Associate Program Director. She has a broad portfolio of research and scholarly endeavors, which includes ongoing clinical research on adult HIV therapeutic strategies in her role of Principal Investigator for the Georgetown University sub-site of the NIH/NIAID funded AIDS Clinical Trials Group, as well as her work as Principal Investigator for the HPTN TLC-Plus study that focuses on HIV prevention through enhanced HIV testing, linkage to care, and treatment. Her public service work includes serving as a consultant to the FDA's Anti-Viral Drugs Committee, and a consultant to the Peace Corps. Dr. Kumar lives in Potomac, MD with her husband, daughter, and son.
Jett McCann, MS
Dean McCann has a BA from Elon College, an MS in Library/Information Science from the University of North Carolina/Chapel Hill, and holds a certificate in knowledge management [CKM]. He has been a Distinguished Member of the Academy of Health Information Professionals since its creation in 1988. In addition to running the research/public library at McMurdo Station, Antarctica while on active duty in the Navy, over a 30 year academic health sciences library career he has held faculty/library management positions at East Carolina University, the University of Maryland-Baltimore County, the Medical College of Georgia and the Medical University of South Carolina. Additionally, he worked for seven years as an executive with EBSCO Information Services, at their international offices in Birmingham. He currently serves on the Committee on Medical Education and the Committee on Student Life, as well as a PreClinical Adviser to 10 first year, 10 second year, and 10 third-year medical students.
Mary Furlong, MD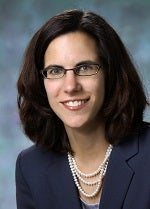 Mary A. Furlong, MD, the Associate Dean for Curriculum and Director of the Office of Medical Education, is a Professor and also the Director of Medical Education in the Department of Pathology. She directs the sophomore pathology course, third and fourth-year Clerkships, and the pathology residency program. She is a graduate of Georgetown University School of Medicine and completed her anatomic and clinical pathology residency at the same institution. Dr. Furlong completed both surgical pathology and soft tissue pathology fellowships. She has been involved in teaching medical students and residents for over a decade and is the recipient of four Golden Apple awards. Dr. Furlong has been a primary or co-investigator on three CIRCLE grants and has been involved in developing curricula for both undergraduate and graduate programs. She participated in the development of the Medical Education Research Track within the School of Medicine and currently serves as both pre-clinical and clinical advisor.
David Taylor, M.Ed
David Taylor joined the Georgetown University School of Medicine family in July 1990. In his role as the Senior Associate Dean for Student Learning, Dean Taylor is responsible for initiatives that promote the retention and advancement of medical students through the four-year curriculum. He utilizes knowledge and skills in educational philosophy and research, student and instructor interrelationships, advising and counseling, and learning and study strategies to implement academic support services essential to students' academic success, the medical education mission and the quality of the learning experience.
Dean Taylor is also the Director of the Georgetown Experimental Medical Studies (GEMS) program, which targets underrepresented and disadvantaged students who aspire to the profession of medicine. GEMS serves as a rich, viable pool of future medical students in support of Georgetown's commitment to diversity in the health professions.
Dean Taylor is the 2020 recipient of the Jack S. Ruby Faculty Appreciation Award, and an inaugural recipient of the President's Excellence Award. He is a Member of the Racial Justice Committee for Change; Faculty Diversity & Inclusion (FDI) Subcommittee; Center for Innovation and Leadership in Education Steering Committee; Committee on Student Well-Being; Subcommittee on Evaluation and Assessment; Member, Medical Student Life Advisory Committee; Member, GEMS Academic Advisory and Admissions Committee; and, Member, Curriculum Innovation Committee.
Dean Taylor received a Bachelor of Science in Biology from Howard University in 1986 and completed the pre-clinical curriculum at the Howard University College of Medicine from 1986-1988. He obtained the Master of Education from George Mason University in 2008. Prior to Georgetown University, Dean Taylor served as Manager of Patient Enrollment for National Clinical Research Centers, Inc.
Lucile L. Adams-Campbell, PhD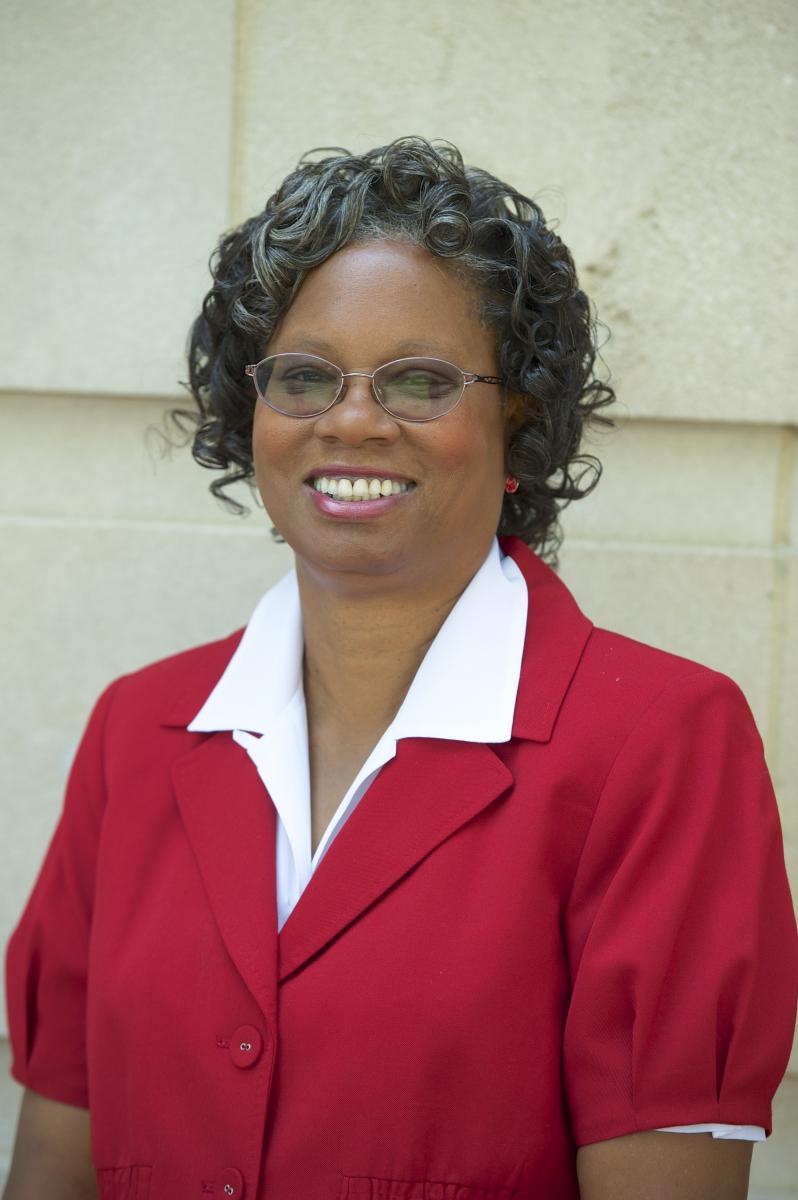 Dr. Lucile Adams-Campbell is Senior Associate Dean for Community Outreach and Engagement at Georgetown University School of Medicine; Associate Director of Minority Health and Health Disparities Research, and Professor of Oncology at Lombardi Comprehensive Cancer Center. Dr. Adams-Campbell has received numerous awards and honors including the election to the National Academy of Medicine, the Induction into the D.C. Hall of Fame, and named a 2018 Washingtonian of the Year. She received gold medallions awarded from both her alma maters (University of Pittsburgh and Drexel University) for outstanding contributions to the field of public health and health sciences. Dr. Adams-Campbell serves as a mentor to medical students and provides research internships and opportunities in the areas of minority health and cancer health disparities in a community-based setting.
Marian Wulf-Gutierrez, MD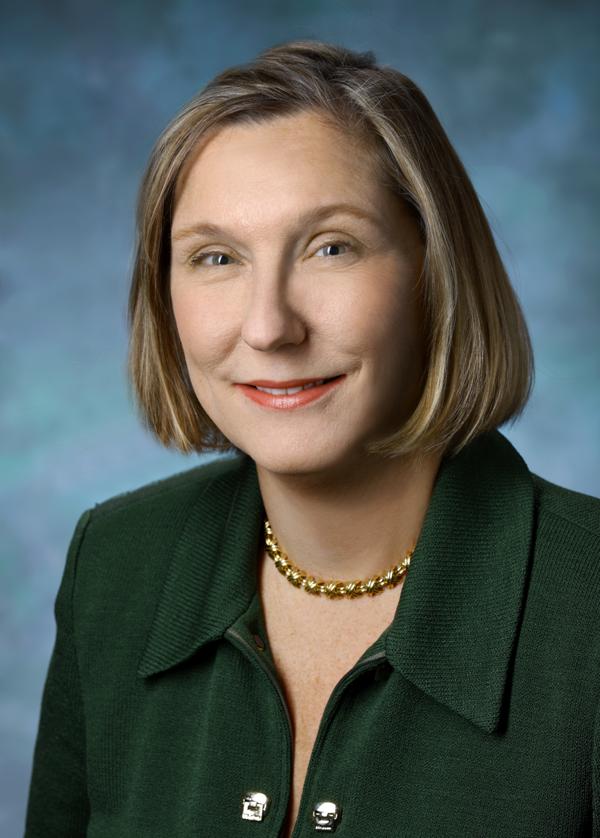 Dean Marian Wulf-Gutierrez is the Associate Dean for Clinical Education and Professor of Clinical Obstetrics and Gynecology at Georgetown University School of Medicine, where she has enjoyed being on the faculty since 2005. Her dedication to medical student education has been the central theme to her career whether she has been serving the underserved or being a " Doctor's Doctor". She is committed to Georgetown's philosophy of "cura personalis" both for her patients and her medical students. In addition to numerous teaching awards, Dean Wulf-Gutierrez received the Washingtonian Best Doctor Award in 2014 and 2016. Dean Wulf-Gutierrez is board certified in obstetrics and gynecology, which combines her curiosity for science, her desire to care for people, and her desire to empower women to take control of their lives.
A northern Virginia native, Dr. Wulf-Gutierrez earned her Bachelor of Arts in Psychology and her Doctor of Medicine from the University of Virginia. She did her residency at the University of Michigan. Dr. Wulf-Gutierrez practiced and taught at the University of Texas in Houston for 18 years before returning to the area in 2001 to be closer to the family. She served as the director of the Inova Fairfax Obstetrics Clinic, which delivered nearly 3000 babies per year, and was on the faculty at The George Washington University School of Medicine and Virginia Commonwealth University School of Medicine. She was Clerkship Director of Obstetrics and Gynecology at VCU SOM for two years and at GUSOM for over eight years.
A marathon runner and triathlete in the past, Dean Gutierrez now enjoys spinning, gardening, and cooking in her free time. She has been happily married for over thirty years, has four children, and five grandchildren.
Yvonne Hernandez, PhD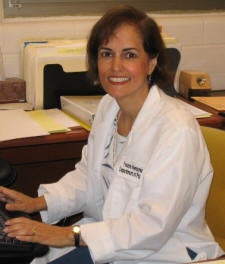 Yvonne Hernandez is an Associate Professor in the Department of Pharmacology and the Associate Dean for Pre-Clinical Education. She is also the Course Director for the 2nd year Medical Pharmacology Course and Module Director of three 2nd year systems-based integrated Modules. In this position, she acts as a representative from the Department of Pharmacology in the School of Medicine. She is involved in the selection process for medical students and is Co-Chair of the Committee on Medical Education that oversees the School of Medicine curriculum. She received her B.A in Zoology from Duke University, her M.A. in Pharmacology from Boston University, and her Ph.D. in Pharmacology from Georgetown University.
Stephen Ray Mitchell, MD, MBA, MACP, FAAP, FACR
A Dreyfuss National Merit Scholar at the University of North Carolina, Dr. Mitchell completed training and certification in Internal Medicine and Pediatrics at the North Carolina Memorial Hospital in Chapel Hill. He completed Rheumatology subspecialty training at Georgetown University.
In 1988, he accepted a faculty position to provide rheumatology teaching and service in adult and pediatric rheumatology at Georgetown University Hospital, where he opened the Childhood Arthritis Center. He served as Residency Program Director in Internal Medicine from 1992 to 1999 and initiated an innovative Medicine Pediatric Residency at Georgetown in partnership with Kaiser Permanente in 1996 under the sponsorship of Partnerships for Quality Education and the Pew Charitable Trusts. He has served on the Council and Secretary-Treasurer of the Association of Program Directors in Internal Medicine (APDIM) from 1996-2002. He served as Associate Dean for Clinical Curriculum at Georgetown University School of Medicine from 1998-2000 and as Senior Associate Dean for Academic Affairs from 2000 until May 2002. He served as the Joseph Butenas Professor of and Dean of Medical Education at Georgetown until July 1, 2020. He currently serves as Dean Emeritus.
Dr. Mitchell has been honored with multiple Golden Apple awards and has been inducted then into the Golden Orchard twice for medical student education. He has received the Kaiser Permanente Award from the faculty for the outstanding Clinical Teacher in the medical center. Dr. Mitchell has received every residency teaching award in the Department of Medicine, including induction into the Sol Katz Society. He was awarded a Laureate Award from the Washington Metropolitan Chapter of the American College of Physicians/American Society of Internal Medicine in 2002. In 2004, he was inducted into Mastership of the College, the highest honor bestowed only on 600 living members of the 150,000 member organization.
Dr. Mitchell completed the Stanford Faculty development program in Clinical Teaching in 1994 and has delivered that clinical teaching model in many venues around the country. In 1996 he completed the Harvard Macy Institute as Clinician Educator and in 2000 completed the Leaders course. In 2005 he hosted the third reunion of Harvard Macy Educators in Washington, DC in an international conference on " a Global View of Medical Education."
Eileen Moore, MD
Dr. Eileen Moore completed her HRSA Primary Care Fellowship at Georgetown from 1998 to 2000 and has been on the faculty since that time. Dr. Moore is a clinician–educator with an exciting clinical practice in General Internal Medicine and a keen interest in progressive medical education. Her interests include access to care and quality of care for underserved and vulnerable populations.
Jamie Padmore, DM
Dr. Jamie S. Padmore is the senior associate dean for medical education at Georgetown University Medical Center (GUMC) and principal liaison for medical student clinical education at MedStar Health's clinical sites. She is the founder and co-director of the MedStar Health Teaching Scholars Program, and established Georgetown's Office of Educational Scholarship. She holds the rank of professor in the GUMC Department of Surgery.
In addtion, Dr. Padmore is vice president of Academic Affairs at MedStar Health. In this role, she has strategic and operational oversight for Graduate Medical Education (GME), continuing medical education, faculty development, medical staff credentialing and physician well-being at MedStar Health. She serves as the Designated Institutional Official (DIO) for the MedStar Health GME Consortium, which includes more than 1,100 residents and fellows enrolled in more than 90 clinical training programs.
Nationally recognized for her published research on academic remediation and due process, clinical competence assessment and the clinical learning environment, Padmore is often sought after as a consultant in medical education. She was honored as the inaugural recipient of Georgetown University's designation of Distinguished Educator.
Padmore received her Bachelor of Science from the Ohio State University College of Medicine, and her Master of Science and Doctor of Management from the University of Maryland. She is a 2007 Harvard-Macy Scholar, and also holds a certificate in leadership from Georgetown University and a certificate in medical education research from the Association of American Medical Colleges.
Padmore has held leadership roles on several national organizations, including the Association of American Medical Colleges (AAMC) Group on Educational Advancement, Group on Resident Affairs, and served three elected terms as AAMC's national section chair for Graduate Medical Education. She also has served as an officer and board member for the Alliance of Independent Academic Medical Centers. She is an active member of the Association of Medical Educators in Europe. Locally, Padmore serves as faculty with the Uniformed Services University of the Health Sciences Program Director Training Course, the Veterans Affairs Medical Center Deans' Committee and Maryland Health Services Cost Review Commission.
David Pollock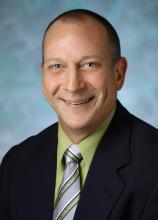 David Pollock received his undergraduate degree in Business Administration and Economics from Houghton College. He worked for several years in retail banking as a mortgage and home equity loan underwriter in Boston before relocating to Washington. He has been with Georgetown University for 23 years and was appointed Associate Dean for Medical Student Financial Services in July 2014. The Office of Financial Services is responsible for determining medical student eligibility for both federal and institutional aid programs, providing education debt management counseling and assisting students with personal finance matters.
Joseph Timpone, MD
Dr. Joseph Timpone is the Associate Dean for Student Research and received his B.S. degree in Biology from Fairfield University in Fairfield, CT, followed by his MD degree here at the Georgetown University School of Medicine. He did his residency training with the Department of Medicine at Georgetown University Hospital, and also served as the Chief Medical Resident at D.C. General Hospital. He returned to Georgetown where he did his fellowship in Infectious Diseases. Upon completion of his fellowship, he became a medical officer at the National Institutes of Health where he participated in the development and design of clinical trials for the AIDS Clinical Trials Group. This resulted in many publications on the use of combination antiretroviral therapy for the treatment of patients with HIV. He returned to D.C. General Hospital as the director of the HIV Center, before becoming a full-time faculty member in the Division of Infectious Disease and Travel Medicine at Georgetown. As an Associate Professor of Medicine, he is involved in medical education at the medical student, resident, and fellow level. He is a lecturer in Microbiology and the Infectious Diseases Modules at the medical school and has developed an interactive virtual laboratory microbiology curriculum for the Second Year medical students. Over the last 10 years, he has served as the Associate Program Director of the Internal Medicine residency training program where he oversees and coordinates the research and scholarly activities of the Medicine house staff. Since '07, he has been the Director of the Independent Scholarly Project (ISP) program and is responsible for the oversight of all medical student research projects and activities. As the Associate Dean of Student Research, he oversees the Office of Student Research and coordinates the George M. Kober Student Research Day for the graduating medical student class. He is also responsible for overseeing the Dean's Summer Stipend program, which provides grants to medical students to support their research projects during the summer between their M1 – M2 years. His current research interests include HIV clinical research, infections in solid organ transplantation, and the epidemiology of multidrug-resistant organisms. When he is not preparing another lecture for his students, he enjoys spending time with his family and playing guitar in his rock cover band Basement Riot.
Deborah Topol, MD, FACP

Deborah Topol, MD, FACP is the Associate Dean for Medical Education at Med Star Washington Hospital Center. She attended University of Pennsylvania undergrad and University of Maryland Medical School. She did her Internal Medicine Residency and Chief Residency at Georgetown. She is the Director for the longitudinal course Medical Student Grand Rounds and has enjoyed teaching medical students and residents for over fifteen years. Dr. Topol is the clinical clerkship director of Internal Medicine and an Associate Program Director of the Internal Medicine Residency Program at Med Star Washington Hospital Center. She is the recipient of the 2015-2016 Faculty Affiliate Award and the 2016-2017 Kaiser Permanente Award for Clinical Teaching. Her interests include ethics and addressing moral distress in residents and medical students.
L. Whitman Brown, MBA, PMP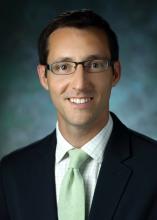 Whitman Brown serves as Senior Associate Dean and Chief of Operations for the School of Medicine and in this capacity oversees the school's continuous quality improvement and accreditation efforts. In 2019, he received the C.A.R.I.S. award which stands for compassion, achievement, respect, inspiration and service, and is awarded to staff and academic and administrative professionals (AAPs) that exemplify these values at the medical center and the President's Excellence Award. In 2015, the Student Government awarded him the Jeanne V. Walther Award for Administrative Excellence. Whitman began working at Georgetown University School of Medicine in the Office of Medical Education in 2009, moved to the Office of Finance and Administration in 2012. He was appointed Assistant Dean for Finance and Administration in September 2013 and Associate Dean in 2019.  Whitman received a Masters in Business Administration from The George Washington University and a Bachelor of Arts degree in History and Religious Studies from Maryville College.  

Nicole M. Houle, EdD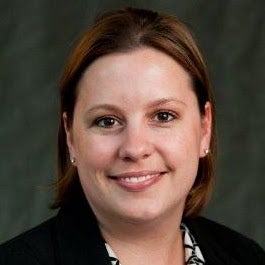 Dr. Nicole Houle serves as the Associate Dean for Admissions and Financial Aid at Georgetown University School of Medicine.  Prior to joining the School of Medicine, she worked in the McDonough School of Business at Georgetown University as an Assistant Dean in the Undergraduate Program. Earlier experience includes positions in Student Conduct, Residence Life, and Career Services. 
Her current work includes building out more inclusive admissions and retention practices and utilizing creative admissions processes to improve targeted recruitment and retention. In 2016, she was awarded the Georgetown President's Excellence Award for her innovative leadership in medical admissions and exceptional service to the School of Medicine & Georgetown community.
Dean Houle earned her Doctorate in Education with an emphasis in Higher Education Administration at Northeastern University; a master's degree in Higher Education Administration from Old Dominion University; and a bachelor's degree in Counseling from Old Dominion University.
Yumi Jarris, MD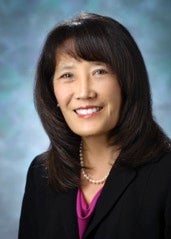 Yumi Shitama Jarris, MD is a Professor of Family Medicine and the Assistant Dean for Population Health and Prevention. She is the Division Director of Medical Student Education and the Director of the Population Health Scholar Track. She practices Adolescent Medicine at the Student Health Clinic. Dr. Jarris is a graduate of the University of Maryland School of Medicine and the Fairfax Family Medicine Residency and completed a faculty development fellowship at Duke University Medical Center. She was on the faculty at the Swedish Cherry Hill Residency Program in Seattle, was Associate Director of the Valley Family Medicine Residency in Renton, WA, and worked in community health centers in Seattle and Burlington, VT. She completed the MedStar Health Teaching Scholars Program and received a Medical Education Research Certificate from the AAMC. She is co-chair of the Workforce Education and Training Committee for the ASTHO Primary Care and Public Health Integration National Collaborative Group. Dr. Jarris received the Henry Walton Prize for the most downloaded article from the journal Medical Education in 2012. Her interests include population health, racial and ethnic disparities in health, adolescent medicine, critical reflection in medical education, and work-life balance.
Linda Van Keuren, MLS, DM/AHIP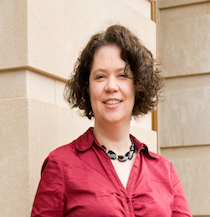 Linda Van Keuren is the Assistant Dean for Resources and Access Management at the Dahlgren Memorial Library, Georgetown University Medical Center. Since 2011, she has supervised the library's access and resources departments to ensure that high-quality content and services are readily available in support of the academic, clinical and research missions of the Medical Center. Her efforts focus on finding cost-effective ways to increase the depth and breadth of library collections. Prior to her appointment at Georgetown, she was the Systems Manager at Grace Library, Carlow University in Pittsburgh PA as well as Adjunct Faculty, Department of Management and was awarded the Adjunct Excellence in Undergraduate Teaching Award.

She is an active member of national and regional professional library organizations and has held offices within the Medical Library Association. She is a member of the Academy of Health Information Professionals and was a fellow within the National Library of Medicine/Association of Academic Health Sciences Libraries Leadership Fellows Program. Dean Van Keuren has a Masters in Library Science from the University of Pittsburgh and an undergraduate degree from Carnegie Mellon University.
Douglas L. Varner, MLS, MS
Douglas Varner is currently the Assistant Dean for Information Management and Chief Biomedical Informationist at Dahlgren Memorial Library at the Georgetown University Medical Center. Douglas came to Georgetown after completion of a 2 year Clinical Informationist Fellowship Training Program funded by the National Library of Medicine and conducted at the William H. Welch Medical Library, Johns Hopkins University School of Medicine in Baltimore, MD. Previously Douglas was the Library Director at the Health Sciences Library for California Pacific Medical Center and the University of the Pacific School of Dentistry in San Francisco, CA. He holds a BS degree in Life Sciences and an MS degree in Veterinary Science, both from the University of Nebraska-Lincoln. Douglas conducted research on a parasitic protozoa for completion of his Master's degree thesis work. In addition, Douglas received a Master of Library Science degree from the University of Maryland, College Park. During his tenure at Georgetown in Dahlgren Memorial Library, Douglas was accepted into the National Library of Medicine – Association of Academic Health Sciences Libraries Leadership Fellows Program. In addition, Douglas has been the recipient of multiple grants from the National Network of Libraries of Medicine to fund outreach and technology initiatives at Dahlgren.
Dustyn J. Wright, MA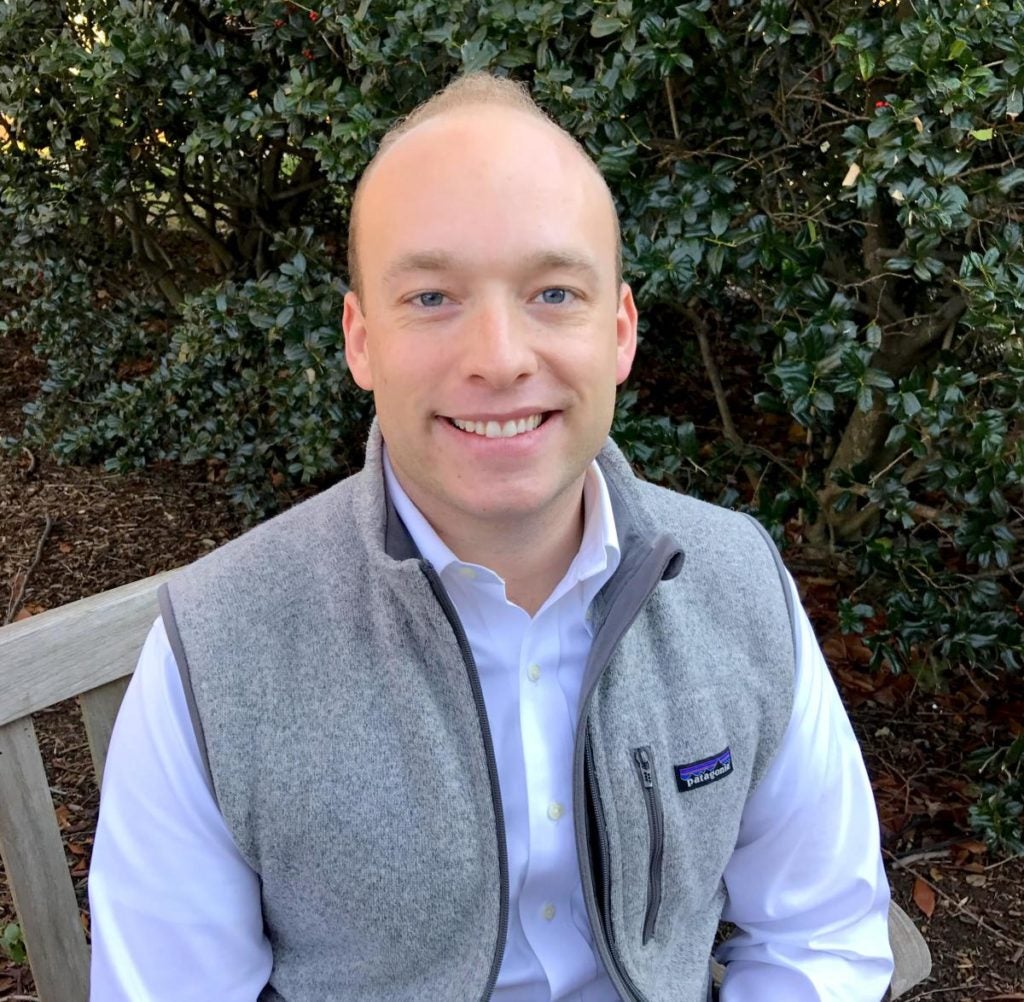 Dustyn Wright serves as the Assistant Dean for Curriculum Management. Prior to his appointment as Assistant Dean in 2020, he was the founding Director of Student Learning within the Office of Student Learning & Academic Advising, and held prior roles within medical admissions and student affairs at the Georgetown University School of Medicine.
Prior to joining the School of Medicine, Dustyn earned his B.S. from the University of Michigan, and, later, his M.A. in Learning, Design, and Technology from Georgetown University. His research interests include medical student well-being, professional identity formation, and student learning & development.
Mary Donovan, MA, MFA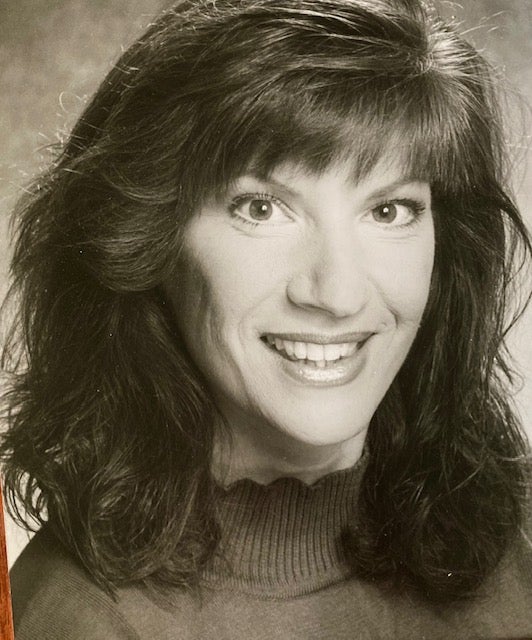 Mary Donovan is the Assistant Dean for Standardized Patients & Experiential Learning. She has served at Georgetown as administrative director and educator for the Integrated Learning Center since 2007, providing SOM students with clinical learning and assessment opportunities through the methodologies of SP education and simulation. Prior to Georgetown, she served as faculty instructor and senior SP trainer at Uniformed Services University of the Health Sciences, and academic-affairs staff at Johns Hopkins Medical School. Prior to her work in med-ed experiential learning, she managed a forum of women in international trade and diplomacy, taught as adjunct faculty on Georgetown's main campus in the mid-90s, served as marketing manager for a B2B organization, and as chapter liaison for a national trade association. In the early days of online journal search and retrieval, she worked as a researcher at the National Library of Medicine, Library of Congress and other libraries. While in college and beyond, she worked for the UVa Hospital Education system, teaching children from birth to age 21.
Mary presented (virtually) at the Ottawa Conference in Kuala Lumpur, Malaysia, as a finalist for the IMU-RHIME Award for Innovation in March of 2020, and won an innovation award for her presentation at the international Association for Standardized Patient Educators in 2011. From 2016-18 she served as Chair for the Mid-Atlantic Consortium of med-school clinical-skills programs. In 2016, GUMC honored her as a "bridge-builder" in the Ongoing Engagement and Consultation initiative.
She received her BA in English from University of Virginia, MA in Liberal Studies from Georgetown University and MFA in Writing from Vermont College of Fine Arts.
Amanda B. Finnell, MS
Amanda Finnell was appointed Assistant Dean for Student Affairs in 2021. Amanda joined the School of Medicine in 2013 as the Executive Assistant for Student Affairs and was promoted to Director for Student Affairs in 2017. Prior to her start at the School of Medicine, Amanda held a position in the Environmental Protection Agency.
Amanda holds a Bachelor's in Biology from the Catholic University of America and a Master's in Biomedical Science Policy and Advocacy from Georgetown.