School of Medicine Commencement
Join Us in Celebrating the Class of 2022
Commencement Ceremony
Sunday, May 22, 2022; 11:00 am ET
DAR Constitution Hall
1776 18th St. NW, Washington, DC 20006
Commencement Speaker and Honorary Degree Recipient:
Dr. Eric Goosby
Professor of Medicine at the University of California San Francisco School of Medicine; Faculty Director of the Center for Global Health Delivery, Diplomacy and Economics at the Institute for Global Health Sciences
Honorary Degree: Doctor of Science
The School of Medicine Commencement Ceremony will also be livestreamed on the School of Medicine Facebook page (no account required for viewing) for those who would like to join us virtually in celebration.
---
---
Public Health Guidelines
All Georgetown University Commencement activities, including the School of Medicine Class of 2022 Commencement activities, will be held to the following public health guidelines:
To protect the health and safety of the Georgetown University community and our guests, all attendees at Commencement events are expected to be up to date on COVID-19 vaccination or have a medical or religious exemption, though guests will not need to show proof of vaccination or exemption during Commencement Weekend. If you are unvaccinated, please take a COVID-19 PCR test within 72 hours prior to attending any Commencement event and stay home if you receive a positive test result.
If you develop symptoms of COVID-19, regardless of your vaccination status, please stay home and do not attend Commencement events in person.
We would like to remind all graduates and guests that Georgetown University has also reinstated an indoor mask requirement on the Main and Medical Center campuses.
The University will continue to monitor public health conditions on our campuses, as well as COVID-19 community levels in DC and nationally, which will inform any updates to Georgetown's public health guidelines.
Class of 2022 Commencement Overview
Thursday, May 19
9:00 – 11:00 a.m.: Cap and Gown Pick-Up from the GU Bookstore in Leavey
Rental Fee: $68 + tax due at time of pick-up. Non-refundable. Cash or credit card payments accepted. You will also be asked to provide your cc info as collateral for unreturned items post-graduation.
Expect lines. The bookstore will have increased staffing at the cashiers so we hope that'll facilitate a more expedient process for you, but you should still be prepared to experience some wait time.
For assistance, including what to do if it's not possible for you to pick up your rental in person, contact: Dean John Hammett (jh254) in the Registrar's Office and Sudie Wheatle (sw1032), General Manager of the GU Bookstore. Cap and Gown Return: Sunday, May 22, afternoon & Monday, May 23 at the bookstore.
9 a.m. – 1:00 p.m.: Ticket and Honor Cord Distribution at Student Affairs in Med Dent NE111
Each student will receive 10 guest tickets to the Graduation Ceremony at DAR Constitution Hall, in addition to any extra tickets you have been granted through the lottery (via graduation survey). Graduates will not need a ticket to enter the graduation venue and do not count toward 10 guest tickets.
Items will only be released directly to the recipient. If you are unable to pick them up yourself, please arrange for a designee to do so on your behalf and provide permission in writing ahead of time to medstudentaffairs@georgetown.edu.
At this time, we will also ensure all of your guests are registered and cleared by public health officials to attend Commencement activities. In this way, we hope to alleviate the possibility of confusion upon arrival to all Ceremonies.
Please plan for lines. Additionally, Student Affairs will need to leave the office shortly after 1:00 p.m. to round up the head honchos and head over to the class photo, so you will need to come during the hours offered.
2:00 p.m.: Class Photo on the Wolfington Hall Steps (Jesuit Residence)
Arrival time: 1:30 p.m. with cap and gown. The class photo will be taken promptly at 2:00 p.m. It will take some time for everyone to get robed and in formation, and for the photographer to get you all set up. There are no make-up opportunities.
Rain site: Harvey Amphitheater. We will defer to the photographer's preference in the event of inclement weather. We will make the call with as much advance notice as possible and communicate any location changes to you by email.
Friday, May 20
5:15 p.m.: Warwick Evans Senior Awards Ceremony in Gaston Hall, located on the 3rd floor of the Healy Hall building
Elected Student Speaker will give address during the Ceremony.
All graduates, family and friends are invited and encouraged to attend in support of your classmates. Registration will be required for entry (more to come!). Seating is first come, first serve.
Reception to follow outside on the Quad between Healy Hall & Dahlgren Chapel.
Saturday, May 21
10 a.m.: Baccalaureate Mass in Dahlgren Chapel
On behalf of Fr. James Shea and the Baccalaureate Planning Committee, we are pleased to invite all members of the School of Medicine community to join us for a mass in celebration of the Class of 2022.
1 p.m.: Military Commissioning Ceremony in the GUMC Research Building Auditorium
Graduating GUSOM HPSP students — U.S. Air Force, U.S. Army and U.S. Navy — will be promoted from O-1 to O-3 and take their oath of office in order to report to their residencies. Family members will pin on their new ranks.
Specific details will be communicated in follow-up to GUSOM HPSP students.
Sunday, May 22
#HoyaMD2022
11:00 a.m.: Medical School Graduation Ceremony at DAR Constitution Hall, located at 1776 D St. NW, Washington, DC 20006.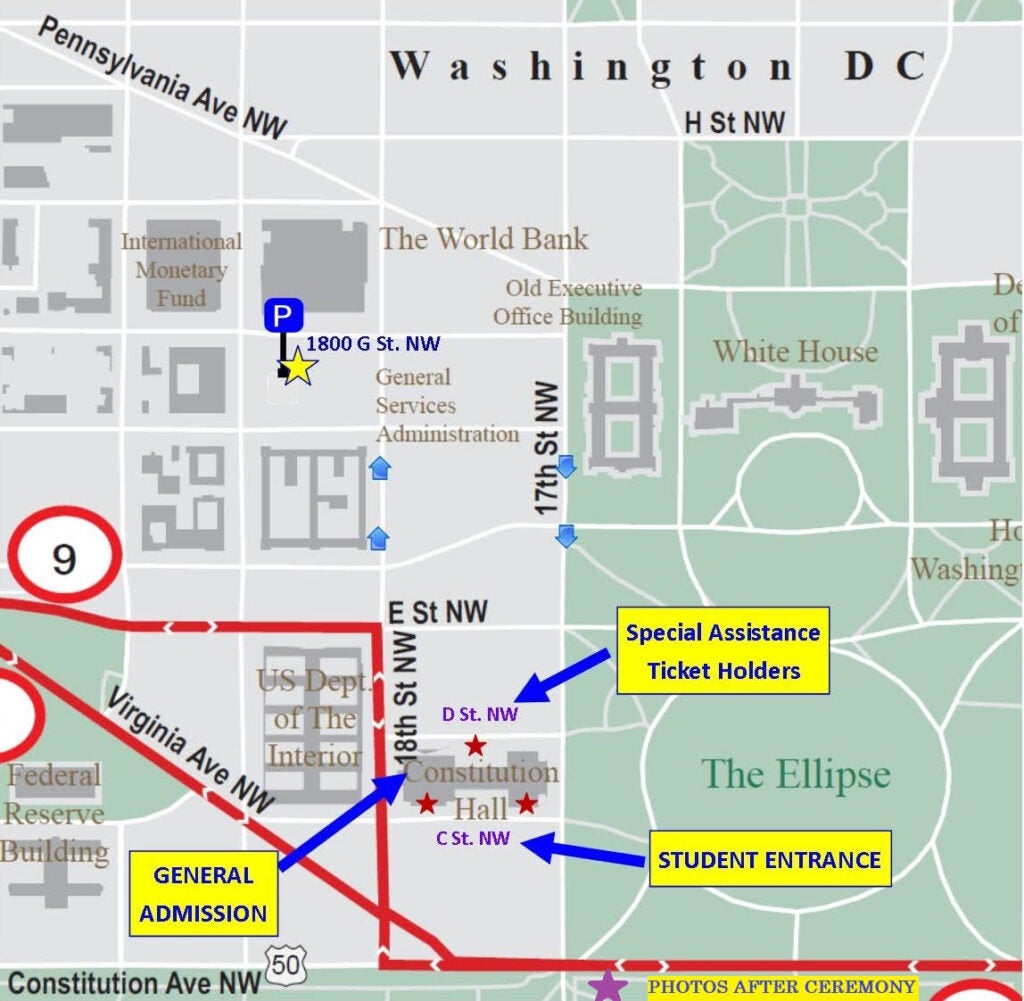 Graduate arrival time: 10:00 a.m. with cap and gown. All graduates should enter DAR using the reserved C Street Entrance, no ticket required. Participation in Graduation is mandatory.
General admission for guests begins at 10:00 a.m. through the main 18th Street Entrance of DAR. Guests must present a valid ticket to gain entry.
Free parking will be available in the Colonial Parking Garage #91 located at 1800 G Street NW (entrance on 18th Street). Parking passes will be included in ticket pick up envelopes. Please instruct your guests to tell the parking attendant that they are there for the Georgetown Medical School Graduation Ceremony.
The venue is also Metro accessible. The closest stations are Farragut West or Federal Triangle (blue, orange, and silver lines) and Farragut North (red line).
Separate instructions for guests with Special Assistance Seating Needs will be sent directly to applicable graduates (see graduation survey).
Commencement Address: Speaker TBA
Hooding:

Similar to the White Coat Ceremony, faculty will be present on stage to serve as Hooders for the graduates.
Special Hooders: Graduates may also choose to have their hooding performed by family members with an MD, DDO or DDS. These individuals do not need regalia. Registration was via the graduation survey. Additional details will follow.

Graduation Ceremony Livestream: Your loved ones and biggest fans are invited to tune in from afar via a live webcast that will be streamed from the GU Facebook Page. No Facebook account required.
1:00 p.m.: Ceremony Completion & Photo Opportunity on the National Mall

Graduates, families, faculty & staff are invited to join us on the National Mall for a final informal photo opportunity following the Commencement ceremony. Cross streets: Constitution & 17th St. NW on the Washington Monument side, approximately one-block walk from DAR Constitution Hall.
This informal gathering and photo opportunity will conclude Commencement Activities.
Cap & Gown Return
Cap and Gown Return: Your rental items must be returned to the GU bookstore following graduation to avoid being charged the full purchase price, totaling around $700 for all three items: gown, tam and hood. The tassel is a souvenir and is yours to keep.
---
Contact Information
If you have questions related to commencement events, please contact:
The Office of Student Affairs
Phone: (202) 687-3116
Email: medstudentaffairs@georgetown.edu
---
Previous Commencement Recordings & Photos