School of Medicine Commencement
Sunday, May 17, 2020
11 am
DAR Constitution Hall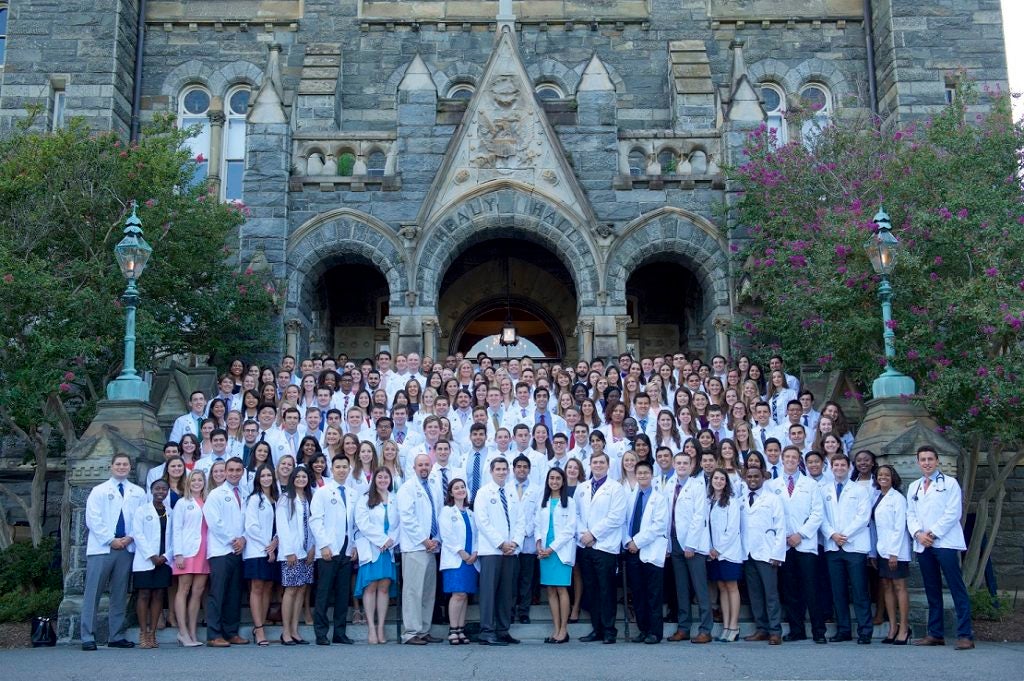 ---
Overview of 2020 Graduation Schedule
Thursday, May 14, 2020
9-11 am: Cap, Gown & Graduation Ticket Pick-Up 
12 pm: Class Photo
Friday, May 15, 2020
5:15 pm: Warwick Evans Senior Awards Ceremony
Saturday, May 16, 2020
10:30 am: Baccalaureate Mass, Holy Trinity Catholic Church, 3513 N Street NW
1 pm: Military Commissioning Ceremony
Sunday, May 17, 2020
GUSOM Class of 2020 Commencement Ceremony




11 am at DAR Constitution Hall, located at 1776 D St. NW, Washington, DC 20006

Attendance is mandatory for GUSOM Class of 2020 graduates.

Guests will be required to present a valid ticket to gain entry to DAR. Each graduate will receive 10

guest tickets to the graduation ceremony. Graduates will not require a ticket for admission. The request process for extra tickets will occur in January/February through the classwide Graduation Survey. Small children are not required to present a ticket if they will be sitting on a parent or guardian

'

s lap and do not require their own seat during the ceremony.




Live Video Stream:

The ceremony will be live-streamed for family and friends who'd like to celebrate your achievement from afar.

Medical School Graduation Reception

will be held on the Medical Dental Podium at Georgetown University School of Medicine immediately following the graduation ceremony (~1 pm). No tickets required for admission. All family and friends of M2020 graduates are invited to attend the podium reception, regardless of whether or not they have a ticket to the graduation ceremony at DAR. Free parking will be available in the SW Quad Garage.



---
Hotel and Lodging Accommodations
Georgetown University has partnered with several hotel chains to provide our friends and families of Georgetown with discounted lodging rates. This is the discount program, including hotel locations and booking information.
---
Contact Information
If you have questions related to graduation events, please contact:
The Office of Student Affairs
Phone: (202) 687-3116
Email: medstudentaffairs@georgetown.edu
---
Class of 2019 Commencement Recording & Photos
Watch the Class of 2019 Commencement Recording
Professional Photographs available for viewing and purchase
Contact the Photographer for questions regarding orders
---
Class of 2018 Commencement Recording & Photos
Watch the Class of 2018 Commencement Recording
Professional Photographs available for viewing and purchase
Contact the Photographer for questions regarding orders
---
Class of 2017 Commencement Recording & Photos
Watch the Class of 2017 Commencement Recording
Professional Photographs from the Graduation Ceremony are available for viewing and purchase
Contact the Photographer for questions regarding orders
---
Class of 2016 Commencement Recording & Photos
Watch the Class of 2016 Commencement Recording
Professional Photographs from the Graduation Ceremony are available for viewing and purchase
Contact the Photographer for questions regarding orders
---