Resources for Faculty and Staff
At Georgetown School of Medicine, we know that our faculty and staff are pivotal for the success of the college and our students. The Office of Diversity and Inclusion strives to provide informational resources, workshops, and training opportunities to faculty and staff across the School of Medicine. Use this page to learn about unconscious bias, apply to be a Bias Reduction Improvement Coach (BRIC), get involved with our Subcommittee on Faculty Diversity and Inclusion (FDI), and see some of our Culture Spotlights from around the Medical Center.
Teaching for Inclusion & Equity
The Teaching for Inclusion and Equity (TIE) professional development series at GUMC is focused on diversity, inclusion and equity in the classroom. The series of workshops which launched last spring, continues this fall 2019, and is sponsored by the GUSOM Office of Diversity Inclusion, the Georgetown Center for New Designs in Learning and Scholarship (CNDLS), the GUMC Center for Innovation and Leadership in Education (CENTILE), and the GUMC Faculty Development Committee (FDC) Subcommittee on Faculty Diversity & Inclusion.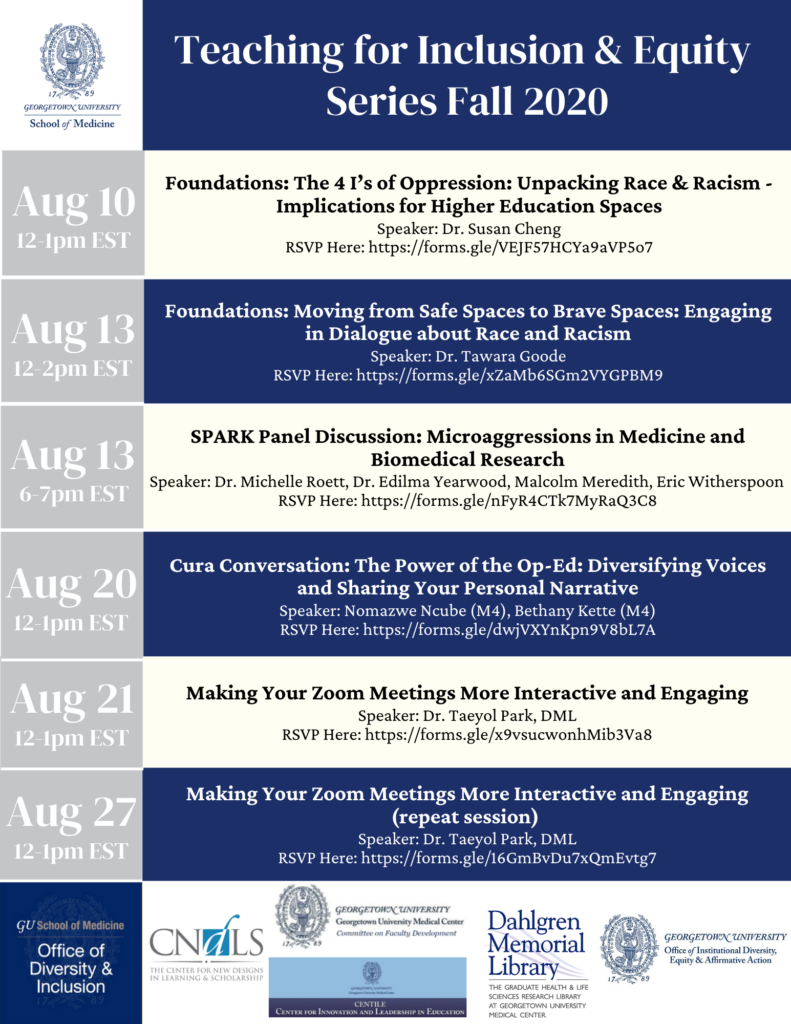 The series aims to provide learning opportunities for faculty, staff, students across GUMC and Georgetown, to learn more about teaching content, pedagogy, and develop skills and strategies in creating equitable and inclusive learning environments. TIE consists of stand-alone workshops that can be joined at any time.
The Work Relationships Committee under the GUMC Engagement Process lead by Dr. Ed Healton, Executive Vice President for the Medical Center, is co-led led by faculty Dean Susan Cheng and by administrator Annie Alston, along with Dr. Bonnie Green, Nancy Harazduk, Del Reese, David Taylor, and Rebecca Warren.
Subcommittee on Faculty Diversity and Inclusion
Mission: Cultivate and optimize the diversity of faculty in order to promote their full capacity to contribute to academic excellence in research and education across GUMC.
Bias Reduction and Improvement Coaching (BRIC) Application Portal
The BRIC program is a train-the-trainer professional development opportunity for a diverse cohort of faculty and staff. The focus of the program is based on the science and impact of unconscious bias and the use of best practices for how to mitigate the effect of bias in our workplace and culture for the benefit of teams and departments across GUMC.