Meet Our 2019 Sarah Stewart Scholars
Adaora Ewulu
Adaora is a current M2 hailing from Dallas, Texas. She came to Georgetown because of the Sarah Stewart Scholarship and because of Georgetown's well-respected reputation. Both living in DC and attending a school like Georgetown with financial aid help were great incentives. Adaora hobbies include playing piano, which she has been playing since the third grade, and exercising. Adaora is unsure of her medical interests yet but is leaning towards dermatology and plastic surgery. Adaora defines diversity as any characteristic that makes someone unique while inclusion is having the ability to make those people feel welcome and part of the group. Adaora hopes to give back to the community and serve the underserved by getting involved in community service events and projects that especially concern the underserved in DC. During her M1 year, Adaora was a part of a Correctional Health Outreach group at Georgetown that volunteers at the Arlington Country Jail once a month to do health talks with inmates. Additinoally, Adaora has volunteeed and completed "mini-med school" lessons for middle schoolers in Southeast DC, which she found very rewarding.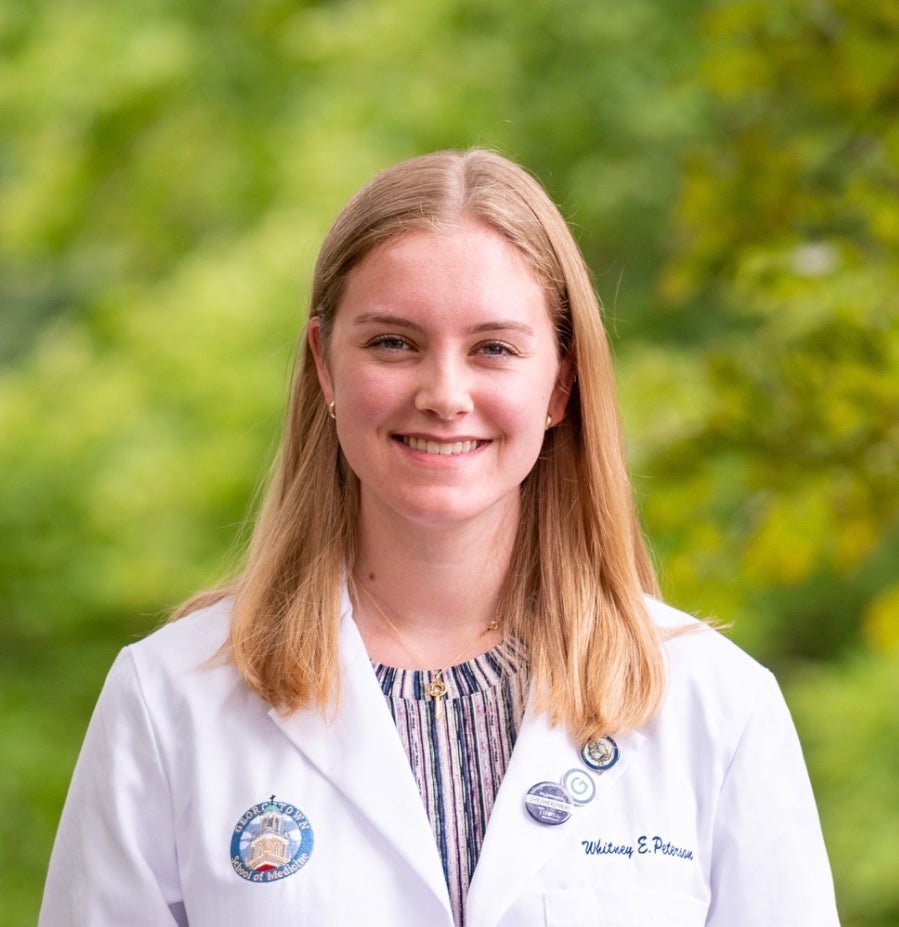 Whitney Peterson
Whitney is originally from Tulsa, Oklahoma, grew up in Houston, Texas, and returned to Oklahoma for her undergraduate degree in Biochemistry and Molecular Biology at Oklahoma State University. She is interested in pursuing a medical career in primary care, where she hopes to advocate for underrepresented and underserved patient populations who may have limited access to quality healthcare, including working with under/uninsured patients and Indian Health Services or Native American tribal health. Whitney chose to come to Georgetown University because she believes that her passion for improving quality of care aligns with the cura personalis that Georgetown fosters amongst its medical students. Outside of school, she enjoys cooking, painting, and spending time with friends and family.
Magdalena (Maggie) Lana
Maggie Lana is a current M2 from Mar del Plata, Argentina. Her hobbies include surfing, soccer, squash and hiking. She decided to come to Georgetown Med because she is convinced that its focus on cura personalis will provide her with the tools necessary to become a well-rounded physician and individual. She would one day like to give the skills she learned as a Sarah Stewart and Population Health Scholar back to the community. Maggie's goal as a future physician is to understand the determinants of 'good' health and to use that knowledge to expand the scope of possible explanations of illnesses. She believes that analyzing an entire population group, as opposed to a single patient, can effectively improve healthcare outcomes and needs of underserved communities.