IronMed Fundraising & Donations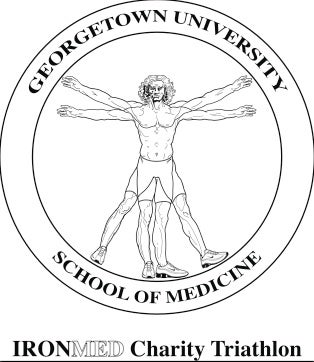 Donations
2. Donate by check made payable to "Georgetown University School of Medicine"
Checks may be submitted to:
Office of Student Affairs
Georgetown University School of Medicine
3900 Reservoir Rd. NW
Medical-Dental Building, NW 114
Washington, DC 20007
Phone: 202-687-3116
Fax: 202-687-9214
Contact medstudentaffairs@georgetown.edu with any questions or to request documentation for tax purposes.
Fundraising
There is no required goal for fundraising. We encourage each participant to raise $100 for each triathlete, team triathlon competitor and 5k runners.
Fundraising is the core of the Ironmed triathlon and 5k. All proceeds, including registration, go toward Hoya Clinic..
Please email gusom.hoya@gmail.com if you are having any issues with fundraising and we will do everything we can to assist you!
Prizes will be given to the top fundraiser.
About the Hoya Clinic
The HOYA Clinic is a non-profit, free clinic located in Southeast D.C. Consistent with Georgetown University's spirit of cura personalis, or care of the whole person, the HOYA Clinic was founded as a dream in the minds of several Georgetown faculty members committed to serving the homeless population of the District of Columbia. With the philosophy of providing holistic care for the underserved and advocating for better health outcomes among those who have no advocates, the HOYA Clinic first opened on September 18, 2007, and has been operating at its current location within the old D.C. General Building since December 18, 2007. The HOYA Clinic provides primary health care, free of charge, to the homeless and uninsured population of Washington, D.C.
Now, the clinic is open on Tuesday and Wednesday evenings, with walk-in hours from 6 pm to 7:30 pm, under the care of two attending physicians and staffed by Georgetown volunteer physicians, nurses and medical students. Seventeen new physicians recently joined the HOYA Clinic team representing the Department of Medicine, the Department of Family Medicine, the Department of Pediatrics, the Department of Emergency Medicine, and the Department of Obstetrics and Gynecology. Beyond providing acute, after-hours care and preventative medicine primary care to children and adults, the Clinic also provides women's health care, physicals, prenatal care, blood pressure and blood sugar checks, wound care, HIV and STI tests, Tuberculosis (PPD) tests, seasonal flu/H1N1 vaccines, prescription refills, pregnancy tests, physician referrals, social service referrals and health education. The Clinic is currently working to increase the number of its patients who apply for insurance, employs an opt-out HIV testing policy to encourage all patients to consistently test for HIV, and utilizes its own pharmacy as well as an expanding list of referrals for patients from a variety of insurance backgrounds, from Medicaid recipients to the uninsured. To date, the HOYA Clinic has provided for almost 2,000 patient visits. The year 2009 saw 629 of these visits. Our student volunteers dedicated approximated 3,800 hours of service to the HOYA Clinic in 2009 to make that possible. The HOYA Clinic is a small step forward to help with the healthcare crisis in DC, and one that when combined with other small efforts around the city, result in a tremendous improvement.
Thank you for your support!