Future Physician-Advocates Hone Their Skills During Health Justice Week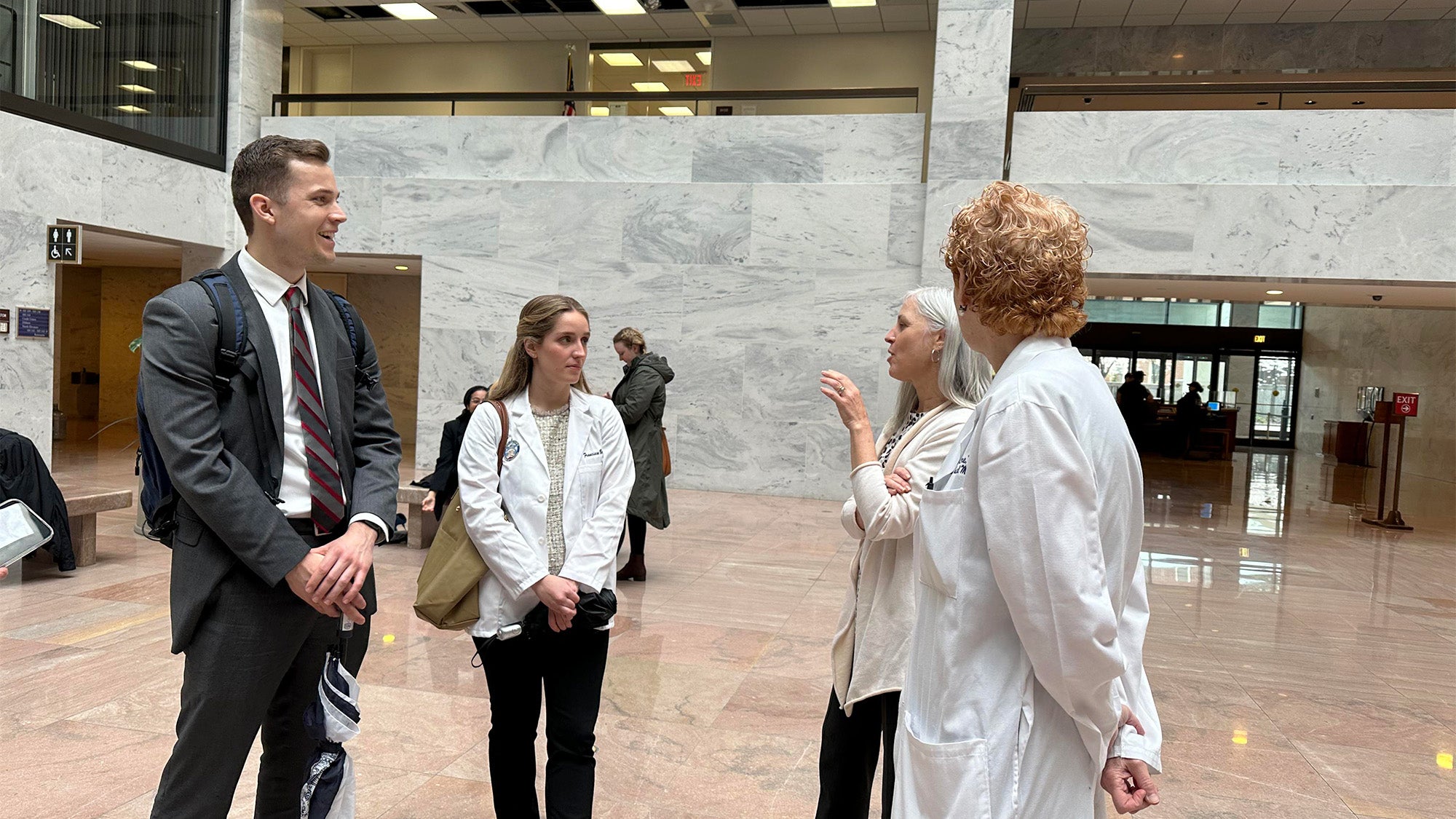 Posted in News Stories | Tagged advocacy, Health Justice Scholars, Health Justice Week, Hill Day, medical education, medical legal partnership
(March 31, 2023) — As part of Health Justice Week, School of Medicine students investigated social, legal, racial and economic barriers to health in an interprofessional learning environment. The students are all Health Justice Scholars who found their voices as physician-advocates through their lobbying of local and national representatives to improve the health of their communities.
The goal of the Health Justice Scholars program is to develop physicians who are compassionate providers and skilled advocates for health justice. "Health Justice Week is a beloved School of Medicine tradition," said Eileen Moore, MD, associate professor of family medicine and track director for HJS.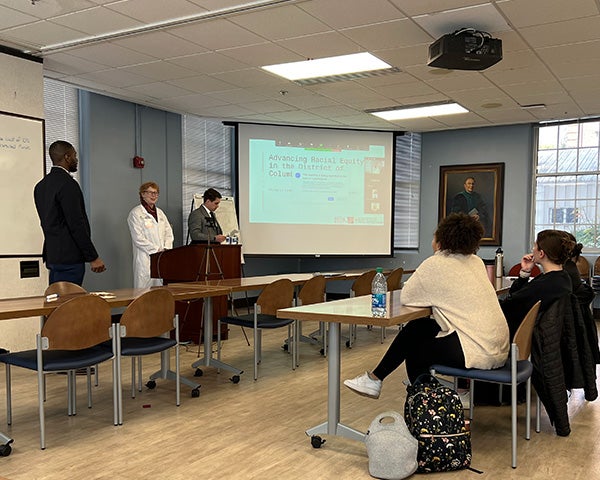 The week's activities began with two lunchtime events: a March 21 lecture by Phillip M. Alberti, PhD, founding director of AAMC Center for Health Justice, followed by a "pop-up" advocacy session on March 22.
The pop-up session was intended to be a microcosm not only of Health Justice Week, but also of the four years HJS scholars spend researching structural barriers to health and developing calls to action to address the barriers.
In the session, Chikarlo Leak, DrPH, policy and operations director for the District of Columbia's Office for Racial Equity, presented data on health inequities related to vehicular homicides. Leak noted that wards 7 and 8, which are majority minority wards, experience the highest levels of vehicular homicides.
In response to Leak's presentation, Hunter Fraker (M'19), MD, a former Health Justice Scholar and current MedStar Health resident, urged students to reach out to their local representatives to apply for federal funding from the Safe Streets and Roads program to help end vehicular homicides.
Interprofessional Learning
Fourth-year Health Justice Scholars presented their capstone projects at a March 23 wine and cheese reception. Many of the presentations grew out of the students' work with the Georgetown University Health Justice Alliance (HJA), an academic medical-legal partnership (MLP) between the medical center and Georgetown Law in which medical students participate in a legal or policy clinic for a monthlong rotation. During those rotations, medical students work side by side with law students and faculty contributing their valuable medical expertise to advance the law clinics' legal and policy advocacy.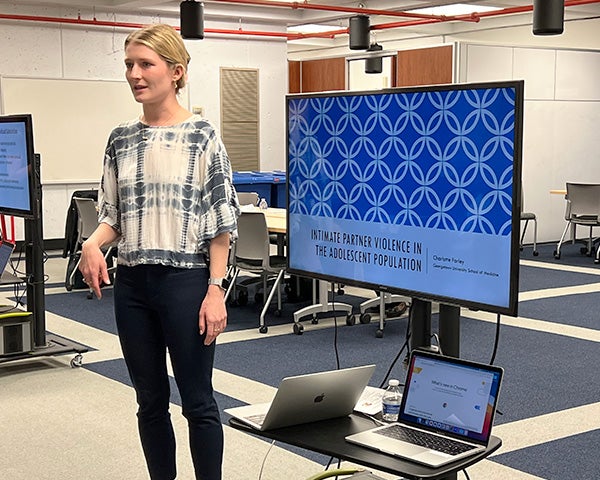 Ariana Davis (M'23) shared her research on the health of poultry workers as part of a collaboration between medical and law students at the Law Center's Harrison Institute for Public Law. Davis' work built on the research of previous medical students who examined the negative health impacts of workers' environments, such as inhaled chemicals on the respiratory system. Davis focused on repetitive stress injuries that workers developed in poultry processing plants. The project's long-term goal is to persuade universities to use their purchasing power to provide only responsibly sourced chicken for their dining halls.
"This experience showed me the power we have as physician advocates," said Davis.
Charlotte Farley (M'23) presented research on intimate partner violence in the adolescent population, which emerged from her time spent with the school-based health center at HJA.
"Intimate partner violence is a health justice issue," said Farley. "It's difficult as a physician to talk about unhealthy relationships with our patients, but we know these relationships impact health, and we have power to act to address these situations."
Advocating for the Whole Patient
The highlight of both the week and of the Health Justice Scholars program is a visit to Capitol Hill. Throughout the preceding fall semester, second-year medical students work in teams with law students to build their advocacy skills and prepare to meet with members of Congress. On March 24, these teams met with approximately two dozen representatives across the House and Senate to advocate for federal support of medical-legal partnerships, an innovative care approach that integrates lawyers into health care settings. After meeting with the students, several members expressed interest in their efforts to use MLPs to address unmet legal needs that negatively impact patients' health.
Bailey Liter (M'25) led a meeting with Rep. Rudy Yakym's office. Liter, who is a constituent of Yakym's, connected the students' goal of growing medical-legal partnerships to Yakym's interest in supporting veterans. The group argued that by increasing access to the legal services provided by MLPs at VA hospitals, Indiana veterans would be more likely to receive the benefits to which they are entitled.
After the meeting, Liter acknowledged that she did not foresee her medical school curriculum including a visit to Capitol Hill. "But as a future physician, we are learning how to take care of our patients physically, and today we're here advocating to have the entire person taken care of," said Liter. "This is what we care about — the whole person."
After meeting with a legislative aide of Sen. Bob Casey, Francisca Bermudez (M'25) was so inspired that she expressed interest in going to law school after earning her MD. "I'm learning there are so many barriers in the medical system that can only be addressed by knowing the law," said Bermudez.
"Health Justice Week is definitely making me see medicine in a different perspective," she added. "It's really a great experience."
Heather Wilpone-Welborn
GUMC Communications