Gold Humanism Inductees Embody Cura Personalis by Embracing Humanism in Health Care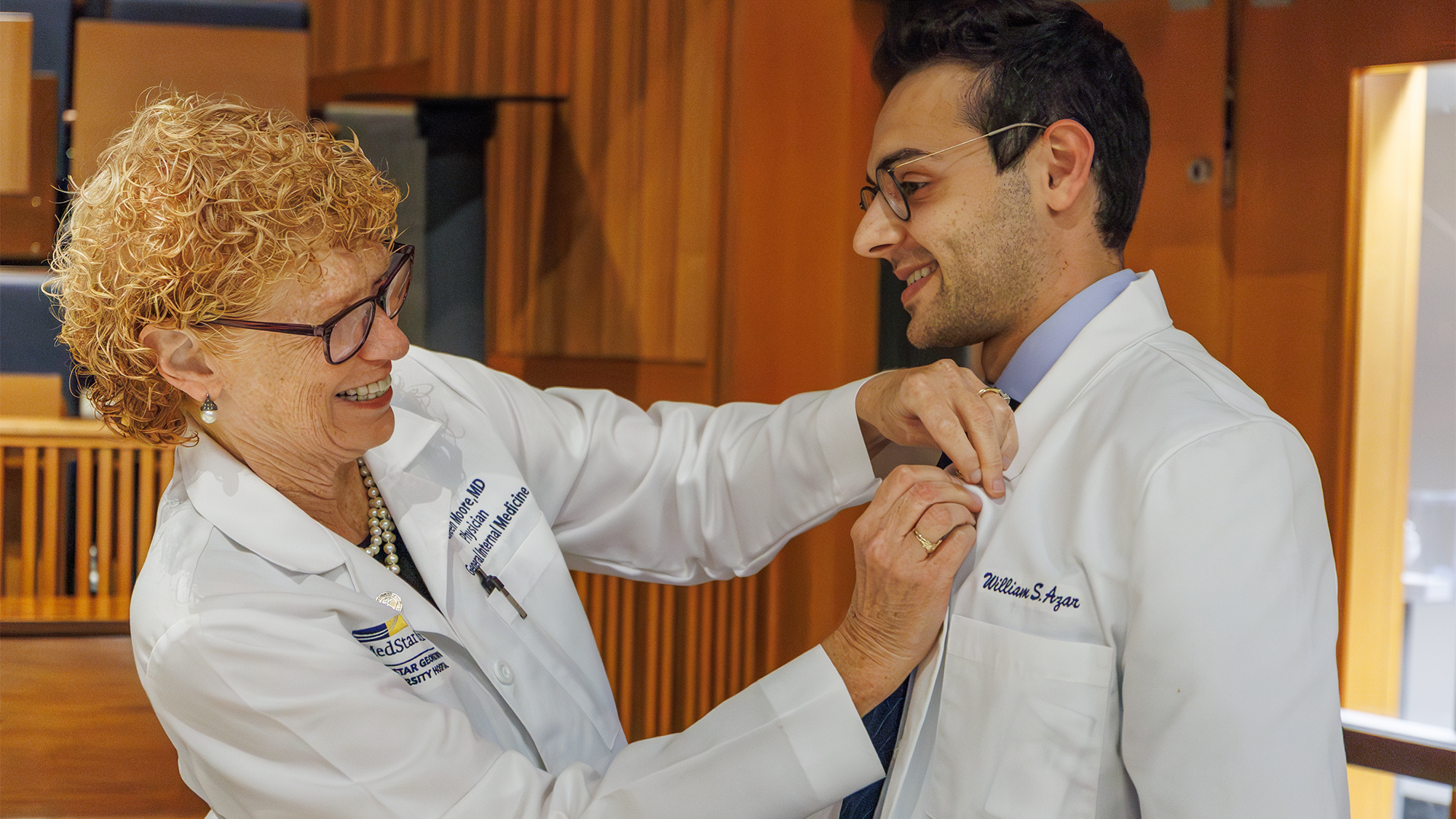 Posted in News Stories | Tagged cura personalis, Gold Humanism Honor Society, medical education
(November 3, 2023) — The Gold Humanism Honor Society (GHHS) added more than 30 School of Medicine students to its rolls at its annual fall induction ceremony. The event, held October 25 in Harvey Amphitheater, recognized fourth-year medical students who excel in providing compassionate care and embody cura personalis, care of the whole person.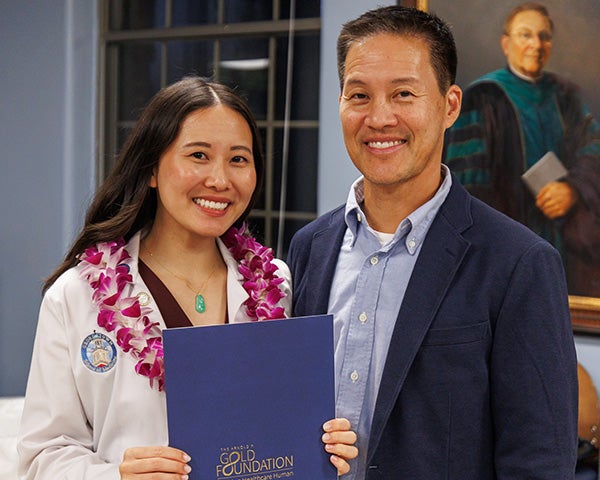 "In order to holistically care for patients, we must be mindful of not only their physical health, but also their mental, social and spiritual health," said Lauren Yap (M'24), one of this year's inductees, whose father flew in from Hawaii to attend the ceremony.
GHHS is a national organization of 45,000 medical students and physicians that champion humanism in health care, promoting a human connection between clinicians and their patients. Consideration for the honor society requires students to be ranked in the top quarter of their class and be nominated by their classmates.
"There is no higher form of recognition than to be appreciated by the people who know you best, who have seen you at your worst, your most fatigued, and still selected you as a model of what a physician should be," said Lee Jones, MD, dean for medical education.
Called to Make Health Care More Compassionate and Equitable
Before receiving their certificates and pins, students and their guests listened to a keynote address from the previous student president of the GHHS, Timothy Goblirsch, MD (M'23). Recognizing that the new inductees first met their standardized patients in Harvey Amphitheater, Goblirsch said it was significant that the amphitheater was also the location of the induction ceremony.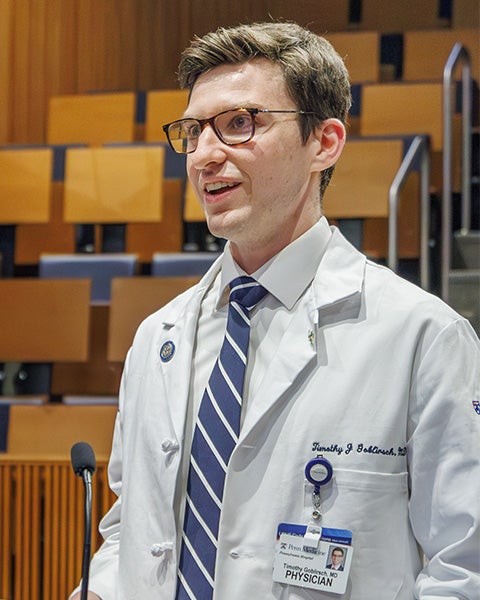 "You had the first opportunity to learn about humanism in this room when you experienced your first standardized patient interaction and exam," said Goblirsch. "We are coming full circle tonight."
Goblirsch commended the new inductees for being recognized as going "above the call of duty" to practice a form of holistic care.
"The social and emotional care you provided, whether it was getting someone a glass of water or making daily phone calls to update family members about a patient, demonstrates the unique gifts you each possess," said Goblirsch.
After offering his own congratulations to inductees, Goblirsch called on the students to be leaders among their peers by "taking on the identity of humanism."
"You are called upon to make health care more compassionate and more equitable," he said.
Embodying Cura Personalis
Eileen Moore, MD, associate professor of medicine and family medicine and Georgetown's GHHS chapter advisor, led students in the society's oath before the event concluded.
Part of the oath included students pledging to listen to their patients with their whole being, advocating for each patient as a unique individual and always remembering the healing power in acts of caring.
"My years at the School of Medicine have taught me that kindness is the language that the blind can see and the deaf can hear," said William Azar (M'24) while reflecting on the meaning of being inducted into GHHS.
"I could not be happier to have you all go out into the world and say you went to Georgetown," said Jones. "You truly embody what we are about, and what cura personalis is about."
Heather Wilpone-Welborn
GUMC Communications