HOYA Clinic Volunteers at Capital Pride with Casa Ruby
Posted in News Stories | Tagged community outreach, HOYA Clinic, service to others
(June 25, 2022) — When Christian X. Lava, MS (M'25), started serving as operations coordinator at the HOYA Clinic, one of his goals was to aid and advocate for the LGBTQ+ population. As a result of his outreach, medical students volunteered at the Capital Pride Festival with Casa Ruby, a local organization that provides services for transgender people.
"I am passionate about supporting the LGBTQ+ community, particularly transgender individuals, who are often overlooked," Lava said. "Sharing a booth with Casa Ruby allowed HOYA Clinic to support the LGBTQ+ community and share Casa Ruby's mission with medical students at the School of Medicine and attendees at the Capital Pride Festival."
Volunteering at the festival was a positive experience. "We were excited to see so many people come to our stand, and it was incredibly rewarding being able to step outside of Georgetown's bubble and engage directly with the community," said Soobin Wang (M'25), patient advocacy coordinator at the HOYA Clinic.
Connecting with Casa Ruby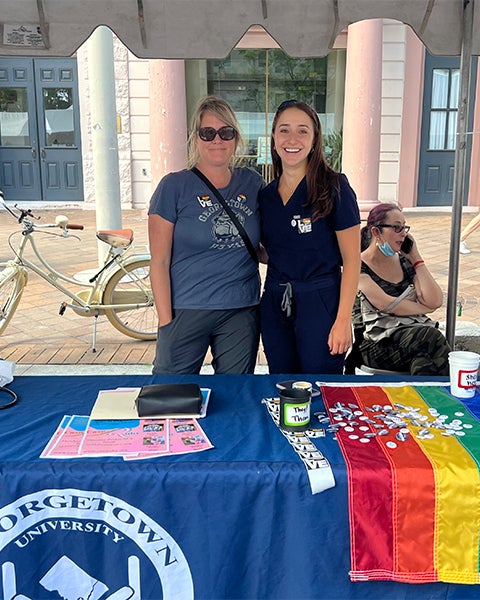 To achieve his goal of helping LGBTQ+ individuals with the HOYA Clinic, Lava contacted Casa Ruby, the only LGBTQ+ bilingual and multicultural organization in the region providing preventative health, housing, legal and social services. He and Holly Goldmann, external affairs director at Casa Ruby, decided sharing a booth at Capital Pride would show support for LGBTQ+ people from both the HOYA Clinic and School of Medicine, and raise awareness of the HOYA Clinic and Casa Ruby.
More importantly, volunteering at the event gave students an opportunity to engage in health education and provide critical health screenings, Lava said, adding that Goldmann said there is a real need for screenings among transgender people.
The students were excited to volunteer with Casa Ruby. "As coordinators, we were enthusiastic about the chance to work with the LGBTQ+ community, a part of the greater DC community that the health care system often alienates," Wang said. "By working with Casa Ruby and being at Pride, we wanted to demonstrate we're here to help in any way they desire."
Celebrating Pride
In addition to supporting the LGBTQ+ population, Yasmina Sirgi, MPH, MS (M'25), was especially motivated to be a part of the Capital Pride Festival, the largest annual event in the region, with food courts, beverage gardens, entertainment and 300 exhibitors, according to their website.
"I have lived in the DC area for the past three years and have fond memories of the Pride Parade and Festival, which is why I was interested in volunteering for this event," Sirgi said. "DC truly comes together for Pride, and I'd say there isn't another weekend that has as much energy, positivity, acceptance, and celebration of life."
As co-presidents of the Hoya Med Alliance (HMA), a group that organizes social and advocacy opportunities for LGBTQ students and allies, Tyler Jaques (M'25) and Julian Marable (M'25) endorsed Lava's plan, contributing pronoun pins and pride giveaways to the effort.
"Both HOYA Clinic and HMA have really been focused on giving back to the community over this past year in the wake of the pandemic, especially in the vulnerable populations of the LGBTQ+ community," Jaques said.
Sharing Information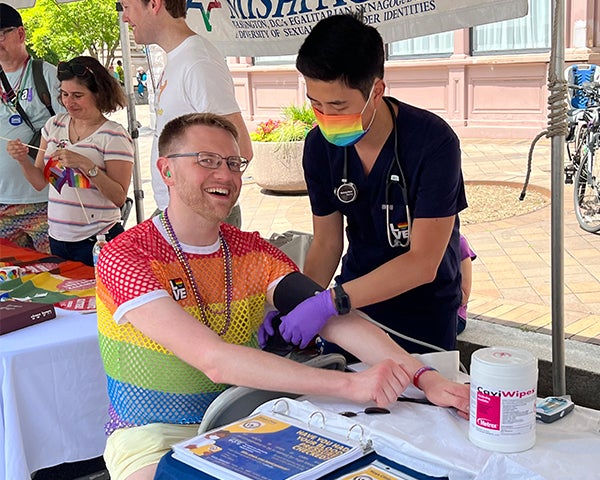 At the event, Lava estimated that students performed blood pressure checks for more than 50 attendees and blood glucose screenings for about 30 attendees. "We also ensured people left with a copy of their screening results, explained the meaning of their results and the need to monitor more regularly for greater significance, and distributed informational material on hypertension and diabetes," Soobin said. Volunteers from Casa Ruby also shared information and answered questions about their programs and services.
"It went well, and I was pleasantly surprised by the number of festival attendees that stopped for a wellness check," Sirgi said. "Everyone who stopped was extremely friendly and happy to chat about previous doctor visits and personal medical experiences."
In the future, the HOYA Clinic plans to hold health fairs, educational seminars and flu clinics with Casa Ruby, Lava said.
"I believe, as medical students, that we have an obligation to advocate and support individuals with multiple marginalized identities, such as homeless LGBTQ+ individuals," he said. "That can be achieved by practicing cultural competency, working together and learning how to understand and treat each patient as an individual with unique circumstances."
Kat Zambon
GUMC Communications