Interprofessional Learning Experience Inspires Students to Practice Coordinated Care
Posted in News Stories | Tagged aging, coordinated care, interprofessional experience, population health
(June 2, 2023) — Recognizing the importance of coordinated patient care among nurses, doctors and others, students from the School of Medicine and School of Nursing partnered for an interprofessional field trip to focus on caring for the aging.
The 15 students journeyed to Edenbridge PACE in southeast Washington, DC, on May 24 to practice the interprofessional communication skills essential to providing coordinated care with a team.
"Practicing care in an interprofessional environment demonstrates how everyone on a care team has a specialized skill set they bring to the table," said Rachel Jackson (M'24). "Each member can identify possible hurdles or disadvantages in current care plans that other team members from different specialties, or even their own, may not have recognized. It leads to a collaborative discussion and individualized solutions that lead to overall better patient care."
Edenbridge is part of the federally funded Program of All-Inclusive Care for the Elderly (PACE) program, which provides a range of health and support services, such as medical and nursing care, dentistry, nutrition counseling and social services, to assist older adults. Individuals who are over the age of 55 and meet other criteria are assigned an interdisciplinary provider team to meet the holistic needs of each person. The Edenbridge site is the first PACE location in Washington, DC.
"I believe the approach taken with the PACE program in providing coordinated, interprofessional care is incredible and is a model of what medicine should be working towards," said Lauren Havens (M'24). "Health outcomes are determined far more by what happens outside of what we are able to provide as physicians, and having cooperation between nursing staff and dieticians, for example, leads to better patient care."
The medical students present were part of Georgetown's Master of Science in Aging & Health program elective course in gerontology taught to rising fourth-year medical students. The nursing students taking part were from the School of Nursing's Clinical Nurse Leader (CNL) program who are completing their final summer capstone for the program.
"The experience at PACE not only allowed the medical and nursing students to interact with one another, [but also with] other disciplines present at the center, including occupational therapy, social work and recreational therapy," said Susan Coleman, MPH, director of community partnerships and instructor in the School of Nursing, who coordinated the site visit with Pamela Saunders, PhD, associate professor of neurology and director of the MS in Aging & Health Program.
Learning Different Team Roles
For the first part of the day, students paired off to explore a medical specialty or service offered through PACE by shadowing a client receiving services.
"I was matched up with a nursing student to learn more about occupational therapy (OT)," Jackson said. She described the PACE participant as having a bit of a tremor and trouble with mobility. The students observed as the occupational therapist worked with the person to figure out how to eat with certain utensils and put on their shoes.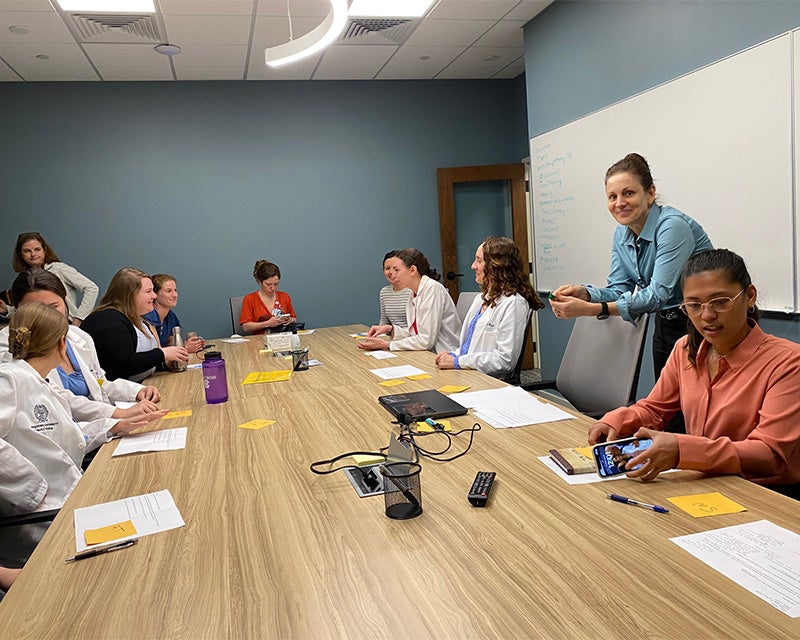 "It was nice to observe what other fields of health care do to improve health, and reminded me of the humility necessary to practice medicine," she added. "Physicians are able to practice their best medicine when they are receptive to ideas from all members of the care team."
Havens' group shadowed recreational therapy services provided to PACE participants that included playing dominoes with individuals with a disability. Also, the group discussed how people with severe anxiety could reintegrate activities such as gardening into their lives.
"The session made me re-envision the support we can provide patients," said Havens. "As doctors, we obviously can't do every role in providing patient care, so it is important to think beyond the scope of our roles and think about how we can interplay with other care providers."
The students spent the end of the day working on a case study as a group, simulating a coordinated care approach to a particular hypothetical patient.
"Students left the case study with the message that everyone on the team has an important role, and communication, along with understanding one another's roles, is key," said Coleman.
Embracing Team Member Role To Improve Health Outcomes
"One big takeaway from the day was that the coordinated care approach really works in helping keep patients out of emergency rooms," said Havens. She referenced a hypothetical PACE participant who experienced knee pain but instead of calling 911 and possibly being admitted was instead connected with a care provider for an assessment.
"Especially when thinking about an older population, the notion of aging in place and keeping people in their communities and homes is something we should really strive for as providers," added Havens.
Jackson, who is interested in pursuing emergency medicine, also sees the value in a coordinated care approach to improving health outcomes for a geriatric population who usually has more comorbidities and functional deficits than the younger population.
"The geriatric population can have more complicated medical histories and sometimes a decreased ability to advocate for themselves, so it is not uncommon for something to be overlooked, especially in a high volume, high acuity setting," said Jackson.
Gaps in patient information can be filled by care team members and from nonmedical and nursing staff, as students experienced at Edenbridge PACE.
"Two students interacted with the driver that picks clients up to come to Edenbridge, and through their conversation, the students realized that the driver is probably one of the most important team members because they see potential issues first," said Coleman.
"Interprofessional opportunities like this site visit are critical to nursing and medical education," she added. "The evidence is clear that patient and population outcomes improve when there is coordinated teamwork."
Heather Wilpone-Welborn
GUMC Communications