Latino Medical Students Strive to Increase Health Access and Build a Sense of Community
Posted in News Stories | Tagged cultural competence, health disparities, Latino American Student Association
(September 23, 2022) — During National Hispanic Heritage Month, the School of Medicine's Latino American Student Association (LMSA) is bringing awareness to the health needs of the Latine community and building a sense of community for Latine graduate students across Georgetown's campuses through thoughtful programming.
Created just four years ago, the LMSA chapter's current nine executive board members wanted to develop a robust month of programming so incoming students feel a strong sense of community on campus.
An integral part of the programming was designating two executive board members, Yanisbel Ruiz (M'25) and Inochi Gonzalez (M'25), as Hispanic Heritage Month Committee leaders.
"These events provide a safe space for like-minded people from similar walks of life to share their experiences," said LMSA co-President Jacqueline Pujol (M'25), who serves alongside fellow co-President Alexia Mendivil (M'25).
Bringing Awareness to Latine Health
LMSA's programming commenced in the evening of September 14 with a panel on the high prevalence of diabetes within the Latine community. "The executive committee wanted two educational panels during the month — one focused specifically on an important health issue for the Latino community," explained Pujol.
The panelists for the diabetes event included Meaghan Harkins, MPH, RDN, a clinical dietitian with Medstar Washington Hospital Center's endocrinology department. The inclusion of a dietitian allowed for the panel to emphasize the range of health care professionals needed to address diabetes management. The panel further emphasized the need for Spanish-speaking health care providers to address cultural competencies that might be missing with a non-Latine provider.
The topic of cultural competency is personal for Pujol. "It touched me every time I saw the struggle of not being able to communicate with a provider," she said, recounting her own parents driving 45 minutes to see a Latino doctor growing up in order to overcome a language barrier.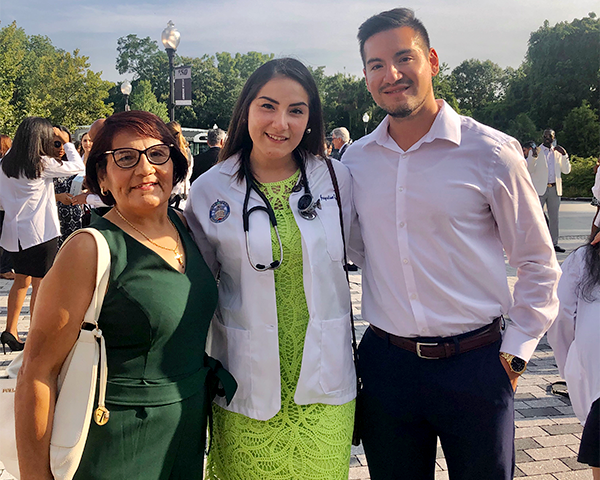 "In our community, we don't tend to voice our needs, and I see many patients go without a translator," Pujol added. "There's just an ease — a cultural connection — that allows the physician to build trust more easily, make the patient feel more comfortable and have them not fear judgment and being misunderstood."
It was the dearth of Latine physicians that Pujol noticed while working after college that led her to pursue a career in medicine despite majoring in foreign affairs, Spanish, and French as a first-generation college student.
"I had a long entry into medicine," Pujol said. "I really did not have the guidance, the mentors, to talk about possible careers in medicine — it just wasn't a topic growing up. There were a lot of barriers to considering medicine as a career, but I was fortunate to meet the right people."
The second educational panel is scheduled to be held on October 17 and will explore Hispanic health "folk" remedies, such as the use of herbs for help with sleeping and stomach illnesses. "At HOYA Clinic, we see some resistance from the Latino community towards Western medicine," Pujol said. "The folk remedies panel will bring awareness to these practices to those focused on more traditional medicine."
Increasing Health Access for an Underserved Community
The culmination of LMSA's programming will be the first Georgetown-led community health fair on October 15 in Falls Church, Virginia. The health fair is expected to draw 300 to 500 attendees. LMSA is partnering with Fairfax County and HOYA Clinic to host the event and is receiving support from Sergio Rimola, MD, an OB-GYN physician in the northern Virginia Latine community.
"The health fair requires a lot of time to organize," Pujol said. "I have an understanding of what is required from my time coordinating large health insurance enrollment events. I just have a passion for providing health access for our community."
Pujol worked in public health for six years in northern Virginia before starting medical school. In her roles with nonprofits and local governments, she organized outreach efforts to Latine communities, especially following the start of enrollment in the health marketplaces in 2013.
"With the ACA, I helped enroll people in insurance plans who had been historically left out of health care," Pujol said. "Many in the Latino community were hesitant to enroll. I helped them understand the purpose and value of health insurance."
"The work I did before medical school to increase health access for disadvantaged communities influences the work I am doing now with LMSA," she added.
Building a Sense of Community
In addition to their service to local Latine communities, LMSA also organized cultural events, such as a group visit to the Latino Heritage Festival at the American History Museum on September 17. The museum recently debuted the first exhibition presented by the National Museum of the American Latino.
LMSA is committed to building a broader sense of community for Latine graduate students across Georgetown's campuses through events such as the Latin Dance Night on October 21.
"We love bringing people of diverse backgrounds together and fostering a sense of community," Mendivil said.
LMSA also hopes to make connections with undergraduates interested in medical school.
"There tends to be a large drop in Latino undergraduates who enter in a pre-medical track but then switch to other majors for a variety of reasons," Pujol said. "We hope to mitigate barriers to pursuing medicine by collaborating with the Georgetown pre-medical office in a mentorship capacity," she added.
Heather Wilpone-Welborn
GUMC Communications