Learning from Health Care Providers Who 'Messed Up'
Posted in News Stories | Tagged medical education
(July 15, 2022) — Drawing from their own experiences and those of their classmates, a group of medical students is planning a series of events to promote resilience in the face of setbacks — and they're looking for residents, fellows, attendings and other health care providers to participate. (Submit your story here).
The "We Messed Up" Lecture Series will create a space for physicians to tell their stories about failure and reflect on obstacles they have overcome while teaching students about empathy and the importance of learning from mistakes.
The events will be open to all members of the GUMC community but organizers hope to reach first-year medical students specifically. "We think addressing them at the early stage of their careers will be very important," said Tami Alade (M'25).
Arya Prasad (M'25) said that fear of failure can be paralyzing, especially for first-year students, but that failure can also be a catalyst for personal growth. "It can happen to anyone and the experience of going into medicine is humbling no matter what stage they're at," she said.
Inspiration for the Initiative
Prasad was inspired to plan the lecture series after she experienced difficulties in the beginning of her medical school career due to personal circumstances. Her physician father gave her some perspective. "My dad told me that at this level, setbacks are at the cost of myself," she said. "When he makes mistakes at his level, the ramifications are far-reaching."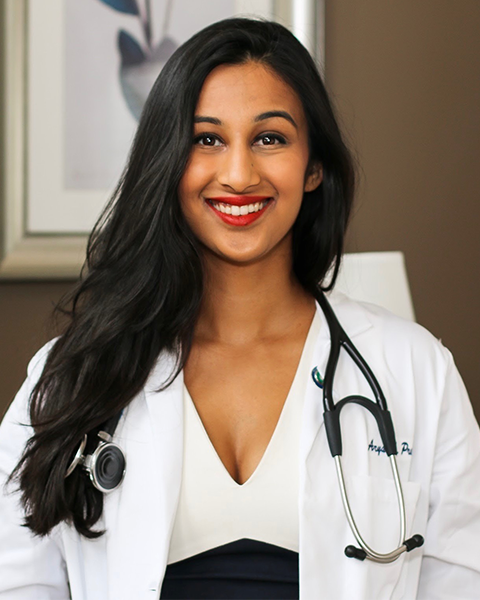 Hearing her father's point of view was a relief for Prasad. "It helped a lot, because I felt like, as a medical student, I couldn't mess up," she said. "But when you miss something on a patient, that's not arbitrary."
After an arduous time applying to medical schools, Angela Ngo (M'25) was interested in helping to plan the lecture series when she was approached by Prasad. "I had to do a lot of self-reflection during that time," she said. "I thought it was really important to hear from other people down the line about how they messed up and were able to come back from that."
Even those not personally affected by failure can benefit from learning how to support classmates and colleagues. When some of her close friends struggled academically, Alade didn't know how to respond.
"From the friend's perspective, I didn't always feel like I had the right words," she said. "There's only so much you can say."
'It's Great to be in Med School, But It's Hard to be in Med School'
In addition to an initial lecture with Q&A, the students behind the "We Messed Up" Initiative are interested in organizing smaller, more intimate opportunities for health care providers to tell their stories, with time for discussion among health care providers at all stages of their career, Prasad said.
"We think it can be really beneficial, and having people from all levels can be great," she said. "Having an attending [physician] sitting next to an M1 and talking about what they just heard can be really cool."
One lesson the students hope to impart is that medicine is a team sport and as such, medical mistakes often result from systemic concerns. "Failure is often not an individual circumstance, and we look at it as if the individual is at fault," Prasad said. "We often overlook the systemic influences that lead to failure."
The initiative's name acknowledges that understanding. "We used to call it 'I Messed Up,' but we changed it to 'We Messed Up' because mistakes are more often collective, not individual," she said.
Alade said she wants students to know that "there have been people who have been in that position and have survived," she said. "This offers a really powerful space to do something like that."
"I wish someone had said, 'It's great to be in med school, but it's hard to be in med school,'" Prasad said.
Kat Zambon
GUMC Communications