Medical Students Honor Anatomical Donors and Their Families at Special Mass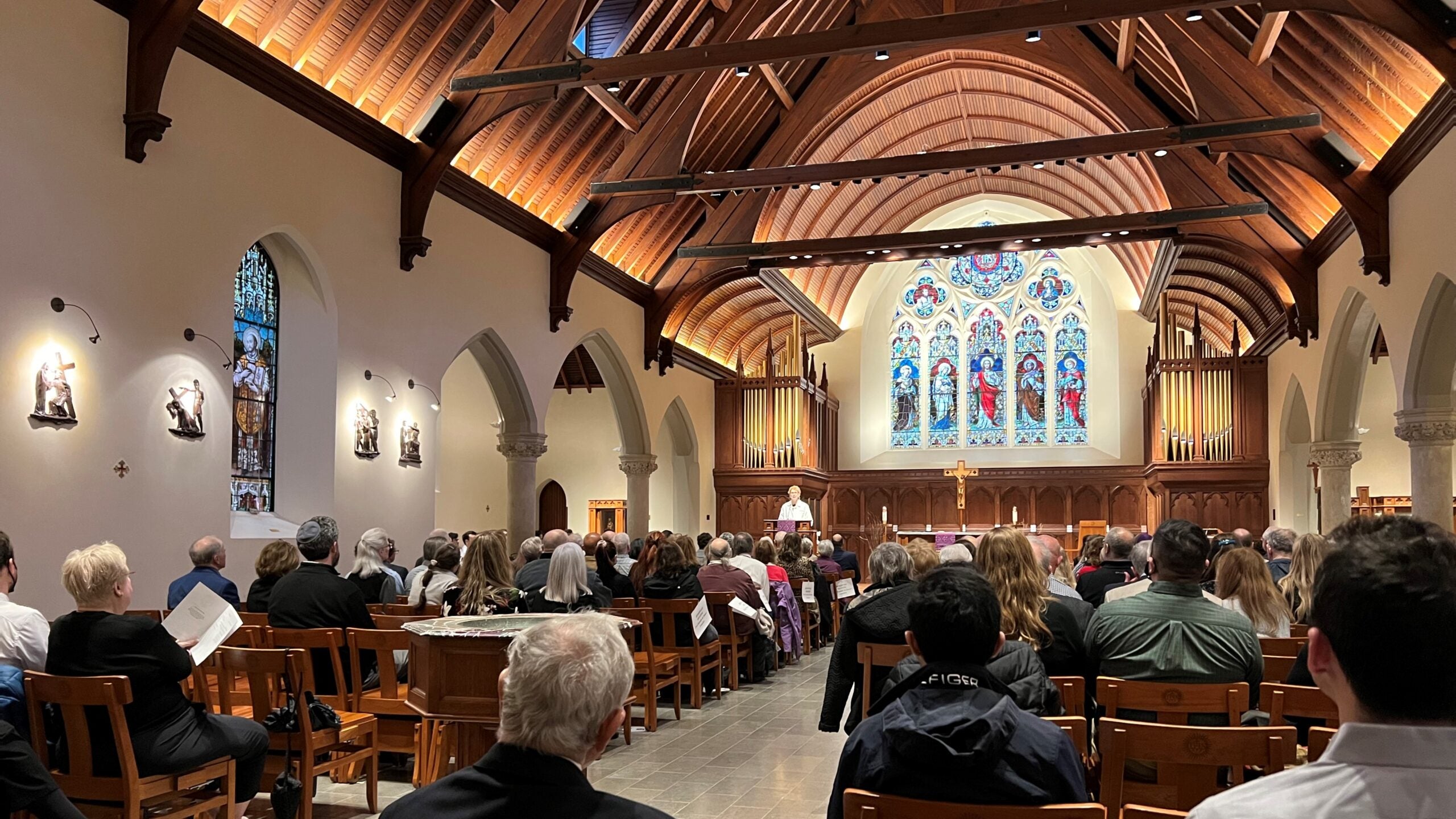 Posted in News Stories | Tagged anatomical donor, Anatomical Donor Mass, anatomy lab, medical education
(March 31, 2023) — For medical students at Georgetown, anatomy lab is a critical and transformative experience. At the Anatomical Donor Mass, the School of Medicine Class of 2025 honored the lives of those who made that experience possible.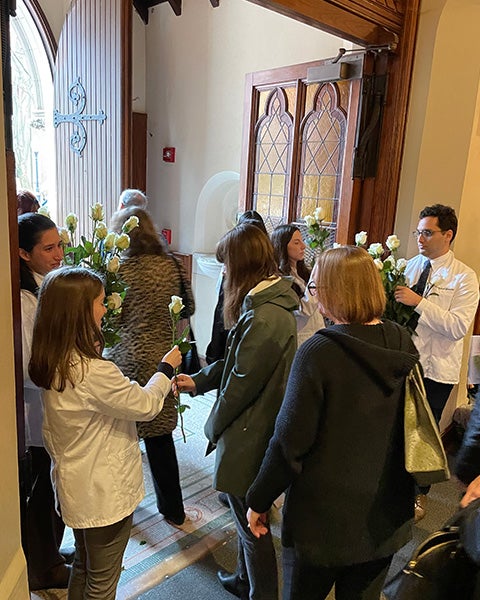 At the March 24 Mass in Dahlgren Chapel, students were joined by the anatomical donors' family members, a tradition that took place for the first time since before the pandemic. For each of the anatomical donors with family present at the Mass, students handed a rose to a family representative in the donor's honor. About 100 family members participated.
Student organizers Tami Alade (M'25) and Danielle Abi-Najm (M'25) were moved to help plan the event by their appreciation for the anatomical donors.
"Gross anatomy was a once-in-a-lifetime experience, and I think all of us felt a sense of grounding that we were able to learn due to someone's selfless gift of their body," Abi-Najm said. "It felt right to give back and plan an event that brings peace and gratitude to the loved ones of those who donated their bodies."
"For me, it's important for people to see that the care that goes into these bodies doesn't just end in their preservation or when we are done with the dissections," Alade said. "There is care and appreciation from start until finish, and we will forever honor these bodies for all they were able to teach us."
Student Participation
All students, faculty and staff of all faith traditions were invited to the Mass, which included an interfaith prayer portion, incorporating Jewish, Islamic and Hindu readings.
"Even though this is a Mass with a religious foundation, we encourage all people, even those who do not practice a particular religion, to be a part of the event," Abi-Najm said. "It is a time and space where we are honoring the gift of life for our learning and showing our gratitude to the donors' loved ones."
Seven students volunteered to speak during the Mass, including two who shared reflections on their experiences. "It has been rewarding to work with our amazing students, and so many are enthusiastic to help with other volunteer roles as well," she added.
Sharing Reflections
In a reflection shared at the Mass, Evan Czulada (M'25) explained that holding the heart of an anatomical donor prompted him to reflect on the donor's humanity — as well as his own.
"I had spent each moment in the lab visualizing structures and functions and molecules and medicine, yet I failed to acknowledge the simple truths that made it so important," he said. "This heart came from a human — a living, feeling being — whose presence had escaped me underneath all its anatomy and physiology.
"My donor not only reminded me why I first wanted to become a doctor, but also, he showed me the proper way to live as one," Czulada said. "And for that, I am forever indebted to him and his family that made it possible."
Kat Zambon
GUMC Communications