Medical Students on a Mission to Reverse Opioid Overdoses in DC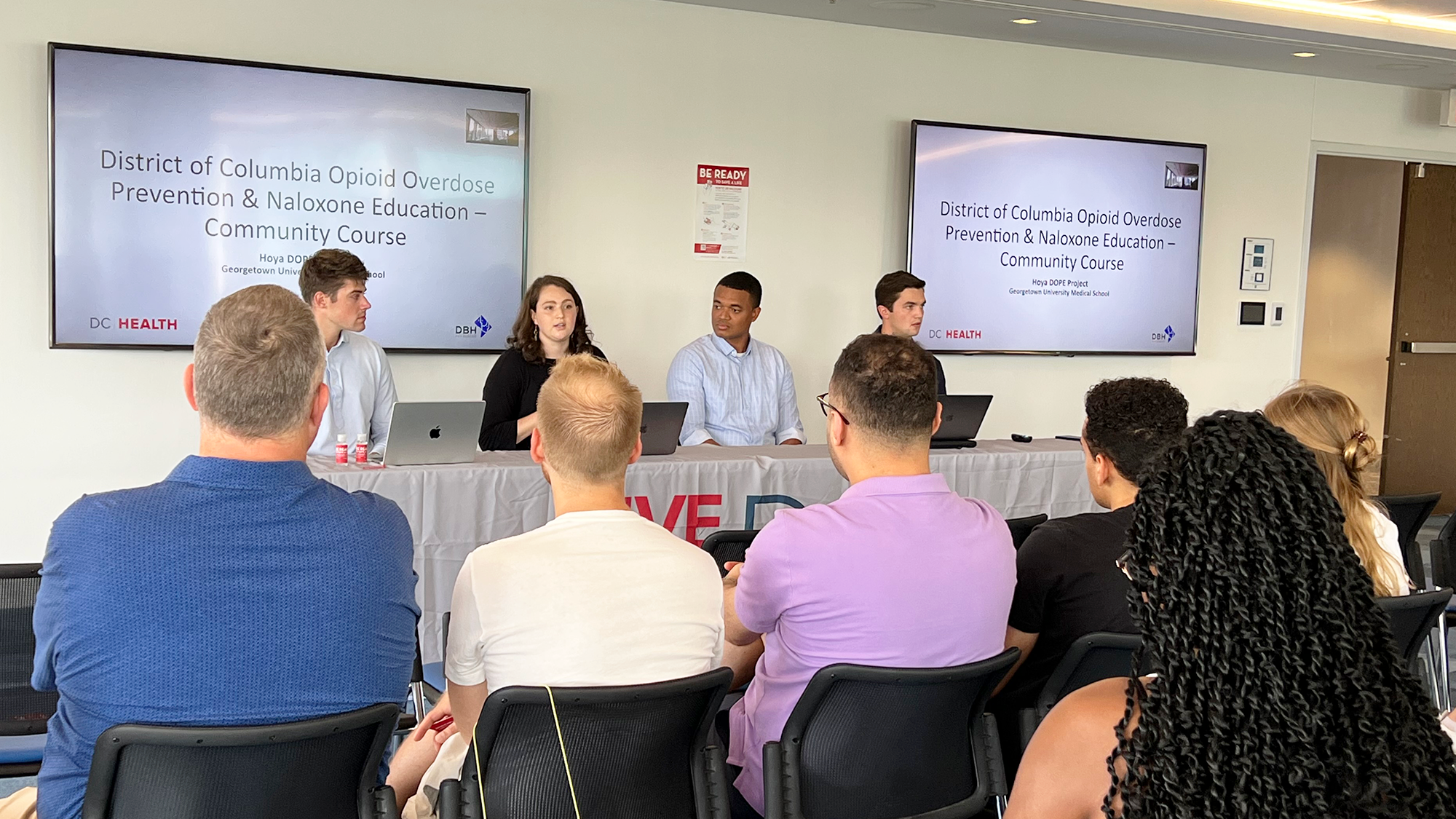 Posted in News Stories | Tagged community outreach, opioid epidemic, substance abuse
(September 9, 2022) — In 2020, the DC Department of Health reported 411 overdose deaths from opioids, nearly twice as many as in 2018. As the number of deaths attributed to opioid overdoses grows in the District, a team of medical students is determined to make a difference and help save lives.
For the last three years, the members of the student-run organization Hoya DOPE (Drug Overdose Prevention & Education) have led active bystander trainings across Georgetown's campuses and throughout Washington, DC, to encourage early intervention in the chain of care.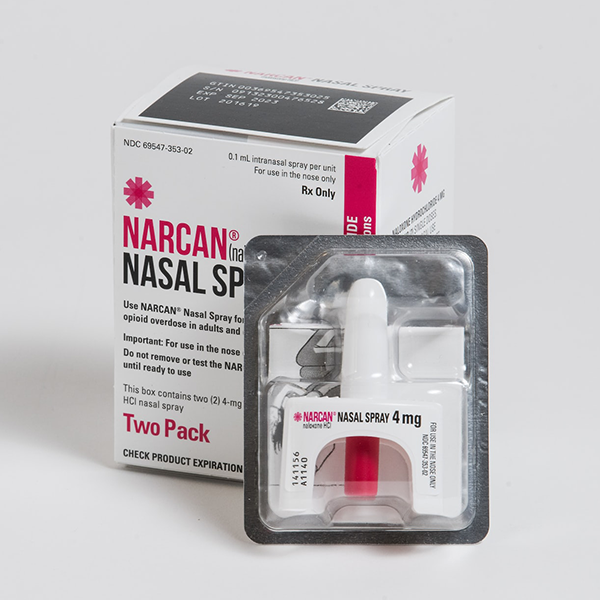 "We have members of Hoya DOPE who have experience and are interested in emergency medicine," said Ruth Watson (M'23), part of Hoya DOPE's leadership team. "We are motivated as a group to get involved early in the chain of care, rather than waiting until the patient has arrived at the emergency room."
In an effort to help protect and save lives, Hoya DOPE members educate community members in the District about recognizing the signs of an opioid overdose and how to safely intervene with the lifesaving opioid overdose antidote naloxone, marketed as NARCAN.
"Almost everyone knows someone whose life has been affected by drug use — there's really no bounds to the opioid epidemic," said Watson. "I saw the problem growing up and in DC, and it made sense to get involved."
Safe and Effective Interventions
At a recent lunchtime presentation with the O'Neill Institute for National & Global Health Law at the Georgetown University Law Center on International Overdose Awareness Day, four medical students, including three first-year students, trained about 20 attendees on how to use naloxone through a nasal spray. After completing the training, participants walked out with a box with two doses of NARCAN provided by the DC Department of Health.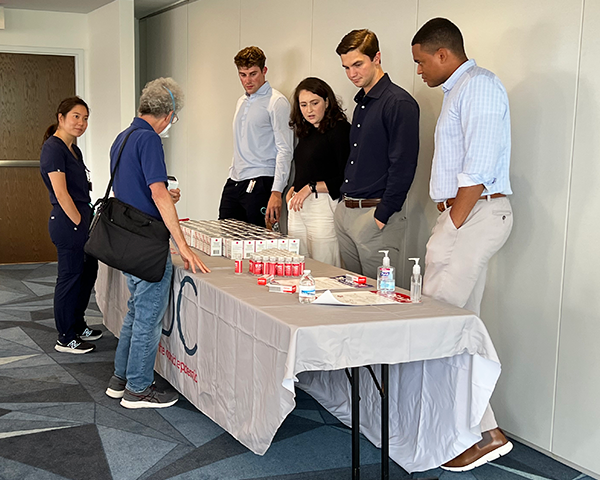 In their presentation, the medical students focused on which populations are most impacted by opioid overdoses. In DC, 84% of all deaths due to opioid use were among African-Americans or Black persons, with wards 5, 7, and 8 disproportionately affected by overdose mortality. The presenters and attendees noted that health disparities, social determinants of health, racism, and drug policies are some of the reasons that some populations are affected more than others.
Crucially, the presenters noted that naloxone is safe for pregnant people and does not cause any harmful side effects for an individual if there are no opioids in the system.
"It's better to be safe than sorry," Watson commented during the presentation. Washington, DC, Maryland and Virginia all have good Samaritan laws that protect individuals from civil damages for providing naloxone to an individual who may have an adverse reaction.
Training for Lifesaving Moments
Hoya DOPE was started by four graduating medical students in 2020 to address the growing opioid overdose crisis in the District by getting naloxone out into the community.
"Providing NARCAN is a really simple and safe solution to a big problem — it makes sense from a harm-reduction standpoint that people learn how to use it," Watson said. "We provide training on how to use NARCAN to any group — on Georgetown's campus or in DC — that reaches out to us."
Hoya DOPE has given presentations to a range of groups, from Alpha Delta Pi, a college fraternity at Georgetown, to staff at DC's Central Detention Facility. The medical students regularly pick up their standing order of NARCAN from DC Health to distribute to the community.
Watson, along with Kira Chandran (M'23) and Chloe Wang (M'23), two other Hoya DOPE members, reversed an overdose after picking up one of the NARCAN distributions. "We saw a man who was visibly blue on the sidewalk," Watson recounted. "From our experience with Hoya DOPE, we were prepared for the situation."
Watson and a fellow Hoya DOPE classmate quickly administered the NARCAN they had on hand to reverse the overdose and called 911. The EMTs arrived within 10 minutes, and the NARCAN the medical students administered possibly saved the man's life.
Ongoing Efforts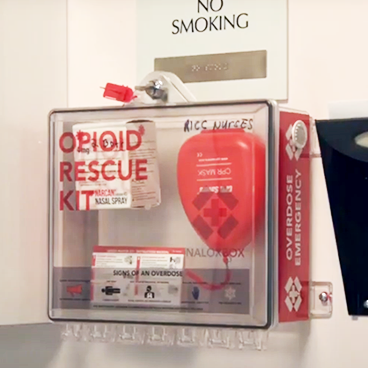 Watson and her fellow Hoya DOPE members' experience administering NARCAN in an emergency informed the group's winning proposal for the 2022 Georgetown Public Policy Challenge. Pei-Ying Kobres (M'23) was also part of the proposal team.
Their proposal, "Within Reach: Ending Opioid-Related Deaths in the District," suggests installing NaloxBox, weather-resistant rescue kits, at bus stops in DC wards experiencing the highest deaths from opioids. Each kit will contain naloxone that a bystander can access and administer to someone experiencing an overdose.
The group is currently working with DC stakeholders to implement a pilot project based on their proposal. Additionally, the group continues to regularly schedule trainings, including an upcoming presentation open to congressional staffers on Capitol Hill at the end of month.
To request a training, please email Hoya DOPE at hoya.dope.project@gmail.com
Heather Wilpone-Welborn
GUMC Communications