Ninth-Annual HoyaMed Summer Sports Camp
Posted in News Stories | Tagged cura personalis, HOYA Clinic, HoyaMed Summer Sports Camp, service to others
(August 5, 2022) — Laughter and cheer could be heard all around Anacostia Park as a host of first- and second-year medical students poured their energy and excitement into the children attending the ninth annual HoyaMed Summer Sports Camp July 30-31. The summer sports camp focused on fun, creativity, joy, education and support, letting campers get active outside in the summer sun.
The HOYA (Health Outreach for Youth and Adults) Clinic, a free student-run clinic, is the embodiment of cura personalis, "care for the whole person," and learning with the residents of the Triumph, a temporary housing site for families facing housing instability in DC. The clinical aspect emphasizes the physical body, but the camp focuses on the mental and spiritual components for the children living at The Triumph.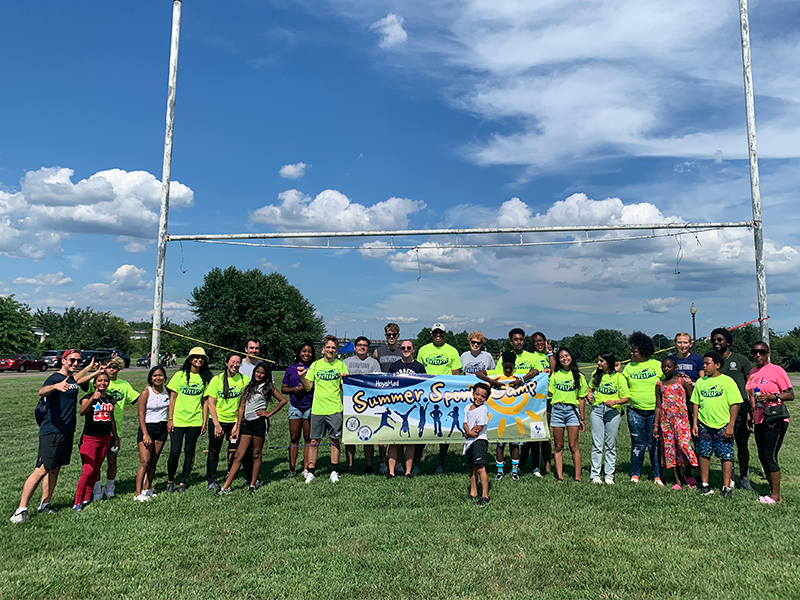 For the first time since its inception, the summer sports camp included an opportunity for campers to learn about pool safety and swimming, also the first experience for some of campers. The kids also played outdoor games like kickball, hopscotch and hula-hoop, and crafted containers for an egg to survive a drop from the DC Fire Department firetruck ladder. Each camper received swimwear, goggles, toys and Georgetown gear.
The joy of the campers, students and coordinators radiated in every smile, high-five, laugh and conversation.
"The goal of this year's camp was to teach life skills, get active, and encourage creativity through STEM and arts," said Uchenna Osuala (M'25), HOYA Clinic's strategic planning coordinator, who began the planning for the two-day camp in May.
It took a village to make this camp rewarding for the children, and Osuala expressed his deepest gratitude to the volunteers for a successful camp, adding that he cannot wait for the next one.
"I cannot thank you all enough for your help and support," he said. "With our combined efforts, student volunteers (mostly incoming M1s), we're able to positively impact the lives of DC's children."
Tyisha Henderson
GUMC Communications