Out of the Hospital and to the Hill, Medical Students Focus on Public Policy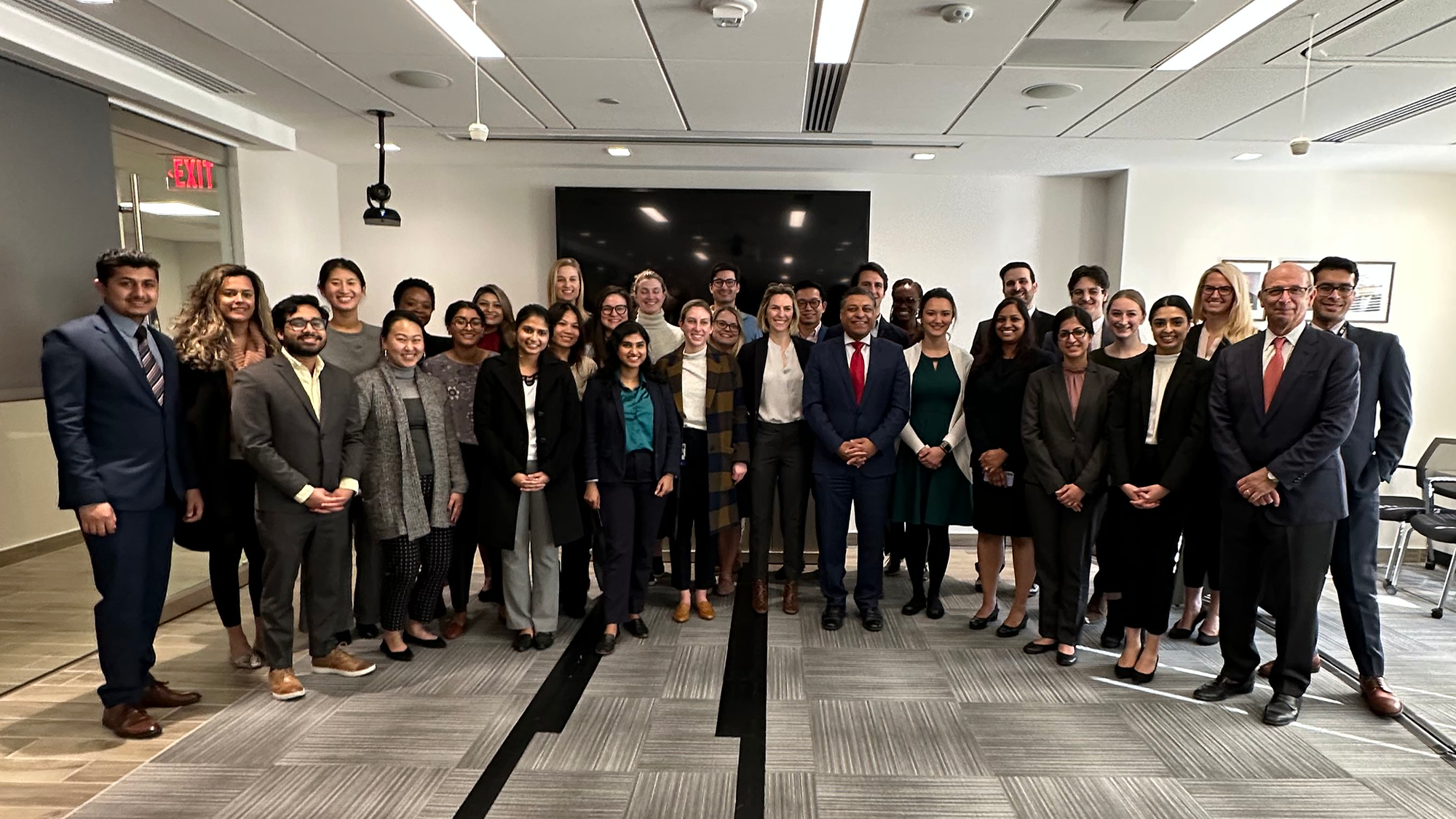 Posted in News Stories | Tagged advocacy, medical education, Population Health Scholar Track, public health, student experience
(February 17, 2023) — A unique fourth-year elective course offers medical students the opportunity to practice advocating for public health policy they believe will better the lives of their patients before they reach the clinic.
"In medical school, we teach students about social determinants of health, like food and housing insecurity, influencing health outcomes," said Richard Waldhorn, MD, professor of medicine and the course's director. "Then students go to clinics and they see the effects on patients and realize that intervening one patient at a time is not very efficient, so they become interested in moving the levers on the drivers of health outcomes."
Eleven years ago, Waldhorn designed the class, Health Policy and Public Health, as part of the Population Health Scholar Track directed by Yumi Jarris, MD, to teach medical students how to effectively advocate and learn about alternative careers that apply clinical knowledge to public health policy. Eighteen fourth-year medical students enrolled in the four-week course along with 17 residents from MedStar Health who joined in the course's middle two weeks.
"The course has been well thought out," said Milos Tomovic (M'23). "We start off broadly discussing how policy is created and the overall structure of the health care system. Then we dive deeper into specific topics like drug price reform, surprise billing and pandemic preparedness."
"It's really great to have residents in the class," Tomovic added. "The residents have a lens that we as medical students haven't fully developed — they have insights about billing and logistics of practice that really add to the discussions."
Site Visits and Guest Speakers
The jampacked course schedule of site visits and guest lectures begins every day at 9:00 a.m. and runs through 4:00 p.m. or later.
"Something happens to the students and residents during the site visits," said Waldhorn. "We want to get them out of the hospital, and when they do, they start to think differently about population issues."
This year's site visits included Capitol Hill on February 8 to visit staff of the Senate Health, Education, Labor and Pensions (HELP) Committee, and the Office of National Drug Control Policy (ONDCP) at the White House on February 14.
"We met with the staff who work directly with Sen. Bernie Sanders on the HELP Committee's priorities," said Adaah Sayyed (M'23). "One of the priorities for the committee is addressing the shortage of clinicians and the need for more residency spots, which are federally funded. It was interesting to hear they hope to address the bottleneck by distributing more primary care slots nationally over time."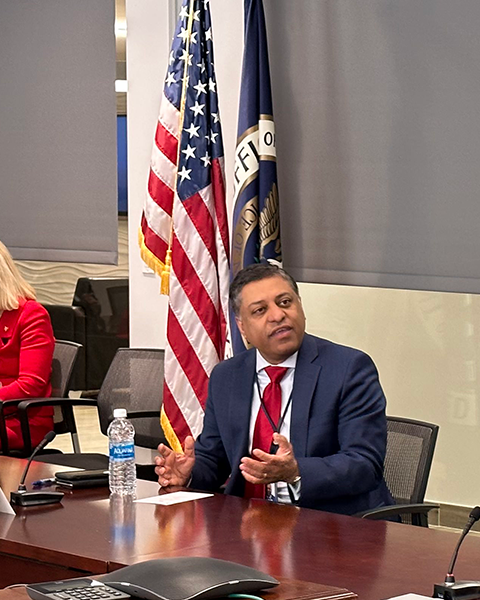 At the ONDCP, students met with former Georgetown professor Rahul Gupta, MD, MPH, MBA, FACP, director of national drug control policy. Gupta, a practicing primary care physician for 25 years and former health commissioner of West Virginia, is the first medical doctor to lead ONDCP.
"We had a great session with Gupta, who shared his expertise on the public health crisis with opioids, which was a focus of his as a former health commissioner," said Waldhorn. "The terrific conversation showed students how the most effective national leaders in public health are also clinicians."
In addition to the site visits, Waldhorn arranged a variety of guest speakers for the course who are widely respected in their fields, including Jennifer Nuzzo, DrPH, director of the Pandemic Center at Brown University School of Public Health, and Meena Seshamani, MD, PhD, director of the Center for Medicare.
"The students ask really interesting questions in these sessions and are always interested in biographical information about how a person navigated the route from clinical medicine to public service," said Waldhorn.
Many guest speakers return every year to volunteer their time because they enjoy the sessions with medical students and residents, Waldhorn added. This year's speakers even included a recent School of Medicine graduate. Katherine Mullins (M'19), MD, AAHIVS, assistant director of addiction medicine at NYU Langone, gave a talk titled "First, Do No Harm: Harm Reduction in the Outpatient Setting" and led a panel discussion.
"I was excited for the session with [journalist] Julie Rovner because I listen to her podcast," said Sayyed. "She spoke about how health care has become so political and it is a lot harder now to discuss policy because there's a lot of bias on either side. Plus, the pandemic broke the public's trust in health care, which will take a long time to recover and make health advocacy even more challenging."
'This Is What We Should Be Doing'
The medical students have three advocacy projects to complete during the course. The first project pairs medical students and residents to work together on a policy issue and prepare "expert testimony" as though they were appearing before a congressional committee. The assignment culminates in a mock hearing where some members of the group assume the role of the expert witnesses while the remainder are either sympathetic or hostile congressional questioners.
The second project is a group assignment only for medical students where they research a policy topic of interest and then present an advocacy message in a medium of their choosing, such as a TikTok video or "elevator pitch" to a legislator.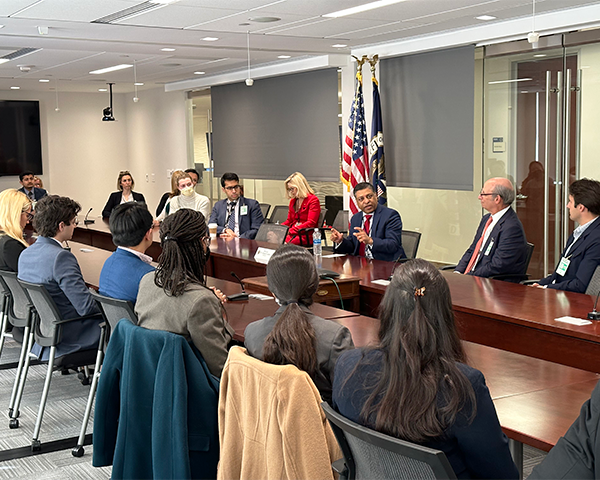 The third project, organized by Monica Ajinkya, MD, and Sneha Daya, MD, is an individually written op-ed on a policy topic of the student's choice.
"As practitioners we are so focused on the medical that we forget our roles as leaders in society," said Ajinkya. "The advocacy projects remind students and residents that our voices matter and we can play a role in shaping policy."
After witnessing how the presence of law enforcement officers put her patients "on edge" in the emergency room, Sayyed chose the topic of information sharing with police for her op-ed.
"There is really a lack of information and knowledge about what physicians are allowed to share with law enforcement based on HIPAA [the Health Insurance Portability and Accountability Act]," said Sayyed. "This generally leads to oversharing on the part of physicians and results in patients experiencing more stress in an already vulnerable moment."
For his op-ed, Tomovic is focusing on remote patient monitoring and hopes to encourage fitness tracker companies to do more research with the health care industry. "Think about an Apple Watch being connected with MedStar where a nurse or doctor is notified when your blood oxygen level is low," said Tomovic. A dual MD/MBA candidate, Tomovic believes that health technology solutions can create systemwide changes to improve patients' health.
Sayyed, who plans to pursue her residency in plastic surgery, also intends to continue her advocacy work in improving population health so patients with chronic wounds may be able to avoid amputation. "These patients' chronic health wounds are impacted by social determinants of health that could be improved through policy changes such as improving nutrition," she said.
"Before starting at Georgetown, I was interested in public health and wanted health advocacy opportunities," said Sayyed. "This course shows the strength of the medical school and is part of why I was drawn to come here."
"This is Washington," Waldhorn said. "This is what we should be doing."
Heather Wilpone-Welborn
GUMC Communications