School of Medicine Class of 2027 Encouraged To Be Advocates For Their Patients During White Coat Ceremony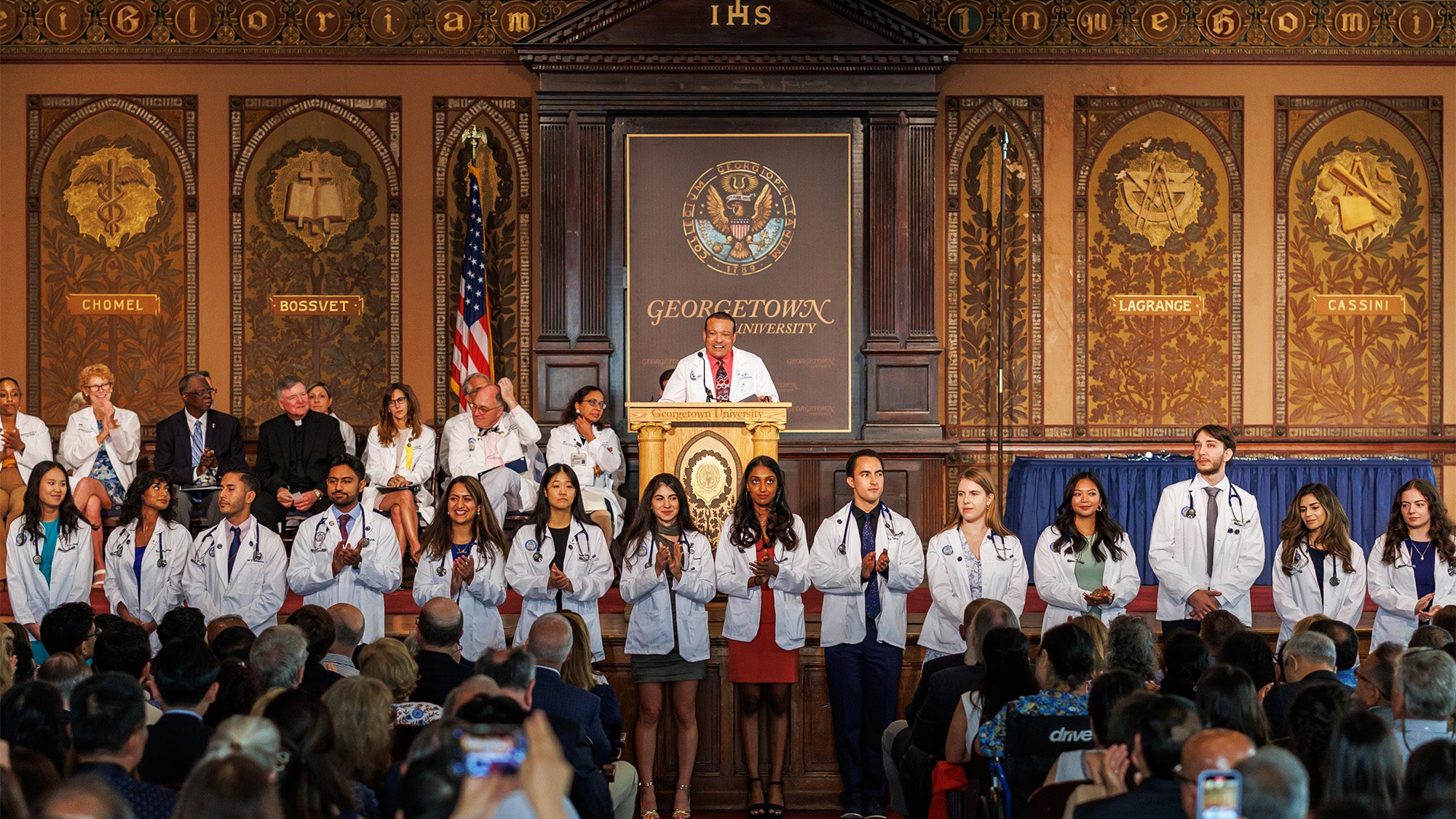 Posted in News Stories
(August 5, 2023) — The School of Medicine Class of 2027, family and friends gathered in Gaston Hall to don their white coats for the first time, commencing the start of their medical education. The annual White Coat ceremony, held August 4, is a rite of passage for all medical students at which they recite the Hippocratic Oath. Georgetown welcomes the new class with university-specific traditions, such as embracing the institution's Jesuit values and receiving a pin that sorts them into one of the five learning societies.
"The white coat is a symbol of bringing you into our profession, a profession and a calling with responsibilities, privileges and many rewards," said Lee Jones, MD, dean for medical education. "Today, you join Georgetown's community of scholars and healers who are guided by the Jesuit principle of cura personalis — care for the whole person — in mind, body and spirit."
Jones welcomed not only the new 175th medical school class, but also the families and mentors present at the ceremony who had helped students reach this point in their careers. "Thank you for giving us such an extraordinary class," said Jones. More than 16,000 applicants had applied for one of the 201 seats in the new class.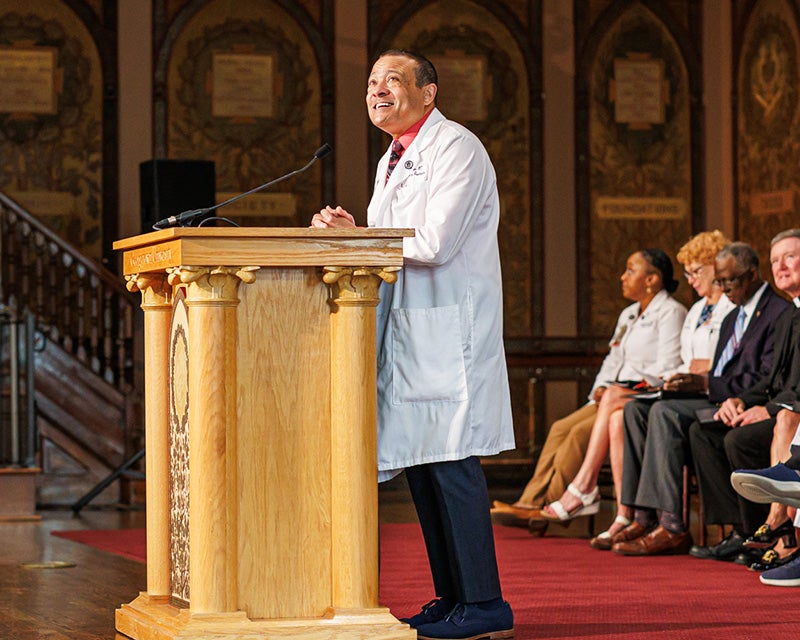 "You might have also seen the massive construction site by the medical school," Jones said, describing the new Verstandig Medical/Surgical Pavilion at MedStar Georgetown University Hospital, set to open this fall. "Your class will be among one of the first cohorts to start clinical rotations in the state-of-art facility. You're arriving at a great time."
"Our researchers, clinicians, staff and fellow students are fully engaged in contributing to the care of our very diverse communities, addressing health care and health disparities, and the progress of both science and the art of medicine for the greater good, locally, nationally and globally," Jones said before introducing Stephen Ray Mitchell, MD, dean emeritus and professor in the School of Medicine, who delivered the Edmund Pellegrino, MD, Professionalism address. Pellegrino was an international leader in bioethics and longtime School of Medicine faculty member.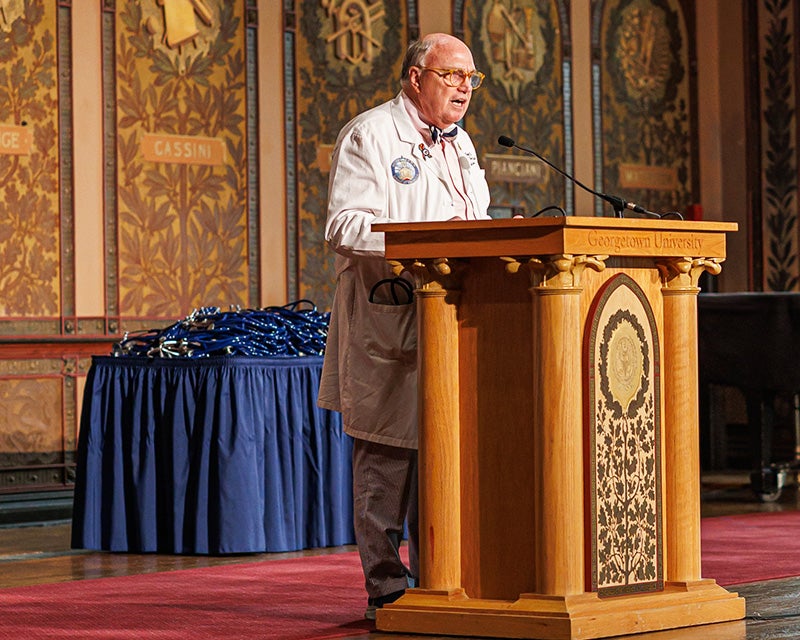 Patient First
"Dr. Pellegrino reminded us that everything we do is for the patient," said Mitchell. "The oath you are taking today is for the patient."
Mitchell spoke of previous faculty and students from the School of Medicine who wore the white coat while advocating for racial justice within the medical profession and beyond.
"So wear your white coat with pride, but also wear it with the challenge to make the world fairer, fuller and more inclusive for our patients," said Mitchell.
A Humanistic Endeavor
Andrew Schildcrout (M'27), an incoming MD/PhD student, will pursue a doctorate in bioethics alongside his medical studies.
"I view bioethics as taking a step back and asking what we are doing here and how it affects people," he said.
"Bioethics asks what are the assumptions of medicine that perpetuate harms to patients and how can we fix and ameliorate that suffering," said Schildcrout. "Medicine is a human endeavor where we are trying to cure disease, but when our scientific tools are not enough, we seek to foster that human connection with patients."
Schildcrout's sentiments about connecting with patients resonated with the remarks given by Princy Kumar, MD, senior associate dean of students in her address during the White Coat Ceremony. She urged students to truly listen to their patients and "never forget that the ultimate responsibility for health decisions belongs to the patient and the patient alone."
Customary Coating
Then, surrounded by family and mentors, students took part in the coating ceremony. Inside each white coat were messages of encouragement from medical school alumni who remembered the many adjustments to life as a student at the School of Medicine.
After being coated by a Georgetown physician or family member who is a doctor, students received a stethoscope from Jones and returned to their seats to recite the Hippocratic Oath, in English and, as has become tradition, the native languages of any member of the Class of 2027.
Time to Celebrate and Reflect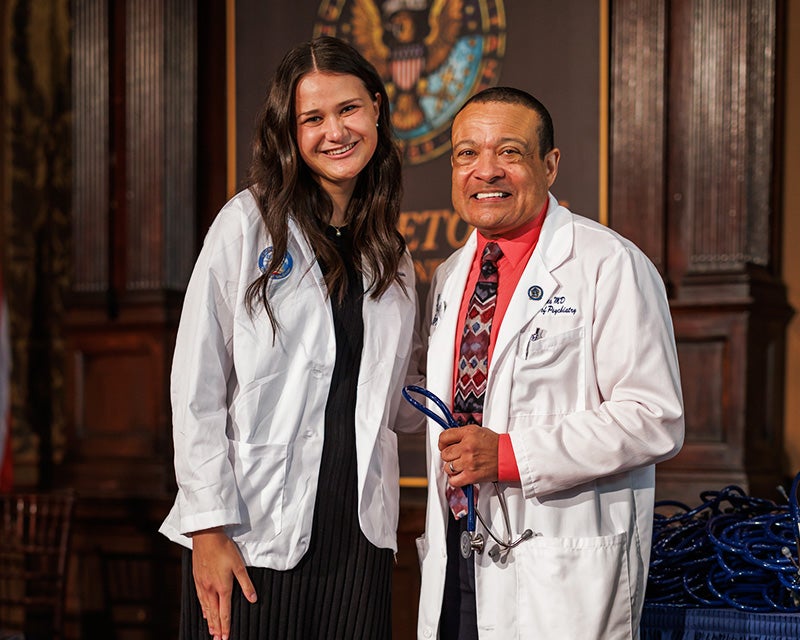 "It's a privilege to be here and to wear the white coat, knowing what it represents for the profession," said Alycia Cusson (M'27). "It took so long to get here, so it's nice to be able to celebrate with friends and family," she added.
"It's really meaningful to celebrate with our fellow classmates as we start this journey together," said Emily Deale (M'27). "Also, being in this space [Gaston Hall] that carries so much legacy, it really draws your attention to the values of Georgetown and the Jesuit community."
"We're honored to walk with you on this next step in the journey of physicianship," Jones said. "You are ready. We will teach you. We will learn with you."
Heather Wilpone-Welborn
GUMC Communications
---
About the Class of 2027