Students Matching in Family Medicine Called by Cura Personalis and Commitment to Community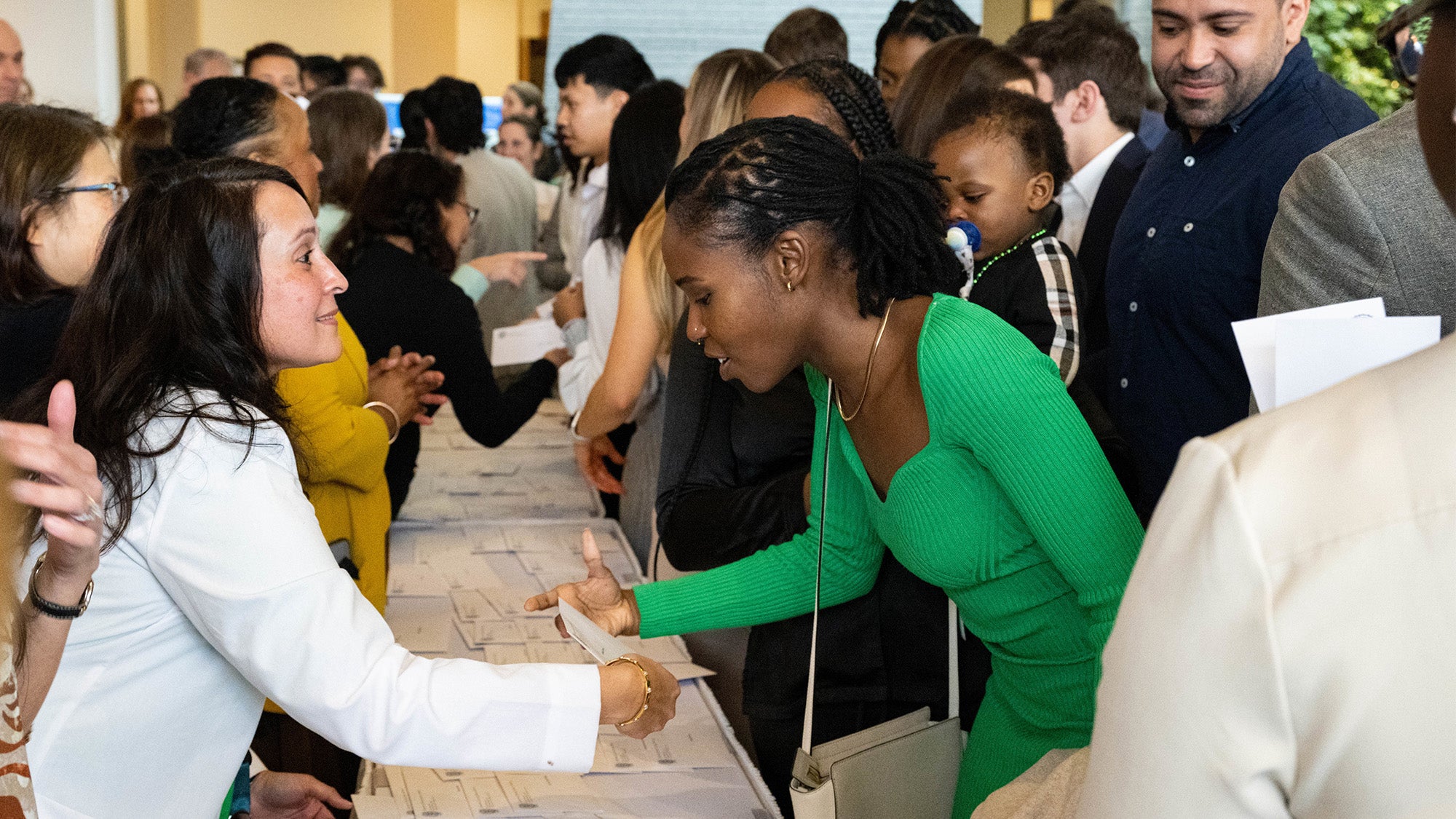 Posted in News Stories | Tagged Match Day, Match Day 2023, medical education, primary care
(March 19, 2023) — Soon-to-be physicians around the nation gathered March 17 at their respective schools for the annual tradition known as "Match Day," when medical students learn where they will train as residents. At Georgetown, about 200 students nervously awaited the go-ahead to open their envelopes in person and online to reveal the long-awaited news.
Surrounded by fireplaces, family and flowers, students mingled with anticipation in the Healey Family Student Center just before opening their match letters revealing the next destination in their training. Lee Jones, MD, dean for medical education, provided brief remarks before the noon hour where he congratulated students and thanked all of the health care professionals who helped students reach the milestone, including the medical school faculty, nurses and residents with whom students interacted during their clerkships.
Called to Be Primary Care Physicians
"This year we have a small but mighty group of five students matching in family medicine," said Jeff Weinfeld, MD, professor of family medicine. "Students interested in matching in family medicine are motivated by caring for the whole person and serving their communities by developing long-term, meaningful relationships with their patients."
These future residents will help fill the substantial shortage nationwide of primary care physicians, which the Health Resources and Services Administration (HRSA) estimates will reach a shortage of 23,640 primary care physicians by 2025. Students interested in primary care could pursue residency in family medicine, internal medicine and pediatrics. Internal medicine matched with the highest number of students in this year's cohort at 36. Ten students matched with pediatrics.
A Passion to Serve Native American Patients
Whitney Peterson (M'23) beamed with excitement at Match Day when finding out that she matched with her top choice of the University of New Mexico School of Medicine.
As a member of the Cherokee Nation in Oklahoma, Peterson experienced firsthand the under-resourced care provided by tribal health services while attending college at Oklahoma State.
"In college, I had to wait months to get an appointment with tribal health services because of physician shortages," Peterson said. "Other services such as optometry, dentistry, or diabetes educators were even more difficult to access."
For her third-year clerkship in family medicine, Peterson completed a rotation with Indian Health Service (IHS) in Gallup, New Mexico. "I really had a life-changing experience," she said. "I enjoyed it so much because many of the physicians, even if they were not native physicians, truly wanted to work with the specific patient population and give back to the community."
Peterson described going on house calls in geographically isolated areas as part of the clerkship. "Many of the native populations lived in extremely rural conditions, sometimes with no electricity and no running water," she said. The eye-opening experience for Peterson left her wanting to return to the southwest and continue working with native populations.
Peterson acknowledges that the structure of the U.S. health care system as a fee-for-service model drives many medical students into specialties in order to more easily pay off their student loans. As a Sarah Stewart Scholar, Peterson felt free to pursue her passion. "I wanted to go into primary care so the relief of not having such a heavy debt load further supported my decision."
Peterson also credits the family medicine department for inspiring her career choices. "The faculty in family medicine are really doing so much for the school with racial justice and social justice initiatives," she said. "They really model who I want to be and the type of colleagues I want to work with."
Patient Care Across the Lifespan
Accompanied by her parents, Ruth Watson (M'23) attended the Match Day celebrations where she matched with her top choice for family medicine, MedStar Franklin Square Medical Center, located just outside of Baltimore, Maryland. Watson will join about 25% of her classmates who also matched within the Baltimore-Washington, DC, region.
Watson grew up the granddaughter of the town physician in a middle-Tennessee town where she learned what it looked like to take good care of neighbors. "I grew up seeing my grandfather diagnose strep throat in the middle of the night sitting in the living room," she said. "I feel like I'm coming full circle with matching in family medicine."
Watson's interest in practicing primary care grew during her third- and fourth year rotations at MedStar Franklin Square Medical Center. "You see so many populations in primary care — kids, pregnant people, people in the middle of their lives. It's really the full lifespan you get to engage with."
With family medicine, Watson believes that physicians have the ability to create health behavior changes with their patients. "The longitudinal part, seeing your patients as they go through their lives, can create a trusting, therapeutic alliance where you can create and work toward health goals with your patient."
Watson thinks of primary care in broad terms and believes that specialties such as pediatrics and obstetrics & gynecology often practice primary care. Unlike these specialties, however, she values that in family medicine, like emergency medicine, patients of all ages and sexes are seen. "You can see everything with family medicine because you see everyone," said Watson.
"I couldn't be more excited for our class to go out and be residents!" she added.
Heather Wilpone-Welborn
GUMC Communications
---
Related Content