Second Look Day Recap
Posted in News Story | Tagged Main Page NEWS
On Thursday, April 5th 2018, students accepted to the Georgetown University School of Medicine returned to campus for their Second Look Day. During Second Look Day, students get the opportunity to revisit campus, meet with students and faculty, and get a better feel of the great environment we have here at GUSOM. Students often say their Second Look Day was the best opportunity to learn about the medical curriculum and student opportunities, find roommates, and make early connections. The night before, ODI hosted the Build and Belong Dinner for accepted students, an event focused on celebrating diversity and inclusion at Georgetown School of Medicine by allowing them to meet medical school students, faculty, and staff from all different types of backgrounds. They learned more about ongoing school climate issues/initiatives, explored our community, and engaged in information conversations around the experiences and stories of our diverse student body.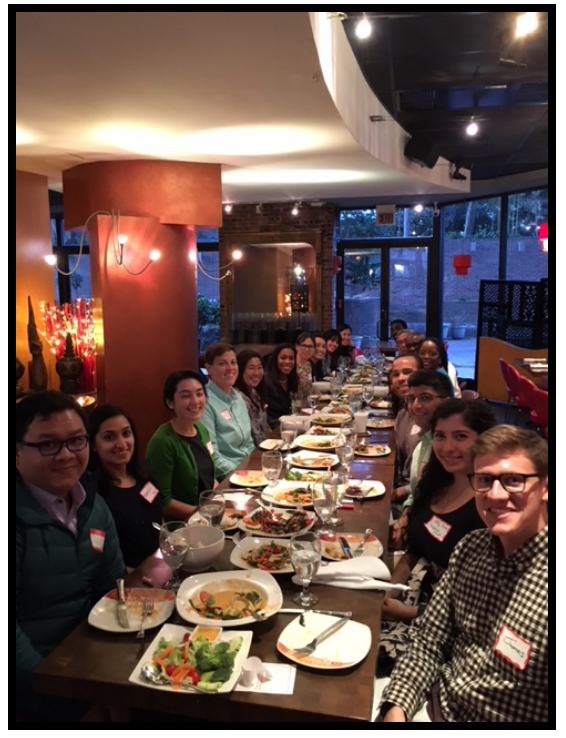 T
The group at the Build & Belong Dinner at Mai Thai Georgetown. These accepted students got a brief introduction to the Office of Diversity & Inclusion at Georgetown School of Medicine. 
The schedule on April 5th began with a welcome from Dr. Mitchell, the Dean for Medical Education and continued with presentations from the Health Professions Scholarship Program, The Office of Medical Education, The Office of Student Affairs, The Office of International Programs, the Hoya Clinic, and our office, the Office of Diversity and Inclusion (ODI). Kimberly Walker, the Director of Diversity and Inclusion at GUSOM introduced ODI and spoke a little bit about the new student groups at Georgetown and how ODI looks to aid them. Additionally, she spoke about the initiatives that our office spearheads, such as the Council on Diversity Affairs, Health Equity Forums, Diversity Dialogues in Medicine, and mentoring pipeline programs. She highlighted GUSOM's emphasis on diversity and inclusion and the unwavering commitment that ODI has to ensuring that GUSOM students are aware practitioners who are prepared to offer effective care to patients no matter their religious, racial, ethnic, or cultural background. Pooja Gajulapalli, a student accepted to GUSOM and a visitor at Second Look Day said "the ODI presentation was great. It gave an inside look into the way Georgetown approaches teaching their students. It shows that Georgetown is not just a 'hit-the-books' type of place, students come here and are trained in not just the medical aspect of being a doctor but are also taught about the cultural and social context in which they will operate after graduation." The program then continued with a student life panel, a parent's advisory board, a social hour, and an immersive hospital experience for accepted students in which they were assigned to hospital departments for a tour and presentation. The students met with directors of the various departments and got an inside look into the way Georgetown approaches teaching third and fourth year medical students.