School of Medicine Facilities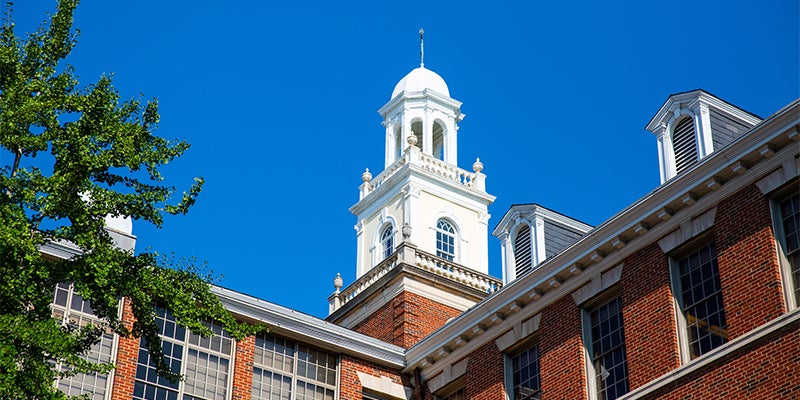 Georgetown University School of Medicine
For Facilities Issues:
Please login to Georgetown Apps and use the form to notify the Office of Finance and Administration about School of Medicine facilities issues
Founded in 1851, the original School of Medicine was located on the corner of 12th and F Streets NW and consisted of two lecture rooms, an anatomy laboratory, dispensary, and infirmary accommodating six patients. The school had a faculty of four. In 1868, the school moved to 10th and E Streets NW, and in 1886, to larger quarters on H Street. Forty-four years later, on May 3, 1930, the present Medical-Dental Building opened on Reservoir Road. Since that time, the entire Georgetown University Medical Center campus has grown around this building. Our central location on the Medical Center campus offers our medical students unique opportunities. Georgetown University Hospital, the Concentrated Care Center, Pasquerilla Healthcare Center, and Lombardi Cancer Center provide access to an adequate patient population, while their proximity to the Research Building, the Basic Science Building, the Preclinical Science Building, and John Vinton Dahlgren Memorial Library yields an ideal coordination of research and clinical facilities. This physical and functional relationship among medical research and academic facilities creates an integrated, comprehensive educational environment unavailable at many other universities.
MedStar Georgetown University Hospital
MedStar Georgetown University Hospital is a 400-bed teaching facility with an average census slightly over 300 patients, offering clinical programs in all specialties and subspecialties and is composed of four buildings: the Main Hospital, Concentrated Care Center, Bles Building, and Gorman Building. The Main Hospital was built in 1947 and was the first building erected in what is now the hospital complex. The hospital houses multiple patient units, hospital administration offices, and hospital support services. It is the culmination of a July 2000 partnership between Georgetown University and Medstar Health, a not-for-profit organization of two other Washington hospitals and five Baltimore hospitals — including another Catholic hospital. This partnership has improved clinical efficiency and increased the diversity of clinical experiences available to students. MedStar Georgetown University Hospital remains committed to the Catholic Jesuit ideals of cura personalis and service to those less fortunate.
Concentrated Care Center
The Concentrated Care Center (CCC) opened in 1976, and offers facilities for the most advanced medical care for the acutely ill. Designed for efficiency in use of personnel and equipment and delivery of highly specialized, technologically intensive care, the center houses patient beds, extensive patient monitoring systems, inpatient and outpatient surgical suites, the Department of Radiology, and an extensive Emergency Medicine Department.
Bles Building
The Marcus J. Bles Building houses the Departments of Neurology and Radiation Medicine and more than 110 inpatient beds.
Gorman Building
The Gorman Building contains the Gorman Auditorium, which seats 250. Each seat is equipped with a jack and stethaphone for examination of the patient during clinical conferences. Each student and faculty member can use the "palpator," a device invented at Georgetown for transmitting to a large audience the impulses felt by the hand on the chest wall or palpable blood vessels of the patient being examined on the stage. The Gorman Building also houses the outpatient laboratory and radiology services.
Pasquerilla Healthcare Center
The 145,900-square-foot Pasquerilla Healthcare Center houses the activities of the Departments of Medicine, Neurosurgery, Surgery and surgical subspecialties, Pediatrics, Obstetrics and Gynecology, Orthopaedic Surgery, and Ophthalmology, provides a single focus for ambulatory care practice, and allows for the efficiency associated with a single-site operation.
Georgetown Medical Center at Ballston
Georgetown University Medical Center at Ballston is a multispecialty group practice located in a 44,000- square-foot, four-story building in the close-in suburb of Arlington, Virginia. The facility provides primary care and specialty care including the Lombardi Cancer Center. In addition to health provider services, the facility offers radiology and laboratory services, and facilities for resident training.
Lombardi Cancer Center at Shady Grove
The Lombardi Cancer Center at Shady Grove is full-service cancer treatment center of approximately 15,000 square feet of space. The center offers examination, radiation therapy, inpatient infusion services to patients living in the Maryland suburbs as well as home infusion services.
Medical-Dental Building
Built 60 years ago, the Medical-Dental Building is the architectural landmark for the School of Medicine. It is a four-story structure of 123,000 square feet and houses the administration of the School of Medicine. Offices and laboratories of the Departments of Pharmacology and Biochemistry, Molecular Biology & Cell Biology are located here along with the Saint Ignatius Loyola Chapel and the Student-Faculty Lounge on the first floor of the building available for various student functions.
Building D
Building D is a three-story building of approximately 66,000 square feet containing research laboratories and offices, as well as classrooms for the School of Medicine. The building also houses the administrative offices for the Executive Vice President for Health Sciences. The basement of Building D is an approximately 25,000 square-foot expansion of the Research Resources Facility, which has enhanced that department's ability to support the Medical Center's research efforts.
Preclinical Science Building
All basic science teaching is conducted in the Preclinical Science Building, which opened in 1971. A two-story structure occupying 160,670 square feet, it contains four large lecture rooms that interconnect with the main audiovisual studio. These four rooms have a combined seating capacity of 1,258 and all are equipped with standard audiovisual facilities, although two have the additional advantage of color television monitors for closed circuit viewing. There are 10 multidisciplinary laboratories used for basic science and preclinical subjects and five interlabs or seminar rooms used for smaller group discussion. The gross anatomy teaching laboratories and an interdepartmental electron microscope facility are located in the Preclinical Science Building. Additional research laboratories have been constructed to house expanding research activities in virology, microbiology, and in the clinical areas of neurology, medicine, pediatrics, and radiation medicine. The Medical School Bookstore is also located here.
Basic Science Building
The Basic Science Building is a three-story, 51,800-square-foot structure housing the offices and research laboratories of the Departments of Physiology and Biophysics, Biochemistry and Molecular Biology, and Pathology.
Lombardi Cancer Center
Completed in 1982, the Lombardi Cancer Center is a four-story patient care facility for medical, surgical, pediatric, radiologic, and gynecologic oncology. There are 16 examining rooms, four consultation rooms, and special rooms for chemotherapy administration and minor surgical procedures. The center is designed to meet the medical needs of cancer patients and their families in a pleasant, comforting atmosphere, and to enhance multidisciplinary cancer research and treatment activities. The Lombardi Cancer Center is the only National Cancer Institute-designated comprehensive cancer center in the Washington metropolitan area.
Perinatal Center
The Perinatal Center is located on the second, third, and fourth floors of the new West Wing Addition, a 46,500-square-foot addition to the Hospital. The center includes 20 postpartum beds, term nurseries, patient education rooms, a 21-bed antepartum unit, four labor rooms, five labor-delivery-recovery rooms, and three delivery rooms. A special care nursery, immediately adjacent to the delivery suite, features 22 intensive, 12 intermediate, and 10 convalescent beds.
Research Resources Facility
The Research Resources Facility (RRF) serves University and Medical Center faculty and staff employing animal models to study the causes, mechanisms, and therapy of human diseases. It is a single-story structure containing 25,800 square feet of animal holding and related support space on a common level. The RRF is committed to the humane care of laboratory animals. Georgetown University and the RRF embrace the standards set forth by the American Association for Accreditation of Laboratory Animal Care (AAALAC), the Guide for the Care and Use of Laboratory Animals (DHHSNIH 85 23, Rev.), and the ethical principles and practices of the veterinary profession. The RRF is fully accredited by the AAALAC. An Institutional Committee on Animal Care and Use serves the University in an advisory capacity to ensure that research animals are being used in accordance with accepted practices.
The Research Building
The Research Building, which opened for occupancy in December 1994, contains 196,000 square feet on six floors and represents Georgetown's commitment to modern research facilities to support the expanded research activities of the Medical Center. This new building is devoted entirely to basic research and houses more than 400 researchers with primary interests in oncology, radiation medicine, and the neurosciences. The modern laboratory support facilities offer state-of-the-art instrumentation to the research faculty. The building also contains a 200-seat auditorium equipped with the latest in audiovisual equipment.
Affiliated Hospitals
Clinical facilities for student teaching include a complex of affiliated institutions totaling approximately 3,000 beds. Total outpatient visits in these institutions number well over 1,500 a day. Affiliated hospitals afford excellent clinical teaching facilities and are staffed by Georgetown faculty and house staff. All affiliated hospitals are in the Washington metropolitan area and provide students with opportunities to experience a diverse patient population. Affiliated hospitals include Arlington Hospital, D.C. General Hospital, Fairfax Hospital, National Naval Medical Center, Sibley Hospital, Walter Reed Army Medical Center, and the Washington Veterans Affairs Medical Center. Special programs of instruction, including selected clerkships and electives, are conducted at Providence Hospital and other area hospitals and ambulatory care sites.
The Medstar partnership includes the Washington Hospital Center- home of the premier Shock-Trauma center, the only Burn unit in the region, and the National Rehabilitational Hospital in our Washington region- and five hospitals in Baltimore.
Dahlgren Memorial Library (DML)
Dahlgren Memorial Library (DML) the Graduate Health & Life Sciences Research Library at Georgetown University Medical Center acquires, organizes, and provides access to information services and resources in support of the mission of the University and the Medical Center, and consults and collaborates with GUMC faculty, staff, and students to integrate information resources and technologies into teaching, learning, research, patient care, and service.
The DML facility is open to users with a GU GOCard or an MGUH ID card and library hours are posted on the library's website (https://dml.georgetown.edu (new window)).  Within the four floors of the facility,  access to the following is available:
Team-Based Learning Space
Group study rooms and group teaching spaces
Information Services Desk for library questions and checking out materials
Reference and Research Services
Printer/Scanner/Copiers (B&W and Color)
Biomedical Academic Computing Center (BACC) Classroom with educational software
Instructional Technology Lab
Small print book collection
Dahlgren Memorial Library collections are mainly online and available via the library's website to those with a current GUMC affiliation.  Other Georgetown affiliates are welcome to use the computers in the DML Lobby to access the online collections. 
Yates Field House
The Yates Field House is one of the most sophisticated and contemporary sports complexes in the country. It is a four-level, 142,300 square foot structure with facilities for squash, basketball, tennis, racquetball, badminton, handball, swimming, volleyball, weight lifting, and track. Its location behind the John Vinton Dahlgren Memorial Library is especially convenient for medical students.
Yates Field House has a 25-meter, 8-lane indoor pool with separate diving pool and 12 multipurpose indoor courts with surfaces for tennis, basketball, badminton, and volleyball. There is a 200-meter indoor track and a 400-meter outdoor track, four squash courts, and four racquetball and handball courts. Professional instruction in these sports is available at all skill levels.
Membership cost for Yates is included in medical school tuition.
Leavey Center
The Thomas and Dorothy Leavey Center serves as a hub of activity for social and academic campus life. The building has four distinct components: eating facilities, the Student Activities Building, including the MBNA Career Center, the Conference Center, and the Guest House.
The eating facilities consist of a 450-seat cafeteria, a student pub, the Georgetown Café, the Faculty Club, Hoya's Restaurant, and fast-food shops. The Conference Center, 28,000 square feet of functional and flexible space, houses the Grand Ballroom and six conference rooms especially designed for small to medium-sized groups. Rooms have teleconferencing capabilities and built-in sound systems. The Guest House has four floors of luxurious accommodations housing 146 guest rooms and suites.