IronMed Triathlon
---
The Annual IronMed Charity Triathlon
Sunday, October 21, 2018
Featuring
Individual Sprint Triathlon (750m swim, 12mi bike, 5K run)
Team Triathlon (3 athletes, each completing one leg)
IronMed 5K run
Welcome to the 18th annual IronMed Charity Triathlon, and our 10th straight year partnering with the Hoya Clinic! This year the Triathlon, Team Triathlon, and 5k run events are expected to be better than ever, and we hope to reach our largest fundraising totals yet! As we get closer to race day, you'll be hearing more from us about race logistics. Until then, train hard!
All Proceeds To Benefit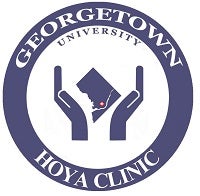 The HOYA Clinic is so grateful to have such generous support from IronMed, the medical school, and the Georgetown community at large. With the money raised through IronMed, we have been able to purchase items and implement programs hugely beneficial to the care we provide our patients, including:
Providing a variety of essential lab testing services to uninsured patients
Remodeling of the pediatric playroom at the HOYA Clinic
Purchasing start-up supplies for the new BIG HOYA Little Saxa Mentorship Group at DC General
Providing funding for out-of-clinic, essential procedures like imaging and minor surgery for uninsured patients
A variety of supplies for Wellness Workshops which are aimed at providing an environment for learning and practicing healthy lifestyle skills
Each year, a part of the money raised through IronMed also goes toward supporting the future financial stability of the Clinic. These funds ensure that Georgetown medical students, nurses, and physicians can continue to provide necessary care to an underserved patient population in DC for years to come.
The 2018 IronMed Organizational Committee