Gold Humanism Honor Society
"Excellence in clinical care, leadership, compassion and dedication to service"
Contact Us
Society Mentors:
Eileen Moore, M.D., Associate Dean for Community Service and Advocacy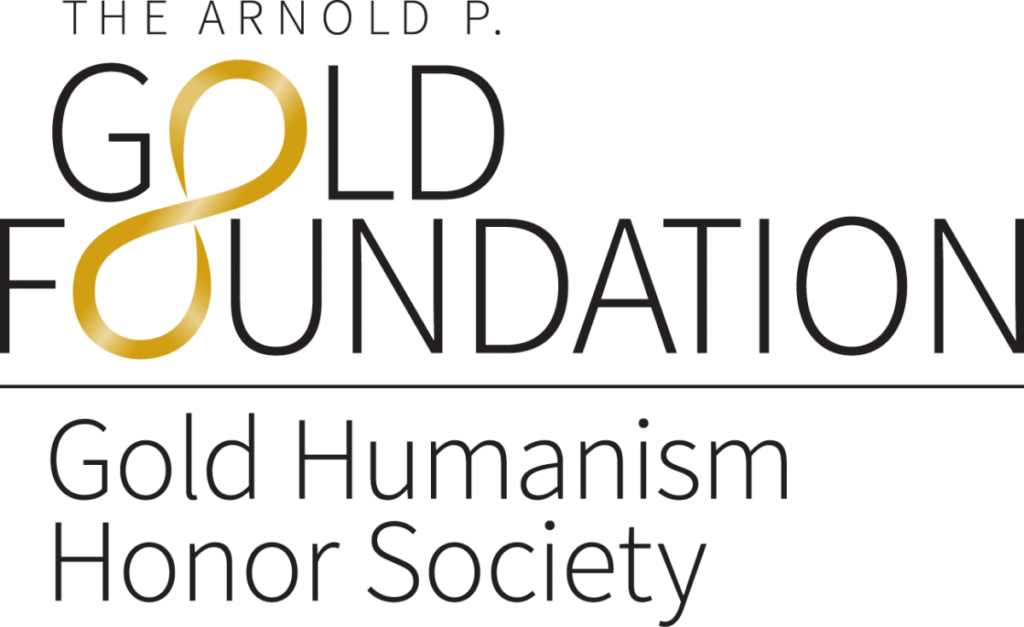 The Gold Humanism Honor Society (GHHS) at Georgetown University was established to recognize individuals who exemplify patient-centered medicine, emphasizing the "Cura Personalis" philosophy that we practice here in the Georgetown medical community. The GHHS is supported nationally by the Arnold P. Gold Foundation.
Golden Humanism Honor Society has 177 medical chapters across the world to honor those who demonstrate service and compassion in healthcare. There are more than 40,000 medical students, physicians, and other leaders who have been inducted and serve as role models. The Gold Foundation champions humanism in healthcare, which they define as compassionate, collaborative, and scientifically excellent care. They aim to support humanism in healthcare and those who want a place to connect, share, and advocate for our shared mission.
This year, we are excited to take part in society activities and leave a legacy of GHHS for years to follow! We are participating in Golden Humanism Honor Society events as well as hosting our own project.
Eligibility and Selection
Students are peer-nominated by a survey questionnaire provided during the spring of the third year. Students are encouraged to identify individuals who exemplify the characteristics of GHHS. Those nominated will be invited to submit a CV and statement to the GHHS Selection Committee, who will identify 10-15% of the class for induction that year. Eligibility requires good academic standing, however, academic performance is not a consideration in the selection process. Students selected for GHHS will be expected to develop an activity or program that highlights the philosophy of Cura Personalis and humanism in medicine during their fourth year at Georgetown SOM.
Chapter 2022 Events
Solidarity Week
The 2022 National Solidarity Week for Compassionate Patient Care will be from February 14 to 18 this year! This is a nationwide movement for promoting clinician-patient relationships based on humility, personalization, and mutual respect. 
We shared our Valentine's Day with our Patients by handwriting uplifting and fun Valentine's Day cards for our Patients at Georgetown and passed them out to patients with fresh carnations! 

We also hosted a talk on February 16th in partnership with Hoya MedAlliance on LGBTQ+ Care and Advocacy in Medicine w/ Dean Lee Jones and learned from our incredible dean of medicine about competent care for LGBTQAI+ patients! 
Thank A Resident Day
We will be thanking our incredible residents for all their hard work with a day of food and goodies! We will be dropping off appreciation goodie bags to residents throughout the hospital filled with food and wellness items!
Blood Drive
Lastly, we will be hosting a blood drive with INOVA Blood Donor Services on April 25th! We will be using this event to bring attention around this time to the discriminatory blood donation practices against the LGBTQ+ community as well as the national blood crisis! 
Georgetown GHHS 2022 Executive Board
President: Alberto Perez (M22)
Vice President: Teju Peesay (M22)
Treasurer: Melissa Baker (M22)
Secretary: Anjani Kapadia (M22)
Contact us at: ghhsgeorgetown@gmail.com