GEMS Student Spotlight – Jerome Murray, MD
Jerome Murray, MD: GUSOM Matriculant, Class M2022!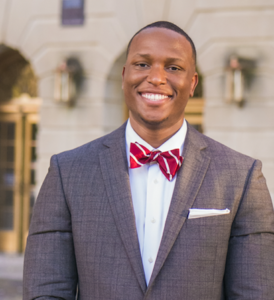 My name is Jerome Murray and I am in the current GEMS class of 2018. I was born and raised in Orlando, Florida to Ava and Colin Murray, who worked hard to raise my older brother, Andre' and I. My earliest memories of medicine begin with my mother, a registered nurse and clinical social worker. Her career instilled in me the value of healing and made the hospital a pleasant place for me, a place I did not mind spending time in on a regular basis. It was during these early moments where I began picturing myself as a physician and dreaming of the day I could impact people's lives. My life took a major turn in 2004 when my father was diagnosed with amyotrophic lateral sclerosis. At the time of his diagnosis I was in middle school and did not completely understand the full scope of his health challenges. I did, however, understand the courage and strength it took to handle it with dignity, as he did. In 2006 my father passed away and although I was still rather young, his passing served as a sobering blow to my ideals about my career pursuit of medicine; my hero died and at the time it seemed like my dreams of being a physician died with him.
For many years, the dream of being a doctor did not seem like a realistic goal anymore. I filled my thoughts with reasons of why medical school was not for me: it would "take too long" or be "too hard". Shortly after graduating from Andrews University, I had the opportunity to shadow a surgeon, and it rekindled the desire I had as a child to pursue medicine. My journey from that moment was anything but easy. I struggled to navigate the process of preparing, applying, and ultimately gaining acceptance into medical school. After exhausting what felt like all avenues, I learned about the GEMS program and applied. I didn't know much about the program, however, from the day we interviewed, I knew this was no ordinary post-baccalaureate program. Once accepted, I felt like I had been given my "shot". Dean Taylor and Dr. Kaingo are one of a kind instructors and they provide insight and guidance far beyond the scope of study skills and test taking strategies. As a part of the GEMS program, I was forced to address and adjust 25 years' worth of study habits. This program forces you to address not only your weaknesses as a student, but also your strengths, as you're often called to help each other. My favorite part of being in GEMS are my classmates with whom, although we all come from very different backgrounds, I've bonded through the adversity that brought us together.
My family remains my biggest support and greatest motivator. My mom and my brother reflect the qualities I hope to further cultivate as I progress though this journey. My dad, my hero, gave me the ultimate example of how, even in life's darkest moments, one can leave a lasting impact on the world. Both my family and GEMS classmates have helped me learn about and appreciate the strength that each person possesses. I believe, because physicians often interact with people during the toughest moments in life, they have the tremendous opportunity and even responsibility to remind people of that innate strength. The hardest experiences in my life have brought about the greatest of my strengths. I'm focused, determined, and passionate about my future in medicine. My goal, in addition to cultivating the necessary skills to become an impactful physician, is to inspire younger minorities to recognize their strengths. I believe the GEMS program is an incredibly impactful and important program, and I am proud to be a part of it.
"It's difficult to follow your dream. It's a tragedy not to." – Ralph Martson