Meet the Council
Avalos, Gabriela, M3
Email: gma55@georgetown.edu
Hometown: Weston, FL
Bharil, Sarika, M2
Email: srb143@georgetown.edu
Hometown: Anaheim, CA
After working with marginalized communities in Los Angeles, I learned how social determinants of health influenced different populations. At GUSOM, I want to address these inequities by championing diversity in the medical field and CODA provided the perfect avenue to make this meaningful impactful. One of the reasons I love being a Hoya is because Georgetown teaches medicine through an interdisciplinary lens that prepares students for the future of the field. I'm excited to get more involved this year and make a difference at GUSOM and in the wider DC community!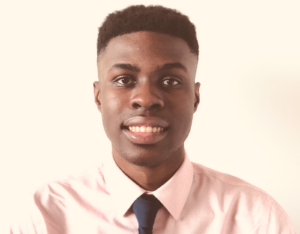 Cox, Victor, M1
Email: vfc8@georgetown.edu
Hometown: Brooklyn, New York
The lessons I learned from navigating a career in medicine and research as a Black student have uniquely informed my perspective on diversity and inclusion as well as my commitment to the success of underrepresented minority (URM) students in medicine. Throughout my career, I have coordinated several mentorship programs and worked closely with faculty members to improve the academic experience of URM students. As part of CODA, I hope to use these experiences and my passion for creating an equitable educational experience to empower my fellow students as well as future generations of URM Hoyas at Georgetown University School of Medicine.
Ezeana, Michael, M1
Email: mce65@georgetown.edu
Hometown: Lagos, Nigeria 
I joined CODA because I wanted to help foster a better environment for under-represented students, where their successes are prioritized. Through productive and action-oriented conversations, I hope to contribute to the current efforts to create this space while dismantling systems that make it harder for under-represented students to thrive.
Fubara, Victoria, M1
Email: vsf5@georgetown.edu
Hometown: Richmond, VA
As a non-traditional student, much of the work I did during my gap years was geared towards community health, healthy equity and mentorship. Roles such as a college advisor with Virginia College Advising Corps via AmeriCorps, serving as a Community Wellness and Education intern at Novant Health and working as a WIC intern at the Virginia Department of Health all informed my dedication for pursuing medicine. The opportunity to serve as a mentor and continue working towards equity in all facets via CODA aligned with my personal passions and I am looking forward to making an impact in the larger Georgetown community.
Greguske, Ryan, SMP
Email: rg1191@georgetown.edu
Hometown: Germantown, WI
Working professionally in Chicago communities, after completing my undergraduate degree, opened my eyes to the influences social determinants and lived experiences have on individual health and well-being. From inequitable access to resources to discrimination, biases, and racism I learned health is so much more than just a medical condition. Transitioning to being a full-time student in the SMP program, I knew I wanted to continue to be involved in work that promotes equity and inclusion of all people. I feel incredibly fortunate to be a part of CODA, and look forward to working with my peers and ODI to ensure GUMC is a safe and inclusive community for all.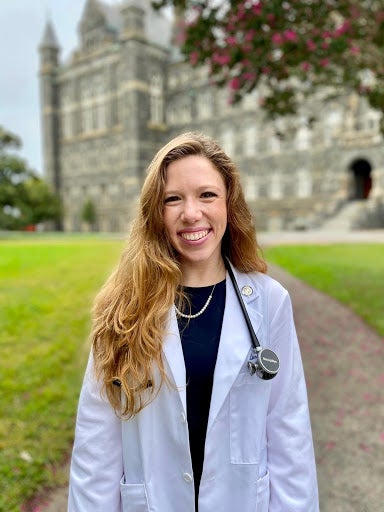 Havens, Lauren, M1
Email: lmh155@georgetown.edu
Hometown: Woodstock, NY
I joined CODA to take an active role in creating a more equitable, supportive, and inclusive space at Georgetown. Living with a chronic illness has helped me to understand how important it is to acknowledge and celebrate the multidimensionality of our experiences. In recognizing my privilege, I hope to continually work to be a better ally for my peers and future patients. I'm excited to be a member of CODA to support and center the experiences of my peers and to be a small part of this larger movement to fight for equity and justice in our community.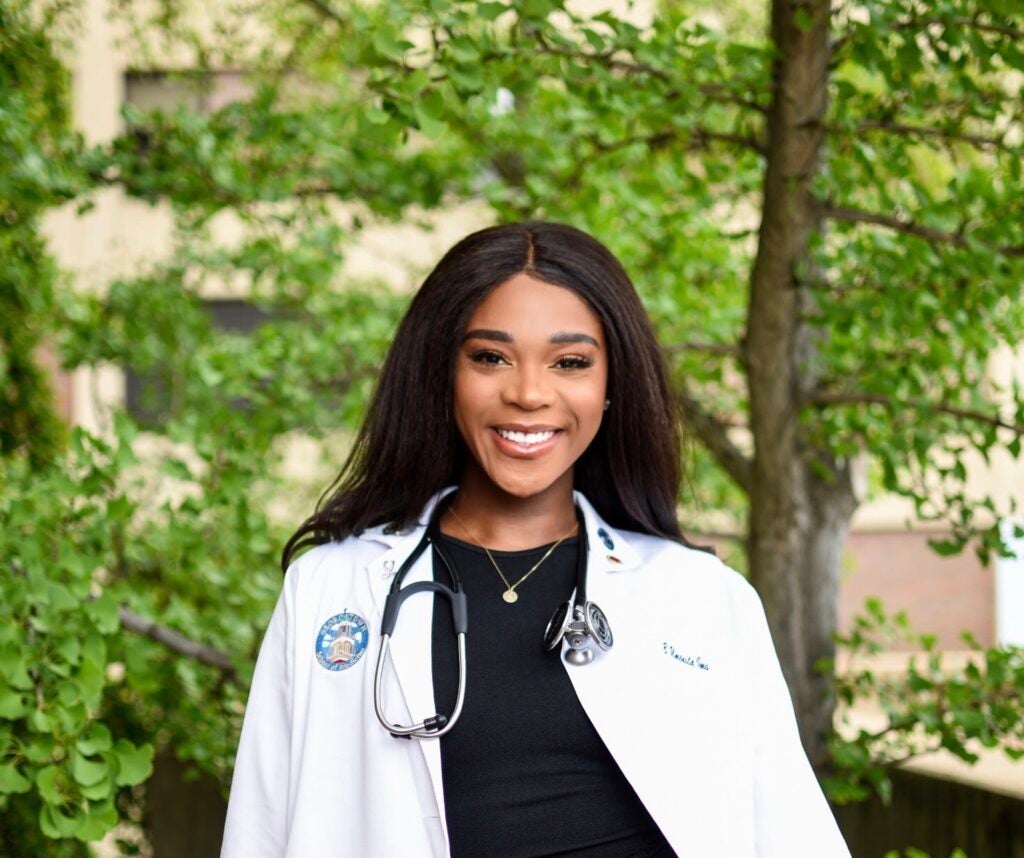 Imo, Umenita, M1
Email: bui2@georgetown.edu
Hometown: Port Harcourt, Rivers, Nigeria (by way of Ithaca, NY)
CODA allows me to collaborate with passionate members of GUSOM dedicated to diversity and inclusion initiatives. As a Black woman attending her third predominantly white post-secondary institution, I know first-hand how committees like CODA can improve the institutional culture for non-White students. I am very grateful for my participation in CODA and welcome the opportunity the committee provides to engage in action-orientated discussions.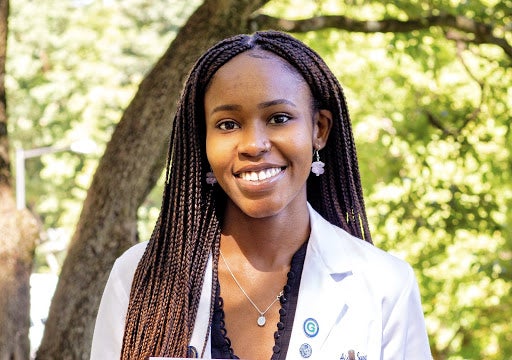 Inuwa, Aisha, M2
Email: aji13@georgetown.edu
Hometown: Lagos, Nigeria
I joined CODA because I want to make medicine – both for patients and practitioners – a better environment for Black students, especially Black women. I hope that the work we do through CODA will allow for better representation in medicine so as to provide holistic care to non-white patients. As a second year CODA member, I am proud of the work we did last year and excited for the work we will continue to do moving forward.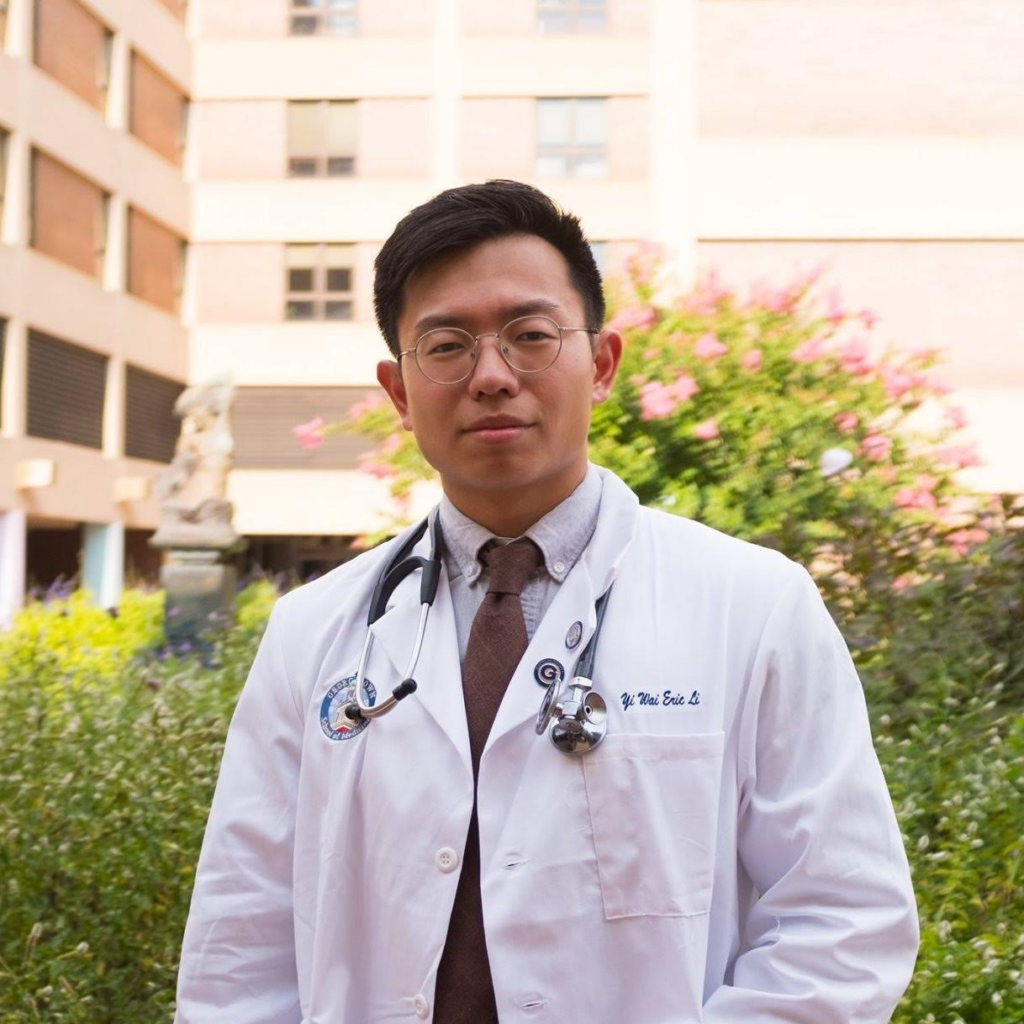 Li, Eric, M2
Former SMP
Email: ywl3@georgetown.edu
Hometown: NYC, NY
I am a first generation immigrant, college student, graduate student, and medical student. I have always felt out of place in many of the spaces that I navigated, but what really struck me about Georgetown when I first came here as a SMP was how much the administration cared about the students. I felt like more than another cog in the diploma wheel, and after attending a "Build and Belong" dinner after getting accepted to Georgetown, I knew that Georgetown was the place for me. Although no place is perfect, Georgetown empowers students to take action and there's no better example of this than CODA and ODEI. I am excited to work together to work with my colleagues to make GUSOM a more inclusive and equitable place!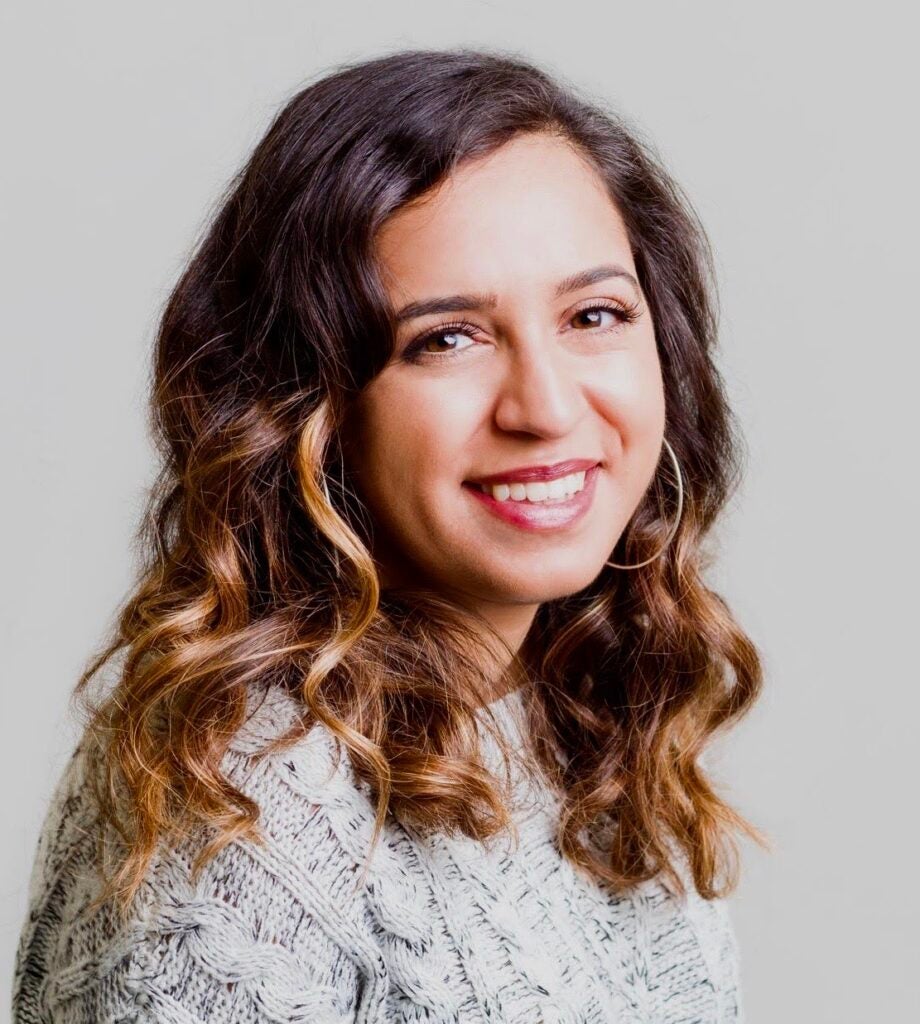 Makhija, Anisha, SMP
Email: am4143@georgetown.edu
Hometown: Las Vegas, NV
Transitioning from the Bay Area to Washington, D.C. was not easy, but the Georgetown community has been so kind and accepting during this crazy year. It is so easy to feel overwhelmed and isolated with virtual school and everything that is going on in the world, but it's clear how this city is still a hub for advocacy efforts and open conversations. I joined CODA to continue conversations surrounding diversity and inclusion for the GUSOM community. The students surrounding me on this committee have given me such support and inspiration as I pave the way for my own medical school journey. I am so excited to see what this year brings!
Patel, Sahaj, M4
Email: sdp59@georgetown.edu
Hometown: Union City, CA
Specialty: Applying into Internal Medicine
I think that this is a really exciting time to be at Georgetown, because students, faculty and administration are all recognizing the need to create a more diverse and inclusive environment at the medical school. When I heard about CODA and saw some of the exciting initiatives that ODI was engaging in, I wanted to be a part of making Georgetown a more welcoming place to people of all backgrounds. I stayed in CODA because I saw all of the important work that was being done to help create a more inclusive culture at Georgetown. Ultimately, I'm glad to be a part of CODA and a medical student at Georgetown, because there have been so many opportunities to advocate for many different populations–from LGBT+ students to patients who are refugees seeking asylum in the US to creating an equitable admissions process for future med students!
Perez-Albela, Alejandro, M1
Email: ap1690@georgetown.edu
Hometown: Germantown, MD
Throughout undergrad, I volunteered as an interpreter and scribe for Mercy Health Clinic, a free clinic that provides care for those uninsured in Montgomery County, MD. This experience was an amazing opportunity to support my community and use my fluency in Spanish to improve the care for those with a language barrier. These clinics supported my family when we first immigrated to the United States from Peru in 2004 and facilitating the medical care for populations who I related to was truly rewarding. I joined CODA because I can provide a unique perspective as an immigrant who spent most of his time living in the United States undocumented. I have experienced many of the hardships immigrants face when settling in the United States and I hope to use this insight to direct changes in GUSOM to upkeep a welcoming and inclusive environment.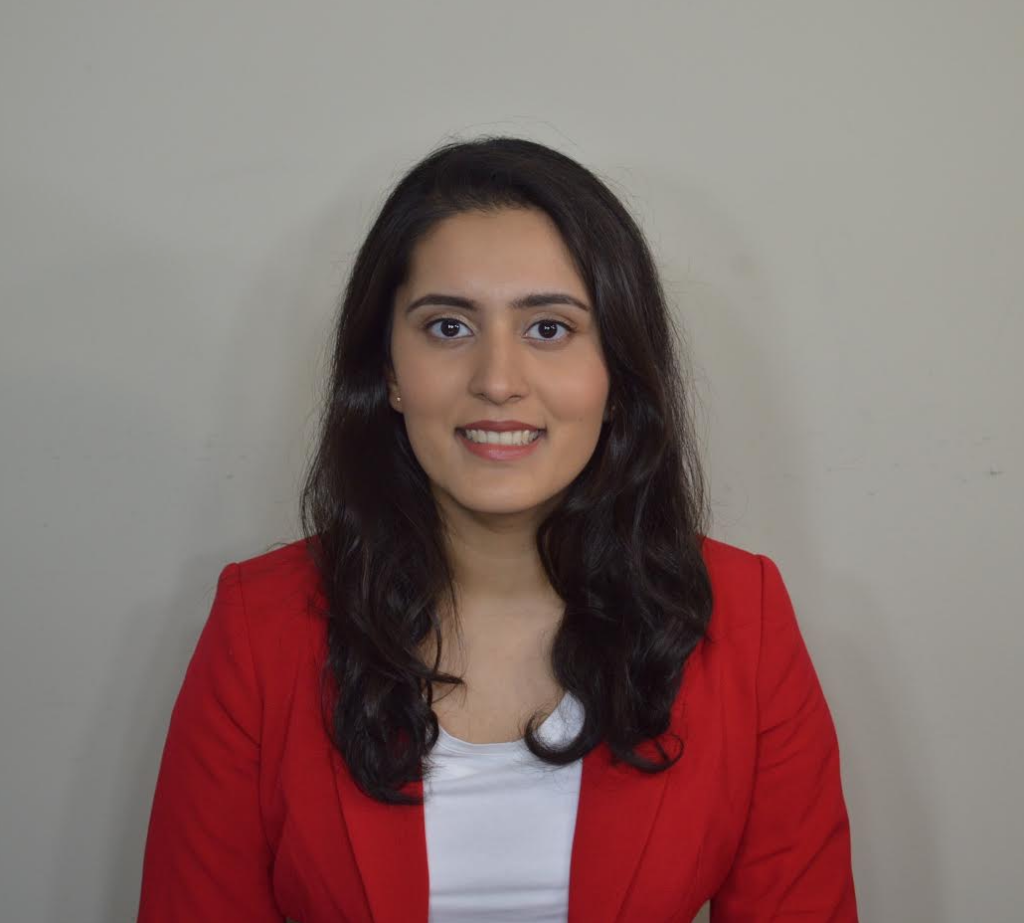 Rana, Rimsha, M1
Email: rr1110@georgetown.edu
Hometown: Falls Church, Virginia
As a first generation immigrant I have seen firsthand, the difficulties that many populations face and their access to healthcare. During my undergraduate years I was heavily involved in advocacy work especially for DREAMers. During the summer before my junior year I became an ARCHES fellow at Georgetown. I was amazed with Georgetown's commitment to serving others and I am thankful that I got to return as a Medical Student. I want to use the experiences I have gained to continue advocating for others as a Medical Student. I became involved in CODA because it gives us the opportunity to help make a meaningful impact at Georgetown.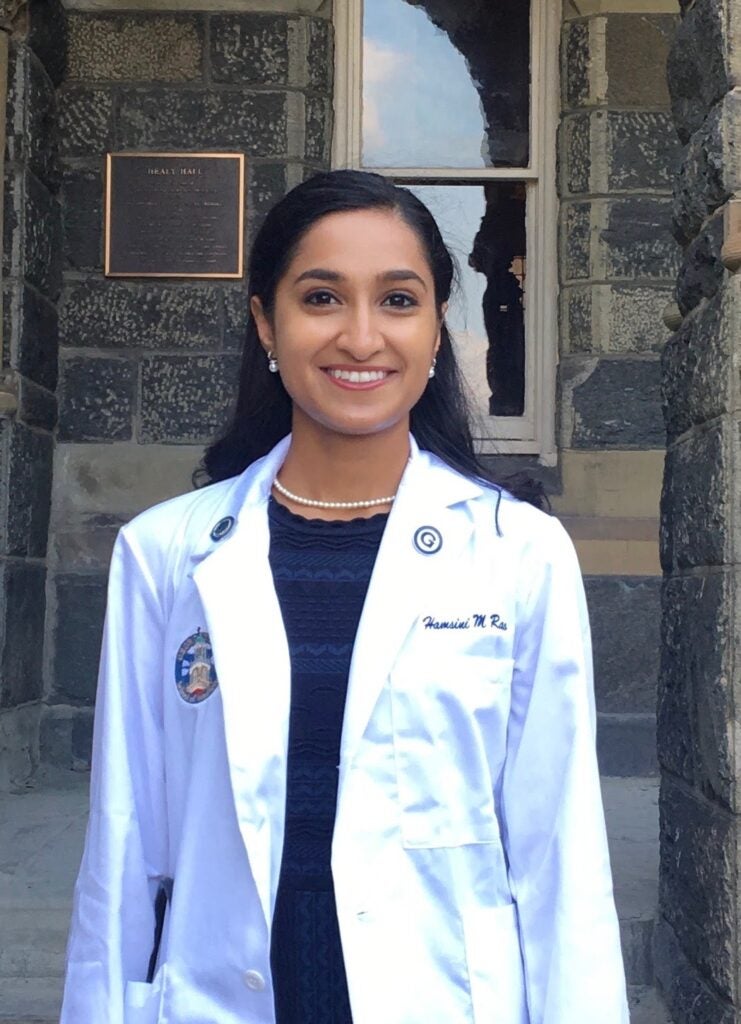 Rao, Hamsini, M4
Email: hmr51@georgetown.edu
Hometown: Glendale Heights, IL (Chicago Suburbs)
Specialty: Applying into Pediatrics
CODA is not just a welcoming community that celebrates and supports students of all backgrounds (LGBTQI+, first-generation, parents, URiM, women in medicine, allies), but is also a student-directed, action-oriented driver for change at Georgetown. I joined CODA as an M1 and knew immediately that this was a place where students could truly feel that they belonged, no matter their background. I continued to serve on the committee because of the amazing projects and work that was being done in the office of diversity, equity, and inclusion (ODEI). Throughout medical school, I have seen the changes CODA and ODEI has brought to the culture of our campus community. Diversity, equity, and inclusion is on the minds of the institution as a whole, now more than ever before. While there is still work to be done, I am proud to be a part of CODA, where I have learned so much about advocacy at every level. It is exciting to be a medical student at Georgetown, knowing that our work is impacting the core of an institution for years to come.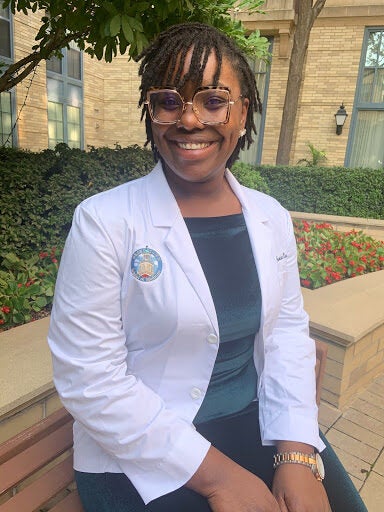 Rice, Jasmine, M1
Email: jdr139@georgetown.edu
Hometown: Norfolk, Virginia
I am a first generation HBCU graduate who was born and raised in the underserved city of Norfolk, Virginia. As a non-traditional student, I took three years after graduation to explore the field of medicine and solidify my passion for Women's Health. During these years I worked on a postpartum mother baby unit at my local hospital; as well as a private OB-GYN Practice. My goal has always been to become an impactful physician citizen who takes an active interest in all opportunities that directly uplifts the social, mental and emotional aspects of communities that resemble my own. For this reason, I joined CODA whose goals are geared towards examining and changing systematic behaviors that cause negative outcomes for underrepresented minority students in medicine. From this experience, I hope to gain the skills to be a future gatekeeper for African American women pursuing medicine.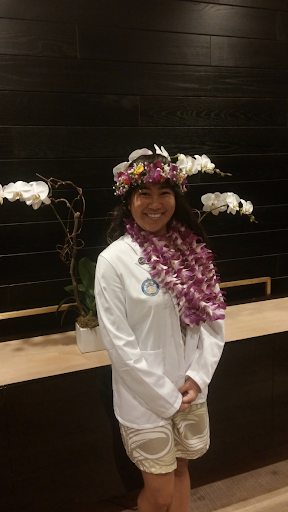 Takahashi, Callie, M4
Former GEMS
Hometown: Kailua, Hawaii
Specialty: Family Medicine Applicant
Email: cnt10@georgetown.edu
Growing up in Hawaii surrounded by my family and community instilled a deep appreciation for culture, diversity and respect. With the tremendous opportunity to matriculate at Georgetown, I found myself looking for belonging in a new community that was drastically different from my home state. Through leadership in CODA, I have had the opportunity to help create initiatives to support first generation college students at GUSOM. As I progressed in my medical education, I continued to re-apply to CODA because I wanted to serve my institution and create a culture at GUSOM that supports all students. Each year, I am amazed by the work that is accomplished by my peers through the platform created by CODA. Through support from the Office of Diversity, Equity, and Inclusion, CODA members have the opportunity to make real change within the GUSOM community. There is still much work to be done, and I look forward to the opportunity to be part of this team.
Valentin, Michelle, M1
Hometown: Queens, NY
Email: mav117@georgetown.edu
Georgetown School of Medicine encourages medical students to address health disparities in diverse communities with cultural competency. My identity, shaped by my life in Queens and visits to my family in Colombia and Mexico, have instilled an understanding of the resiliency and adaptability demonstrated by immigrants, and the value of diverse healthcare providers. As a doctor, I will aim to use my fluency in Spanish as an agent of change, to reduce racial and ethnic health disparities by integrating the biological, nutritional and public health lens to provide culturally sensitive and compassionate care. As a medical student on CODA, I hope to collaborate with and learn from healthcare providers and classmates. Students of color often face unique obstacles in their path to medicine, I hope that as part of CODA, we can work to foster inclusivity and opportunities within our Georgetown community.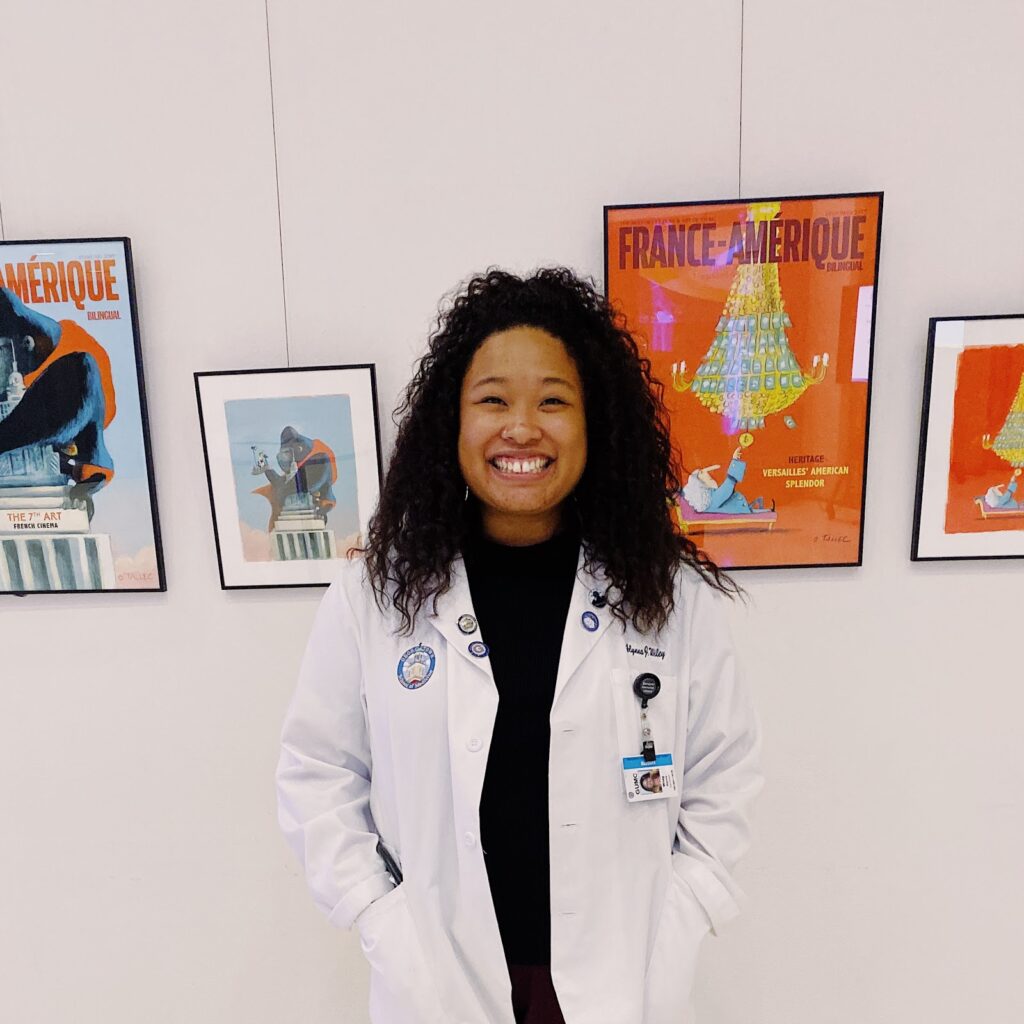 Wiley, Alynna J, MS3
Email: ajw133@georgetown.edu
Hometown: Oklahoma City, Oklahoma
I am a first generation, non-traditional medical student from the underserved area of Oklahoma City, Oklahoma. I took 2 years off to work as an emergency medicine scribe and attend the
Georgetown Experimental Medical Studies program prior to matriculating in 2018.
Enveloped in love and compassion, from a young age I knew that the Beloved Community is a living, breathing entity which requires nurturing and investment. This would become fundamental in my journey in medicine and one of the many reasons why I work with CODA as my class's Diversity representative. In my time at GUSOM, I have worked with the Office of Diversity, Equity, and Inclusion and their mentorship and cultural competency initiatives. Working with CODA allows me to pursue my goals of becoming an impactful physician-advocate that serves her community and leaves the doors of opportunity open for the many that embark on this journey.
Wilson, L Tamara, M4
Former GEMS
Email: ltw28@georgetown.edu
Hometown: Alexandria, VA
Specialty: Emergency Medicine
I am passionate about all things diversity and inclusion and see CODA as a way to impact everyday change at GUSOM. Prior to medical school, I worked in higher education and gained insight into the many factors that impact our student experience. I joined CODA to bring these passions together and positively impact the experience of diverse students at Georgetown. CODA has been a place where students are empowered to take their ideas and run with them, which creates an environment of innovation and collaboration which I am proud to be a part of. I recognize that there is much to be improved at Georgetown, however, through being involved in CODA I feel great about being able to contribute in a small, yet meaningful way.