MedSTARS: The Georgetown University School of Medicine and MedStar Health Visiting Clerkship Program for Underrepresented Minority Students
Efforts to promote a more diverse and inclusive workforce through increased representation of underrepresented minorities in the medical profession is critical in addressing the ever-evolving needs of the American population and multifarious healthcare landscape. In recognizing this reality, the Georgetown University School of Medicine and the Medstar Health organization are increasingly committed to developing a dynamic, thriving, and diverse team of physicians and health care professionals which represent the community and populations it serves while providing a more inclusive healthcare landscape.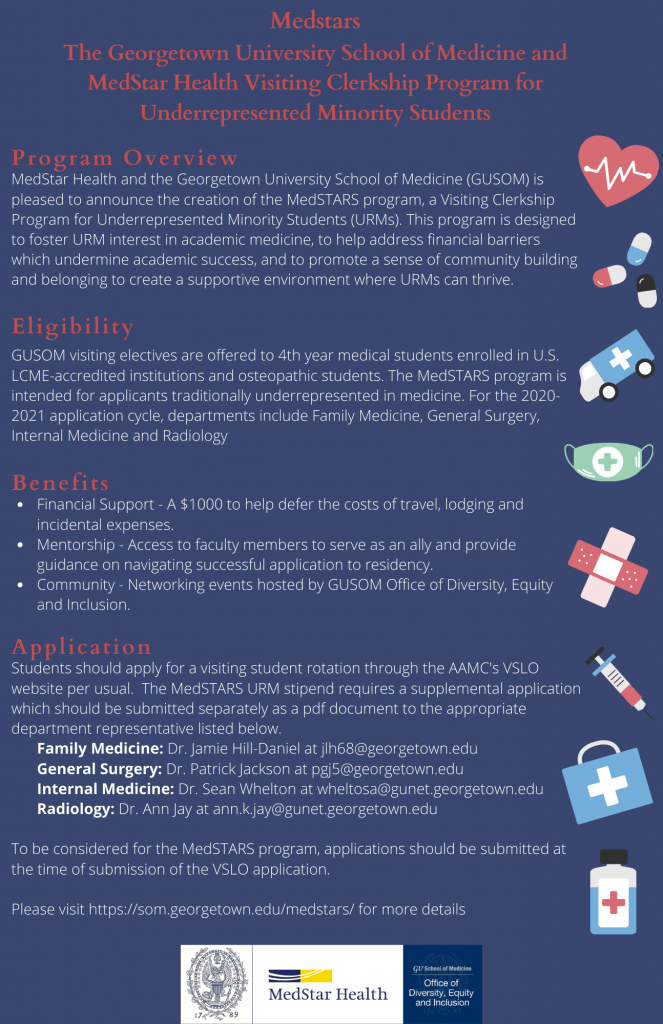 Medstar Health and the Georgetown University School of Medicine is pleased to announce the creation of the MedSTARS program, GUSOM's Visiting Clerkship Program for Underrepresented Minority Students (URMs). This program is designed to foster underrepresented minority student interest in academic medicine, to help address financial barriers which undermine academic success, and to promote a sense of community building and belonging to create a supportive environment where URMs can thrive.
MedStar Health provides quality care for the nation's capital region as personified by its commitment to its SPIRIT values—Service, Patient first, Integrity, Respect, Innovation, and Teamwork. While there are many clinical sites within the MedStar system, Georgetown University Hospital is an acute-care teaching and research hospital located in Northwest Washington, D.C. and being founded in the Jesuit principle of cura personalis—caring for the whole person—MedStar Georgetown is committed to offering a variety of innovative diagnostic and treatment options within a trusting and compassionate environment. MedStar Georgetown is recognised as a center of excellence in neurosciences, transplant, cancer and gastroenterology.

Participation in the MedSTARS program includes the following:
Financial Support
Given the cost of living in Washington, DC, we acknowledge the financial hardships students must overcome to participate in our visiting electives. With this in mind, the program will provide a stipend amount of $1000 to help defer the costs of travel, lodging, tuition fee, and incidental expenses. Additionally, GUSOM will waive the $100 tuition fee for all students accepted to the Visiting Clerkship Program for URMs.
Mentorship
Mentoring of URMs in medical education is a continual challenge with access to effective mentorship commonly referenced as a limitation identified by URMs. Successful mentoring models have identified sponsorship (opening doors, providing resources, and opportunities), increased exposure and visibility, professional coaching, protection from adverse forces, and assessments which provide challenging yet realistic feedback as tangible benefits of effective mentoring relationships. Students in the Visiting Clerkship Program for URMs will have access to faculty mentors to serve as an ally and provide guidance on navigating successful application to residency.
Community
URMs encounter considerable pressure to form professional identities and navigate a successful career in the setting of fewer peers of URM backgrounds and few URM physicians. To promote a sense of community and belonging, students in the Visiting Clerkship Program for URMs are invited to participate in networking and social events hosted by the GUSOM Office of Diversity and Inclusion.
Qualifications
GUSOM visiting electives are offered to 4th-year medical students, enrolled in U.S. LCME-accredited institutions and osteopathic students. The MedSTARS program is intended for applicants traditionally underrepresented in medicine.
Application Process
General information about Georgetown's visiting clerkship opportunities is available on the GUSOM Visiting Student Program website. Students interested in the MedSTARS program should apply for a placement with their clerkship program through AAMC's VSLO website. Selected participants are those who best demonstrate their interest in a selected field and possess the academic ability to pursue the rigors of an academic career.
For the 2021-2022 application cycle, departments participating in the MedSTARS program include:
General Surgery
Internal Medicine
Radiology
Family Medicine
The Department of Family Medicine at Georgetown MedStar Hospital serves as a model of excellence in primary care and community health. The mission of the Medical Student Education Division is to train the next generation of physicians through innovation and leadership in medical education while promoting the principles of Family Medicine. The department provides personalized evidence-based patient-centered care in a medical home model, with special emphasis on care to the underserved. Medical students rotate through the Fort Lincoln site located 30 minutes east of Georgetown in Prince George's County, MD. With the support of specially trained patient educators, social workers, and behavioral health professionals, the Fort Lincoln office meets the needs of a mostly underserved, African-American and Latino population. As a member of this team, students will assist Family Medicine residents and attending physicians in providing families with true cradle to grave care, welcoming newborns, children, adolescents, women (including for prenatal and obstetrical care), men, and the elderly.
Please submit any questions relating to Family Medicine directly to Dr. Jamie Hill-Daniel at jlh68@georgetown.edu.
General Surgery
The Department of General Surgery at Georgetown MedStar Hospital/ MedStar Washington Hospital Center is a major referral center for the management of surgical disease with a robust experience in surgical oncology, trauma, transplant, minimally invasive surgery and thoracic surgery. Students will function as an integral member of the surgical team. This may include assisting in the medical management of floor patients, assisting in the operating room, and attending surgical clinics. As a member of this team, students will gain important insight into the management of complex surgical and non-surgical problems.
Please submit any questions relating to General Surgery directly to Dr. Patrick Jackson at pgj5@georgetown.edu.
Internal Medicine
The Department of Medicine at Georgetown MedStar Hospital is steeped in a rich tradition of excellence built upon the legacies of leaders in cardiology, hematology and oncology, and gastroenterology. The department strides to further this reputation by remaining on the cutting edge of new developments in medical education, scientific and clinical investigation, and clinical care. The 4th year, advanced clinical clerkship in Medicine emphasizes the management of clinical problems. Students are expected to perform in the capacity of a junior house officer/intern under the supervision of a resident and attending physician. The Department of Medicine offers research and clinical activities at Georgetown or the affiliated hospitals in General Medicine; Cardiology; Clinical Pharmacology; Dermatology; Endocrinology and Metabolism; Gastroenterology; Hematology/Oncology; Infectious Diseases; Nephrology and Hypertension; Pulmonary and Critical Care Medicine; and Rheumatology, Immunology, and Allergy.
Please submit any questions relating to Internal Medicine directly to Sean Whelton at wheltosa@gunet.georgetown.edu.
Radiology
The Department of Radiology at Georgetown MedStar Hospital provides diagnostic and interventional services to the community and enriches the rich history of Georgetown academics through research and medical education. The patient population is drawn from Washington, D.C., the surrounding suburbs and from the mid-Atlantic region. Medical students wishing to increase their exposure to a particular subspecialty of radiology may do a one-month intense focused experience within a particular field of radiology including:
Interventional radiology
Musculoskeletal radiology
Neuroradiology
Nuclear medicine
Please submit any questions relating to Radiology directly to Dr. Ann Jay at ann.k.jay@gunet.georgetown.edu.
Please complete the AAMC's VSLO website per usual. The MedSTARS URM stipend requires a supplemental application which should be submitted separately as a pdf document to the appropriate department representative.
For any other questions, please contact the Office of Diversity, Equity and Inclusion at somdiversityandinclusion@georgetown.edu