Family Medicine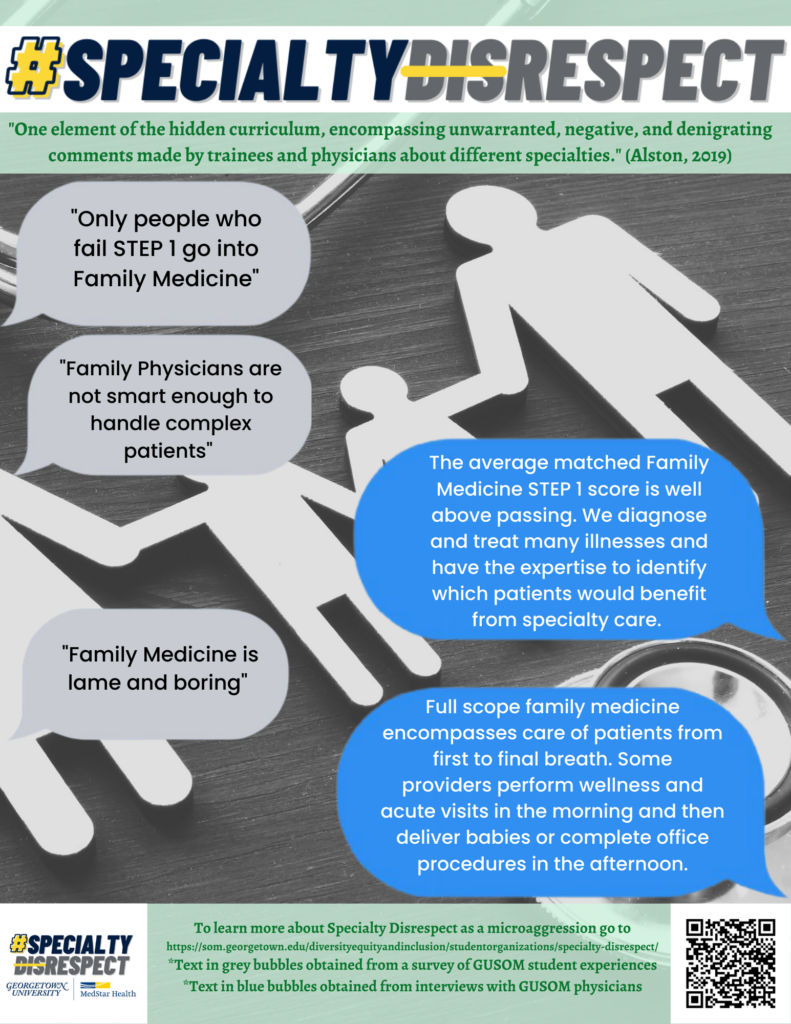 Fiction #1: "If I enter a Family Medicine practice, I will be out of a job because NP's and PA's will take it over"
Fact: Family Medicine is a thriving field. According to the 2017 NRMP Residency Match Data, "family medicine is the second largest," in terms of positions offered "with 3,356 positions offered." (1)
Fiction #2: "Family medicine is not worth the money"
FACT: Family Medicine physician incomes have been growing. According to Medscape, Family physician income is up from last year's average income of $231,000 to $234,000." [2] As the number of senior citizens grows, some specialties will experience heightened demand such as Family Medicine. "Those over age 65 make up 14% of our population, yet they are driving the vast majority of healthcare services and are accessing healthcare services in greater numbers," says Travis Singleton, senior VP of Merritt Hawkins.
Fiction #3: "Family medicine is lame and boring"
FACT: Family Medicine physicians "perform a variety of services in their practices including care of infants, children, adolescents, geriatrics, and urgent care." They "perform a variety of procedures in their practices including dermatologic procedures and physical therapy. More than 41% of American Academy of Family Physicians (AAFP) member physicians have hospital admission privileges. 16% of AAFP members report delivering babies, and those members delivered 6 babies on average in 2017." [3]
Sources
[1] "What Does the Family Medicine Match Data Look Like?" Medical School Headquarters, 23 June 2020, medicalschoolhq.net/ss-63-what-does-the-family-medicine-match-data-look-like/.
[2] Martin, Keith L. "Medscape Family Medicine Physician Compensation Report 2020." Latest Medical News, Clinical Trials, Guidelines – Today on Medscape, Medscape , 20 May 2020, www.medscape.com/slideshow/2020-compensation-family-medicine-6012730.
[3] "Family Medicine Facts." Facts About Family Medicine, American Academy of Family Physicians, 2021, www.aafp.org/about/dive-into-family-medicine/family-medicine-facts.html.
---
Read the text version of this poster
[Background is in black and white and is a paper cut out of family and stethoscope]
[Top header in light green. Text in dark green]
"Specialty Disrespect" in bold at the top. Underneath this title reads "Specialty Disrespect (SD) is an element of the hidden curriculum, encompassing unwarranted, negative, and denigrating comments made by trainees and physicians about different specialties. SD affects all specialties, touching most medical students by graduation (Alston, 2019)."
Poster that mimics an iphone messaging screen with fictional statements as receiving grey message bubbles and factual statements as sent blue message bubbles. This poster is about family medicine. The fictional side has two bubbles and reads ""Only people who fail STEP 1 go into Family Medicine" and "family physicians are not smart enough to handle complex patients" and the factual response reads "the average matched family medicine step 1 score is well above passing. We diagnose and treat many illnesses and have the expertise to identify which patients would benefit from specialty care". The next fictional bubble reads "Family medicine is lame and boring" and the factual bubble reads "Full scope family medicine encompasses care of patients from first to final breath. Some providers perform wellness and acute visits in the morning and then deliver babies or complete office procedures in the afternoon."
[Bottom header in light green. Text in dark green]
On the left is the dark blue Office of Diversity and Inclusion Logo. On the right is a QR code that links to this webpage (som.georgetown.edu/specialty-respect). In the middle is "To learn more about SD as a microaggression go to som.georgetown.edu/specialty-respect"