Internal Medicine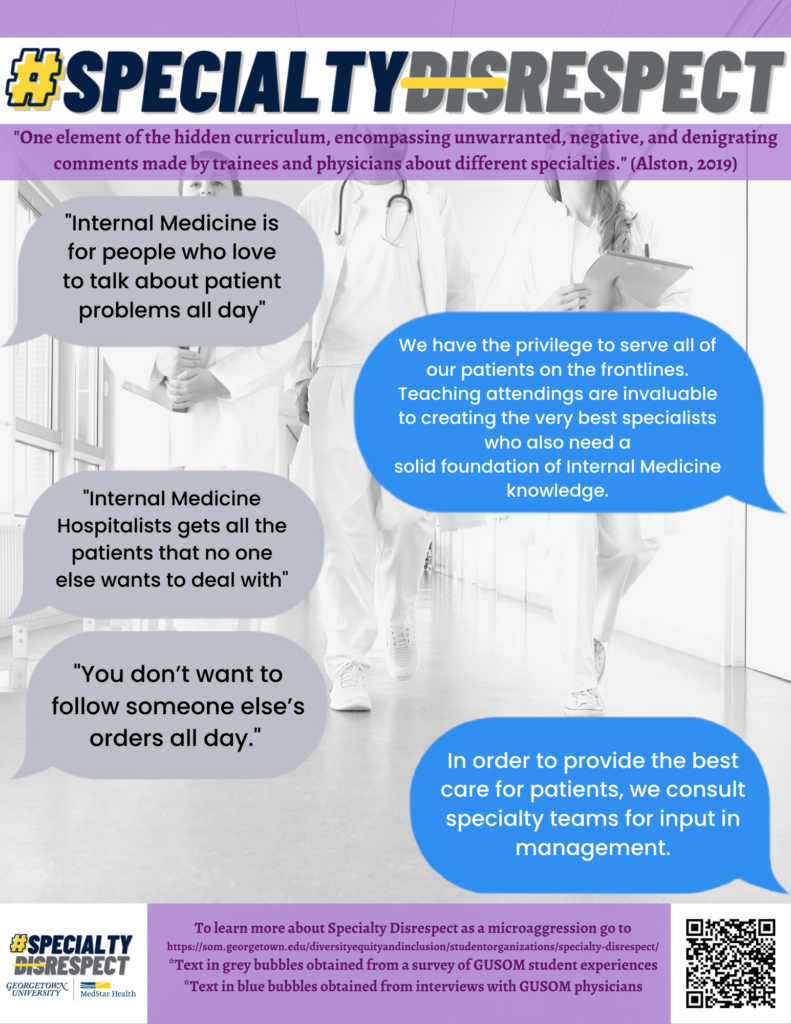 Fiction #1:"Don't go into Internal Medicine unless you hate fun."
FACT: In a study, among specialties considered to have uncontrollable lifestyles, internal medicine and pediatrics and internal medicine ranked very high on the satisfaction scale.[1]
Fiction #2: "Internal Medicine isn't a real specialty, it is just a means to an end"
FACT: "If a career that involves long-term relationships, experience with a wide range of health care issues, and continuity of care appeals to you, then being an internist may be the right path for you. However, even if your goal is to specialize, internal medicine may still be a good fit if you're unsure of which specialty to pursue. Practicing as an internist can provide you with multiple opportunities to help you make that choice. Cardiology, nephrology, endocrinology, gastroenterology, infectious diseases or pulmonology are among the specialties commonly entered by internal medicine physicians."[2]
Fiction #3: "All Internal Medicine is is throwing drugs at people."
FACT: "According to the American College of Physicians (new window), internal medicine is a science that represents the best of both worlds. The specialty combines the analytical examination of laboratory science with a personalized, compassionate approach to adult medicine. This expertise enables doctors to treat both common illnesses and complex medical conditions. They also specialize in treating long-term chronic illnesses such as Type 2 diabetes and heart disease.
Doctors who specialize in internal medicine are called internists or general internists. Internal medicine specialists also take a close look at how all the systems in the body work together as a whole because a problem in one area could cause complications in another. [3]
Sources
[1] Leigh, J Paul, et al. "Physician Career Satisfaction within Specialties." BMC Health Services Research, BioMed Central, 16 Sept. 2009, bmchealthservres.biomedcentral.com/articles/10.1186/1472-6963-9-166/tables/3.
[2] McHugh , Ken. "Why Internal Medicine Is an Ideal Physician Career." Elliot Health System , Elliot Health System , 26 Sept. 2018, elliotphysicians.org/why-internal-medicine-is-an-ideal-physician-career/.
[3] Raleigh Medical Group. "What Makes Internal Medicine Doctors Different From Other Doctors?" Raleigh Medical Group, 21 Feb. 2018, www.raleighmedicalgroup.com/blog/entryid/515/why-internal-medicine-doctors-differ.
---
Read text version of this poster
[Background is in black and white and is a group of three physicians walking down hallway]
[Top header in light purple. Text in dark purple]
"Specialty Disrespect" in bold at the top. Underneath this title reads "Specialty Disrespect (SD) is an element of the hidden curriculum, encompassing unwarranted, negative, and denigrating comments made by trainees and physicians about different specialties. SD affects all specialties, touching most medical students by graduation (Alston, 2019)."
Poster that mimics an iphone messaging screen with fictional statements as receiving grey message bubbles and factual statements as sent blue message bubbles. This poster is about internal medicine. The fictional side reads "internal medicine hospitalists gets all the patients that no one else wants to deal with" and the factual response reads "in order to provide the best care for patients, we consult specialty teams for input in management" The next two fictional bubbles read "Internal Medicine Hospitalists gets all the patients that no one else wants to deal with" and "You don't want to follow someone else's orders all day." The response reads "In order to provide the best care for patients, we consult specialty teams for input in management."
[Bottom header in light purple. Text in dark purple]
On the left is the dark blue Office of Diversity and Inclusion Logo. On the right is a QR code that links to this webpage (som.georgetown.edu/specialty-respect). In the middle is "To learn more about SD as a microaggression go to som.georgetown.edu/specialty-respect"