Arthur Hamilton Hoyte, MD
At Georgetown University, Dr. Arthur Hamilton Hoyte (1938-2023) held many appointed positions, including Vice Chancellor of the Medical Center, Director of the Office of Minority Student Development, and was an active member of the Admissions Committee and the Committee on Students.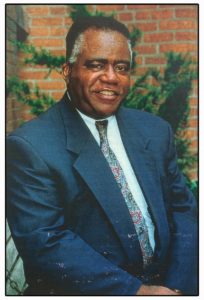 For more than 26 years at Georgetown University School of Medicine, Dr. Hoyte was a strong advocate for access to medical education for those most often excluded from the profession. He was also known for his efforts to promote access to health care for the poor and underserved in Washington, D.C. Dr. Hoyte had a tremendous personal impact on the lives and careers of hundreds of Georgetown medical students as he counseled and advised them during the early phases of their career development. He always encouraged them to consider their vital roles as physicians in improving the health of their communities.
Hoyte had a profound impact on minority medical students by initiating the Georgetown Experimental Medical Studies (GEMS) Program in 1976. GEMS is a post-baccalaureate experience for students from disadvantaged backgrounds who are most likely to make a significant contribution to meeting the needs of the nation's minority and underserved populations. There are now over 800 graduates of GEMS, including over 564 physicians and 252 other health care professionals.
Hoyte was a graduate of Harvard University and the Columbia University College of Physicians and Surgeons.