Charles A. Hufnagel Bio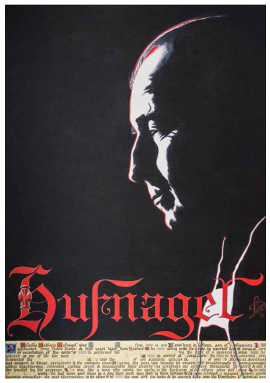 Charles A. Hufnagel, MD
Director of Cardiac Surgery Research Unit 1950-1979
Professor and Chair of Surgery 1969–1979
Born the son of a surgeon in Louisville, Kentucky, and reared in Richmond, Indiana, Dr. Hufnagel attended the University of Notre Dame and earned his doctorate from Harvard Medical School. At Peter Bent Brigham Hospital, he began work on the heart and other organ transplants and explored the use of plastic and eventually Dacron to replace blood vessels, developing a technique called multi-point fixation, which helped change the way artificial valves are inserted.
An article in JAMA noted Hufnagel had more great ideas in one day than most of us have in a lifetime. It was one of these ideas that, when confronted with a pregnant woman at the Brighman and Women's Hospital, lead him to try an external transplant to the antecubital fossa — the first kidney transplant in America. Sewn in, but draped with surgical towels and heated by a gooseneck lamp, the transplant lasted long enough for her acute kidney injury to recover.
Here at Georgetown, the Chairman's (Dr. Robert Coffey) wife notes that he was recruited away from Harvard "because he was Catholic" and in 1950, he joined the Georgetown University faculty as director of the surgical research laboratory and professor of surgery.
He wasted no time at Georgetown developing devices for surgical repair of great vessels, ably assisted by a graduate student whose leg he saved with the experimental drug Heparin. He developed the second cardiac bypass machine in the U.S. from a tractor motor, and created Dacron implants sewn by his graduate student on a sail-maker's sewing machine. He first used this technique in experimental dog trials, then re-created and sterilized for life-saving innovative techniques in a human. There was very little FDA control of devices at that time.
One alumnus tells of scrubbing on an unsuccessful case of surgical aortic aneurismal repair that failed, but Dr. Hufnagel asked the resident to keep the patient on the ventilator and external chest compressor the remainder of the night. Upon learning that the kidney continued to make urine that night, Dr. Hufnagel used the technique the very next month to preserve another cadaveric kidney for the first kidney transplant at Georgetown. The resident reflected with awe that he had inadvertently assisted in an innovative and life-saving experiment that continues to benefit many to this day.
The first patient to receive the plastic implant had rheumatic fever, which had so severely damaged her aortic valve that she was given little chance to live. In September 1952, Dr. Hufnagel implanted an aortic "assist" valve into her distal aorta. The valve consisted of a pea-size ball of plastic inside a chambered tube – an inch and a half long and an inch thick – that regulated blood flow through the heart distal to the damaged valve, and operated with a distinct and audible click. The manufactured valve compensated for the faulty original valve, but did not actually replace it. Shortly after the implant, she was able to resume a normal life and lived for almost a decade with the implanted valve before dying of unrelated causes. Several hundred other patients subsequently received other "Hufnagel" valves.
Dr. Hufnagel's work was admired by all internationally, including famous French transplant surgery pioneer, Alexis Carrel, MD, whose partner, the aviator Charles Lindbergh, often sat on the bench with Dr. Hufnagel's bypass technician during his surgeries and who developed his own perfusion pump for transplanted organs. As a result, Alexis Carrel's widow donated Dr. Carrel's works to the Jesuits at Georgetown and many documents have been retained in the history section of the University library.