School of Medicine Class of 2023 Celebrates Commencement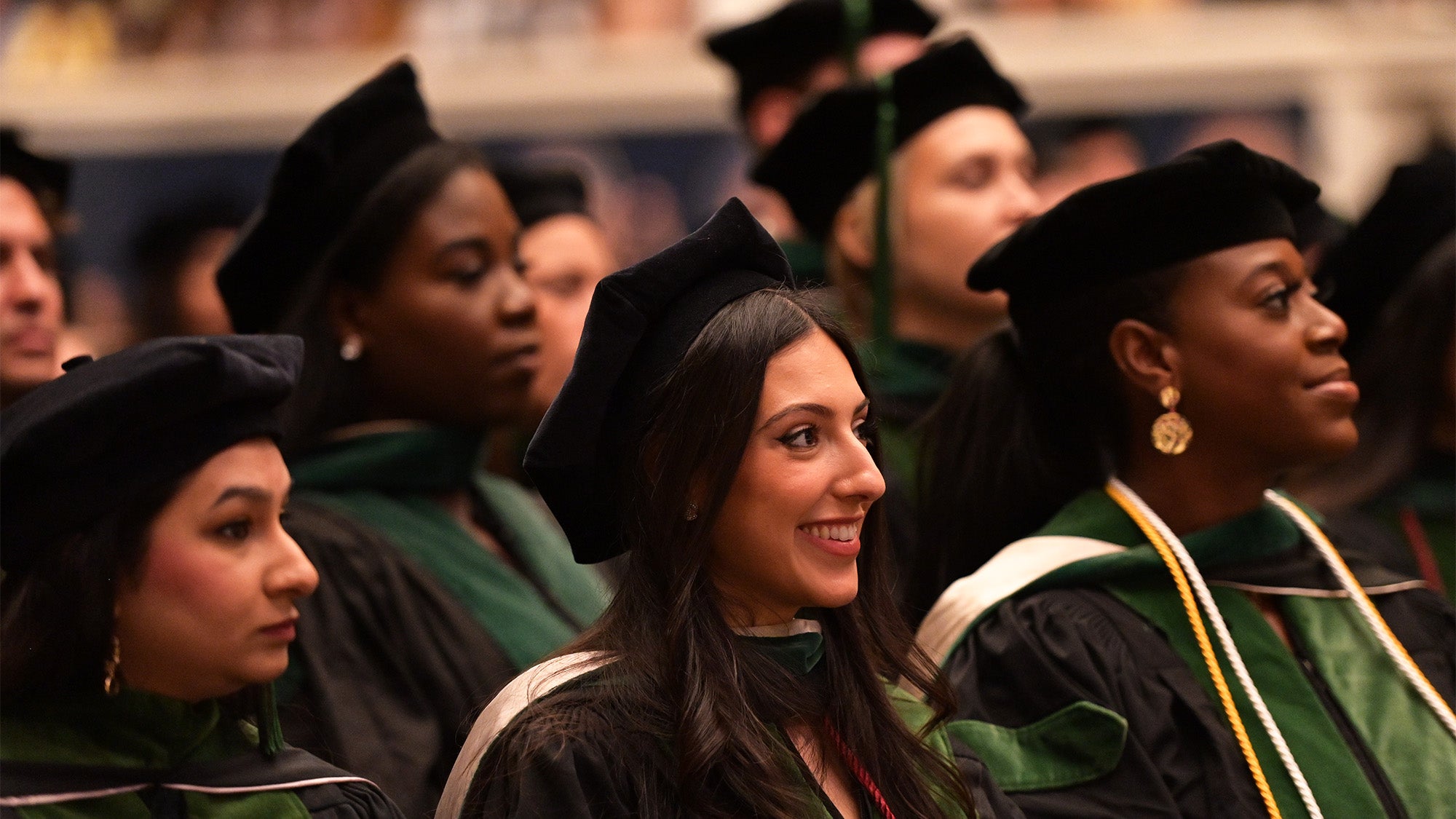 Posted in News Stories | Tagged commencement 2023
(May 22, 2023) — On a sunny spring day in downtown Washington, DC, the School of Medicine Class of 2023 came together in front of their family members and friends to receive their diplomas and celebrate the successful completion of their medical degrees.
"To the Class of 2023, congratulations," said Georgetown President John J. DeGioia. "This is a day of celebration, a day of gratitude. This is your day."
"We are here to honor the Class of 2023 — the 171st medical school class to graduate from the School of Medicine," said Lee Jones, MD, the school's dean for medical education, during the May 21 ceremony at DAR Constitution Hall. "This year's graduating class provides us with a good cross-section of the nation."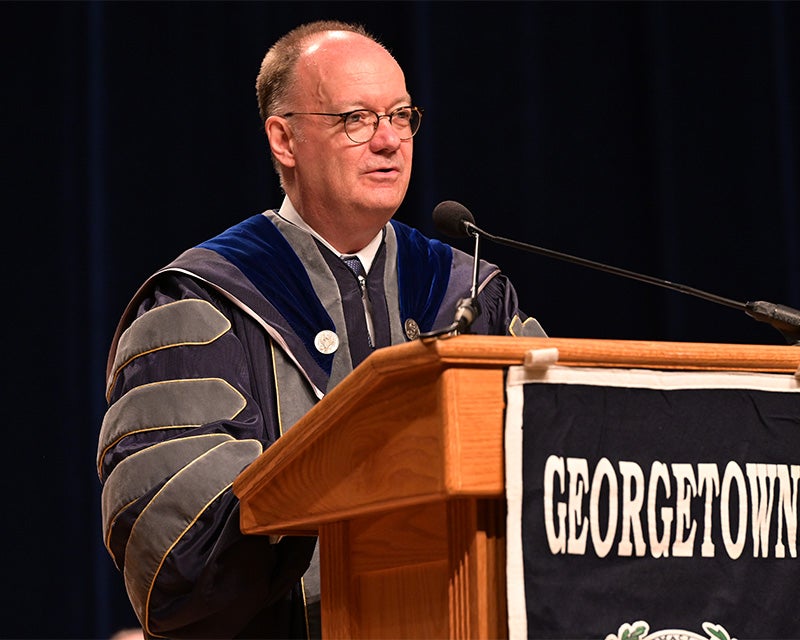 The 200 graduates (102 women and 98 men) came to Georgetown from 33 states, with the most students coming from California, New York, Virginia, Maryland, New Jersey and the District of Columbia. In addition to the 46 members of the Class of 2023 who had graduate degrees, five students earned MD/PhD degrees, while seven received MD/MBA degrees.
"So much has been asked of you over these past few years," DeGioia said. "You have forged community during the most difficult of circumstances. You have faced challenges that none of us could have imagined only a few years ago.
"Your hard work, your dedication, your commitment to service, your commitment to the common good, everything that you have done at Georgetown has brought you to this moment," he added.
'You Will Make Us Better'
The graduates and commencement attendees were treated to an address by Joan Y. Reede, MD, MS, MPH, MBA, the inaugural dean for diversity and community partnerships at Harvard Medical School.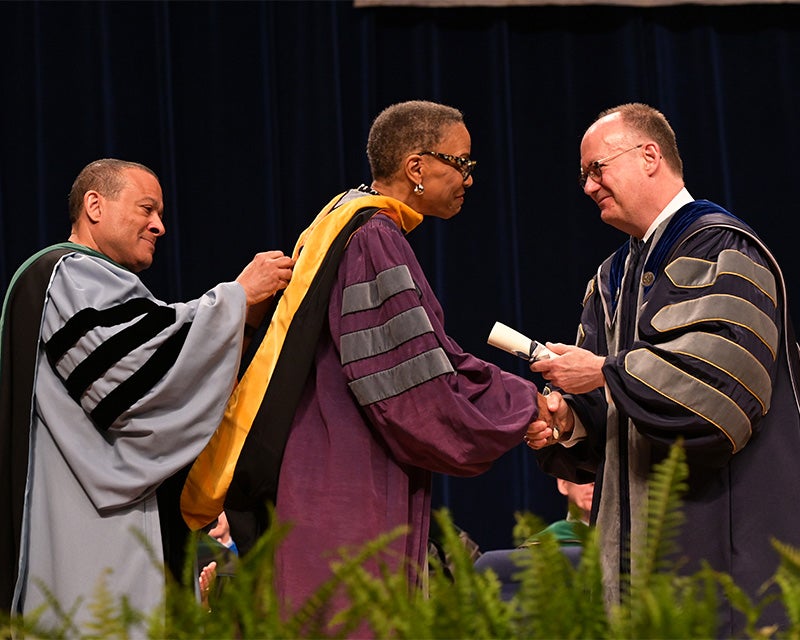 In recognition of Reede's dedication to supporting women and minorities underrepresented in science and medicine, Georgetown University bestowed upon Reede the degree Doctor of Science, honoris causa.
"Dr. Reede embodies Georgetown University School of Medicine's ideal of a person for others, as well as the school's mission of preparing morally reflective health care leaders and scholars who strive to improve the health and well-being of all people," said Edward B. Healton, MD, MPH, executive vice president for health sciences and executive dean at the School of Medicine.
Despite the students' varying backgrounds, "you are connected in your commitment to helping others, to using your gifts and talents in the service of others," Reede said.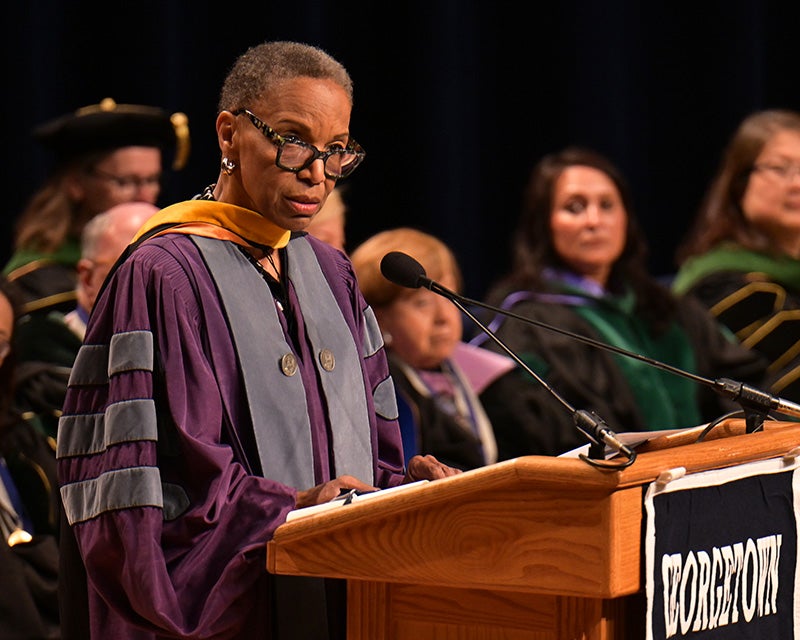 "This should be done with gratitude for what each of you has been given or gifted," she added. "It involves gratitude for being in a position in which you can do, you can act, and you have the potential to make a difference in the lives of others."
Reede encouraged the graduates to briefly look around at those celebrating with them. "As you look around, please recognize that this journey has not been about how you stand taller, or jump higher, and run faster than the person next to you," she said. "It has not been about how you were or are the first or last, but rather how you — in fact, how each of us — is taller because we stand on the shoulders of others."
"You will go places, have ideas and act in ways that I can't even conceive," Reede said. "It's wonderful to realize that as you transition and move forward, you will contribute to advancing science, to improving health, to actualizing the values of equity and social justice. You. You will make us better. Congratulations to the Class of 2023."
Kat Zambon
GUMC Communications
---
Related Stories