Three Georgetown Medical School Faculty Members Inducted into the MAGIS Society of Master Teachers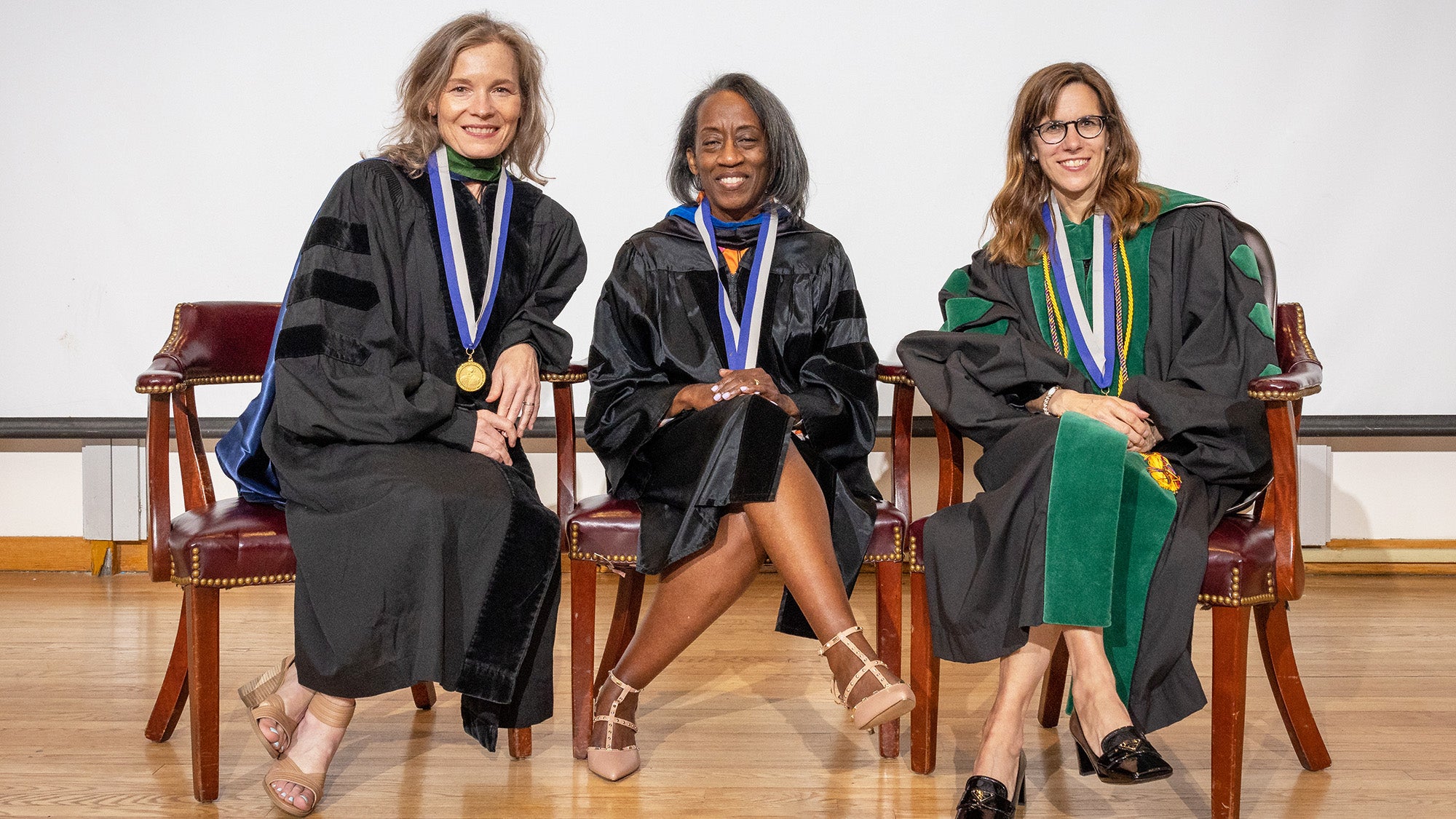 Posted in News Stories | Tagged commencement 2023, faculty honors, MAGIS, medical education
(May 22, 2023) — It is the highest honor bestowed by Georgetown University School of Medicine upon medical educators — selection into the MAGIS Society of Master Teachers. Drawn from the Latin motto for the Society of Jesus, Magis is a Latin adverb meaning "more greatly" and is a shortened form of the Jesuit motto "Ad Majorem Dei Gloriam," or "toward the greater glory of God."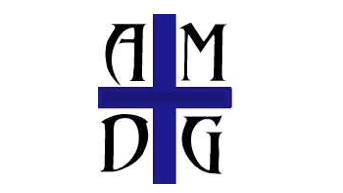 On May 18, Georgetown University honored the newest MAGIS members, Amy Burke, MD, MPH, and Mary Furlong, MD, and inducted Donna Cameron, PhD, MPH, who was selected in 2022 but was unable to attend last year's ceremony.
The MAGIS Society was created to recognize commitment to educating physicians at Georgetown. Since its inception in 2003, 55 master teachers have been selected by their peers and inducted into the society.
---
About the 2023 MAGIS Inductees
Amy L. Burke, MD, MPH: 'A Bit of a Leap' That Paid Off Big
This year's MAGIS clinical sciences inductee, Amy L. Burke, MD, MPH, associate professor in both the Department of Medicine and the Department of Pediatrics at Georgetown University School of Medicine, sensed early on that her path lay in education.
"I feel like I've been a teacher since I was forcing my little brothers to do play school when I was a bossy big sister," she said. The native of Westborough, Massachusetts, followed her fondness for STEM subjects into a biology degree from College of the Holy Cross, then taught biology and chemistry to 10th graders in New Orleans for two years through the nonprofit Teach For America, which she describes as "definitely a pivotal, life-changing experience."
Burke found that she loved teaching and also the rich cultural heritage of New Orleans. That led her to pursue a medical degree at Tulane University School of Medicine, which not only kept her in her beloved New Orleans for a few more years but also led her to meet Sean Whelton, a fellow medical student who became her husband.
After graduation in 1997, as the couple cast about for where to do their residencies, Burke discovered the Med-Peds Residency Program being established at Georgetown by Stephen Ray Mitchell, MD, dean emeritus at the School of Medicine, and became a member of its inaugural class.
"It's a bit of a leap to join a brand-new residency program," she said. "You never know if it's gonna sink or swim, but we took a leap and came to Georgetown and here we are many moons later." (Whelton also came to Georgetown for his internship and residency in internal medicine, and is now director of the internal medicine residency program and vice chair for medical education.)
Burke completed her residency in 2001, became program director for the Med-Peds Residency Program in 2004, and is now also division chief for the Med-Peds Division.
Some meds-peds doctors may continue to treat pediatric patients even after they reach adulthood because there aren't enough internists familiar with those complex niche diseases to provide the same degree of care. "As a med-peds doc, we do pediatrics, but we also care for adults, so I have full families and grandparents and geriatrics, too," she said. "I really love the holistic approach that that allows us to take with a patient and their family and community."
Even more than being a primary care doctor, she enjoys sharing that experience with students who may discover that they, too, want to follow that path.
In addition, Burke is associate designated institutional official for all training programs at MedStar Georgetown University Hospital and also a course director for the MedStar Teaching Scholar program that seeks to build a community of medical education researchers within the health care system.
She said her first reaction to the news of her selection for the MAGIS Society was "disbelief," though she's since progressed to feeling "incredibly honored and humbled."
"To be recognized by my faculty peers for the work I've done is really unexpected and appreciated," she said.
"We thought we were the first husband-wife duo," she added, since Whelton was inducted into MAGIS last year. "But apparently there's another couple from the preclinical sciences that are both in there, so we are not the only married couple in MAGIS."
The self-described "soccer mom" has an older son following in his parents' footsteps at Tulane and triplets who will start high school in the fall. All of the family are enthusiastic fans of D.C. United.
"Whether we're winning or losing, we're out there with flags and painted faces," said Burke.
---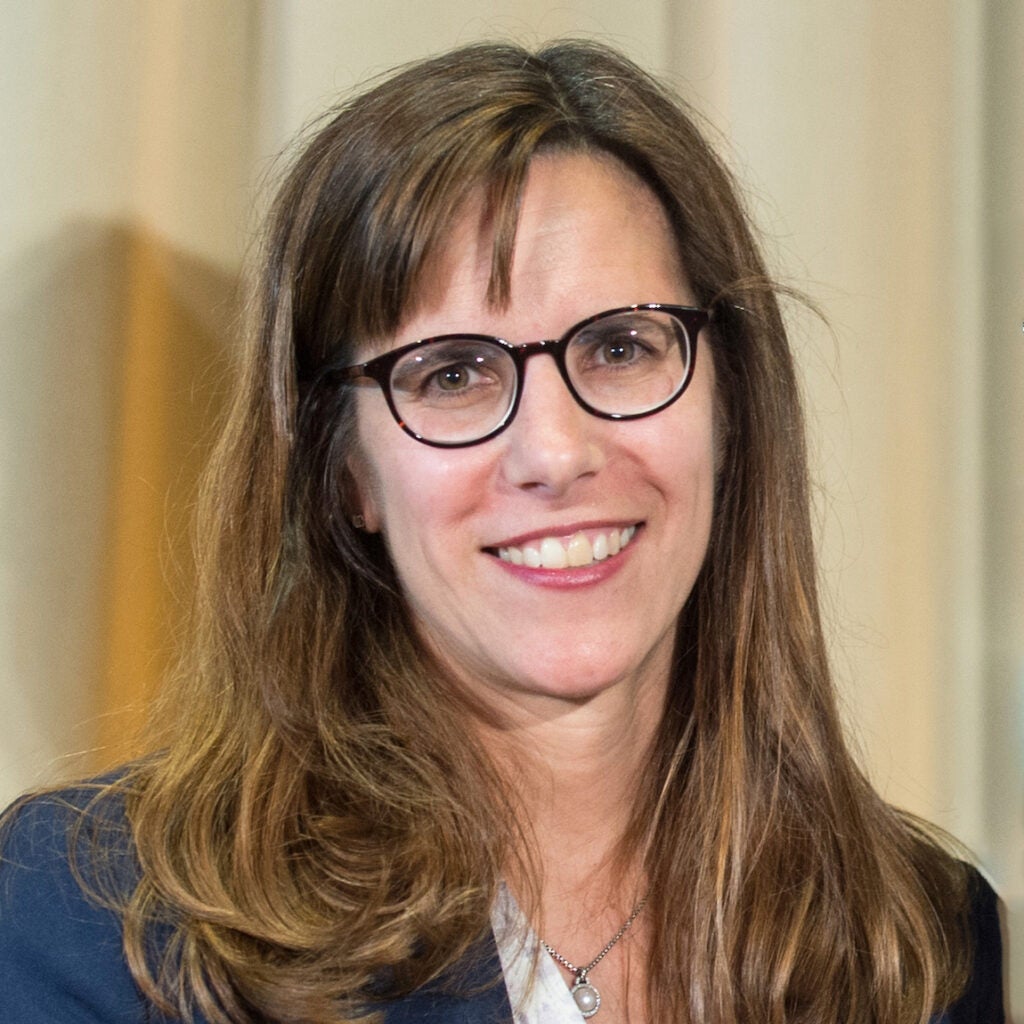 Mary Furlong, MD: 'Living Jesuit Values in Everyday Work'
Mary Furlong, MD, professor of pathology, senior associate dean of curriculum, and director of the Office of Medical Education at the School of Medicine, is the 2023 MAGIS inductee for foundational/basic science.
Raised in a small town in western Pennsylvania, Furlong developed an early interest in biology. Her father had gone to dental school at Georgetown, which helped influence her decision to apply here.
She was accepted into Georgetown's Special Master's Program and then stayed on for medical school, graduating in 1995 and completing her anatomic and clinical pathology residency and a surgical pathology fellowship at MedStar Georgetown University Hospital. She then completed a soft-tissue pathology fellowship at the Armed Forces Institute of Pathology, at that point affiliated with Walter Reed Army Medical Center.
"Being here is very special to me, and I feel intensely loyal to the institution," Furlong said. "One doesn't need to be religious to be here, or Catholic, but my Catholic upbringing and beliefs are a very meaningful piece for me, and I try to live that part of our Jesuit values in my everyday work."
In 2002, she returned to Georgetown as a faculty member, starting as director of a pathology course that she continues to direct more than 20 years later. Her subsequent Georgetown career has touched all aspects of both undergraduate and graduate medical education.
Furlong has been a primary or co-investigator on three CIRCLE Grants, participated in development of the Medical Education Research Track within the School of Medicine, and currently serves as both preclinical and clinical advisor. She played a critical role in the School of Medicine's switch to the Journeys Curriculum, which began in 2017, condensing the first two years of preclinical education to about 18 months so students can begin clinical rotations earlier and shifting from traditional lectures to a more inquiry-based, learner-centered teaching style. In her decanal role, Furlong continues to oversee its implementation.
She represents the School of Medicine as the medical education senior leader for the Association of American Medical Colleges and will serve as the Liaison Committee on Medical Education accreditation lead (for the second time) over the next four years.
The recipient of four Golden Apple awards, she was also a faculty inductee into the Alpha Omega Alpha medical honor society in 2017, was named a Distinguished Educator in the GUMC Teaching Academy in 2019, and earlier this year was presented the John C. Rose Award for outstanding service to the School of Medicine.
While acknowledging her own hard work over the years, Furlong admits to feeling lucky. "I have been very supported here and have really just been given many great opportunities in my career," she said. "I would be perfectly happy to never leave Georgetown."
Her husband, Brendan Furlong, MD, is vice president of medical operations and chief medical information officer for MedStar Medical Group. Of the Furlongs' five children, ranging in age from 19 to 26, she has one who will be pursuing medicine.
---
Donna Cameron, PhD, MPH: 'I Just Showed Up Every Day'
Donna D. Cameron, PhD, MPH, has often walked past the wall of plaques near the conference center that honors past MAGIS inductees. "I never thought that I would be on that wall," said Cameron, the professor and director of diversity, equity and inclusion in the Department of Family Medicine, associate director of community-based learning and adjunct associate professor for the School of Nursing & Health Studies.
Raised in a Seventh Day Adventist tradition that emphasized health, nutrition and exercise, Cameron pursued a formal education that would allow her to share that mindfulness of health with others.
With a master's degree in public health from Loma Linda University, Cameron returned home to New Jersey in the late 1970s to teach. After working in elementary education and as an educator for a county health department, she wrote a 10-year life plan that included getting a PhD. She earned her doctorate in public health from the University of Maryland in 1996, right at the 10-year mark — then spent three years applying for jobs, teaching piano to make ends meet.
In May 1999, she applied for an opening at Georgetown. During the final of three interviews, she told her interviewer, family medicine professor Jay Siwek, to look out his window at the clouds. "Behind those clouds," she said, "I believe there's a God and He's in charge of my life, and if I'm not hired to do this job, the right job will turn up, because He cares about me like that."
Siwek called her the next day with a job offer.
"I did not know about medical education, I did not have any physicians in my family," she said. "I just showed up every day and then every day turns into 22 years."
Having read reams of applications while serving on an admissions committee, Cameron knows that quite a few medical students don't come from wealth and they understand what it is to be underserved, to come from a single-parent home or a home with parents who were refugees. Others arrive "with little or no idea of the lived experiences of poor people, of marginalized populations."
When she arrived at Georgetown, community-based learning (CBL) was a tiny elective called service learning. Cameron thought every student should have that experience to open their eyes to aspects of life, health and illness to which they might never otherwise be exposed. By convincing those above her of the idea's worthiness and developing relationships with community leaders throughout the D.C. area, she helped shepherd CBL into a required course for all medical students.
More recently, amid the national tumult after George Floyd's death at the hands of police in 2020, Cameron said she asked herself, "What have I done for the marginalized student?" She decided to actively support participants in the Georgetown Experimental Medical Studies (GEMS), a 45-year-old post-baccalaureate program for underrepresented students interested in applying to medical school, by meeting with them regularly to discuss issues related to wellness.
---
Profiles by Michael von Glahn
GUMC Communications
---
Related Stories