School of Medicine Grad Prepares for Career in Transplant Medicine
Posted in News Stories | Tagged commencement 2023, medical education, student experience, transplant surgery
(May 22, 2023) — Since childhood, Malcolm Meredith (M'23) knew he wanted to be a surgeon. His experiences at the School of Medicine prompted him to focus on transplant medicine, a career he'll pursue as a surgical resident at MedStar Georgetown University Hospital.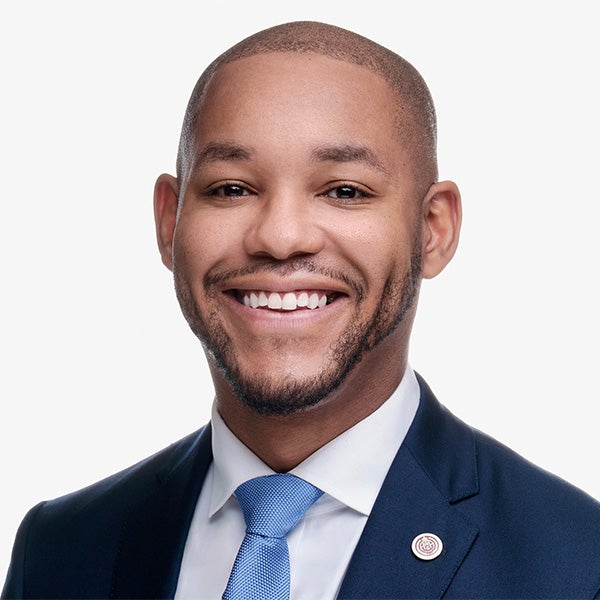 Meredith was doing a rotation in transplant surgery during his surgery clerkship when a liver became available for transplant. A potential recipient came to the hospital and was cleared for surgery.
As a third-year medical student, Meredith was told to give the patient the good news. "I got to tell him, we are going forward with your surgery," he said.
The experience was life changing for the patient and Meredith. "It was immediate," he said. "I knew, what in the world else am I supposed to do?"
Since discovering his passion for transplant medicine, Meredith has selected electives based on their relevance to the field and participated in organ procurements. He reads the latest research and observes transplant procedures in his spare time.
"All of it makes me feel so especially blessed to know this thing brings me so much joy," Meredith said. "I'm just very grateful to Georgetown to be able to have had this experience with transplant."
Preparing for Medical School
In first grade, Meredith wrote a letter stating that he wanted to become a surgeon after going to Morehouse College. He earned his bachelor's degree in biology there, then a master's degree in physiology and biophysics at Georgetown before starting a job running a lab in Atlanta.
Despite those experiences, Meredith told his mentor that he didn't feel quite ready to apply to medical school. His mentor told him to contact David L. Taylor, MEd, senior associate dean for student learning at the School of Medicine and director of the Georgetown Experimental Medical Studies (GEMS) program.
Connecting with Taylor led Meredith to the GEMS program, which he completed in 2019 before starting as a first-year medical student. "If I ever win a Nobel Prize, I will dedicate it to him," Meredith said about Taylor. "He gave me a chance when I didn't think I would have a chance to go to medical school."
The GEMS program was an invaluable experience for Meredith. "In retrospect, I would have rather done GEMS, then gone to medical school, than to have gone straight to medical school," he said.
A Passion for Surgery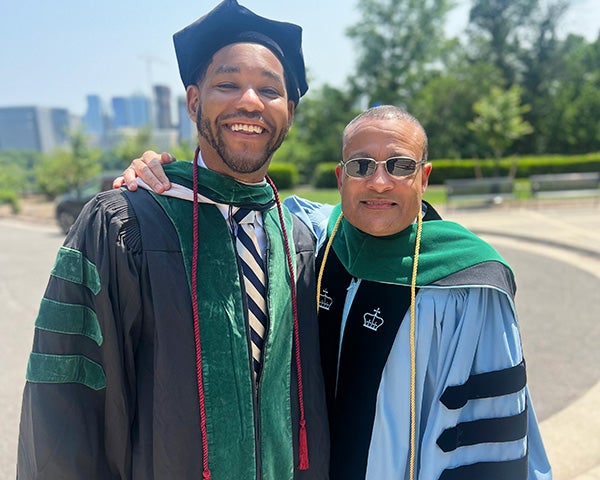 Doing rotations in general surgery and plastic surgery affirmed Meredith's belief that surgery was the field for him. "Dean Jones asked me, if you didn't do surgery, what would you do?" he said. "Sir, if I couldn't do surgery, I wouldn't be a doctor."
Meredith was initially drawn to surgery because he wanted to have a longitudinal relationship with patients. In the first weeks after surgery, transplant recipients return to the hospital several times per week to ensure that they stay on the road to recovery, making the specialty a good fit for Meredith.
"Being able to provide continuity of care was something I wanted more than anything else when I was looking for specialties," he said. "I want to know how your dog is doing. I want to know how that trip went. I want to know how your care is going."
Transplant medicine also appealed to Meredith because it will give him the opportunity to intervene in the lives of patients who are facing especially serious health challenges. "I love it because it's for patients who are the sickest patients," he said. "They already think, 'This might not work out for me.' And we get to step in and say, 'Not today.'"
Residency Ready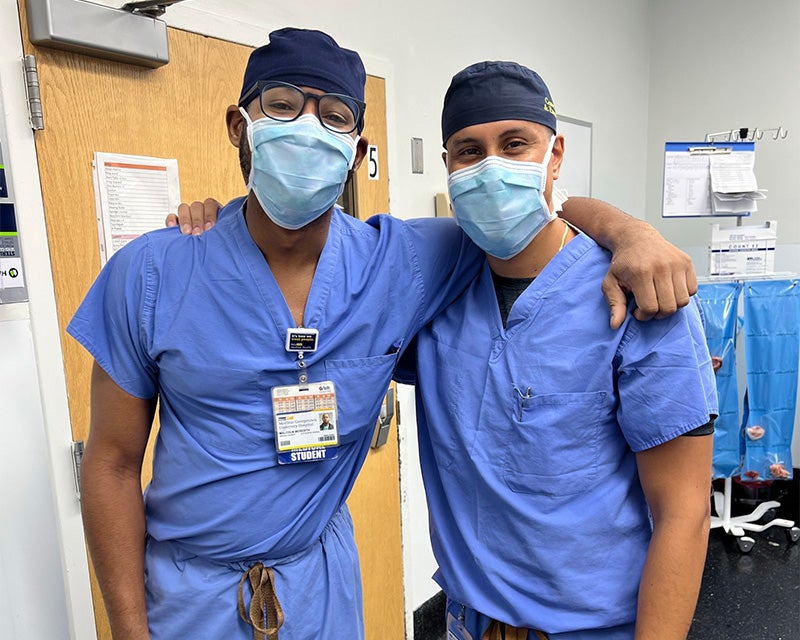 Having already trained with the surgical residents and attendings at MedStar Georgetown, Meredith is looking forward to starting his residency. "I loved my experience here, and what I'm most excited about is the opportunity to continue working with the people who planted these seeds in the first place," he said.
"I've been fortunate enough to work with some of the most amazing surgeons," he added. "They have proven to me that I can have a life I aspire to, both professionally and personally."
Reflecting on his experiences at Georgetown filled Meredith with a sense of gratitude. "Georgetown gave me the opportunity to do something that I've always wanted to do," he said. "I am just excited to show the health care industry that I am a Georgetown-trained physician and I'm ready to go."
Kat Zambon
GUMC Communications
---
Related Stories