Cura Conversations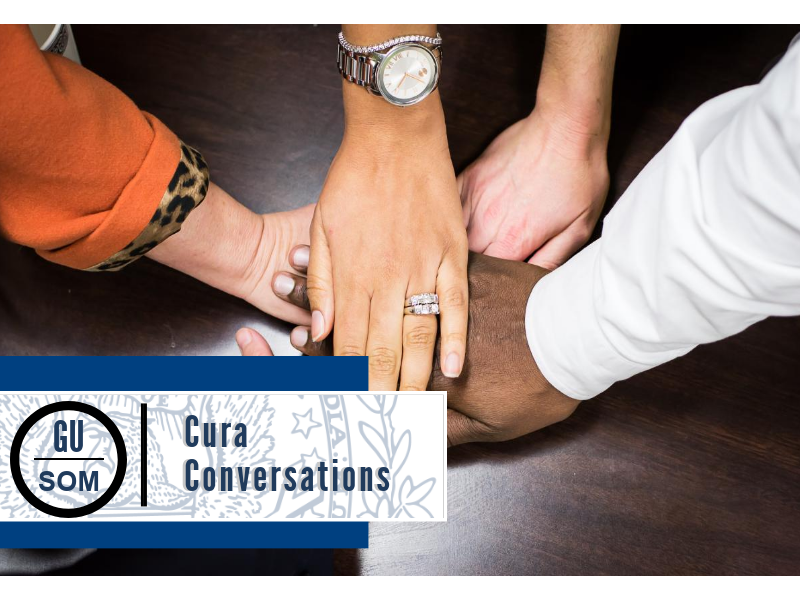 Seeking submissions for the Class of 2026!
Cura: The general sense of "the care, concern, or attention given to something or someone."
Overview: The Office of Diversity and Inclusion at the Georgetown School of Medicine seeks readings written by Georgetown students, staff, and faculty. We are interested in receiving personal essays or poems about reflections around identities that you care deeply about and/or navigating challenges related to these identities at school, work, or home. Essays or poems may relate to identities that address:
Age
Race and Ethnicity
Gender
Sexual Orientation
Religion
Ability/Disability
Personality
Class/Socioeconomic status
Or any other identity that you care deeply about
This year, we are especially interested in reflections around race and identity given our current national dialogue on racial justice. At minimum six readings will be selected each year and published in a online booklet that will be distributed to incoming medical students. Essays or poems will also appear online via the Office of Diversity & Inclusion Cura Conversations webpage. Selected essays or poems may also be incorporated throughout the year into:
Organized Cura Conversations Event to live-read essays, discuss themes and address important questions raised in the texts.
Facilitated conversations with Diversity Dialogues in Medicine organized by Peer Dialogue Facilitators
Office of Diversity and Inclusion forums such as "What Makes You?" and "I, Too, Am Georgetown Medicine"
As applicable, inclusion within other diversity trainings and educational workshops on campus
The goals of Cura Conversations are to:
Consider what's important to you about your identity and your community as you transition into medical school.
Examine your assumptions and learn about your peers' diverse identities and perspectives;
Begin to develop a sense of shared responsibility for upholding a compassionate and respectful community;
Engage in conversations that may be challenging or unfamiliar; and,
Build more awareness and understanding of the diversity of the Georgetown community through meaningful conversations
Requirements:
Authors must be current Georgetown students, staff, faculty
Submission Length: 1500-1700 words.
No pseudonyms (including the author), composite characters, or invented situations may be used.
Writing must be authentic and compellingly told.
How to submit: Please upload your essay or poem to the link below:
Submission Deadline:
Friday, August 26 2022 at 5pm.
Notification of selection by Friday, September 2, 2022. 
Online posting of booklet for incoming Georgetown class of 2026 by class by September 9, 2022.