Residency Opportunities for URM Students
Medstar Department of Otolaryngology Internship
The Department of Otolaryngology – Head and Neck Surgery at MedStar Georgetown University Hospital is a premier provider of comprehensive ear, nose and throat care. Our faculty employ the latest treatments and technologies to ensure the highest quality of care for patients of all ages. In addition to excellent patient care, we are committed to advancing medicine through resident and medical student education and research.  
Our four-week acting internship elective to fourth year medical students provides broad exposure to both the clinical and surgical aspects of the specialty through work with specialists in pediatrics, rhinology, plastic/reconstructive surgery, otology/skull base surgery, laryngology, trauma, and general otolaryngology.
Please submit any questions relating to Otolaryngology – Head & Neck Surgery directly to Dr. Nazaneen Grant at nazaneen.n.grant@gunet.georgetown.edu (new window)
Swedish General Surgery Residency
The Swedish General Surgery Residency in Seattle, Washington welcomes applications to our Diversity Sub-Internship Program. Swedish strives to foster a diverse academic community by supporting and training today's medical students from a variety of backgrounds to be tomorrow's leaders locally and globally.
Diversity Sub-I Scholarship
Accepted students will participate in a four-week visiting sub-internship rotation in general surgery at Swedish during the 2022-2023 academic year. Program support includes a $2,500 stipend to help offset the cost of travel, housing, fees, and incidental expenses. The sub-intern will function in the role of a supervised surgical intern and will be required to attend all conferences including core curriculum, morbidity and mortality conference and simulation lab experiences with the house staff. The sub-intern will be expected to give a presentation at morbidity and mortality conference that pertains to a patient cared for on the service. Research opportunities may be considered as well.
Who Should Apply
The Program is open to minority applicants who belong to groups that have been traditionally disadvantaged, underrepresented, or inadequately supported in medical training. The criteria under which the application is submitted need not be explicitly stated nor do these represent mutually exclusive categories. We seek applicants from:
Racial minorities historically underrepresented in surgery including but not limited to: African American, Native American, Alaskan Native, Latinx/Hispanic American, Asian American, and Pacific Islander
Sexual and gender minorities, such as those who identify as lesbian, gay, bisexual, transgender/gender nonconforming, queer/questioning, or intersex
Students whose pathway to medical training includes substantial personal or financial adversity
Applicants must meet all requirements set forth by Swedish Medical Center for all visiting students. These include being in good academic standing in the final year of education at an LCME-accredited medical school and having completed all required core clerkships.
How To Apply
Applications for the 2022-2023 academic year are being accepted now.
Email these materials to SurgeryResidencyAp@swedish.org (new window)
A brief statement of interest (500-word limit) describing your interest in training at Swedish and interest in surgery
One letter of recommendation
USMLE transcript (unofficial is acceptable)
Recent medical school transcript (unofficial is acceptable)
Current curriculum vitae
Your preferred four-week rotation date(s)
UVA Department of Dermatology Medical Student Diversity Scholarship Opportunity
The Department of Dermatology is proud to offer up to $1,500.00 to help offset the costs of travel and housing for up to 2 highly qualified medical students per year who wish to do a visiting dermatology clerkship at the University of Virginia during the months of August through October and whose backgrounds, interests, or goals will bring diverse experiences and perspectives to UVA's Dermatology Department. The purpose of this scholarship is to provide medical students the opportunity to experience what it is like to live and work in Charlottesville, while experiencing firsthand our Department's inclusive culture and welcoming environment. This clerkship experience will hopefully encourage students to consider a career in Dermatology, enhance students' awareness of opportunities in academic medicine, and provide them with specific mentoring and networking opportunities. Additionally, students will have the opportunity to meet with the Program Director and Chair.
Students will complete the 4-week general dermatology clerkship. They will be expected to function at the level of a sub‐intern or advanced medical student. Students will be expected to actively participate in morning teaching conferences and attend daytime didactic lectures, conferences, and Grand Rounds with our residents and other medical students. Students will be expected to give one formal presentation during their visit with us. Becoming involved with a scholarly or teaching project will be highly encouraged.
Eligibility:
Competitive applicants should have demonstrated academic excellence, strong leadership skills, and a variety of extracurricular experience. Students should be strongly motivated to pursue a career in Dermatology. The program is open to applicants who are first generation medical school attendees, socioeconomically disadvantaged students, individuals who have overcome substantial educational or economic obstacles, or students who come from backgrounds underrepresented in medicine (Black/African‐American, Hispanic/Latino, American Indian, Asian/Pacific Islander, and Alaskan Native).
Requirements:
‐ Must attend an LCME‐accredited medical school
‐ Be on track to complete all required basic coursework and clerkships at and graduate from their home institution
‐ Completed VSLO application (should include letters of recommendation and medical school transcript)
‐ Curriculum Vitae
‐ Personal statement
‐ USMLE Step 1 score report
– USMLE Step 2 score report if available
– ​​Supplemental Application: COMPLETE HERE
Due Date: Applications are due by May 1, 2022.
Contact Information: In addition to your request of a rotation through VSLO, please submit your application materials and forward any questions to Brenda Harris, Dermatology Residency and Fellowship Coordinator, email: BLH6N@hscmail.mcc.virginia.edu, phone: 434-982-6769.
Johns Hopkins Residency Virtual Open Houses
The Johns Hopkins Graduate Medical Education Office and Housestaff Diversity Council will host a Virtual First Look and Residency Program Open House for URiM 4th year medical students. The virtual event will take place on August 26, 2021 and August 30, 2021 from 5PM-7:30PM EST, depending on your program of interest. Sign up by August 25, 2021 with this link.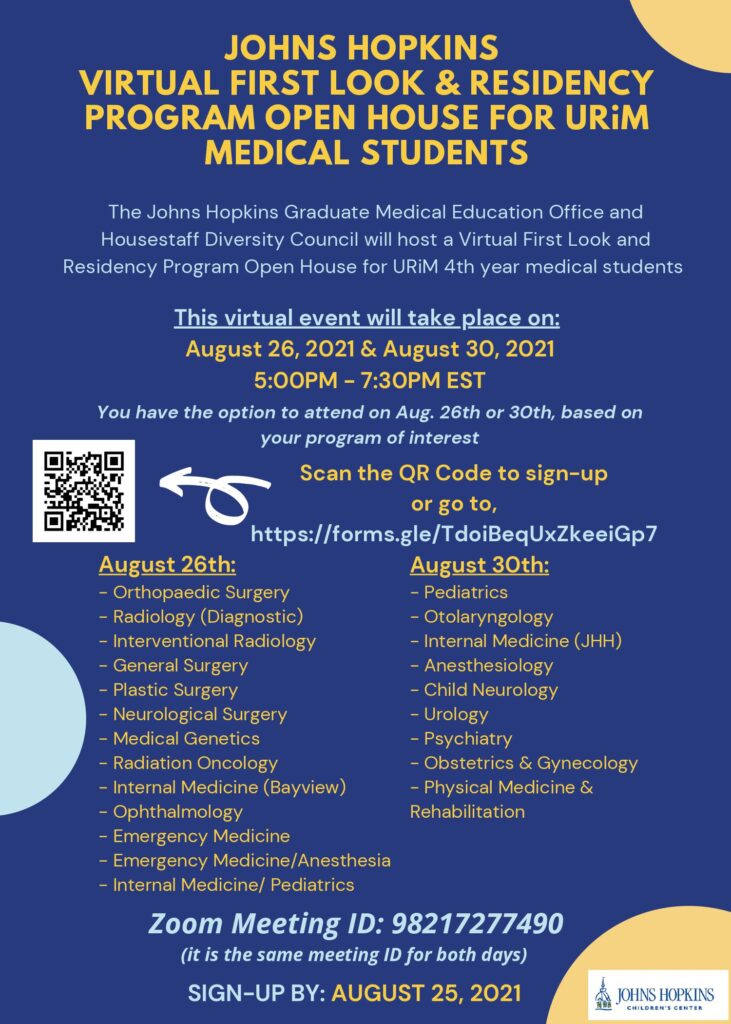 Radiation Oncology Exposure and Mentorship for Underrepresented Minority Medical Students
Malcolm Mattes, MD, of the Rutgers Cancer Institute of New Jersey is aiming to develop a more diverse workforce in radiation oncology. Currently, underrepresented minority physicians make up only 7% of the radiation oncology workforce compared to 16% of medical school graduates and 30% of the U.S. population. Increasing physician workforce diversity has been identified as a means to improve health equity. Dr. Mattes and his collaborators are seeking to address this disparity in the radiation oncology workforce because it is critical to ensuring that patients from current minority groups have access to the best care possible now, and in the future, when it is projected that they will collectively make up the majority of the U.S. population.
Collecting data from U.S. radiation oncology residency programs on the extent of their outreach to diverse medical student groups.
Offering didactics in radiation oncology to medical student organizations such as oncology interest groups, the Student National Medical Association, and the Latino Medical Student Association, as well as premedical pipeline programs for students historically under-represented in medicine.
Supporting radiation oncologists in local outreach to student groups, for instance by sharing teaching materials.
Providing mentorship and research opportunities to students interested in learning more about radiation oncology.
Promoting development of radiation oncology department diversity, equity and inclusion committees to help support students locally.
For more information, please visit: https://www.roinstitute.org/Research-and-Education/Meet-Our-Researchers/Improving-DI-in-RO/Malcolm-Mattes,-MD
University of North Carolina Virtual Visiting Rotation
The University of North Carolina Department of Pediatrics is excited to offer the Redding-Lallinger Virtual Visiting Pediatric Rotation for fourth-year medical students who are underrepresented in medicine. The virtual 4-week rotation will offer a dynamic curriculum to prepare students for internship and opportunities to engage with our UNC pediatric community. Sessions will include tips for intern efficiency, case presentations from the hospital, one-on-one meetings with program leadership, and "coffee chats" with faculty in the field of a student's interest.
While these experiences will also be available for those completing in-person rotations at UNC, we specifically wanted to extend the opportunity for a virtual visiting rotation given the known time, financial, and logistical constraints of completing away rotations.
The rotation will take place on a monthly basis from August to December, with groups of 8-10 students participating each month. A brief application will require a statement of interest, unofficial transcript, and attestation of passing Step 1. Applications will be accepted on a rolling basis, though those wishing to participate in August must submit their materials by 7/1/21. Please note, this rotation will not be for academic credit through UNC, though we are happy to complete paperwork for home institution credit. In addition, participants will not be able to obtain a letter of recommendation from the experience. We have attached a Rotation Flyer and Sample Schedule for your reference.
Applications can be submitted at go.unc.edu/UNCPedsVR.
With any questions, please email the Course Directors, Drs. Christian Lawrence (Christian.Lawrence@unchealth.unc.edu) and Eric Zwemer (eric_zwemer@med.unc.edu).
SDBP 2021 Exploring DBP Program for Pediatric Residents and Medical Students
The Society for Developmental & Behavioral Pediatrics (SDBP) is excited to offer the Exploring DBP Program Awards for the third time in 2021.

Please forward this email to any pediatric residents and/or medical students who would be interested in learning about developmental and behavioral pediatrics and for their chance to attend the SDBP October 2021 Annual Meeting!
EXPLORING DBP PROGRAM
for Pediatric Residents and Medical Students
Dedicated to the Legacy of Nancy Packert Shashaty, MD
ARE YOU CURIOUS ABOUT THE FIELD OF DEVELOPMENTAL AND BEHAVIORAL PEDIATRICS?
The Society for Developmental & Behavioral Pediatrics is excited to offer the Exploring DBP Program Awards for the third time in 2021. This program is a unique opportunity for pediatrics residents, medical students, and second career pediatricians to experience the wide world of the subspecialty of DBP.
Awardees will receive funding to attend the SDBP 2021 annual meeting and join enthusiastic, multi-disciplinary attendees at lectures, poster sessions, and social events. In addition to attending the entire annual meeting, there will be several sessions specifically designed for awardees to learn about the field of DBP (and possible some pre-meeting virtual components. Awardees will be paired with both a senior DBP faculty member and a current DBP fellow to guide them through the program and to provide mentorship. Awardees will be able to foster relationships with SDBP members in a fun, relaxed environment!
SDBP is currently planning an in-person meeting in Austin, TX (with possible virtual and hybrid components). We will continue to monitor the safety of holding an in-person meeting and will keep those applicants who are accepted notified of specifics as we get closer.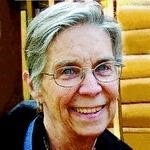 This program is supported by the family of Dr. Nancy Packert Shashaty, an other-centered developmental-behavioral pediatrician who was dedicated to enhancing the lives of children with disabilities. She was successful in this endeavor because of her kindness, empathy, generosity, intelligence, pragmatism, optimism, humor, and ability to interact with people regardless of station in life, cultural background, ability to comprehend or degree of fear.
WHAT: Attend the 2021 SDBP Annual Meeting and specific program sessions (in-person and/or virtually given COVID-19)
WHEN: October 22 through October 25 (may include pre-meeting virtual components)
WHERE: Renaissance Austin Hotel, Austin, Texas or virtually
CLICK HERE to APPLY!     Deadline: June 15, 2021 at 5:00pm eastern
ELIGIBILITY: Pediatric residents and medical students with an interest in developmental-behavioral pediatrics. The program is not designed for residents currently in the process of interviewing for fellowships or who have already been matched with a program.
MONETARY SUPPORT PROVIDED: Waived registration fees to attend the SDBP Annual Meeting with targeted DBP Explorer Program Sessions. Funding for travel and lodging (this can include funding to cover air travel/ground transportation, and hotel accommodations will be provided if the meeting is in-person).
SPECIAL PROGRAMMING: In addition to attending the entire Annual Meeting, a suggested schedule will be designed for the awardees who will be paired with a seasoned Developmental-Behavioral pediatrician and a current DBP fellow to guide them through the program. A special networking event to learn about the field of DBP and the application process will also be included, and awardees will be able to foster relationships with SDBP members in a fun and relaxed environment.
APPLICATION: Submission includes: • Applicant CV • 1-page summary (appx 300 words) of applicant's interest in Developmental-Behavioral pediatrics and attending the SDBP meeting • Verification letter from applicant's program director or supervisor indicating approval for time off to attend the SDBP Meeting.
University of Florida, Gainesville, Diversity in Pediatric Medicine Visiting Student Elective Scholarship
The University of Florida Department of Pediatrics in Gainesville, FL, visiting student scholarship program aims to provide students from backgrounds underrepresented in medicine (UiM) with an excellent pediatric elective experience while exposing students to all that UF Health Shands Children's Hospital, our pediatric family, and Gainesville has to offer. As a quaternary referral center in north central Florida we provide a rich educational experience with leaders dedicated to advocacy, equity, and teaching excellence. We promise a work environment where people are respected for their contributions and uplifted as they fulfill their potential.
Scholarship-based elective rotation benefits include:
Students can select inpatient or outpatient rotations
Students will attend conferences including Academic Half Day and Morning Report
Meeting with the Program Director
Meeting with the Chair
Mentorship with UiM faculty, fellows, and residents
Students will be offered an interview
$2500 reimbursement for travel to and from Gainesville and lodging
$40 reimbursement for VSLO application fee
For more information about the scholarship program and application process, please visit our website: residency.pediatrics.med.ufl.edu/about-us/…
Questions? Please reach out to Kendall Steadmon, MD, Associate Program Director, at Kendall.riley@ufl.edu
Thank you for your interest in our program and Go Gators!!
Brown University Diversity in Medicine Visiting Student Scholarship
The Department of Pediatrics at Brown University is thrilled to offer several Diversity in Medicine Visiting Student Scholarships!
This program is an opportunity for qualified underrepresented in medicine (URM) students to participate in clinical electives at The Warren Alpert Medical School of Brown University. The Department of Pediatrics is committed to fostering an inclusive, supportive educational environment for our trainees. Our institutions are committed to advancing diversity and inclusion within the healthcare field by supporting our faculty and housestaff and training them to provide care for the specific needs of these community groups.
Providence is a "minority majority" city due to its diverse population with 38% of the population Hispanic/Latino, 16% Black/African-American, 6.4% Asian and 1.4% Native American/Alaskan Native. Providence is also an active refugee resettlement site, serving as a new home to refugees from all over the world.
Our program offers the following opportunities:
Please visit this website to learn more about this opportunity. Please send us an email to request access to the application.
Questions? Please contact Sabina Holland, MD at sabina_holland@brown.edu.
Phoenix Children's Hospital URM Visiting Scholars Program
We are excited to introduce our URM Visiting Scholars Program at Phoenix Children's Hospital!
Application deadline: June 30, 2021.
At Phoenix Children's Hospital, we believe that diversity enriches both our clinical and educational environments and are committed to recruiting, supporting, and fostering the career development of outstanding medical students from diverse backgrounds. We welcome 4th year medical students who are Underrepresented in Medicine (URM) to apply for our Visiting Scholars Program!

Benefits of program:
$1,000 stipend to subsidize rotation costs
$140 meal card
Residency interview with Program Director
Dedicated URM faculty serving as mentors
Pairing with a resident URM "buddy"
Inclusion in resident conferences/activities/social events throughout Phoenix
Opportunity to network and build relationships with URM residents/faculty
Please see attached flyer for more details!
Please contact Dr. Alissa Darden (adarden@phoenixchildrens.com) for questions or more information about the program!
URM Scholarship UF Jacksonville
The Department of Pediatrics at the University of Florida Jacksonville is proud to announce our Visiting Elective Scholars Program. We created this scholarship to encourage and promote fourth year medical students from underrepresented backgrounds to rotate at the department of pediatrics in the UF College of Medicine – Jacksonville located in Jacksonville.
For more information and to apply, pediatrics.med.jax.ufl.edu/…
University of Virginia Visiting Student Scholarship
The University of Virginia Pediatric Residency Program strongly values diversity, and we recognize how important a diverse workforce is in enriching the lives of our trainees, faculty, patients, and their families and in maximizing educational excellence.
We are excited to announce a scholarship for visiting students whose backgrounds, interests, or goals will bring diverse experiences to the Pediatric Department at UVA. The purpose of this scholarship is to provide 4th year medical students with the opportunity to experience what it is like to live and work in Charlottesville, while experiencing first-hand our department's inclusive culture and welcoming environment.
Program Benefits:
· Funding includes up to $1500 to help offset the costs of travel and housing
· Personal meeting with the Pediatric Residency Program Director
· Mentorship from a URM faculty member
· Inclusion in resident conferences and activities and opportunities to develop relationships with URM trainees and faculty
​Please see attached flyer for more details.
Please feel free to contact Marlo Meyer (Pediatric Education Administrator) at MME4A@virginia.edu or 434.466.1939 for additional questions.​
Medical College of Wisconsin URiM Visiting Student Scholarship
The Department of Pediatrics at the Medical College of Wisconsin located in Milwaukee, Wisconsin is excited to offer a visiting rotation scholarship for students underrepresented in medicine (URiM). Our residency program, faculty, and administration recognize the importance of diversity and inclusivity in our training programs, and we strive to support and promote an inclusive environment that embraces and celebrates the diversity of our people – residents, faculty members, patients, and communities.
We have established a visiting rotation for URiM medical students who are pursuing a career in pediatrics.
Benefits of the Program:
One month rotation at Children's Wisconsin, a free-standing 297 bed children's hospital
Experiences tailored to the specific interest of each student with inpatient and outpatient rotations available
Inclusion in residency conferences and activities
Meetings with the pediatric residency program directors and URiM faculty
Opportunities to explore the Milwaukee community with residents and faculty members
$2000 stipend for participating students to cover travel and living expenses

For more details on the visiting student program including application instructions, see the attached flyer or visit the Office of Diversity and Inclusion
Applications are being accepted now and are reviewed on a rolling basis. Please contact Abby Schuh (associate program director) at aschuh@mcw.edu with any questions. We look forward to hearing from you!
​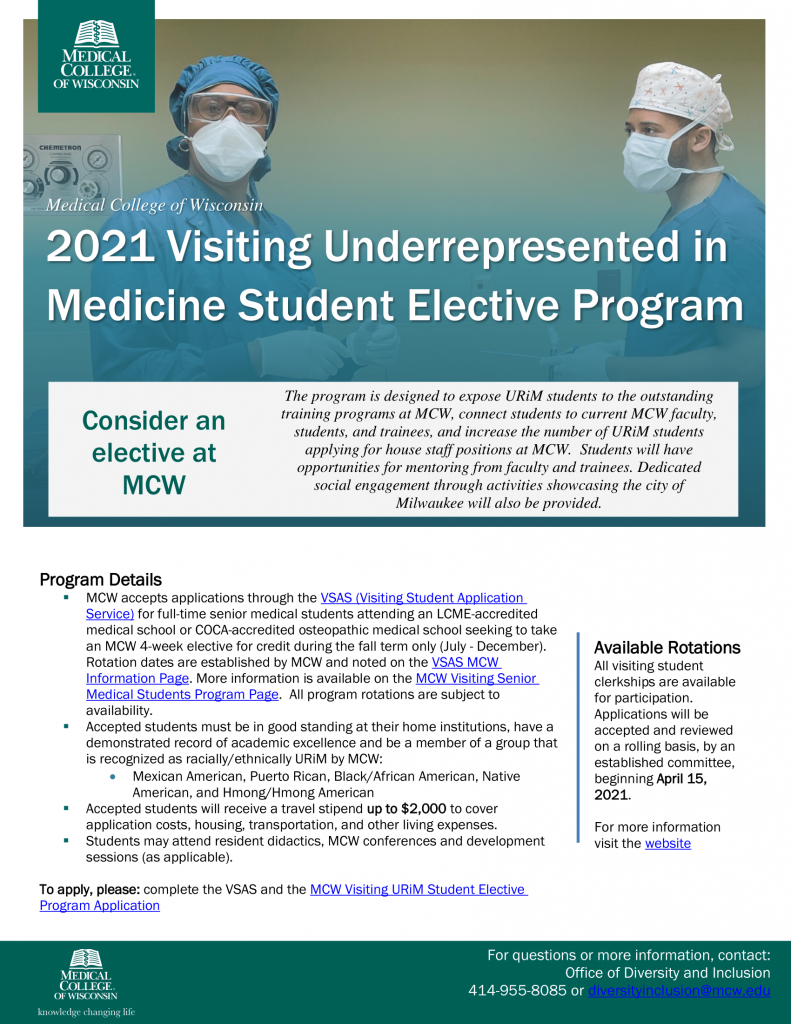 UT Health San Antonio Diversity in Medicine Visiting Elective Scholars Program
We are excited to announce the UT Health San Antonio Diversity in Medicine Visiting Elective Scholars Program!
Apply by May 14th
The Long School of Medicine at UT Health Science Center San Antonio is committed to fostering a culture of belongingness, respect, and value in our
learning and workplace environments. Diversifying the physician workforce is essential to meeting the needs of a growing, diverse patient population.
We welcome underrepresented medical students to apply to our Diversity in Medicine Visiting Elective Scholar Program!
Students participate in a 4-week specialty rotation of their choice (based on availability)
Clinical block dates Aug 2 – Aug 27, 2021
Up to $2,000 awarded
Each student will be paired with a resident mentor who shares similar interests
Collaborate with other LSOM units to promote a robust experience
Experience the richly diverse San Antonio Community

For full details, including eligibility and links to the program and VSLO applications, visit
lsom.uthscsa.edu/diversity/diversity-in-medicine.
Contact information: lsomdiversity@uthscsa.edu or 210-562-6807
Children's Mercy Kansas City Mercy + ME
We are happy to announce that Children's Mercy's Mercy + ME rotation will be returning for the 2021-2022 academic year. Members of the Class of 2022 who are from diverse backgrounds and interested in pediatric medicine are encouraged to apply for this funded rotation opportunity. Please follow the links below for more details on the rotation, application process and deadlines!
Children's Mercy Pediatric Residency Program: https://www.childrensmercy.org/professional-education/residencies/pediatric-residency-program/
Children's Mercy DEI: https://www.childrensmercy.org/professional-education/diversity-equity-and-inclusion/
Visiting Pediatrics Rotation Scholarship for Students Underrepresented in Medicine
The University of Wisconsin Department of Pediatrics welcomes medical students from backgrounds underrepresented in medicine to apply for our visiting elective in Pediatrics. We are an academic department located in vibrant Madison, Wisconsin. We strive to create a learning environment that is welcoming and inclusive, and we embrace diversity in all its forms— identity, culture, background, experience, ability status, and opinions.
This is a competitive process with two funded electives being offered this year. Funding includes up to $1000 reimbursement towards travel expenses and housing. Students will be responsible for securing their own housing. Students who are not offered a scholarship position are encouraged to apply for an unfunded visiting rotation through our regular Visiting Student Learning Opportunities (VSLO) process.
Department Overview:
Our Department includes
A free-standing 111-bed children's hospital
17 subspecialty Divisions
Numerous primary care and outreach sites both within and outside of Madison • Robust clinical, research, advocacy and educational activities.
Our relationships with interdisciplinary UW Health Sciences programs, including nursing, pharmacy, and public health; access to the vast resources of the other colleges and schools on the UW's main campus; and proximity to the state capitol mean the possibilities for innovation, collaboration and advocacy are endless!
With more than 175 faculty members, 15 pediatric residents per year, and sub-specialty fellowship programs, there is always something new and exciting happening. But if you ask most people who work here what they value most, nearly everyone will mention the wonderful people as our greatest asset! Our Department and residency program believe that achieving greater diversity will enhance our organization even further.
Program Overview:
The students will have the option to:
Participate as acting intern on the night-float inpatient team at American Family Children's Hospital. The night float team includes both general pediatric and subspecialty services. This rotation provides significant autonomy, admitting experience, and the opportunity to build relationships with our residents.
Rotate with one of a variety of available subspecialty services, which include a combination of consult and outpatient responsibilities.
Regardless of rotation selected, the student will also participate in learning conferences such as morning report, journal club, and block didactic sessions. We anticipate that the participant will enjoy experiencing first-hand the collegial atmosphere within or program, while having an enriching educational experience.
Eligibility Requirements:
To be considered, an applicant must:
Be in the final year of their medical training
Have completed their core clerkship in Pediatrics
Plan to apply for residency positions in Pediatrics
Attend an LCME or AOA accredited medical school
Be a U.S. citizen, Canadian citizen, or permanent resident of the United States • Have received a passing score on USMLE step 1
Identify as belonging to a population that is underrepresented in medicine as defined by the AAMC: "racial and ethnic populations that are underrepresented in the medical profession relative to their numbers in the general population"
Be available to participate in a visiting clerkship in at least one of the
Be willing to adhere to institutional safety practices. At the time of this posting these include negative COVID test within 96 hours of start date; and ability to provide documentation of N-95 fit testing from your home institution. These are subject to change.
Application Instructions
Interested residents should submit the following materials via email to Emily Ruedinger MD MEd at eruedinger@wisc.edu by April 26, 2021.
Brief cover letter which includes a declaration that you meet all of the above eligibility requirements
Curriculum vitae
Copy of your medical school transcript (unofficial transcript is acceptable)
One- to two-page personal statement describing your career goals and your reason for interest in this visiting clerkship
Please rank your date preferences (rank 1-3):

08/02/2021-08/27/2021
08/30/2021-09/24/2021
09/27/2021-10/22/2021

Letter from a faculty person at your school attesting that you meet at least one of the criteria for visiting clerkships during the COVID pandemic, as defined above. This may be quite brief, simply stating which specific criteria you meet. For the purposes of this initial application, given the short turnaround time, we will accept a letter from any faculty member at your institution. However, should you be selected for this opportunity, please note that you will be required to submit a letter from your Dean of Student Services or Dean of Curriculum attesting you meet one of the criteria.
If your application is selected, we will contact you regarding your preferred experience based on availability for the month you will be visiting.
All applications received prior to April 26th, 2021 will be reviewed together, with decision notification (accepted, waitlist, decline) by May 3, 2021. We encourage you to submit your application prior to April 26th in order to receive full consideration. If spots remain after that date, applications will be reviewed on a rolling basis. All applicants applying after April 26th will be notified of a decision within 1 week. Applications will not be accepted after July 5, 2021.
Following acceptance, applicants must also apply through VSLO. We request that an accepted applicant submit all required VSLO materials within five business days of acceptance. Please reference VSLO for a list of these requirements.
Please direct questions to Emily Ruedinger MD, MEd at eruedinger@wisc.edu
JOHNS HOPKINS VISITING ELECTIVE PROGRAM
FOR STUDENTS UNDERREPRESENTED IN PEDIATRICS
PROGRAM DESCRIPTION
The Johns Hopkins Harriet Lane Pediatric Residency Training Program strongly values diversity and is thrilled to welcome students who are underrepresented in pediatrics to apply for senior elective rotations! Given the pandemic, a decision has not yet been made regarding our ability to welcome you for an in-person visiting elective. We present a virtual and in-person elective below and we anticipate being able to inform you of available option(s) by late Spring 2021. In the interim, we encourage you to apply to the elective program!
Virtual Elective
If the University discourages in-person electives due to Covid-19 prevalence, we will welcome visiting students to the "The Visiting Virtual Clinical Elective in Equitable Healthcare"! This is a 2-week elective inclusive of morning clinical experiences in Pediatrics and a universal curriculum in the afternoons covering topics such as health disparities, global health, LGBTQIA+ health, telemedicine, palliative care and community resources in Baltimore. This elective was piloted in the summer of 2020 and visiting students provided very favorable reviews.
In-Person Elective
With the exception of last year (Covid-19), the Department of Pediatrics at Hopkins has hosted a visiting elective for students underrepresented in medicine for many years. This is a month-long rotation (see available dates below) in either pediatric cardiology, hematology, infectious disease or oncology. We provide a stipend of $1,700 for up to six qualified students per academic year to help defray the cost of an away rotation. The stipend for students NOT paying for housing will be $500.
Applications will be considered based on availability. We anticipate we may not be able to host as many qualified applicants for this program as we would like and are actively looking for funding to expand this program in the future.
ELIGIBILITY REQUIREMENTS
Final year of medical school.
Good standing at medical school.
Completion of core clerkship in Pediatrics.
Applying for residency position in Pediatrics.
Pursuing a medical degree at an LCME accredited medical school.
If you are at Johns Hopkins for an elective NOT sponsored through this Elective Program, please let Carly Hyde (email below) know when you will be at Hopkins! We'd love to meet you!
APPLICATION PROCESS
Applications open on March 14, 2021. Application deadline is June 15, 2021. We aim to inform students of application status by June 30, 2021.
The Johns Hopkins School of Medicine requires that visiting students follow the Johns Hopkins academic calendar. Visiting elective dates are below.
2021 in-person visiting elective tentative dates:
July 19 – August 13
August 16 – September 16
September 17– October 15
October 18 – November 15
2021 Virtual Elective in Equitable Healthcare: Date TBD
Application Process
1. Please complete online application: Visiting Elective Application
2. Please have your registrar's office send us an official transcript:
Johns Hopkins Children's Center Visiting Elective Program
c/o Carly Hyde
Department of Pediatrics
The Charlotte R. Bloomberg Children's Center building, Room 8451
1800 Orleans Street
Baltimore, MD 21287
3. We will let you know by June 30, 2021 if we can honor your elective request based on eligibility availability for the dates requested, and availability of designated funds to provide the stipend.
Questions? Please contact Carly Hyde at chyde4@jhmi.edu or 410-955-2727.
Thanks for your interest!
7th Annual Pediatric Research Forum for Medical Students
We are excited to invite everyone back to Disney for the 7th Annual Pediatric Research Forum for Medical Students!
This program is sponsored by the Florida Chapter of the American Academy of Pediatrics (FCAAP), the University of Florida Department of Pediatrics and the Society for Pediatric Research.
The Pediatric Research Forum for Medical Students is an exciting opportunity for students to share their research with peers.
The event takes place September 4, 2021 at Disney's Yacht Club Resort in Orlando, Florida in adherence of all Disney COVID-19 protocols.
The forum, open to all medical students, will take place in conjunction with the annual meeting of the Florida Chapter of the American Academy of Pediatrics.
Oral and poster presentations will be available for basic science, case report/series, and clinical research.
Pediatrics is an ever-changing field of discovery and innovation. Today's research will lead to tomorrow's cures!
Keynote Speaker
Stephanie Duggins Davis, M.D.
Brewer Distinguished Professor and Chair
Department of Pediatrics
University of North Carolina
President, Society for Pediatric Research
Program Schedule
Saturday, September 4, 2021
6:30am-7:00am Breakfast
7:00am-7:30am Poster Setup
7:30am-7:45am Welcome Remarks
7:45am-9:00am Oral Presentations (Group 1)
9:00am-10:45am Poster Presentations (Odd numbers)
10:45am-11:15am Break & Exhibits
11:15am-11:30am Group Photo
11:30am-12:30pm Keynote Speaker
12:30pm-1:30pm Lunch & Career Discussions
1:30pm-1:45pm Break & Exhibits
1:45pm-3:30pm Poster Presentations (Even numbers)
3:30pm-3:45pm Break & Exhibits
3:45pm-5:00pm Oral Presentations (Group 2)
5:00pm-5:15pm Research Forum Conclusion & Award Presentations
Submitting an Abstract (Required for acceptance)
Submission Deadline: June 4, 2021. You will receive an email notification of acceptance and presentation type by June 11, 2021.
Registration (Required for All forum attendees)
Attendance will be limited to 100 registrants. The cost to attend and/or present at the forum is $100 per student. Registration information will be made available to you following abstract acceptance notification.
Hotel Accommodations (If you require a room)
The Florida Chapter of the AAP has secured an amazing hotel room block at Disney's Yacht Club Resort for a discounted rate. Information on how to book a room will be included in your abstract acceptance notification email.
To submit an abstract click here.
Please encourage your medical students to attend. We look forward to their participation in this successful and educational event!
If you have any questions, please contact us at pedsresearchforum@peds.ufl.edu.