Health Equity Forum
The Office of Diversity and Inclusion at the Georgetown University School of Medicine is pleased to announce the launch of a new Health Equity Forum that will serve as a robust discussion space about health and healthcare disparities that exist in our local and national medical landscapes. Speakers will be invited to present dynamic "TED" style talks that shed more insightful light onto health equitychallenges and innovative/insightful approaches to address these challenges. Lively Q&A will follow!
The Health Equity Forum seeks to:
Promote conversation and awareness around health inequalities that exist between populations, particularly among underserved populations, as well as progress made in addressing those health disparities.
Engage local and national health care practitioners and researchers as well as current Georgetown faculty, researchers and alumni of Georgetown SOM on current health care topics and events.
Present interactive talks, panels and activities that cultivate fellowship, community learning and reflection across campus.
Past Health Equity Forums
---
"End of Life: Considerations and Policy Discussions"
Adedamola Badewa
"Challenges and Solutions to Healthcare for Ex-Offenders"
Eric Nieto

"Practicing While Religious: Opportunities and Challenges"
Claudia Sotomayor, MD, DBe; Aviad Haramati, PhD; Sarah Kureshi, MD, MPH
"Within and Beyond the Walls: A Framework for Operationalizing Equitable Systems of Care"
Dr. Christopher King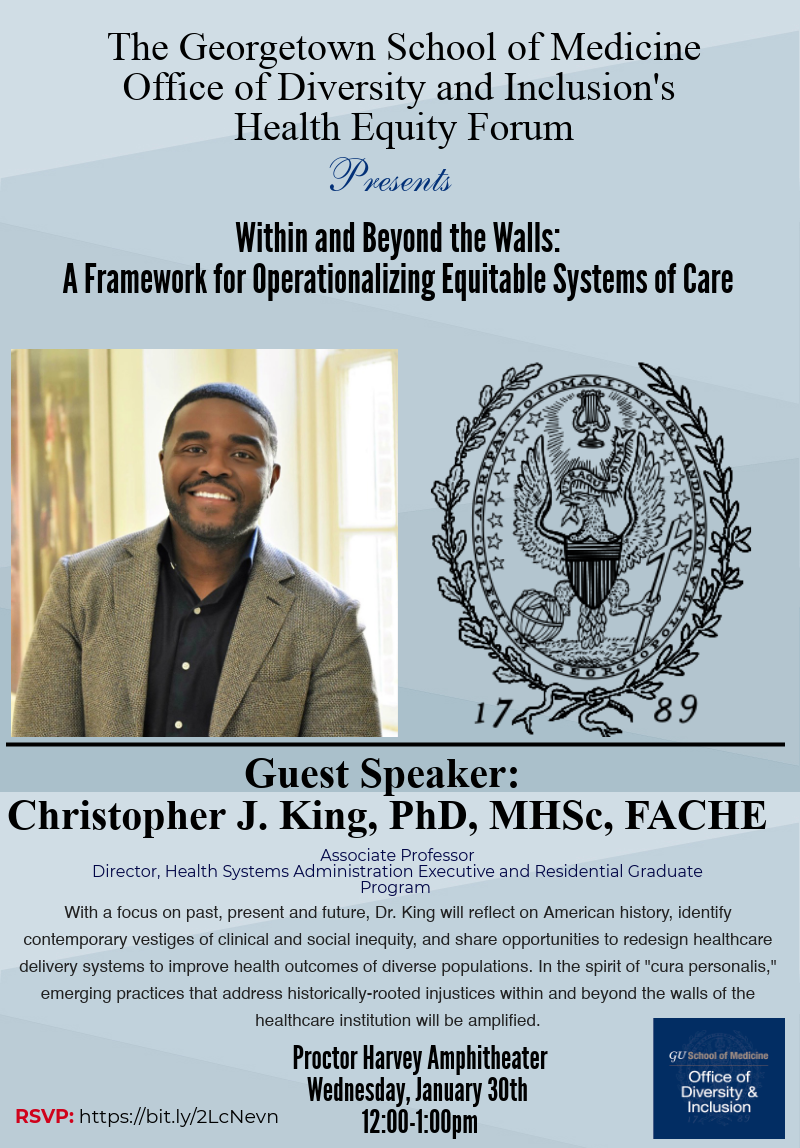 Yes, I Have Implicit Biases, Now What?
Dr. Kenya Beard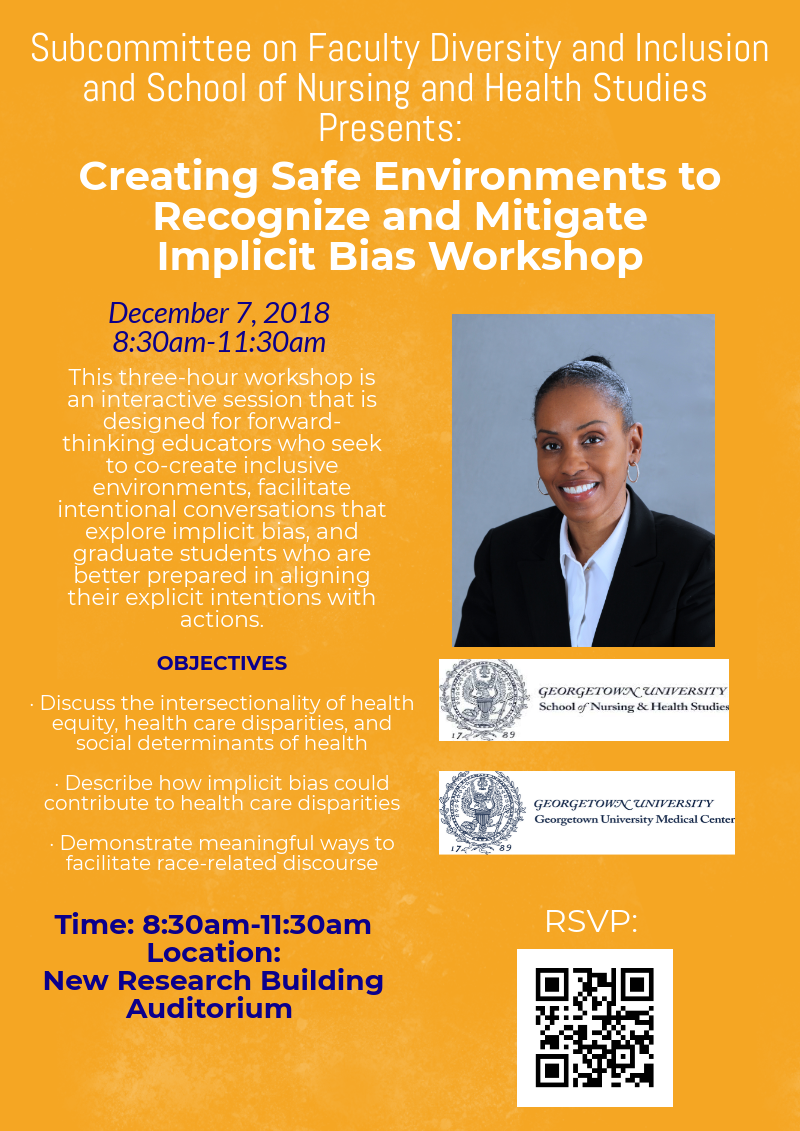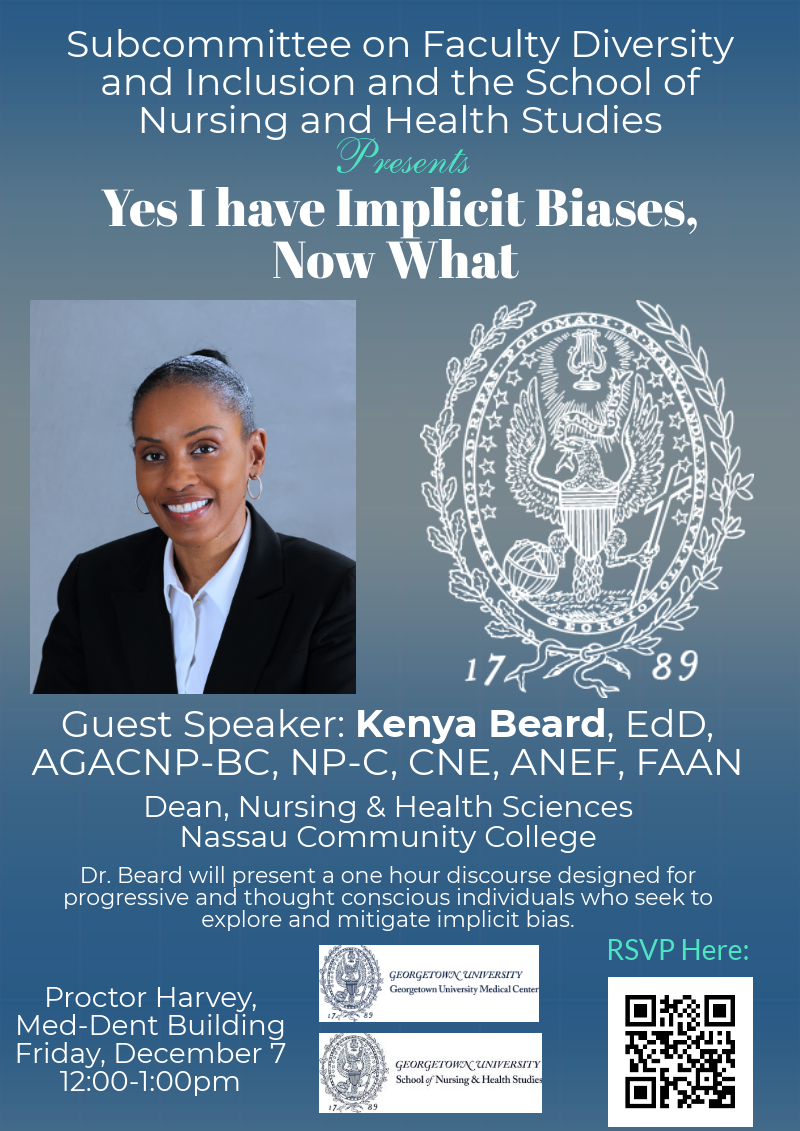 ---
Colorblindness, Color Consciousness: Race Matters in Medical Education, Research, and Practice
Jennifer Tsai
---
Primary Care for Gender Minorities
Dr. Leon Lai
---
Social Justice in Medicine: Beyond Access
Alynna Wiley (GEMS Alumna)
Physician Burnout: Healing the Healer
Brendon Peterson (GEMS Alumnus)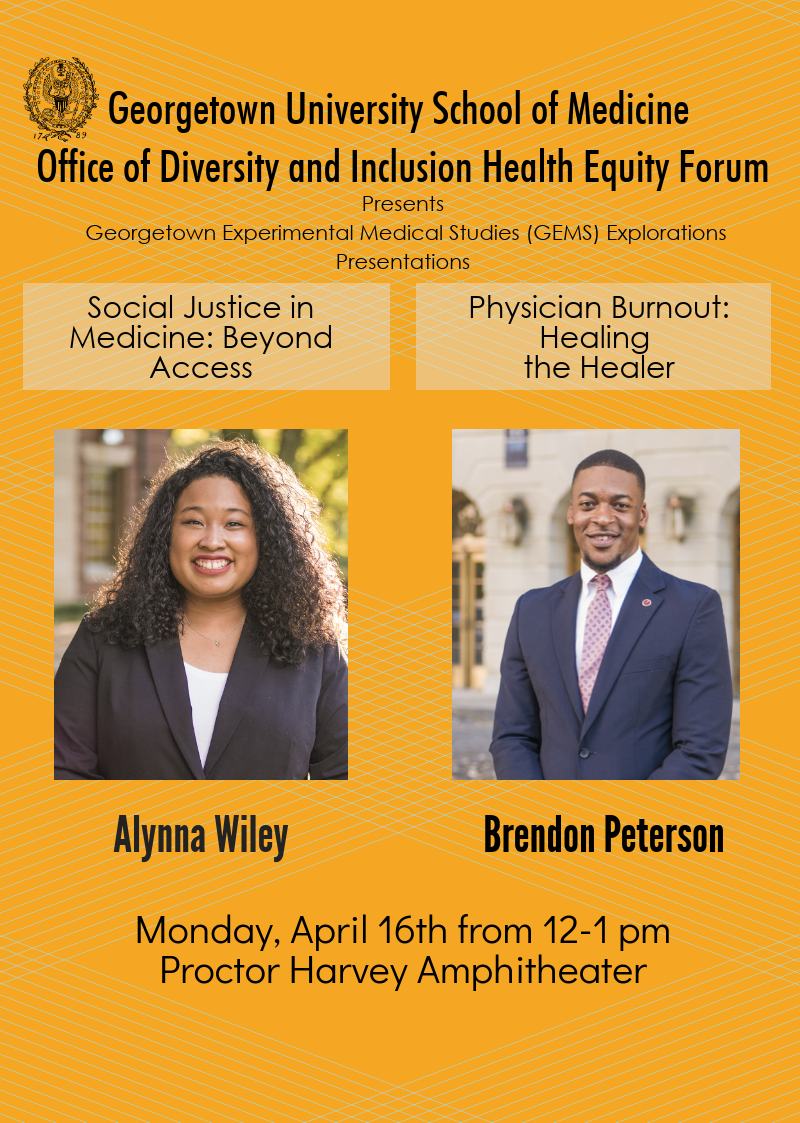 ---
How Medical Students, Residents, and Physicans Can Address Social Determinants of Health
Dr. Malika Fair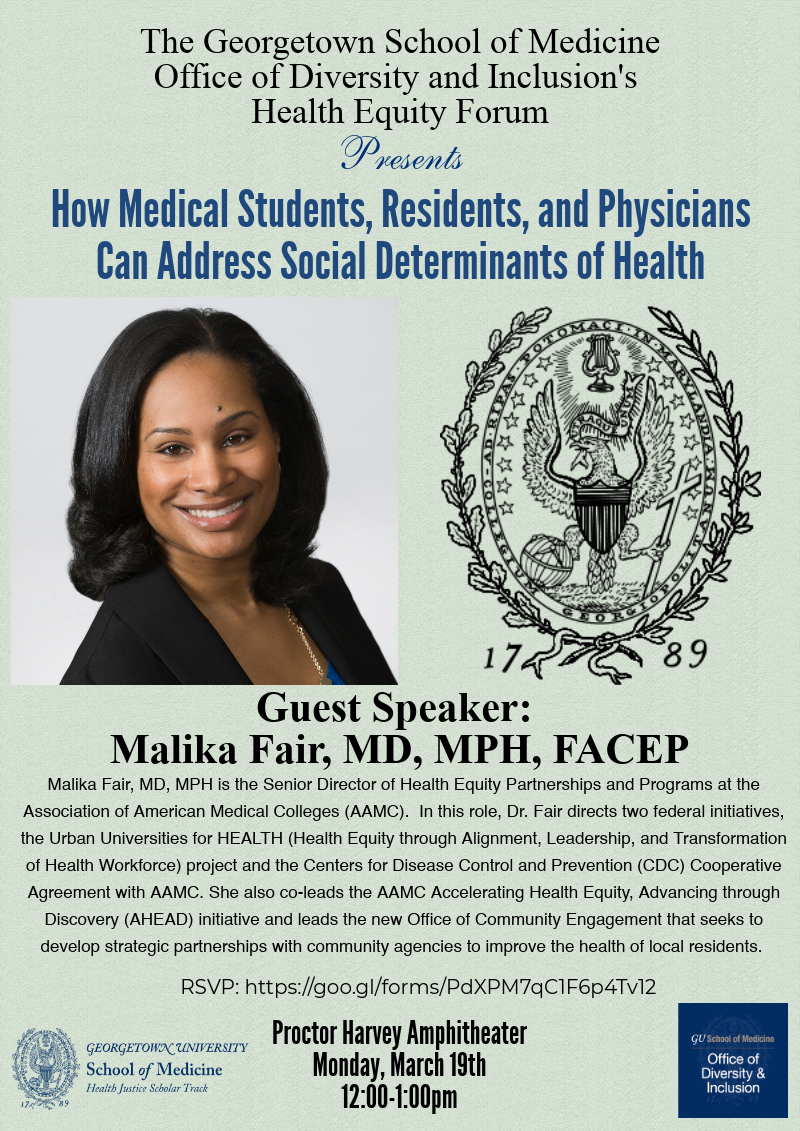 ---
How's Your Heart? Compassion & Medicine: Fostering Compassion in a Contemporary Context
Dr. Sylvia Morris
---
Disabusing Disability: Up Close and Personal
Dr. Oluwaferanmi O. Okanlami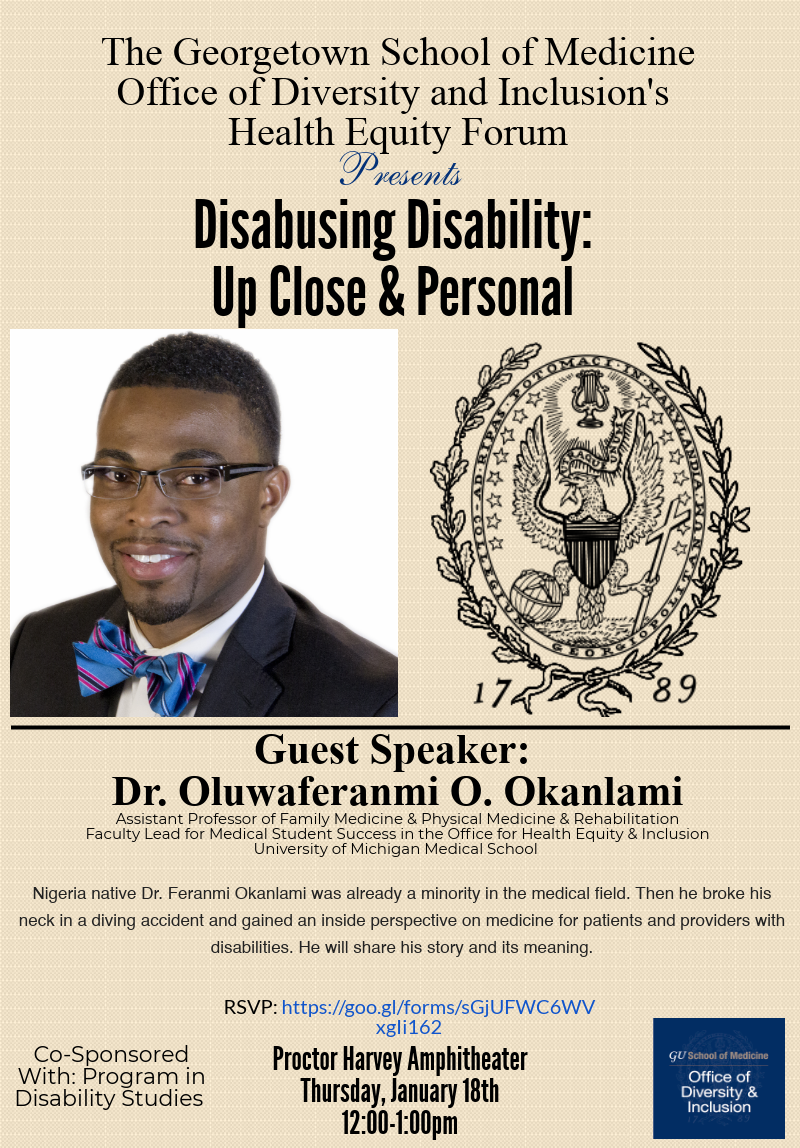 ---
Love Thy Neighbor: A Muslim Physician's Experience in Rural America
Dr. Ayaz Virji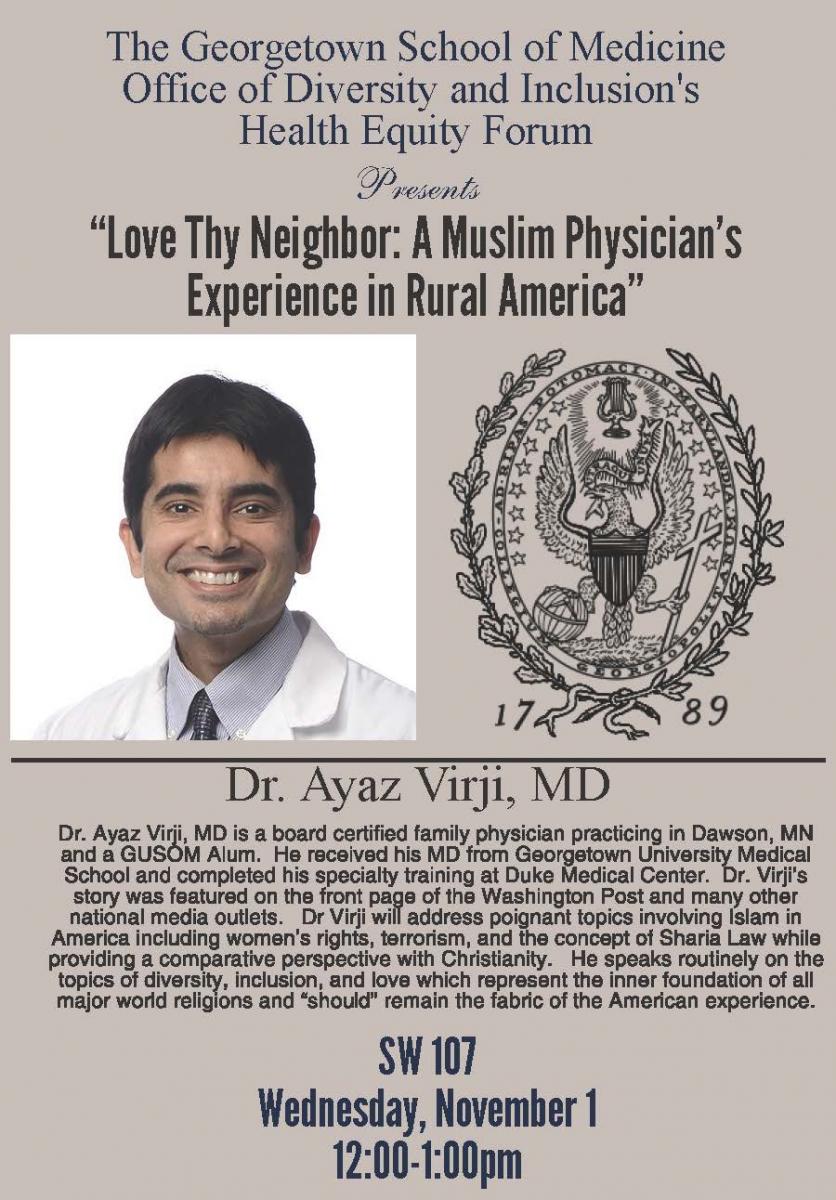 ---
Infectious Disease Crisis: Antimicrobial Resistance and Mortality
Jason Chavez
Gaming in Medicine: The Role of Simulation
Brittany Bolston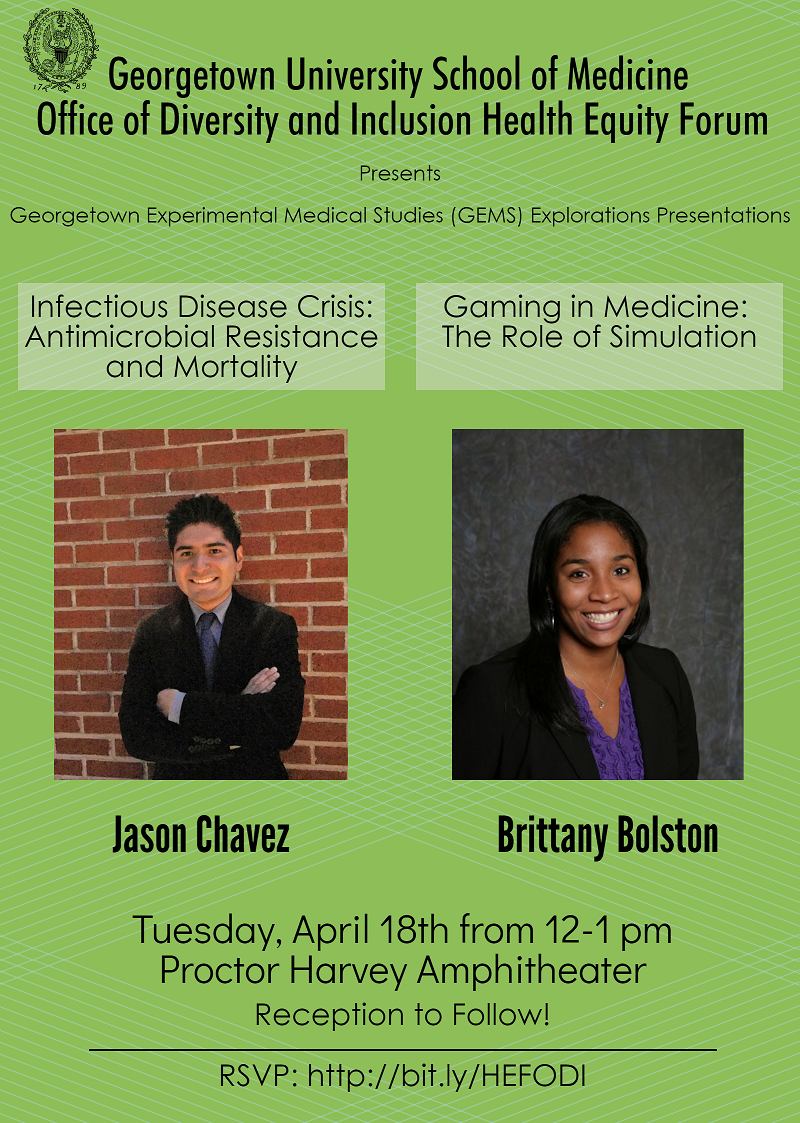 ---
Anybody Listening? Real Talk: Resiliency in Medicine
Panelist: Director Nancy Haraduk, Dean David Taylor, Dr. Stacy Kaltman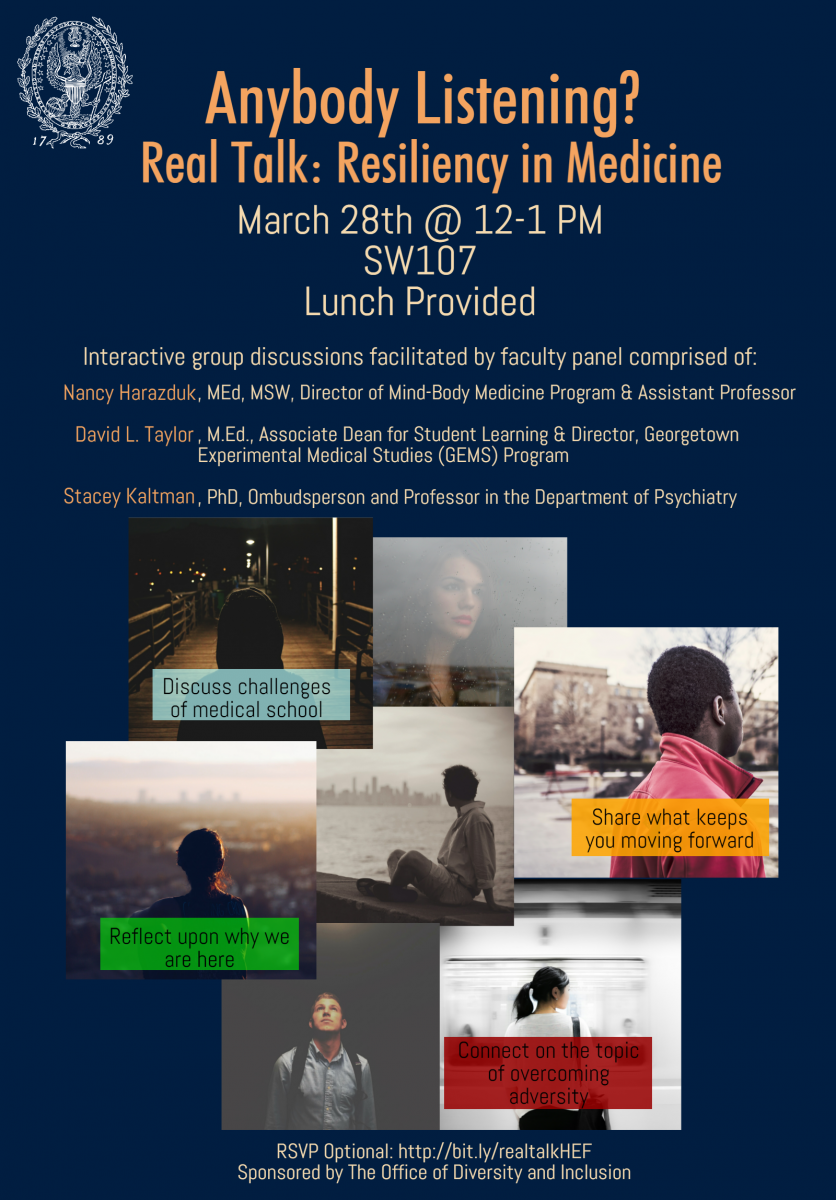 ---
What A Doctor Looks Like: Exploring Conscious and Unconscious Bias Within the Healthcare Setting
A panel discussion with Dr. Ericka McClaskey, Dr. Asante Dickson, Dr. Jennifer Ellis, Dr. Yolanda Haywood, Dr. Megha Fitzpatrick, Dr. Charles Read Jr., and Dr. Latasha Seliby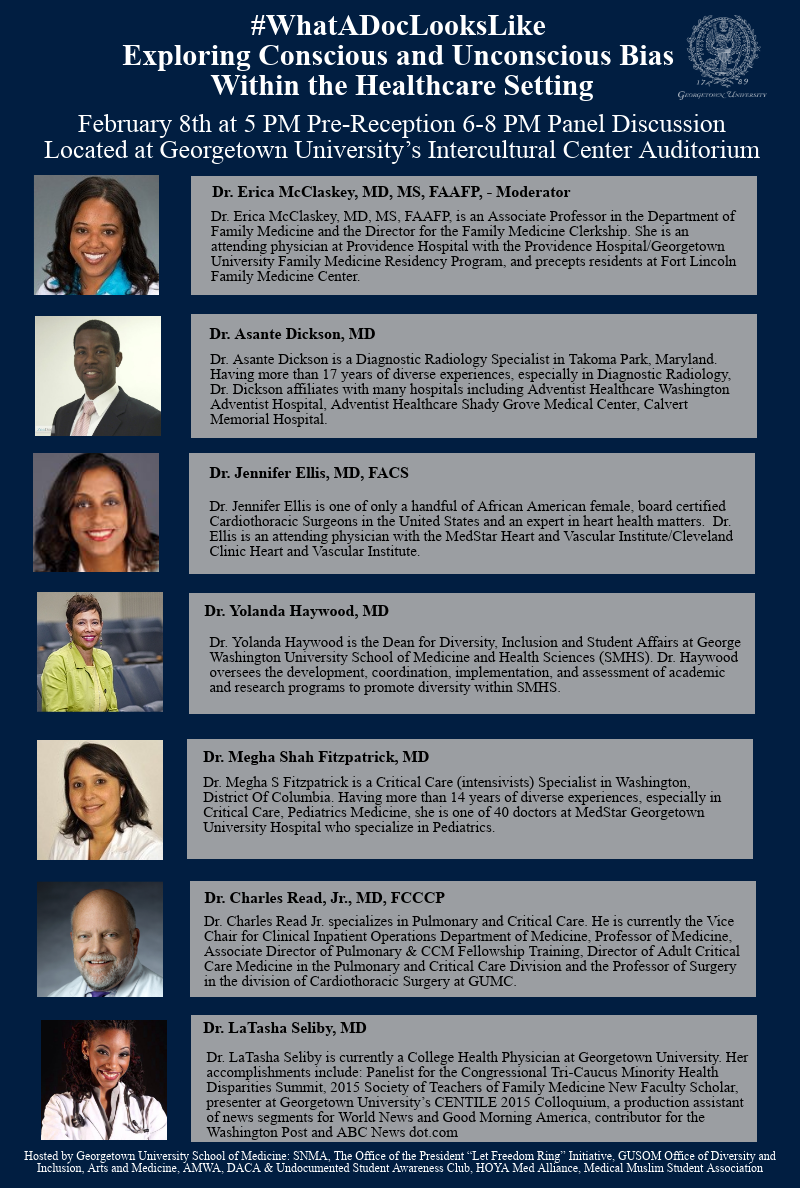 ---
Suffering in Silence: Speaking Up on Mental Health in Medical School
A panel discussion with Dr. Anthony J. Belotto, Dr. John C. Wright, Dr. Aviad Haramati
Moderators: Michael Marll, Amanuel Shitaye
Dr. Anthony J. Belotto
Dr. Anthony Belotto completed his residency in the Georgetown Department of Psychiatry, and is now completing his Fellowship program for Child & Adolescent Psychiatry.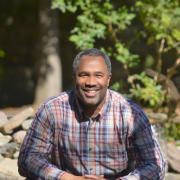 Dr. John C. Wright
Dr. John Wright is a licensed psychologist. He provides private counseling and consultative services to students at the Center for Multicultural Equity & Access, and is the assistant director for diversity initiatives at CAPS.
Dr. Aviad Haramati
Dr. Aviad Haramati is the professor of Integrative Physiology, and is also the director of CENTILE. He co-founded the Mind Body Medicine elective course at Georgetown University School of Medicine, and his interests are focused on stress management and medical education.
Great Minds Think Differently: The Science of Diversity and the Impact of Unconscious Bias
Dr. Anna Han
---
Metabolic Syndrome and Breast Cancer Disparities
Dr. Lucile L. Adams-Campbell, Ph.D.
[Click to watch Dr. Lucile L. Adams-Campbell's speech]
---
Going Beyond the Buzzwords of "Diversity and Inclusion" at Medical Schools: Are We Moving the Needle Enough?
Dr. Marc A. Nivet, EdD, MBA
[Click to watch Dr. Marc A. Nivet's speech]
---
The Forgottn Ones: Community Violence-Related PTSD in Children and Adolescents
Oswald Reid, Jr.
Healthcare Challeneges and Solutions for the LGBTQ Community
Griselda Potka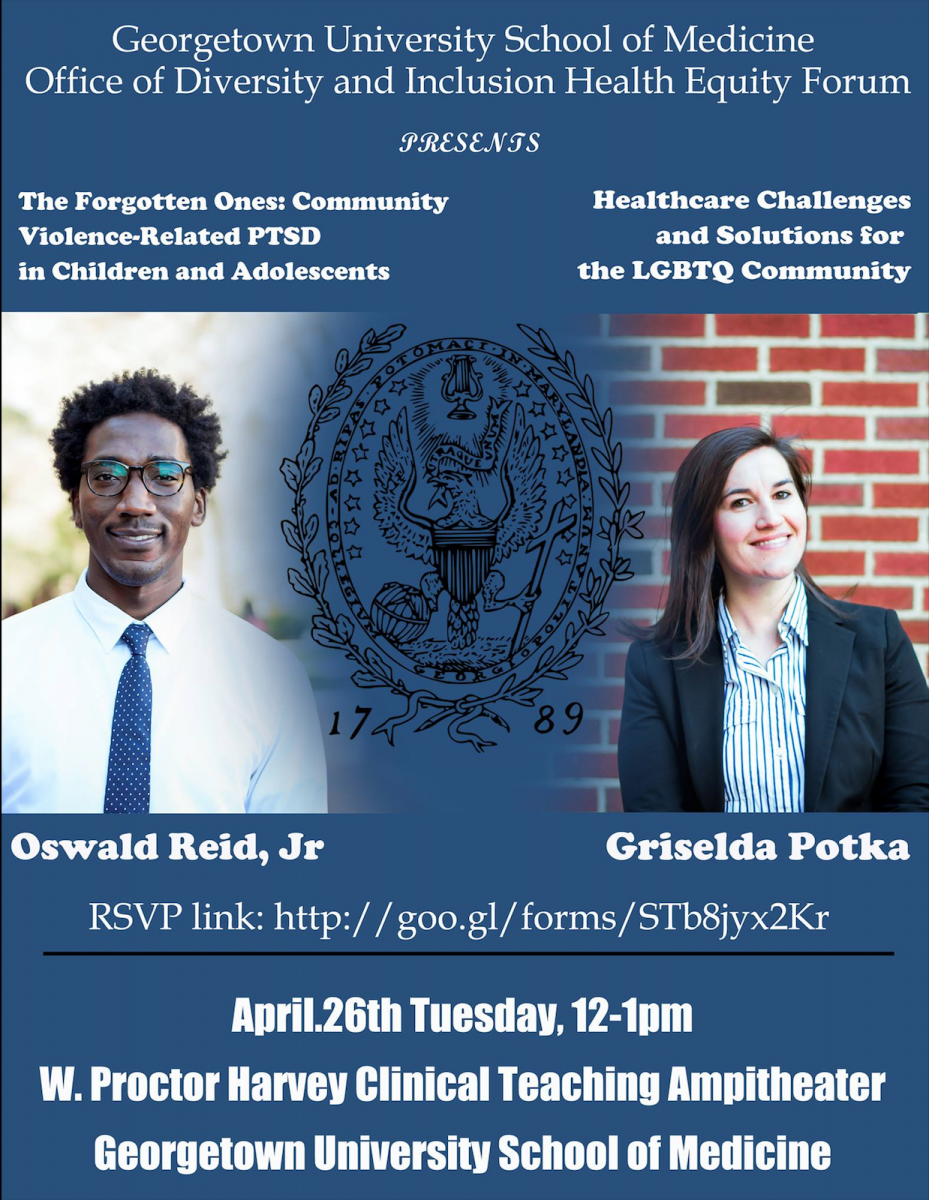 ---
Reducing Mental Illness Stigma through Unconscious Bias Education
Dr. Javeed Sukhera, MD, FRCPC