Meet our Alumni!
See what a few of our ARCHES alumni have accomplished since their completion of the summer program!
ARCHES 2018: Ana Torres
Southern Illinois University | Medical/Dental Education Preparatory Program (MEDPREP)
"If it wasn't for ARCHES, I wouldn't have all the acceptance letters from medical schools that I do right now!"
Ana heard about ARCHES when she attended a regional conference as part of her MAPS chapter at the University of Virginia. The program seemed like a fantastic opportunity to get introduced to research and shadowing experiences. Ana specifically enjoyed the Family Medicine experience she gained during ARCHES. Talking with Dr. Michelle Roett was super informative, and getting to see Family Medicine in different settings led Ana to get interested in a field that she hadn't really considered before.
Ana considers ARCHES to be an essential resource that has helped her focus her interests in medicine and develop a plan to find her own success. Networking and building meaningful relationships with ARCHES fellows and mentors, are just some of the reasons that Ana feels she has received her acceptance letters to medical school. Some advice to current pre-meds or current medical school applicants: Pick topics, mentors, and/or schools that genuinely interest you and seem like they align with your values and goals.
Currently, Ana is completing the final year of her post-baccalaureate program; Southern Illinois University Medical/Dental Education Preparatory Program (MEDPREP). She is currently deciding between attending Dartmouth College Geisel School of Medicine, or Georgetown University School of Medicine. Congratulations, Ana! ODEI is so proud and excited to see you take this next step in your professional journey!
ARCHES 2018: Mikayla Cochrane
Sidney Kimmel Medical College at Thomas Jefferson University | M1 Student
"ARCHES helped light the fire for my passion in medicine, and helped give me my Why"
Mikayla is currently in her first year of medical school! She is attending Sidney Kimmel Medical College at Thomas Jefferson University. She is a student in the Physician Shortage Area Program, a program for students interested in primary care in rural areas. The small cohort of students hears from practicing rural physicians and their experiences working in Family Medicine. Mikayla is also conducting research pertaining to Family Medicine, and she is the PR manager for an interest group for Internal Medicine at Sidney Kimmel.
ARCHES helped Mikayla see how physicians are in such a unique position to make great changes, both in their interactions with patients and in the larger community. The program helped develop her interest in health disparities for marginalized groups, and helped give a greater purpose regarding how she would pursue a career in medicine. After ARCHES, she started searching for opportunities in rural areas that focused on the social determinants of health and wellness. Mikayla is also very appreciative for the support and motivation she received during ARCHES; "Everyone wanted to see me succeed, and I felt that motivation!". She also thanks Dean Cheng and Dean Taylor for all of their support, whether it was by writing recommendation letters when she was applying to medical school, or just reaching out and asking if Mikayla ever had questions. As a first generation student, having someone to guide her was so reassuring and made the process less daunting.
For future ARCHES fellows, Mikayla wants you to know that the program is like a family, and you are always supported, so don't be shy when asking for help. Everyone at ARCHES always wants to help to the best of their ability. Another component of the program that she found to be helpful was the frequent reflection and emphasis on mindfulness. Mikayla suggests writing reflections in a journal to reflect on your own growth and interests, and the people have supported you and continue to support you.
ARCHES 2018: Rimsha Rana
Georgetown University School of Medicine | M1 Student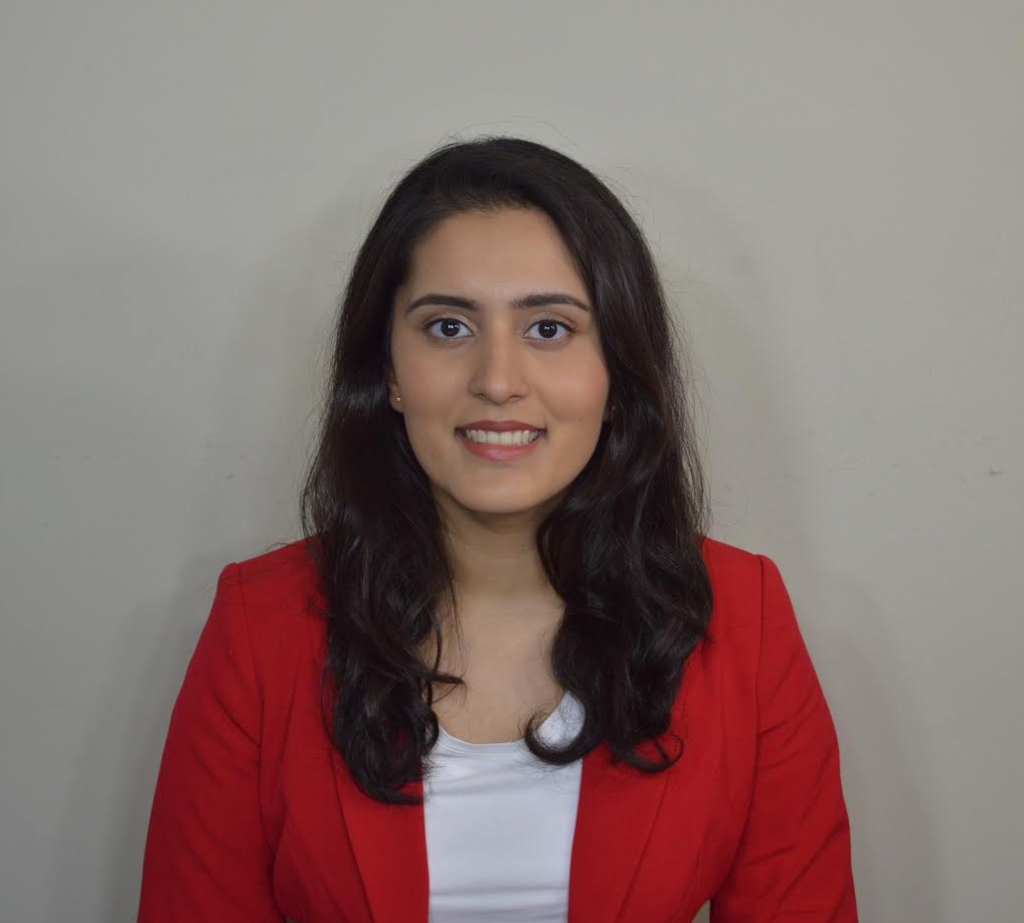 "ARCHES works, and we need more pipeline programs like this!"
For Rimsha, introduction to the med-school application process, MCAT prep from Dean Taylor, shadowing experience, and mentoring, were just a few of the valuable resources from ARCHES that helped her get to where she is today; "ARCHES is the whole reason why I'm here. It gave me such a good guideline of everything I was supposed to do"
Rimsha is currently in the middle of her first year of medical school at the Georgetown School of Medicine. She was recently accepted into GUSOM's Health Justice Scholar Track, a longitudinal program that integrates instruction in human rights and social determinants of health, opportunities for mentorship, and applied advocacy experiences through direct lobbying and research projects. She is also a committee member for GUSOM's Council of Diversity Affairs (CODA), an advisory resource for Dr. Susan Cheng, Senior Associate Dean for Diversity, Equity, and Inclusion at GUSOM. We're so proud of Rimsha and all the impactful work she has done, both in ARCHES and beyond!
Rimsha's advice to future ARCHES applicants and pre-meds; "Always shoot your shot, and never be afraid to ask for help. You never know what's gonna happen!"
ARCHES 2018: Samuel Henry
Memorial Sloan Kettering Cancer Center | Care Coordinator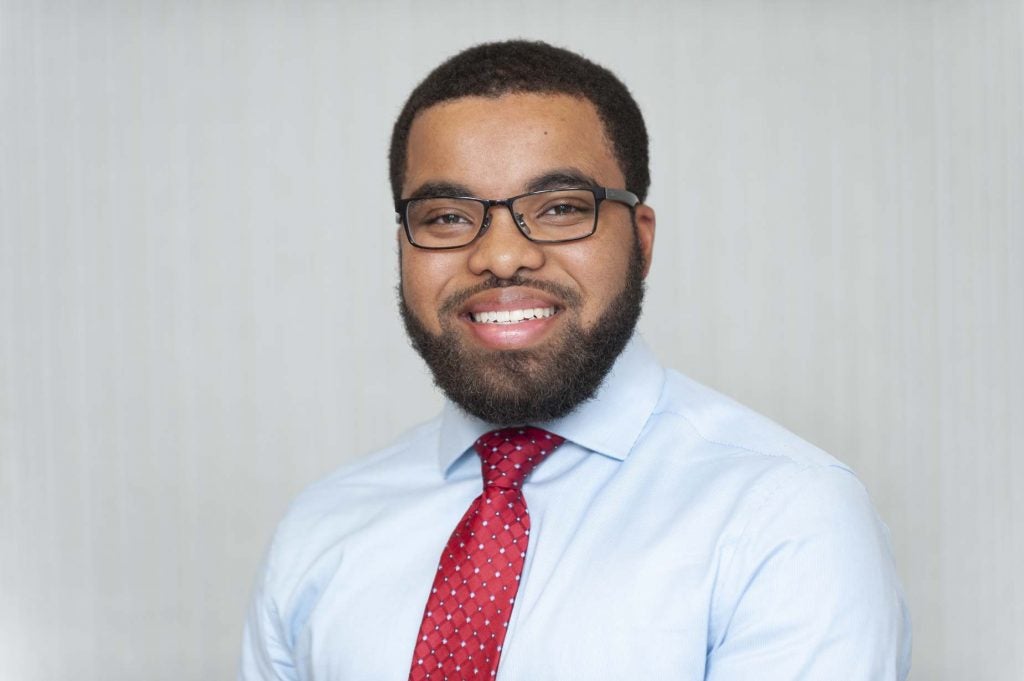 "ARCHES helped me broaden my scope of what it means to work in medicine. "
Sam is currently working for Memorial Sloan Kettering Cancer Center as a Care Coordinator. His role consists of several exciting projects, including involvement in clinical research for medical physics, and reviewing radiation treatment plans for patients. Sam loves the job because it's an amazing learning environment and he gets to interact with patients often, which is always meaningful and enlightening! Sam hopes to delve further into protocol and research development at Sloan, and he also goals to open up doors for more diversity at the center. Way to do us proud, Sam!
During ARCHES, Sam learned a lot from all the time spent going into surgery clinics, working in a research lab, working with faculty at GUSOM. For him, ARCHES really helped him come out of my shell and be more comfortable working in a professional space. For example, learning how to do a research project from start to finish, made him realize that he absolutely has the capability to do professional and impactful work within medicine. Sam truly believes that ARCHES is a great program to give students knowledge of the medical field, experience, and a network to look to for support. His advice to current pre-meds and future ARCHES fellows; "Keep trying, and keep pushing. Run your own race, and don't feel discouraged based on what other people are doing. For future ARCHES fellows, make sure to build upon the experience and connections you make during those 6 weeks. It doesn't end once the program is over, so maintain those connections over the long term.
In addition to working at Memorial Sloan, Sam is also preparing to apply to medical school during the coming cycle. He is planning to apply to Georgetown, Rutgers, Temple, Columbia, and other schools! Sam, the ODEI staff is so proud of you and all the amazing things you've achieved thus far. Keep up the good work!
ARCHES 2018: Yordanos Dessie
Medicaid Quality and Outreach Team at Priority Health
"ARCHES gave me real research experience and developed my interest in equity issues in medicine."
In addition to taking MCAT prep classes at Grand Valley State University, preparing to be a competitive applicant for medical school. Yordanos is currently working with the Medicaid Quality and Outreach Team at Priority Health, a health insurance company in Michigan. She takes the work she does seriously, since they are constantly working to maximize health access to their members. Outside of work, Yordanos is also doing research on federally qualified health centers, and how these centers address social determinants of health.
Yordanos really values the fact that ARCHES was a small, close-knit group of students. It helped encourage her to be more vulnerable and honest in an inclusive, but appropriately challenging, environment. It was in this environment that Yordanos gained what she considered to be valuable research experience that developed her interest in equity issues in medicine. Her research topic during the program focused on how knowledge affects treatment adherence to Hepatitis C, and Yordanos noticed how many of the people she surveyed – who were people of color – didn't even know that there were effective treatment options for the virus. This made her realize how important the policy aspect of medicine was to her.
Another important lesson that Yordanos took from ARCHES is the importance of networking and staying connected with faculty, colleagues, and hopefully friends; "Just getting into ARCHES was very validating and affirming. The program believes in us". Yordanos' advice to current pre-meds and future ARCHES fellows; "Take advantage of the resources you have access to, be present, remember your purpose, it's so easy to feel lost/unmotivated on some days, so remember the people that are rooting for you, shadow, get mentors!".
ARCHES 2017: Kimberly Gonzalez
UC San Diego School of Medicine Program in Medical Education and Health Equity
"Before going to ARCHES, I didn't feel confident. I didn't feel like I was a good enough applicant for medical school."
Kimberly graduated from Johns Hopkins University in 2019. After graduating, she went back to San Diego and began working as a Medical Scribe at a GI Specialty Clinic. She has just started her first year of medical school at UCSD in August 2020! She is a student in the UC San Diego School of Medicine Program in Medical Education – Health Equity (PRIME-HEq) (dual MD/Master's program). Similar to ARCHES, the program is a small cohort of underrepresented students who are interested in careers related to public health and health equity. She also volunteers at the UCSD student-run Free Clinic Project.
Kimberly thanks ARCHES for helping her gain confidence and recognizing that she is a fantastic student with the ability to make real change regarding health disparities. She particularly appreciated the opportunity to work with Dr. Judy Wang in the Lombardi Comprehensive Cancer Center. As her research mentor, Dr. Wang helped Kimberly connect with her motivation and passion for working with immigrant communities. During ARCHES, she learned the basics of clinical research and how to present her research in ways that benefit marginalized groups.
Kimberly's advice to future ARCHES fellows or young pre-meds who are underrepresented in medicine; "There will be bumps in the road, but keep pushing! I know it's hard, but stay confident and don't compare yourself to others. Everyone faces difficulties, but making meaningful connections with classmates, teachers, and mentors will make things a lot easier. For ARCHES fellows, you should be so proud of getting accepted into this program, Congratulations!
ARCHES 2017: Monica Valle
California State University East Bay's Pre-professional Health Academic Program | Graduate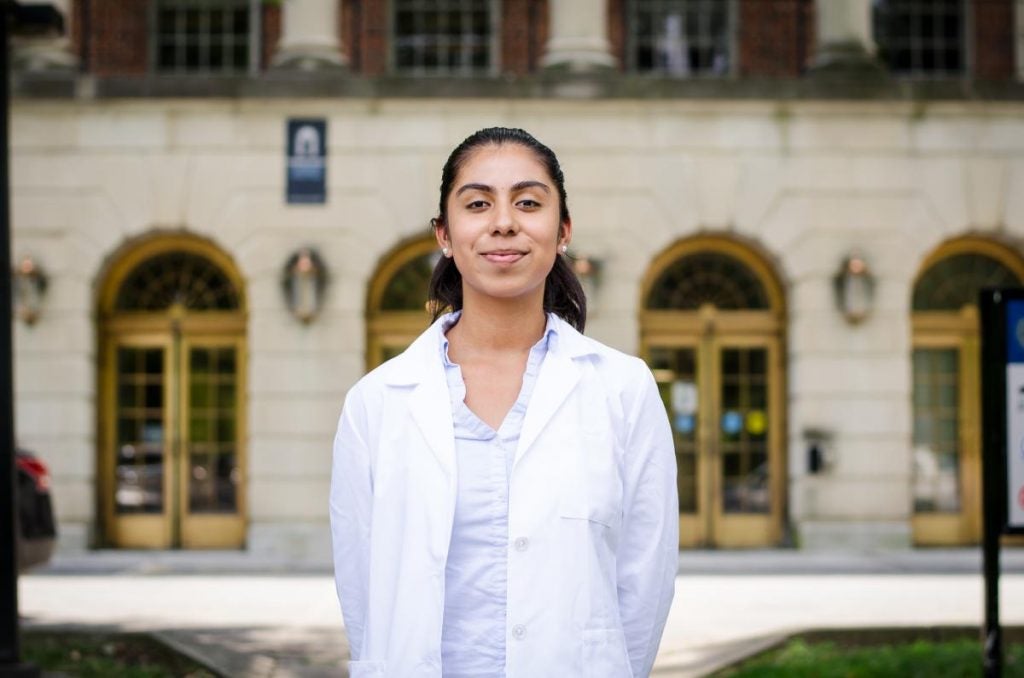 "ARCHES chose me, so I knew that meant something."
Monica heard about ARCHES through her mentor in the Georgetown Scholars Program. After graduating in 2019 from Georgetown, she began attending California State University East Bay's Pre-professional Health Academic Program. She recently graduated from the program in December, and is currently taking MCAT prep courses for when she begins applying to medical schools. Monica, congratulations and keep up the amazing work!
Monica considers her mentorship with Dean Taylor through ARCHES as the most impactful aspect of the program. He helped her create a plan for how to get to medical school and how to choose a post-bac program that fit her needs. Monica appreciated having someone not only to guide her, but also to check in with and keep her accountable. The connections she made with Dean Taylor and other mentors through ARCHES served as a reminder that people believe in you, which is especially important when you're dealing with feelings of doubt and/or imposter syndrome.
Monica's advice to future ARCHES fellows and all pre-meds: "ARCHES is an amazing program and a great experience for any pre-med student. But regardless of whether you get into ARCHES or not, that doesn't determine whether you will become a doctor. If that's the path that you want to pursue, nothing can stop you. If you have the will and ambition, you can get there. When things don't go the way you planned, remember to take a step back and look at the bigger picture. Look at how far you've come".