Program Overview
This program will engage selected participants in clinical experience, guided research, and community based learning at Georgetown University and the greater DC community. GUSOM ARCHES aims to strengthen the research and clinical skills of promising undergraduate students and prepare them for successful matriculation into medical school.
The program will consist of three parts:
Research immersion in one of Georgetown University's premier research labs
Clinical rounds with physicians at MedStar Georgetown University Hospital
Community-based learning with DC-based nonprofits on issues of health equity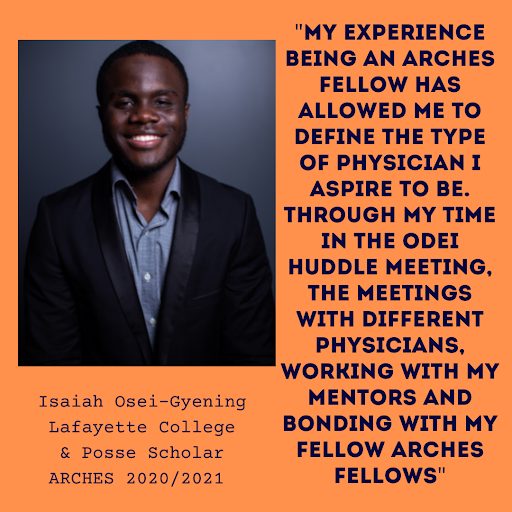 Eligibility
This program is open to all rising college juniors and rising college seniors (you must have completed either your sophomore or junior year of college at the time of application) pursuing medicine and/or other healthcare profession in a four year college.
Have a minimum overall 2.5 GPA when applying.
Be a U.S. citizen, a permanent resident, DACA recipient or international student holding an F1 or J1 visa. DACA recipients can be employed only if they have been issued an "Employment Authorization Document" (EAD).
All students are encouraged to apply, including first-generation college students (first in their families to attend college/university), students from backgrounds underrepresented in medicine, and students committed to advancing opportunities for communities and populations who lack equitable access to health care.
Georgetown welcomes and considers all applications without regard to race, ethnicity, color, religion, sex, gender, disability, veteran, or other protected status.
Other factors for consideration include that a student:
Comes from an economically or educationally disadvantaged background; and/or
Has demonstrated an interest in issues affecting underserved populations and a commitment to advancing opportunities for communities and populations who lack equitable access to health care.
Submits compelling personal essays and a strong letter of recommendation.
It is advised to send the recommendation request through the portal as soon as possible in order to provide your recommender ample time to complete the recommendation. The full application with the letter of recommendation is due February 15, 2024 by 12PM EST. Incomplete applications will not be considered.
Local DC Preference: A preference will be given to students whose permanent residence in the District of Columbia (DC) and/or who attended a public high school in Washington, D.C.
---
Program Dates and Benefits
Tentative program dates: June 14, 2024 – July 26, 2024.
Stipend: $4,000. ($2,000 paid after the first 3 weeks, and final $2,000 paid at the end of the 6 weeks)
Housing: Housing provided on Georgetown campus June 14 – July 27, suite-style, double occupancy rooms
Travel: Up to $250 per student on a case-by-case basis by the Georgetown Office of Diversity & Inclusion
Meals: Students are responsible for their own meals/food cost (except for program event meals provided by ARCHES).
Other questions?
---