2019 GEP Scholars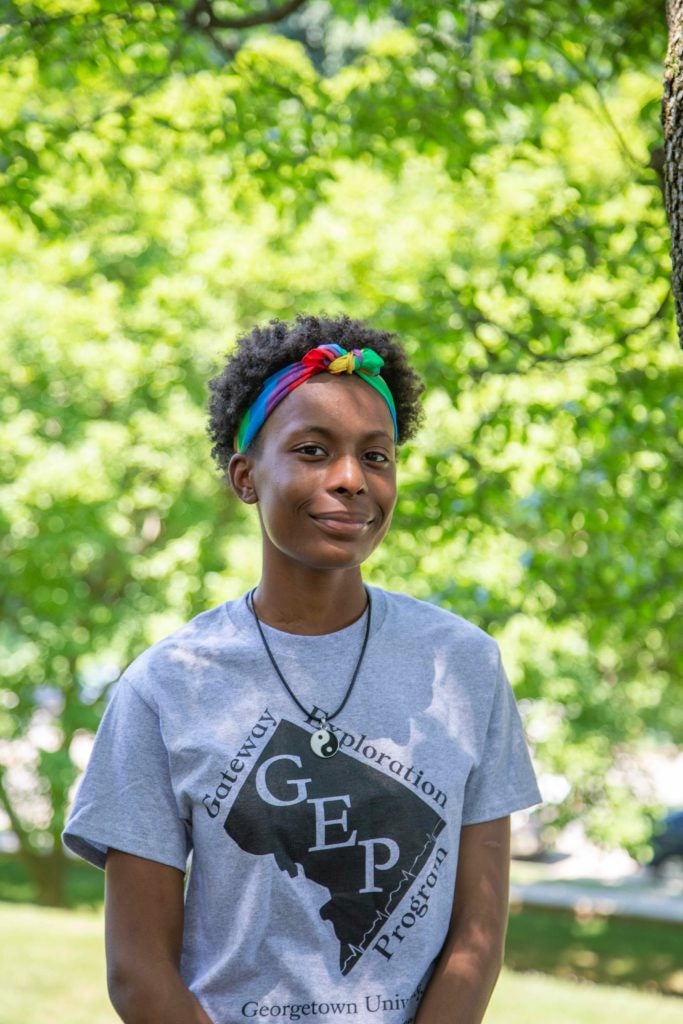 Oliver Twyman
Oliver is a rising Senior at McKinley Technology High School. They have a passion in Biotechnology and hope to continue studying Biotechnology in the future. Oliver is very active in sports in school and their roles include – managing the bowling team, spreading positivity among the softball team, and playing golf. Oliver, being apart of the LGBTQ community, loves to help and reach others by letting them know that it is okay to be themselves. Even though they are undecided on a future major or career, they know that helping others is the way to go.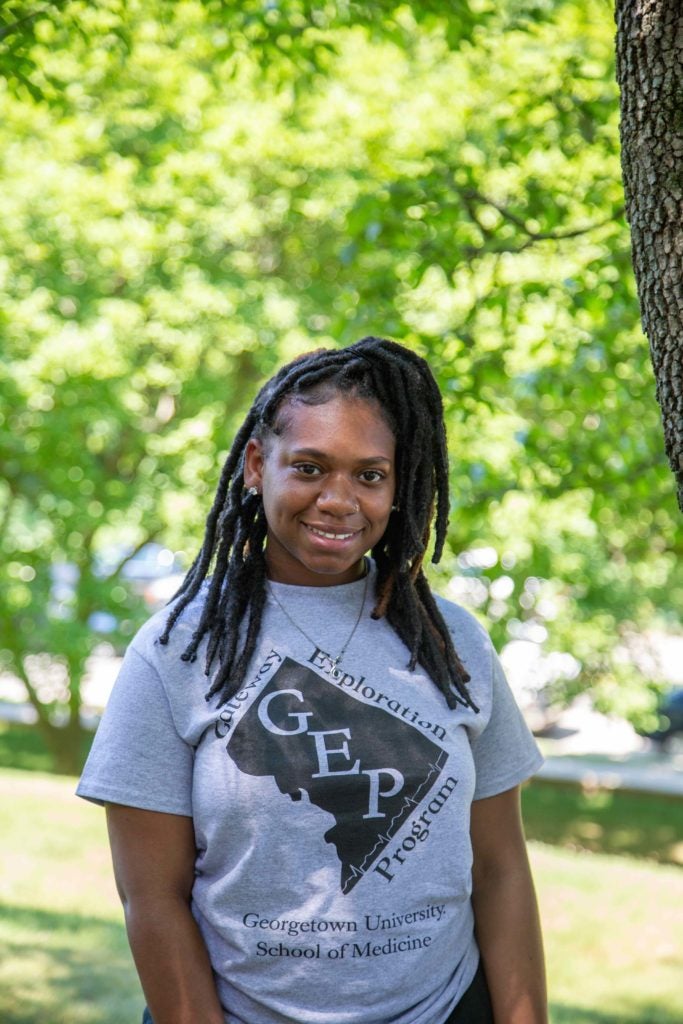 Camilla Young
Camilla is a rising senior at Calvin Coolidge High School where she spends her time as a member of the Student Government Association and currently partakes in the NAF Academy of Health and Science. At school, she was able to learn how to work with others and delve deeper into Health and Science studies. Camilla is also on the cheerleading team. She wants to attend an HBCU after she graduates high school where she would like to study Health Science or Biology. Her goal is to become a pediatrician because of her passion towards children and the desire to help those in need.
Antonio Hudson
Antonio Hudson is a rising senior at McKinley Technology Highschool. Antonio wants to go to college and major in Forensic Science with a minor in Criminal Justice. Antonio loves medicine because he thoroughly enjoys helping people. He also has a passion for track. In his free time, he likes to listen to music and watch movies.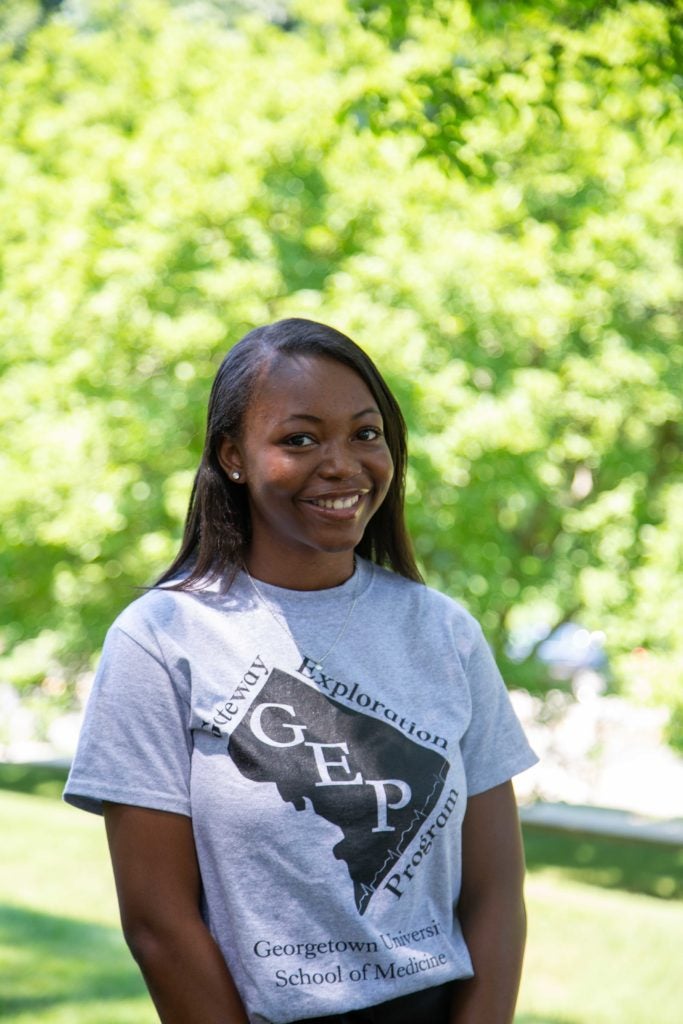 Adora Livingston
Adora is a rising junior at Calvin Coolidge High School. She is apart of NAF Academy. She has a passion to learn new things and also loves to travel. Adora shares a strong bond with her three siblings. After Adora completes high school with a high GPA, she wants to pursue her dreams of going to Clark University, an HBCU school, and become a neurologist with a minor in business.
Alexandria Jackson
Alexandria is a recent graduate from Eastern Senior High School and an incoming freshman at Lincoln University. At Lincoln University, she plans on majoring in Health Science. Alexandria aspires to be a pediatrician and after a couple years of that she wants to own her own hospital. Her goal is to help people in urban cities who do not have access to quality health care. In her free time she loves to sing, sleep, and volunteer at Camp Ojé summer camp.
Kai Goodall
Kai is a rising senior at School Without Walls High School. She is currently a member of the National Honors Society maintaining a 3.8 GPA focusing on STEM based classes. This summer, Kai is a GEP scholar and will be shadowing clinical supervisor Mr. Scott Keller, and researching mental health disparities among African Americans. With the Gateway Exploration Program, Kai is excited to expand her understanding of the medical world and strengthen her networking skills. She is very passionate about social and economic equality and is currently working on a project to lessen the wealth and achievement gaps in education between minority and non-minority groups in the U.S. She aspires to pursue this passion through medicine, specifically psychology and/or trauma, as she believes it is her duty to be of aid to anyone in need. In her spare time, Kai plays tennis and enjoys coaching young kids.
Achea Cunningham
Achea is a rising senior at McKinley Technology High School where she is studying Biotechnology. In High School, she is a member of the cheerleading squad and helps tutor middle school students in mathematics and reading. As a GEP scholar, Achea hopes to learn how to work and interact with professionals in an office setting. In the future, she aspires to pursue a career as a critical care physician.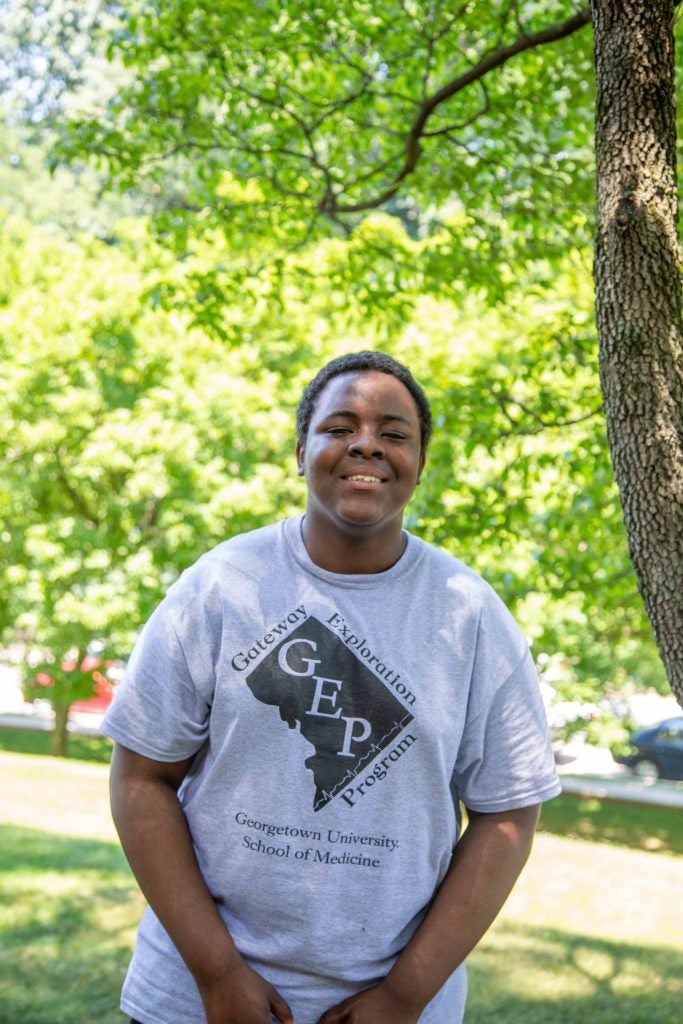 Erik Miller
Erik is a rising junior at Calvin Coolidge Senior High School and a District of Columbia native. His interest in the medical community stems from a Health Science class on the profession. While he initially was not interested in medicine, today he aspires to blend the lines between technology and coding in medicine. He highlights how the Health Science class inspired him to apply for the Gateway Exploration Program. After school, Erik can be found participating in different clubs, spending time with his friends or running errands with his mother.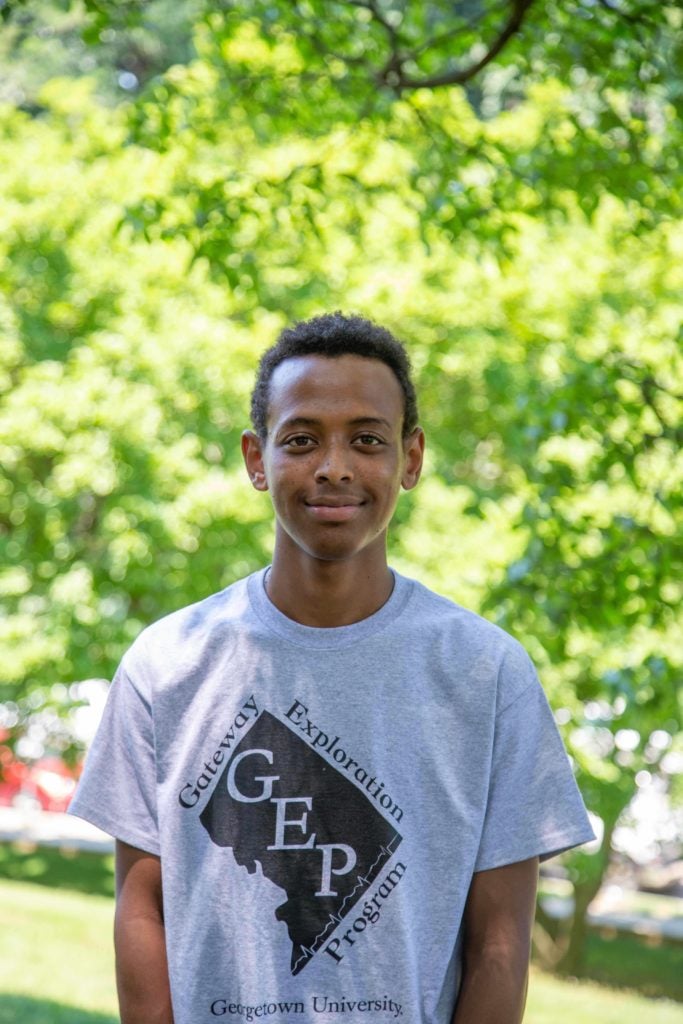 Natnael Gelgalo
Natnael is originally from Ethiopia. One year ago, he emigrated to the U.S. and enrolled in Calvin Coolidge High School. He is now 17 years old and a rising senior. Helping people recover and make them healthy inspires him to pursue a career in medicine. When he thinks of his long term goal, he aspires to become a doctor but is also interested in becoming a nurse. As a GEP scholar, Natty works closely with Dr. Michelle Roett in Family Medicine.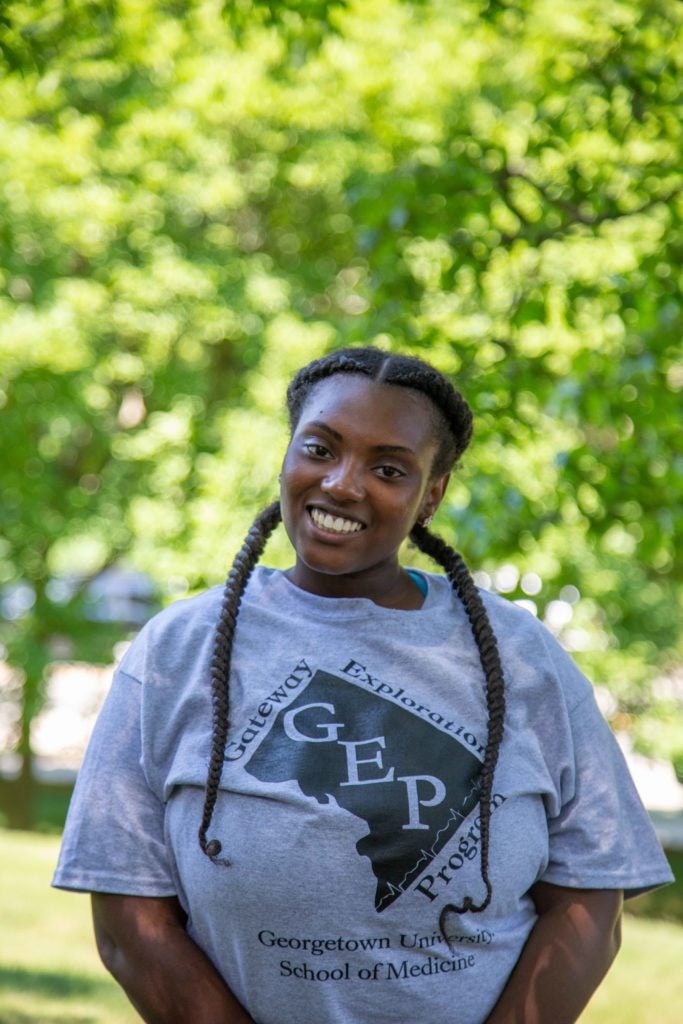 Nakiah Farrell
Nakiah is a recent graduate from Eastern Senior High School. In school, she was a part of Eastern's Health and Medical Science Academy. She also took International Baccalaureate courses in her junior and senior year. In the fall, she is starting her first year at Norfolk State University and majoring in Chemistry on the Pre-Medicine track. Nakiah wants to pursue her dreams of becoming an anesthesiologist. She is particularly keen on the limited representation of women and people of color in the medical field and strives to fill that void.
Gabriel Benn
Gabriel is a rising senior at Bell Multicultural High School. For the summer of 2019, Gabriel is participating in the Gateway Exploration Program at Georgetown School of Medicine where he will be shadowing Dr. Maurer and Dr. Levy. Gabriel is passionate about photography and a firm believer in everyone having their own perspective. "It could be a simple picture with a big meaning based on how you interpret it," he says. His goal is to become a radiologist in the future. Gabriel hopes to raise awareness about injuries and illness among his community. In his spare time, Gabriel can be found clicking photos on his Canon and editing videos.
Joel Volcy
Joel is a rising junior at Calvin Coolidge Senior High School where he is a part of the Academy of Health Sciences. In the Academy of Health Sciences, he learns about the anatomy of the human body and the function of the internal organs. He is also apart of the GEP program where he shadows doctors and is doing a research project on a health disparity in D.C. He plans to graduate high school and pursue a career in medicine. In the future, he wants to be an anesthesiologist.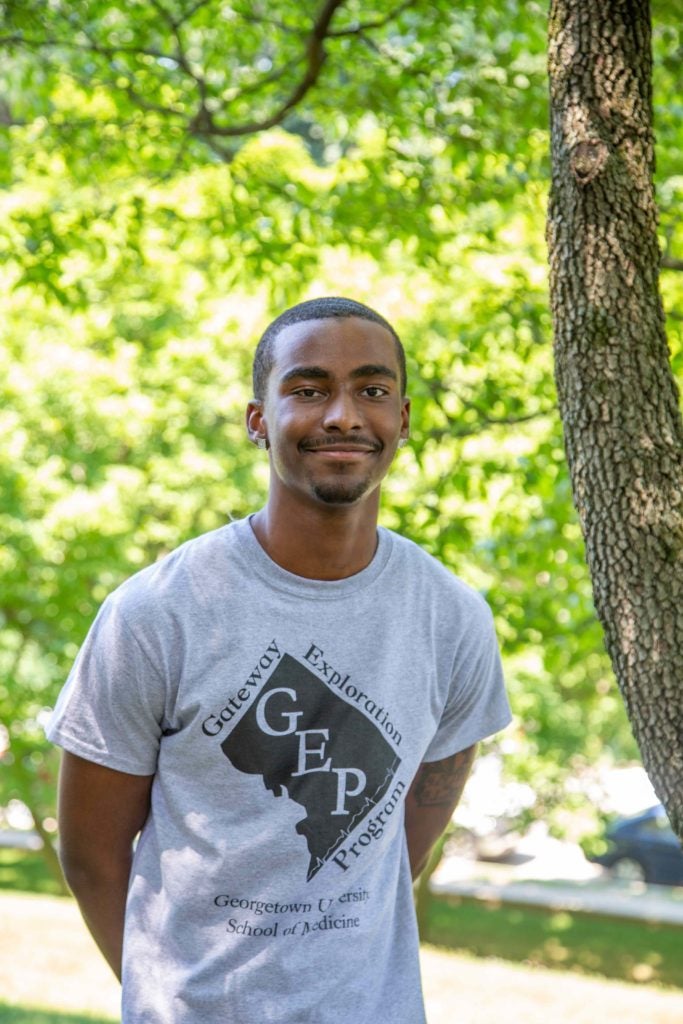 Torrenz Ward
Torrenz is a rising senior at McKinley Technology High School. At McKinley Tech, he is on the STEM path of Biotechnology. Torrenz aspires to major in Criminal Justice in college and hopefully become a forensic scientist. He's been able to maintain a 3.5 GPA throughout his high school career while being a scholar athlete. Torrenz has learned how to manage his work and play both sports like football and basketball. Also Torrenz has made crucial and significant bonds with his teachers that show how he's been able to step up as a scholar and talk to his teachers about work and the extra help he might need. During both seasons you'll see him with a teacher either trying to finish work or working with his NAF coordinator to secure a better future for himself. In the future, Torrenz would like to follow a career path in forensic science and hopefully work with the FBI.
Aaliyah Rose
Aaliyah Rose is a rising senior at Mckinley Technology High School where she is currently in the Biotechnology STEM program. This summer as a GEP Scholar, Aaliyah is hoping to learn more about the medical field and the ins and outs of what it means to be a doctor. As a GEP Scholar, she will be studying Alzheimer's as a health disparity in the Metropolitan D.C. area. Aaliyah has a passion for cheer, she is a student ministry leader at her church, a hard worker and very driven. She hopes to pursue a career as a fetal or cardiothoracic surgeon. She wants to bring something new to the table whether it's with clinical trials, research, or surgery in general.