Gateway Exploration Program
The Gateway Exploration program is an internship opportunity for local high school students (rising sophomores, juniors, and seniors), who would traditionally identify as underrepresented in medicine, to explore their dream of becoming a physician.
Georgetown University School of Medicine in partnership with Mayor Marion S. Barry's Summer Youth Education Program will sponsor an internship for rising sophomores, juniors, and seniors who are residents in the District of Columbia, attend District of Columbia Public Schools, and citizens of the United States.
[Click here for text versions of GEP experience graphics]
On a pale yellow background, photograph of Camilla Young (left) and text (on the right) reading – "Through GEP, I want to be able to decide if medicine is the right field for me. Medicine is important to me because of my family experiences and commitment to prevent other families from experiencing the same things" – Camilla Young, Calvin Coolidge HS (GEP 2019).
On a pale blue background, photograph of Nakiah Farrell (left) and text (on the right) reading, "In GEP, it's not a choice for one to be confident, you have to learn to be confident. The program has offered me with various insight on what is happening in science and medicine" – Nakiah Farrell, Eastern Senior HS (GEP 2019).
We are looking for motivated high school students who are interested in attending medical school. The GEP Scholars are matched as interns to various medical departments that correspond with their high school coursework and extracurricular activities. GEP Scholars will also participate in professional development workshops and brown bag presentations focused on health disparities.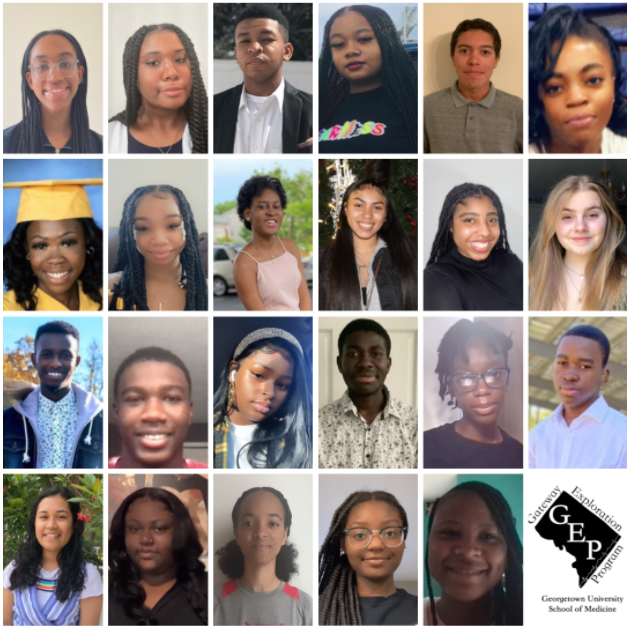 Come join us on our campus for a summer of exploration into the field of medicine!
Timeline: Summer 2022
Location: GUSOM Campus
Contact: somdiversityandinclusion@georgetown.edu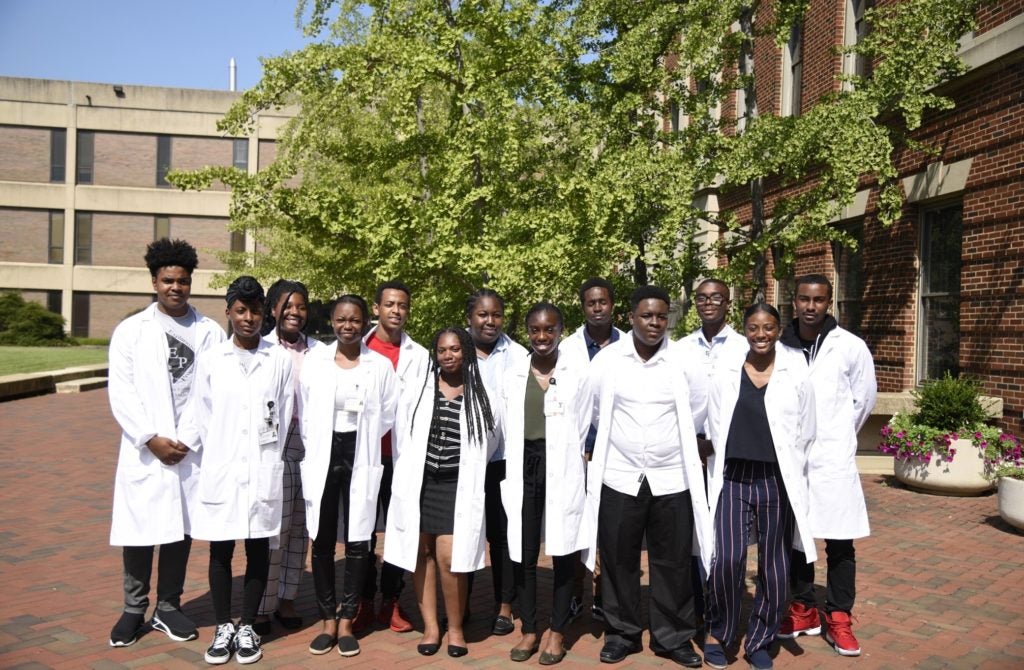 Internship Details
A GEP Scholar Will:
Office Support – Provide departments with research support and office support.
Research – Work on their health disparities research presentation.
Shadowing – Participate in clinical experience, shadowing, medical simulations.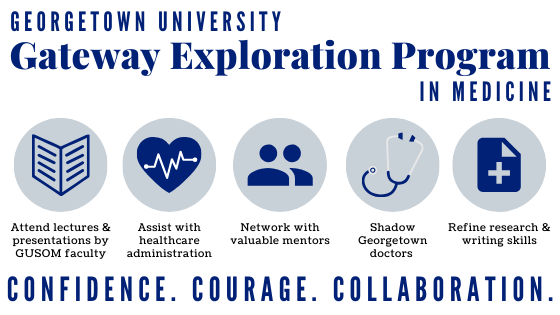 Selection Process:
Apply through DCPS
Application Review
Onsite School Interview
Complete Required Boot Camp/Orientation
For a full sample schedule of the Summer, please explore our calendar of activities here.
---