GEMS Blog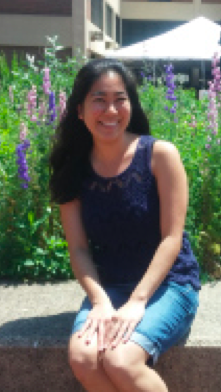 Callie Takahashi
May 16, 2016
Creating Lifelong Learning
by Callie Takahashi
Have you ever heard the expression of a salesman only being able to see dollar signs or teenagers in love only seeing hearts? As a new GEMS student stepping into the Pre-Clinical Sciences Building, all I could dream about was a white coat. That white coat symbolized academic success, perseverance, and most importantly the opportunity to receive a medical education so that I could become a physician to serve my Hawaiian community. At the time I did not realize that success in GEMS would lead to so much more than a white coat because I did not fully recognize my shortcomings as a student.
It only took one day of GEMS summer boot camp with our valued peer medical educator Henry Francois for me to realize that my brain no longer had time for daydreaming. Not being able to present information at the board, struggling on daily facilitated session quizzes, and the general feeling of "not knowing" showed me that a white coat was the least of my worries right now. All I could think about was how could I prepare tonight to be better tomorrow? Through this daily struggle, the GEMS program transformed me into the student that I always wanted to be. The GEMS program provided me with the platform to practice my skills everyday with daily board presentations, frequent quizzes with error analysis, group study, and independent study.
My development as a life-long, self-directed learner is an ongoing process. Sure, I still think about that white coat from time to time, but in addition to the opportunity for consideration to GUSOM, I am thankful for the confidence that my GEMS experience instilled in me. Hard work built this confidence that led me to raise my hand and answer questions in a packed lecture hall. I am proud of this accomplishment because I could barely speak in board presentations at the beginning of the year. In reflection, I am not the same student who started in July and I cannot thank Dean Taylor and the GEMS program enough for facilitating my growth.
Callie Takahashi